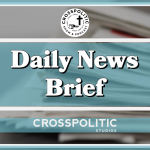 This is Garrison Hardie with your CrossPolitic Daily Newsbrief for Friday, December 9th, 2022. Happy Friday everyone! I hope you've had a good week and are heading into the weekend strong… before we get to the news:
Club Membership Plug:
Its Christmas, join our club. During December, the first 75 people to upgrade or join our Gold or Platinum club membership will get our 32OZ Kodiak Christmas water bottle and a free subscription to our Fight Laugh Feast Magazine. By joining the Fight Laugh Feast Army, not only will you be aiding in our fight to take down secular & legacy media; but you'll also get access to content placed in our Club Portal, such as past shows, all of our conference talks, and EXCLUSIVE content for club members that you won't be able to find anywhere else. Lastly, you'll also get discounts for our conferences… We don't have the big money of woke media, and so our club members are crucial in this fight. So, join the movement, join our army, and you can sign up now at fightlaughfeast.com.
https://www.theepochtimes.com/house-passes-bill-declaring-federal-right-to-same-sex-marriage_4911736.html?utm_source=partner&utm_campaign=BonginoReport
House Passes Bill Codifying Federal Right to Same Sex Marriage
The U.S. House of Representatives approved legislation on Dec. 8 that would codify same-sex and interracial marriage as a federally recognized right.
The Respect for Marriage Act, or H.R. 8404, passed on a bipartisan 258–169 vote. Thirty-nine Republicans joined all Democrats in the lower chamber to pass the bill. One Republican voted present, and four didn't vote. The legislation now heads to the White House for President Joe Biden's signature into law; he has said he'll sign it.
The House had approved the measure in July but was voting again because the Senate amended the proposal in November.
The bill includes a codification of the Supreme Court's 2014 ruling in Obergefell v. Hodges, which declared a federal right to same-sex marriage on grounds of the 14th Amendment's "equal protection" clause.
"I began my career fighting for LGBTQ communities—and now, one of the final bills that I will sign as Speaker will ensure the federal government never again stands in the way of marrying the person you love," House Speaker Nancy Pelosi (D-Calif.) said in a recent statement.
Critics of the bill have warned of the potential for it to target faith-based organizations and have refuted the notion that it's merely a codification of Obergefell.
"The truth is the Respect for Marriage Act does nothing to change the status of same-sex marriage or the benefits afforded to same-sex couples following Obergefell," the conservative Alliance Defending Freedom wrote in a blog post. "It does much, however, to endanger religious freedom."
The Alliance Defending Freedom described the bill as "a direct attack on the religious freedom of millions of Americans with sincerely held beliefs about marriage."
They said that by recognizing same-sex marriage in law, the bill "embeds a false definition of marriage in the American legal fabric."
Further, "it opens the door to federal recognition of polygamous relationships" and "jeopardizes the tax-exempt status of nonprofits that exercise their belief that marriage is the union of one man and one woman."
Republican proponents of the bill rejected the claim, saying that it ensured that same-sex marriages would be protected while respecting the rights of faith-based institutions.
The Senate passed the final package of the Respect for Marriage Act on Nov. 28.
Ahead of a key vote to advance the package, Sen. Mitt Romney (R-Utah), who often defects from his party on legislation, tied his support for the bill to protections of the religious freedoms of faith-based institutions.
"If it includes important protections for religions and religious institutions, I will support it," Romney told Politico.
Other Republicans, including Sens. Roy Blunt (R-Mo.) and Joni Ernst (R-Iowa) demurred from telling reporters how they'd vote on advancing the bill ahead of the vote.
Ultimately, the bill garnered enough support to pass the upper chamber easily.
Twelve Republicans joined Democrats to support the bill, including Romney, Ernst, and Sen. Rob Portman (R-Ohio).
https://www.foxnews.com/politics/biden-prisoner-exchange-britney-griner-leaves-behind-marine-veteran-paul-whelan-again
Biden prisoner exchange for Brittney Griner leaves behind Marine veteran Paul Whelan — again
President Biden's prisoner exchange with Russia secured the release of WNBA star Brittney Griner on Thursday, but left U.S. Marine veteran Paul Whelan in Russian custody.
Whelan has been in Russian custody since 2018 when he was sentenced to 16 years in prison on espionage charges. Griner had been in Russian custody since February after authorities discovered vape cartridges containing a small amount of cannabis oil in her luggage.
Biden's administration had initially sought the release of both Griner and Whelan in exchange for notorious arms dealer Viktor Bout, a Russian citizen serving a prison sentence in America. Known colloquially as the "Merchant of Death," he was convicted in 2011 of conspiracy to kill Americans and sentenced to 15 years in prison.
The Biden administration ultimately agreed to exchange Bout for Griner alone, leaving Whelan behind in Russia.
Nevertheless, Whelan's brother, David Whelan, congratulated Griner on her release in a Thursday statement, but lamented the Biden administration's failure to release his brother.
David's statement went on to note that the Biden administration notified the Whelan family that Paul would be left behind in the exchange. The statement noted that it was the second time the Biden administration had left Paul behind in a prisoner exchange, with the last instance coming in April.
He pushed the Biden administration to be more aggressive in its efforts to get Americans released, going so far as to say the U.S. should arrest more Russians for exchange.
https://www.military.com/daily-news/2022/12/06/army-keeps-booting-covid-vaccine-refusers-shot-requirement-may-be-dropped.html
The Army Keeps Booting COVID Vaccine Refusers as Shot Requirement May Be Dropped
The Pentagon's COVID-19 vaccine mandate appears on the verge of being eliminated by Congress after just over a year, yet the Army — the only remaining service to never slow down separating troops who refuse inoculation — said Monday it will not pause those separations.
The Army has kicked out 1,841 active-duty soldiers for refusing inoculation, according to the latest service data released Friday. The Navy, Marine Corps and Air Force have halted or been barred by the courts from continuing separations, particularly for troops requesting religious exemptions, as legal fights play out over Defense Secretary Lloyd Austin's August 2021 order that all service members be vaccinated.
Now, lawmakers might strike a deal to nix the vaccine mandate as part of the annual defense authorization bill after Republicans pushed for the repeal and the Marine Corps said vaccine disinformation in parts of the country is hurting recruiting. A vaccine mandate reversal could also set up an unprecedented legal fight with troops seeking compensation for their dismissal or fighting to be brought back into the ranks.
The details of the massive defense bill were expected to be released Tuesday, and it was unclear whether the soldiers who were kicked out would be allowed to return to service or be provided compensation by Congress.
On Saturday, Politico reported the Democratic chair of the House Armed Services Committee, Rep. Adam Smith of Washington state, put the mandate on the table in negotiations over the must-pass National Defense Authorization Act, or NDAA, which sets funding and policy priorities for the Defense Department.
Since the pandemic began, GOP lawmakers have attempted to stonewall efforts to combat the spread of infections or boost immunities and have used the Pentagon's inoculation mandate as a partisan rallying cry.
Troops are required only to get the initial vaccination, not a booster shot. According to the Centers for Disease Control and Prevention, it's unknown how long the vaccinations protect against the worst effects of COVID-19, though they're estimated to remain effective for about a year, and many service members were vaccinated in early 2021.
For now, the Air Force, Navy and Marine Corps are in a holding pattern on removing troops due to court challenges. Some 1,200 Coast Guardsmen are part of a class-action lawsuit due to their religious exemptions being denied.
https://www.washingtonexaminer.com/restoring-america/fairness-justice/fbi-used-secret-powers-to-strip-more-americans-of-their-gun-rights-documents-reveal
FBI used secret powers to strip more Americans of their gun rights, documents reveal
The FBI has secretly stripped eight more people of their rights to own, use, or purchase firearms , according to internal FBI documents obtained by the Washington Examiner.
Rep. Marjorie Taylor Greene (R-GA) and over a dozen GOP members of Congress in October demanded that the FBI and Justice Department hand over proof that the FBI is no longer waiving people's gun rights with internal forms, which the Daily Caller uncovered in September had been signed by 15 people. Now, the Washington Examiner has obtained eight heavily redacted signed forms — indicating a more widespread bureau effort than previously known to target the Second Amendment rights of law-abiding citizens.
"Americans can't simply sign their constitutional rights away, even to the FBI," Rep. Michael Cloud (R-TX), who signed the October letter, told the Washington Examiner. "As Republicans enter a House majority, we must use our investigative power to put a check on federal agencies who have proven to be eager and willing to crack down on Americans' right to keep and bear arms."
Through the forms, the FBI asked signatories to identify as a "danger" to themselves or others or lacking the "mental capacity adequately to contract or manage" their lives. The forms were presented by the FBI to people at their homes and in other undisclosed locations beginning in at least 2016 and until December 2019, when the FBI claims it was discontinued.
While two of the new eight forms have redacted dates for when they were signed, the other six are dated between March 2018 and April 2019.
The signed forms were obtained by Gun Owners of America, a firearms rights group, as part of its Freedom of Information Act lawsuit against the bureau to compel the disclosure of records. They were then shared with the Washington Examiner.
https://www.dailyfetched.com/avalanche-of-media-outlets-are-firing-staff-or-shutting-down-completely/
Avalanche of Media Outlets are Firing Staff or Shutting Down Completely
More and more media outlets are firing staff or shutting down altogether as the economy under President Joe Biden continues to tank amid a huge public narrative shift.
One left-leaning outlet, The Recount, shut down entirely after receiving a whopping $34,000,000 from investors, which they can't make back.
The outlet needed help finding a profitable business model.
Meanwhile, AMC network announced it was laying off a fifth of its staff. The layoffs at AMC Networks come at a time when several media companies, including Amazon and Facebook-parent Meta Platforms, are making deep cuts to their employee base to navigate a potential downturn in the economy, the Daily Mail noted.
Earlier this week, BuzzFeed announced it would be axing 12% of its workforce.
The Daily Fetched reported the outlet faced a brutal ad-spending pullback amid an ongoing economic downturn.
Buzzfeed staffers were notified by email Tuesday that they were losing their jobs.
CEO Jonah Peretti wrote in a memo to employees:
"In order for BuzzFeed to weather an economic downturn that I believe will extend well into 2023, we must adapt, invest in our strategy to serve our audience best, and readjust our cost structure."
NBC Universal also announced it was laying off staff, with cuts expected mainly in broadcast and cable TV groups. The headcount reduction is set for 2023 to hit budget targets.
NPR announced it was having a near hiring freeze and budget cuts in anticipation of a $20 million shortfall in financial sponsorships this fiscal year.
Meanwhile, the Washington Post ended its Sunday magazine and also eliminated positions. The Post's executive editor, Sally Buzbee, announced the outlet would end in its current form after printing on Dec. 25.
Gannett, America's largest newspaper publisher, also announced it would be six percent of its staffers as the company struggles financially.
Americans trust in media is at record low amid a huge public narrative shift.
As Gallup reported:
At 34%, Americans' trust in the mass media to report the news "fully, accurately and fairly" is essentially unchanged from last year and just two points higher than the lowest that Gallup has recorded, in 2016 during the presidential campaign.
Just 7% of Americans have "a great deal" of trust and confidence in the media, and 27% have "a fair amount." Meanwhile, 28% of U.S. adults say they do not have very much confidence and 38% have none at all in newspapers, TV and radio. Notably, this is the first time that the percentage of Americans with no trust at all in the media is higher than the percentage with a great deal or a fair amount combined.