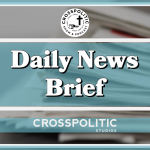 This is Toby Sumpter with your CrossPolitic Daily News Brief for Friday, Feb. 12, 2021.
Today you will hear Gov. Kristi Noem urge Republicans to actually do what they say they will do, a few bits and pieces of Day Two of the Senate Trump Impeachment Trial, Bruce Springsteen got drunk and did a Jeep commercial, an Australian province is banning prayer, and a Psalm of the Day. 
Gov. Kristi Noem Says Leadership Has Consequences
https://www.youtube.com/watch?v=kos034rs2zs
1:34-2:33
Two National Events: Fight Laugh Feast Rally in Rapid City, South Dakota, April 29, 30, May 1 & the Fight Laugh Feast Conference in Nashville, TN, October 14-16. Why a rally in South Dakota in April? Because we want to stand with Kristi Noem – the only Governor in the Union to not overstep her authority. And we also want to encourage you wherever you are. Many churches are not meeting, many Christians feel alone. But you're not alone. So the theme of the Rally in South Dakota is Love God, Sing Psalms, Defy Tyrants. Gather with likeminded Christians who love freedom, confess Jesus Christ is Lord over all, and be equipped to stand firm in these insane days. Go to FLFNetwork.com/Rally and register today. Remember if you're a Fight Laugh Feast Club Member, you get a $100 off your registration. 
Remember: If you have a news story you think we might need to cover, please send articles and links to News@CrossPolitic.com and DeftWire.com
Day Two of Trump's Second Impeachment Trial
https://www.wsj.com/video/impeachment-trial-day-two-democrats-lay-out-case-show-new-footage/EF084C09-B8B7-4AE2-BF49-03B8EDEF7410.html
0:43-1:19, 1:34-1:53, 2:16-3:30
Jamie Raskin (Maryland), Joe Neguse Colorado, Madeleine Dean (Pennsylvania)
House Managers wrapped up their case on Thursday, keeping the trial on track to be the quickest presidential impeachment trial in American history – one that is highly unlikely to result in Trump's conviction. Republicans not inclined to vote to convict Trump want the trial to be over, but Democrats (and perhaps President Biden most of all) want to move on get on with their agenda. 
https://www.washingtonpost.com/politics/trump-democrats-second-impeachment/2021/02/11/0ad2dd80-6bb7-11eb-ba56-d7e2c8defa31_story.html
WAPO: Many Democrats have concluded that calling witnesses to the violence itself — such as law enforcement officers who battled the mob at the Capitol — could extend the trial indefinitely with little hope changing the outcome, given that 44 of 50 Republican senators voted Tuesday to question the constitutionality of the trial. At least 17 would have to join the 50 Democratic senators to convict Trump and set a potential vote on barring him from future office.
Biden signaled his own desire to move past the trial on Thursday, telling reporters in the Oval Office that he was paying more attention to pursuing his policy agenda.
Bruce Springsteen Got Preachy for Jeep
https://www.youtube.com/watch?v=-gPOPLrUfyw
0:09-0:40
Many conservatives felt like Springsteen and Jeep were being a little less than genuine, sort of condescending to conservatives and more than a little manipulative with the chapel talk. He was after all one of the performers at the Biden Inauguration party January 20th. 
https://www.wsj.com/articles/bruce-springsteen-court-records-say-he-got-on-motorcycle-after-a-shot-of-tequila-11613076351
Now it comes out that the legendary Rock star was charged with driving while intoxicated last November 14 when an officer saw Mr. Springsteen take a shot of taquilla before starting his motorcycle. 
"Springsteen smelt strongly of alcohol coming off his person and had glassy eyes," the statement said. "Springsteen was visibly swaying back and forth while I observed his eyes." 
The officer wrote that during a field sobriety test Mr. Springsteen "took 45 total steps total during the walk and turn instead of the instructed 18." The rock star wouldn't submit to a preliminary breath test. 
He was charged with driving while intoxicated, reckless driving and consuming alcohol in a prohibited area.
I certainly don't mean any sort of personal animosity toward Mr. Springsteen, and I've enjoyed some of his music in the background of our summer BBQ's. But don't lecture us about meeting in the middle and meeting in some chapel until you've shown us the way, bud. Get sober and get right with God and then talk to us about chapels and unity. 
Share Plug
Is CrossPolitic a blessing to you? One of the most significant ways you can help us (and we need a LOT of help!) is by sharing this news brief or your favorite show with someone you think would appreciate it. Tell someone about the Fight Laugh Feast App. And last of all, become a Fight Laugh Feast Club Member. We are building a platform that Lord-willing cannot be cancelled by big media. And your support is helping to make that possible. Thanks to all of you who have already shared our content and become club members. 
An Australian Province Has Made Praying for a Homosexual's Repentance Illegal
https://disrn.com/news/australia-makes-it-a-crime-to-pray-for-the-deliverance-of-lgbt-people/
Under an expansive new "conversion therapy" ban passed by the Australian province of Victoria, lawmakers "down under" have attempted to forbid praying for someone to obey scriptural teaching on sexuality.
The Change or Suppression (Conversion) Practices Prohibition Act of 2021 includes prayer in its list of forbidden practices that might contribute to another person suppressing their sexuality.
"[C]arrying out a religious practice, including but not limited to, a prayer-based practice, a deliverance practice or an exorcism," are all forbidden by the new law.
Prayers offered remotely would not be exempt from this legislation. In fact, an individual or local ministry regularly praying for someone's deliverance from homosexual impulses would be just as culpable as those engaged in "psychiatry or psychotherapy consultation, treatment or therapy, or any other similar consultation, treatment or therapy."
The penalty for violation is severe, allotting for up to a 10-year prison sentence if the act is deemed by the courts to cause "serious injury." While it might be difficult to make a case that prayer itself is life-threatening, the fear amongst believers is that courts could attribute suicides to the "lack of acceptance" and "isolation" caused by Christian communities guilty of praying for change in an LGBT person rather than embracing their sexuality.
I wonder if it's still legal to pray for your leaders to repent of their insanity. 
Psalm of the Day: Psalm 125
https://www.christkirk.com/music/like-zions-mountain-shall-they-be/
Play Audio: 0:07-0:58
Like Zion's mountain shall they be who in the Lord confide
A mount which never can be moved but ever shall abide.
As all around Jerusalem the mountains firmly stand
The Lord forevermore surrounds the people of His hand.
Whether you live in Australia or California, Canada or South Dakota, this is the truth. There is only one rock, and that is Christ. He is the mount which never can be moved, and that is because He is in the Father and the Father is in Him. And if you are in the Son, then you are safe in the Father, safe in the Father's hand, and you cannot be moved. 
This is Toby Sumpter with Crosspolitic News. You can find this and all of our shows at Crosspolitic.com or on our app, which you can download at your favorite app store, just search "Fight Laugh Feast". Support Rowdy Christian media, and become a Fight Laugh Feast Club Member and get your very own Fight Laugh Feast t-shirt and access to all the talks at our first annual Fight Laugh Feast Conference as well as many exclusive behind the scenes interviews as well as our very own Worldview Shotgun Series. We still have a few Fight Laugh Feast tumblers left for club members at 25$ a month or more. Go to FightLaughFeast.com Have a great day.