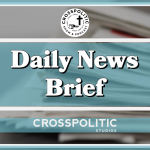 This is Toby Sumpter with your CrossPolitic Daily News Brief for Friday, Feb. 26, 2021.
Today you will hear about the House passing the Discrimination Act, a biological male has been spotted, Vermont is harassing a freedom loving business, the CDC quietly admits asymptomatic spread isn't, and we sing a Psalm of victory.
Two National Events: Fight Laugh Feast Rally in Rapid City, South Dakota, April 29, 30, May 1 & the Fight Laugh Feast Conference in Nashville, TN, October 14-16. Why a rally in South Dakota in April? Because we want to stand with Kristi Noem – the only Governor in the Union to not overstep her authority. And we also want to encourage you wherever you are. Many churches are not meeting, many Christians feel alone. But you're not alone. So the theme of the Rally in South Dakota is Love God, Sing Psalms, Defy Tyrants. Gather with likeminded Christians who love freedom, confess Jesus Christ is Lord over all, and be equipped to stand firm in these insane days. Go to FLFNetwork.com/Rally and register today. Remember if you're a Fight Laugh Feast Club Member, you get a $100 off your registration. 
Remember: If you have a news story you think we might need to cover, please send articles and links to News@CrossPolitic.com and DeftWire.com
The House Voted to Pass the [Discrimination] Equality Act Thursday
https://www.washingtonpost.com/powerpost/congress-sexual-orientation-civil-rights-gender/2021/02/25/1351bea4-7779-11eb-8115-9ad5e9c02117_story.html
The legislation was passed by the House in 2019 but blocked in the Republican-led Senate. This time, Democrats control the White House, House and Senate. President Biden has signaled his support for the measure, but it still faces an uphill fight in the Senate, where it would need 60 votes to break a legislative filibuster.
"The Civil Rights Act is a sacred pillar of freedom in our country. It is not amended lightly," House Speaker Nancy Pelosi (D-Calif.) said in a House floor speech Thursday afternoon. She thanked members of the Congressional Black Caucus who "gave their imprimatur to the opening of the Civil Rights Act to end discrimination against LGBTQ Americans." 
The fact that these black folks just agreed to let sexual perverts exploit the same status as their fathers and grandfathers is a crying shame. 
The House voted 224 to 206 for the measure, with three Republicans joining all Democrats to vote yes.
John Stonestreet wrote at the Christian Post: "To be clear, you should only care about the Equality Act if you are a Christian, or a person of faith, or a woman, or own a business, or run a nonprofit, or go to school, or teach at a school, or are a medical or mental-health professional, or (especially) are a female athlete, or under the age of 18, or ever use a public restroom. That's not an exaggeration. In fact, here is the exact wording from the Equality Act:
"An individual shall not be denied access to a shared facility, including a restroom, a locker room and a dressing room, that is in accordance with the individual's gender identity."
This applies to…
"any establishment that provides a good, service, or program, including a store, shopping center, online retailer or service provider, salon, bank, gas station, food bank, service or care center, shelter, travel agency or funeral parlor, or establishment that provides health care, accounting or legal services," along with any organization that receives any federal funding.
In other words, the so-called Equality Act is actually a Discrimination Act. It would give LGBT Activists leverage to discriminate against and harass and cancel traditional Christians and other Americans who don't want dudes in their daughter's locker room or public restroom. 
A number of religious denominations are therefore lobbying against the measure, saying its lack of religious exemptions creates one of the most sweeping challenges to religious liberty in decades.
The House debate over the issue included personal testimony from several lawmakers. Several LGBT members of Congress were among those who rose in support of the measure, as were lawmakers whose family members are transgender.
On Tuesday, freshman Rep. Marie Newman (D-Ill.) delivered an emotional floor speech in which she mentioned her daughter, who she said came out to her as transgender years ago.
Newman raised a transgender pride flag outside her office this week in support of the bill. Another House freshman, Rep. Marjorie Taylor Greene (R-Ga.), one of the legislation's most vocal opponents, responded by mocking Newman with a poster that she hung outside her own office, which sits directly across the hall.
"There are TWO genders: Male & Female. Trust The Science!" the poster says.
The House voted this month to remove Greene from her two committee assignments because she has repeatedly espoused false and extremist claims, including things like the sky is blue, grass is green, and 2+2=4.
One bright spot in this insanity is the fact that Facebook censored Newman's posting of her tranny flag – flagging it as hate speech, which it actually is – hatred of the image of God – but we assume this was a momentary lapse in judgment on the part of one of the chimpanzees running quality control at Facebook.
In remarks on the House floor Thursday morning, Rep. Andrew S. Clyde (R-Ga.) said the Equality Act would violate women's right to privacy and safety in locker rooms and showers. He also denounced as "child abuse" the bill's provisions on medical treatments such as gender-affirming hormones and surgeries for minors.
"God help us," Clyde said. "Have we lost our ever-loving minds?"
Members of the House Freedom Caucus delivered a broad attack on the substance of the bill Thursday, with many calling it part of a broader liberal attack on traditional Christian values.
Rep. Randy Weber (R-Tex.) called the bill "anti-life, anti-family and anti-faith," while Rep. Yvette Herrell (R-N.M.) said it "moves our nation away from our Judeo-Christian values and takes away parents' rights to decide."
Another Man is Spotted in Canada
https://summit.news/2021/02/23/video-man-flying-back-into-canada-refuses-airport-covid-test/
Attorney General of Vermont is Suing Former UPS Store
https://www.wcax.com/2021/02/18/newport-ups-store-defies-governors-mask-order-ignores-ag-warnings/
Residents in Newport City do not have a UPS store as of Thursday afternoon. While the store is still there, the company pulled its franchise deal with them because they say they violated its uniform policy, which includes wearing masks.
This comes after the UPS store in Newport put up a sign that states despite the governor's mask-up order, employees aren't wearing them and they're optional for customers. Store officials declined to comment on the policy but pointed out their continued customer support.
Newport Police Chief Travis Bingham says his department has a good relationship with the community but they have been called several times this week for compliance checks at the UPS store. "For these kinds of orders that are put out by the governor, our sole job is the education piece of this. Any enforcement action, whether that's civil or criminal, is done through the attorney general's office," Bingham said.
Play Audio: 0:26-0:40
A corporate spokesperson from The UPS Store issued a statement late Thursday saying they have terminated their relationship with the Newport outlet. "We take customer safety very seriously and made repeated attempts to gain compliance from this franchise owner. However, those attempts were ignored and as a result, we have terminated our relationship with this franchise owner, effective close of business Thursday, February 18."
They say the store will no longer be able to process any new shipments, accept any returns. or process any inbound packages as a UPS Store.
Share Plug
Is CrossPolitic a blessing to you? One of the most significant ways you can help us (and we need a LOT of help!) is by sharing this news brief or your favorite show with someone you think would appreciate it. Tell someone about the Fight Laugh Feast App. And last of all, become a Fight Laugh Feast Club Member. We are building a platform that Lord-willing cannot be cancelled by big media. And your support is helping to make that possible. Thanks to all of you who have already shared our content and become club members. 
Asymptomatic Spread Continues to Be Zilch
https://thefederalist.com/2021/02/24/in-report-affirming-nearly-no-transmission-in-schools-cdc-slips-in-shocking-data-about-asymptomatic-spread/?fbclid=IwAR3aGjLHPixtgxdVVxt7PoT1iMkpBA_0Q-2tfrcPR40i1htw9RE3buHXmn8
The Federalist: A January 29th report from the CDC concludes with what seems to fit the pro-mask narrative, of course: "Schools might be able to safely open with appropriate mitigation efforts [such as masking and not allowing student cohorts to mix] in place." In the 17 rural Wisconsin schools surveyed, only seven cases were linked to in-school transmission out of 4,876 pupils, and no staff members were infected at school during the study period.
While the report spends ample time explaining the mitigation strategies employed in the schools and the high reported mask compliance (92%) among students, the authors later discuss something you probably have not seen in any of the mainstream media's coverage of this report:
"Children might be more likely to be asymptomatic carriers of COVID-19 than are adults…This apparent lack of transmission [in schools] is consistent with recent research (5), which found an asymptomatic attack rate of only 0.7% within households and a lower rate of transmission from children than from adults. However, this study was unable to rule out asymptomatic transmission within the school setting because surveillance testing was not conducted" (emphasis added).
The "recent research" the study authors cite is a meta-analysis of 54 household COVID-19 transmission studies that observed 77,758 participants, which was posted as a pre-print this summer and published in December.
The text of the analysis is even more consequential than the CDC's reference makes it seem: "Estimated mean household secondary attack rate from symptomatic index cases (18.0%; 95% CI, 14.2%-22.1%) was significantly higher than from asymptomatic or presymptomatic index cases (0.7%; 95% CI, 0%-4.9%; P < .001), although there were few studies in the latter group. These findings are consistent with other household studies28,70 reporting asymptomatic index cases as having limited role in household transmission" (emphasis added).
The 0.7 percent figure includes not just people who never show symptoms of COVID-19, but people who haven't yet shown symptoms—two groups that have been alleged to be major factors driving the spread of the virus. This is a major data point often underplayed or even challenged in much media coverage of the virus.
The key, if not central, rationale for non-pharmaceutical interventions such as masking, distancing, and staying at home is allegedly significant transmission from people who don't show symptoms. If the contagiousness of people without symptoms is not what drives the spread of SARS-COV-2, then no COVID restriction on public life besides staying home when you are clearly sick could be justified, considering the obvious negative consequences of these restrictions.
Psalm of the Day: Psalm 98
https://www.christkirk.com/wp-content/uploads/2016/06/10-Psalm-98-O-Sing-A-New-Song-To-T.mp3
We sing because God has already won the victory in Christ, and we sing because He comes, He surely comes, and He will judge the world with equity. That will be the great equality act of history when Jesus judges the living and the dead. 
This is Toby Sumpter with Crosspolitic News. You can find this and all of our shows at CrossPolitic.com or on our app, which you can download at your favorite app store, just search "Fight Laugh Feast". Support Rowdy Christian media, and become a Fight Laugh Feast Club Member and get your very own Fight Laugh Feast t-shirt and access to all the talks at our first annual Fight Laugh Feast Conference as well as many exclusive behind the scenes interviews as well as our very own Worldview Shotgun Series. Remember to sign up for the Fight Laugh Feast Rally. Go to FLFNetwork.com/Rally. Have a great day.