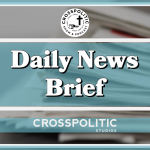 This is Toby Sumpter with your CrossPolitic Daily News Brief for Friday, Feb. 5, 2021.
Today you will hear another shocking report about Chinese reeducation camps, Pentagon orders a stand down, we hang with Officer Tatum and listen to a new hip-hop single addressing the "Fake Woke", I recommend some books, and we issue a Psalm singing challenge. 
Two National Events: Fight Laugh Feast Rally in Rapid City, South Dakota, April 29, 30, May 1 & the Fight Laugh Feast Conference in Nashville, TN, October 14-16. Why a rally in South Dakota in April? Because we want to stand with Kristi Noem – the only Governor in the Union to not overstep her authority. And we also want to encourage you wherever you are. Many churches are not meeting, many Christians feel alone. But you're not alone. So the theme of the Rally in South Dakota is Love God, Sing Psalms, Defy Tyrants. Gather with likeminded Christians who love freedom, confess Jesus Christ is Lord over all, and be equipped to stand firm in these insane days. Go to flfnetwork dot com forward slash rally and register today. Remember if you're a Fight Laugh Feast Club Member, you get a $100 off your registration. Just send an email to contact at crosspolitic dot com to get your discount code. 
Remember: If you have a news story you think we might need to cover, please send articles and links to news at CrossPolitic.com. And DeftWire.com.
More Horrific Reports Out of the Xinjiang Region of China
https://bitterwinter.org/systematic-rape-in-xinjiang-camps/
Another shocking report from the BBC came out on February 3 leading politicians from all over the world to call for an UN-led investigation of "crimes against humanity." [We're still waiting to hear from Lebron James and anyone else in the NBA about whether or not this is a social justice issue their handlers, I mean, their sponsors, I mean, their owners, — whether they're allowed to talk about it.]
BBC's David Campanale, a noted specialist of human rights issues in China, Matthew Hill, interviewed former detainees and one guard, and heard from scholar Adrian Zenz (Joel Gunter co-authored the subsequent article). They were also able to show video images from inside the camps, filmed by a Bitter Winter reporter who was subsequently arrested. 
Not only did the witnesses interviewed by the BBC ridicule the Chinese propaganda theory that the camps are "vocational schools" rather than jails, they described a horrific system where rape was not occasional but was used systematically to break the Uyghur women's personal integrity and will.
Gulzira Auelkhan, an ethnic Kazakh who spent 18 months in the camps, told the BBC that she was forced to systematically "remove the clothes [of women detainees]. Tursunay Ziawudun, a woman who escaped from Xinjiang to Kazakhstan after she was released from the camps, and then to the U.S., reported how she and her cellmates were savagely beaten and raped. She was tortured with electric shock and biting, and how some women simply disappeared some nights and never returned.
Qelbinur Sedik, an ethnic Uzbek woman who now lives in exile, went to the camps as a Chinese language teacher. She told the BBC that she befriended a policewoman, who told her that in the camps "the rape has become a culture. It is gang rape and the Chinese police not only rape them but also electrocute them. They are subject to horrific torture." The screams sometimes echoed throughout the building. I could hear them during lunch and sometimes when I was in class."
Ziawudun and a former camp guard also offered information on how the "thought reform" process, or deprogramming, of the inmates works. Detainees should listen to propaganda for long hours and memorize books by President Xi Jinping. They are punished if they fail to remember them. They are compelled to spend long hours singing CCP songs, and watching videos featuring Xi Jinping. Alone, this would not break their will, but they were also forced to take pill and injected every 15 days with "vaccines" that made them sick and confused, and subjected to sleep and food deprivation.
Politicians from all over the world, united in the Inter-Parliamentary Alliance on China (IPAC), are calling for an UN-led international investigation of the crimes against humanity and genocide perpetrated in Xinjiang. "These atrocities must be stopped, they said."
Meanwhile, millions of babies are murdered in their mother's wombs every day – many millions in China and in the United States. No word on whether there will be an international investigation.
The Pentagon Has Ordered a Stand Down
https://www.reuters.com/article/us-usa-biden-pentagon-extremism/pentagon-stumped-by-extremism-in-ranks-orders-stand-down-in-next-60-days-idUSKBN2A335W
WASHINGTON (Reuters) – The U.S. military on Wednesday acknowledged it was unsure about how to address white nationalism and other extremism in its ranks, and announced plans for military-wide stand-downs pausing regular activity at some point in the next 60 days to tackle the issue. There was no word as to whether this was a result of all the women and transvestites in the military. 
The decision to a hold a stand-down was made by Lloyd Austin. In his confirmation hearing, Austin underscored the need to rid the military of "racists and extremists".
Pentagon spokesman John Kirby said Austin ordered the stand-down after a meeting with the U.S. military branch leaders, who are under pressure to show progress in combating extremism after current and former military servicemembers were found to have participated in the siege of the U.S. Capitol on Jan. 6.
It was unclear whether the announcement was meant to foreshadow any near-term concrete actions by President Joe Biden's Pentagon or whether the stand-down was more of a symbolic move, meant to demonstrate Austin's acknowledgement of the problem and continued resolve or whether it would be a day of mourning for the military's lost honor.
Share Plug
Is CrossPolitic a blessing to you? One of the most significant ways you can help us (and we need a LOT of help!) is by sharing this news brief or your favorite show with someone you think would appreciate it. Tell someone about the Fight Laugh Feast App. And last of all, become a Fight Laugh Feast Club Member. We are building a platform that Lord-willing cannot be cancelled by big media. And your support is helping to make that possible. Thanks to all of you who have already shared our content and become club members. 
Brandon Tatum on Tom MacDonald's New Song "Fake Woke"
https://www.youtube.com/watch?v=hqwSs98l7bI
Never freed the slaves
Gave us tiny screens 
We think we're free because we can't see the cage.
This reminds me of a book, actually several books that I want to recommend. But the thought occurred to me while reading a New York Times Opinion piece the other day. You can find it on DEFT WIRE dot com. The piece was called It's Time for Police to Stop Lying to Suspects and chronicles how a number of innocent suspects have been convicted of crimes they didn't commit as a result of police interrogations where suspects were lied to – which is currently perfectly legal. The article cites several psychological studies are cited demonstrating that people become highly susceptible under pressure and can be manipulated by lies. Now hold that thought. 
The first book recommend is called Amusing Ourselves to Death by Neil Postman. It's scathing critique of modern pop culture and pop media – what screens and snippets of information is doing to us – but he begins the book with a forward comparing two other books, two dystopian novels about how the world might go terribly wrong: He wrote this back in 1985: 
Think of Tom MacDonald's Fake Woke and that line about giving us tiny screens and thinking we are free because we can't see the cage – that's the Huxlean dystopia – being amused into slavery and death. But taking all of it together – cancel culture, death threats, hatred, riots, plus our ridiculous wealth of resources and entertainment: Netflix, smart phones, social media, youtube, and fast food – it seems to me that we're actually getting both. It looks to me like we're being dazzled with the Brave New World, lured to sleep and apathy and meanwhile Big Brother is taking over, the surveillance state. The behavioral programming is happening from both sides. It's class passive-aggressive behavior from abusers. Anger and violence and threats followed by extravagant gifts and compliments. You're so special. Let's all get together and be unified. Shut up, racist, sexist patriarchal pig. And now it's time for your stimulus checks. 
It's all a bit trap. Christians must fight both sides of this trap. Exercise your minds. Think carefully. Resist tyranny. But also don't be manipulated by the handouts and easy entertainment. 
And one of the ways you can do all of this is by learning to sing the Psalms. Get the Word dwelling in your richly. Sing the truth with excellence. Which of course brings us to the Psalm of the Day. 
Psalm of the Day: Psalm 124
www.psalm124project.com 
But this is a Psalm of the Day with a little twist and a challenge. First, I'll let Pastor Doug Wilson give you the background:
And so here is the challenge. You can find this recording and the explanation at psalm 124 project dot com. We would like to extend a cordial invitation to all of you. If you and/or your group wish to record your rendering of this version of Psalm 124, please share it on social media using #Psalm124Project and also send it to us, and we will post it here. The sheet music and a link for submitting your recording are there at psalm 124 project dot com. The reason for undertaking this project is to create a digital version of what happened to John Durie, as described in what you just heard. We live in a time when the saints of God need to be looking to the Lord to snatch us out of the fowler's snare, and we want to invite all of you to join us as we make this request of God. And just to get you into the mood, let's listen to the last verse shall we?
Blest Be the Lord 
Who made us not their prey
As from the fowler's net a bird may flee
So from their broken snare did we go free
Our only help is in God's holy name.
He made the earth and all the heavenly frame. 
Many are they who have risen up against us, against Christian freedom, our duty to provide for our families, our duty to worship God unhindered. But we serve the God of escapes, the God who always makes a way of escape. So sing Psalm 124, make a recording and share it, and join the resistance, by singing psalms.
This is Toby Sumpter with Crosspolitic News. You can find this and all of our shows at CrossPolitic.com or on our app, which you can download at your favorite app store, just search "Fight Laugh Feast". Support Rowdy Christian media, and become a Fight Laugh Feast Club Member and get your very own Fight Laugh Feast t-shirt and access to all the talks at our first annual Fight Laugh Feast Conference as well as many exclusive behind the scenes interviews as well as our very own Worldview Shotgun Series. We still have a few Fight Laugh Feast tumblers left for club members at 25$ a month or more. Go to FightLaughFeast.com. Have a great day.