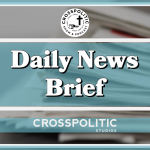 This is Garrison Hardie with your CrossPolitic Daily Newsbrief for Friday, February 10th, 2023… Happy Friday everyone!
Dropwave
Do you have a podcast, or thinking about starting one? Does your church have a podcast feed for sermons? The Dropwave.io is for you. Cancel culture is like walking on a thin glass bridge over the Grand Canyon. Every step you take could get you killed, I mean canceled. Since the beginning CrossPolitic has been working on being antifragile, so no matter what happens, our content can still be delivered to your tv and to your podcast. This past year, the Waterboy and his friend Jeremi, have been working on building a podcast hosting solution for rowdy platforms like CrossPolitic, so that you can be confident your podcast will never fall through that glass bridge. Dropwave offers seamless onboarding for shows that have been around for years to easy to use solutions for starting your own podcast. Dropwave will track all your show's downloads by city, state, and country, and it offers network and enterprise packages for solutions like the Fight Laugh Feast Network. Free to speak, Free to podcast, free to start your journey now at www.Dropwave.io.
https://thepostmillennial.com/breaking-donald-trump-reinstated-on-facebook-instagram?utm_campaign=64487
Donald Trump REINSTATED on Facebook, Instagram
On Thursday, Meta reinstated former President Donald Trump on their Facebook and Instagram social media platforms.
Meta announced in January that it intended to reinstate Trump's accounts, a full two years after they claimed he was suspended for violating their terms of service.
https://rumble.com/v274pzq-meta-president-for-global-affairs-nick-clegg-on-trumps-reinstatement.html – Play Video
Meta President of Global Affairs Nick Clegg wrote in a statement, "Two years ago, we took action in what were extreme and highly unusual circumstances. We indefinitely suspended then-US President Donald Trump's Facebook and Instagram accounts following his praise for people engaged in violence at the Capitol on January 6, 2021."
On Facebook, Trump's last post was from January 6 and reads, "I am asking for everyone at the U.S. Capitol to remain peaceful. No violence! Remember, WE are the Party of Law & Order – respect the Law and our great men and women in Blue. Thank you!"
After being removed from Facebook, Instagram, and Twitter Trump created his own social media network, Truth Social, and has not yet become active on the sites that have reinstated him.
https://thepoliticalinsider.com/non-binary-god-the-church-of-england-considers-making-language-in-scripture-gender-neutral/
In the name of the Father, The Son, and the Holy Spirit…Amen; At least it is for now.
The Church of England is studying and deliberating on possibly changing the language of scripture to be gender-neutral.
Welby's Church of England will begin using pronouns that are "gender neutral" in reference to God.
When referring to God in some prayers, the male pronouns 'He' and 'Him' will be eliminated, and the phrase "our Father" will be omitted from the beginning of the Lord's Prayer.
The argument that God shouldn't be referred to in masculine terms is not new. One only has to remember the 1999 movie 'Dogma' starring Ben Affleck and Matt Damon as fallen angels that depicted God as a woman played by not-ironic at-all Alanis Morrissette.
An argument by many on the left side of this argument claim that referring to God as exclusively male is what drives a lot of discrimination and sexism against women. Add to that the recent surge in gender ideology that you can identify as any number of over 50 genders; the scripture gets even more complicated for the left.
In response to this societal fad, Rev. Joanna Stobart from the Diocese of Bath and Wells has asked the Church of England to "develop more inclusive language in our authorized liturgy."
The Reverend is asking the Church to "provide more options for those who wish to use authorized liturgy and speak of God in a non-gendered way, particularly, in authorized absolutions where many of the prayers offered for use refer to God using male pronouns."
However, not everyone sees this issue the same way, thank God.
https://twitter.com/i/status/1623255488732229634 – Play Video
https://www.theguardian.com/us-news/2023/feb/09/missouri-rejects-ban-children-carrying-guns-in-public
Missouri votes against banning children from carrying guns in public
The Republican-led Missouri state house on Wednesday voted against banning minors from openly carrying firearms on public land without adult supervision.
The proposal to ban children from carrying guns without adult supervision in public failed by a 104-39 vote. Only one Republican voted in support.
A Democrat, Donna Baringer, said police in her district asked for the change to stop "14-year-olds walking down the middle of the street in the city of St Louis carrying AR-15s".
In 2017, Missouri lawmakers repealed concealed carry requirements in most situations.
The measure was part of an hours-long debate on the best way to fight crime, particularly in the St Louis area.
The Republican Lane Roberts – a former Joplin, Missouri, police chief and state public safety director – initially included the restrictions on children possessing guns in a broader crime bill, which the House voted to give initial approval. But lawmakers on a House committee that Roberts leads stripped the provision on guns last week.
Other provisions in the measure would allow the governor to appoint a special prosecutor in counties with high crime rates, a provision targeted at the St Louis circuit attorney Kim Gardner.
Republicans for years have criticized Gardner, a 47-year-old Democrat first elected in 2016 as St Louis's first Black female prosecutor.
She is one of several progressive prosecutors elected in recent years with a focus on creating more fairness in the criminal justice system. Republicans say she is not doing enough to fight crime.
Gravity Jack:
Gravity Jack is a full service digital agency specializing in the development of Virtual & Augmented Reality experiences, mobile apps, blockchain and Web3 projects. Founded in 2009 as the first American agency to offer augmented reality, they even patented it; Gravity Jack's digital experiences have been a source of innovation for small business, Fortune 500 Companies, and the US Military. Get your vision in motion at gravityjack.com
https://www.dailyfetched.com/matt-gaetz-introduces-resolution-to-end-financial-aid-to-ukraine-2/
Matt Gaetz Introduces Resolution to END Financial Aid to Ukraine
The resolution also calls for a peace agreement after almost a year-long war.
Gaetz and ten co-sponsors introduced the "Ukraine Fatigue Resolution," which calls for the U.S. to "end its military and financial aid to Ukraine and urges all combatants to reach a peace agreement."
As Fox News reported:
The resolution notes that since Russia invaded Ukraine in February 2022, the U.S. has been the top contributor to the Ukrainian war effort, with more than $110 billion in financial, military, and humanitarian aid to the U.S. ally. It includes more than $27.4 billion in security assistance.
As The Daily Fetched reported last month, the total amount of military aid provided to Kyiv from the United States has soared past $26 billion.
In January, Antony Blinken announced a further $2.5 billion in military aid for Ukraine.
Besides the $2.5 billion for Ukraine, congress already awarded $45 billion to the country in the $1.7 trillion omnibus spending bill, which was signed into law in December 2022.
"This is about freedom, freedom for Ukraine, freedom everywhere," Biden said, making that announcement.
Fox News also notes that the resolution lists the enormous amount of equipment that the U.S. has provided to the country since the beginning of the conflict. It also cites Pentagon officials who have said the munitions have "severely depleted United States stockpiles, weakening United States readiness in the event of conflict."
It also claims that by providing assistance, the U.S. is inadvertently contributing to civilian casualties, and notes the U.S. estimates that 40,000 civilians had died in the conflict.
Concern about the continued U.S. funding of the war has grown among a subset of Republicans as the conflict has dragged on, with lawmakers highlighting issues at home that could use additional funding – including what they see as a failure to protect the U.S. border against a historic migrant crisis.
Matt Gaetz said the U.S. has been the top contributor to an "everlasting conflict."