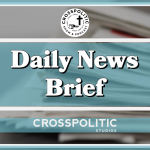 This is Garrison Hardie with your CrossPolitic Daily Newsbrief for Friday, February 17th, 2023. I hope you all have had a fantastic week as we've reached Friday!
Trinity Church is hosting a Men's Conference, Friday night and Saturday morning, 2/24-2/25. The title is Taking Dominion. God has given mankind the commission to take dominion over His creation for the purpose of making it more fruitful, beneficial, and enjoyable, and all to the glory of God. Men are the tip of the spear as we lead our households in the pursuit of this dominion. Pastor Dave Hatcher, Pastor Jerry Owen, and Andrew Crappuchettes (CEO RedBalloon) will be speaking about fulfilling this mandate in our selves, our houses, and the other opportunities God gives us.
Visit www.trinitykirk.org/2023-mens-conference
https://www.foxnews.com/us/train-derails-outside-detroit-michigan-one-car-hazardous-materials
Train derails outside Detroit, Michigan, with one car carrying hazardous materials
A train containing one car of hazardous materials has derailed Thursday in Van Buren Township outside Detroit, Michigan, reports say.
The cause of the derailment was not immediately clear.
Police told Fox2 Detroit that there were no injuries and the area is not a hazmat situation.
Officials that spoke to WXYZ, which reported that at least six cars were seen off the track, said one of them was carrying hazardous materials.
The derailment comes less than two weeks after a train carrying toxic chemicals derailed in East Palestine, Ohio.
Police told Fox2 Detroit that roads will be closed in the area while an investigation is ongoing.
The Michigan Department of Environment, Great Lakes, and Energy also said it is "aware of the train derailment in Van Buren Township, Wayne County, where initial reports indicate no threat to the public from the derailment.
"EGLE personnel are on their way to the scene to assist in assessing the situation," it added.
https://www.foxnews.com/politics/biden-admin-turns-down-ohios-request-disaster-assistance-toxic-derailment
Biden admin turns down Ohio's request for disaster assistance after toxic derailment
The Biden administration turned down a request for federal disaster assistance from Ohio Gov. Mike DeWine in the aftermath of the train derailment in the state earlier this month that led to a large release of toxic chemicals.
The Federal Emergency Management Agency (FEMA) told Ohio's state government that it was not eligible for disaster assistance to help the community recover from the toxic spill, Dan Tierney, a spokesperson for DeWine, told Fox News Digital on Thursday. Tierney explained that FEMA believed the incident didn't qualify as a traditional disaster, such as a tornado or hurricane, for which it usually provides assistance.
"The DeWine Administration has been in daily contact with FEMA to discuss the need for federal support, however FEMA continues to tell Governor DeWine that Ohio is not eligible for assistance at this time," DeWine's office said in a statement earlier in the day. "Governor DeWine will continue working with FEMA to determine what assistance can be provided."
FEMA said that its team is in constant communication with DeWine's office, but didn't comment on the request for federal relief.
Tierney noted, though, that the governor was able to secure some health assistance from the Department of Health and Human Services that will go towards helping local residents with any medical care costs that stem from the incident.
Norfolk Southern has offered financial compensation to locals who were displaced and has worked with the Environmental Protection Agency and state officials to conduct air safety tests. Health officials have assured the public that tests have shown the area is safe.
https://www.huffpost.com/entry/bruce-willis-diagnosed-frontotemporal-dementia-demi-moore-says_n_63ee887ae4b0808b91c5a71e
Bruce Willis Diagnosed With Frontotemporal Dementia, Family Says
Actor Bruce Willis has been diagnosed with frontotemporal dementia, his family said in a statement Thursday.
The 67-year-old "Die Hard" star was diagnosed with the disease, also known as FTD, after his prior diagnosis of aphasia progressed, his family said.
The disease's progression varies from two to more than 20 years and the average life expectancy after the start of symptoms is seven to 13 years. There is no cure or treatment currently available, according to the AFTD's website.
Willis' family said that by sharing his story they hope they can bring more awareness to the disease and push for research toward finding treatments.
Willis retired from acting in 2022 after his aphasia diagnosis.
Aphasia typically occurs suddenly after a stroke, head injury or sometimes a slow-growing tumor. It can affect a person's ability to speak, write and understand language, both verbal and written, according to the Mayo Clinic.
The actor's former co-workers told the Los Angeles Times last year that he had been struggling for years on set.
In the Biden administrations' zeal for shooting down balloons, they may have overreacted with this one…
https://aviationweek.com/defense-space/aircraft-propulsion/hobby-clubs-missing-balloon-feared-shot-down-usaf
Hobby Club's Missing Balloon Feared Shot Down By USAF
A small, globe-trotting balloon declared "missing in action" by an Illinois-based hobbyist club on Feb. 15 has emerged as a candidate to explain one of the three mystery objects shot down by four heat-seeking missiles launched by U.S. Air Force fighters since Feb. 10.
The club—the Northern Illinois Bottlecap Balloon Brigade (NIBBB)—is not pointing fingers yet.
But the circumstantial evidence is at least intriguing. The club's silver-coated, party-style, "pico balloon" reported its last position on Feb. 10 at 38,910 ft. off the west coast of Alaska, and a popular forecasting tool—the HYSPLIT model provided by the National Oceanic and Atmospheric Administration (NOAA)—projected the cylindrically shaped object would be floating high over the central part of the Yukon Territory on Feb. 11. That is the same day a Lockheed Martin F-22 shot down an unidentified object of a similar description and altitude in the same general area.
There are suspicions among other prominent members of the small, pico-ballooning enthusiasts' community, which combines ham radio and high-altitude ballooning into a single, relatively affordable hobby.
https://www.theblaze.com/news/eu-2035-gas-car-ban
European Union approves effective ban on sales of gas cars by 2035, requiring 100% reduction in CO2
European Parliament has formally approved a law that will effectively end the sale of gas- and diesel-powered vehicles in the European Union by 2035, calling for a 100% reduction in CO2 emissions for any new cars sold, according to Reuters.
The 27-nation union agreed to the changes in October 2022, but has now formalized the deal, which enforces a 55% reduction in emissions for vehicles by 2030. Levels for CO2 for 2021 were set at a target of 37.5%.
Vans will get a slight advantage in the market, requiring a a 50% cut by 2030, compared with 2021 levels.
Just a few months before the announcement in May 2022, car makers such as Ford and Volvo even signed a joint letter with 26 other companies asking the European Union to implement such a plan.
The target of 2035 has been justified by the EU based on what officials say is an average vehicle lifespan of 15 years, which would allow the EU to reach net zero emissions by 2050.
Companies that make less than 10,000 cars per year will be able to negotiate lower targets until 2036, however some companies are happily ready to enforce the change.
Volkswagen vowed in October 2022 to produce only electric cars in Europe beginning in 2033, committing to the earliest possible time frame after previously stating it would aim for a 2033-2035 range.
However, in June 2022, five countries were looking to delay the shift to electric-only vehicles by at least five years to 2040. Bulgaria, Italy, Portugal, Romania, and Slovakia called for a 90% cut of CO2 by 2035, extending the 100% target to 2040, with light commercial vehicles meeting 80% for 2035 before also needing the full cut by 2040.
A Bulgarian official had said that the EU needed to reconsider the economic costs of switching to electric and the effect that would have on poorer nations in the union.
Laws enforcing electric vehicle chargers are currently in negotiation in the union.
https://dailycaller.com/2023/02/15/china-ccp-christian-chinaaid-jonathan-dingler-pastor-bob-fu-xi-jinping/
Communist China Cracked Down On Christians In 2022
The Chinese Communist Party (CCP) censored, fined, politically indoctrinated and forcibly disappeared Chinese Christians in 2022, according to a new report from the nonprofit ChinaAid Tuesday.
The People's Republic of China (PRC) reportedly employed a range of new methods to persecute Chinese Christians in 2022 including fabricating charges of fraud as well as criminalizing the legal international travel of church leaders, the report states. China's crackdown on Christianity reportedly intensified in the run-up to the CCP's 20th Party Congress in October 2022, during which time General Secretary Xi Jinping secured a third term as the communist nation's supreme leader, according to ChinaAid.
"Xi Jinping and the Communist Party did all they could to silence Christians leading up to the 20th National Congress," Jonathan Dingler, a spokesman for ChinaAid who worked on the report, told the Daily Caller News Foundation.
Christians account for approximately 5% of China's religious community, according to the CIA World Factbook. While Catholics number around 10 million, Protestants account for the majority of China's Christian community, with approximately 38 million followers as of 2020, The Economist reported.
Dingler told the DCNF that after the CCP's crackdown leading up to the 20th Party Congress "the tone shifted" within the state-sanctioned churches which then began treating Xi "as if he were the leader of the church."
ChinaAid identified a March 2022 paper entitled "Adhering to the Sinicization of Religion in China" published by the United Front Work Department (UFWD) as the political motivation behind the CCP's 2022 crackdown on Christianity.
The UFWD is a "Chinese government entity charged with extending the CCP's influence and control over non-Party organizations both domestically and abroad to advance CCP policy objectives," according to a 2021 report by the U.S.-China Economic and Security Review Commission (USCC). Moreover, the USCC also identified the UFWD as a "Chinese intelligence service" in 2016.
The UFWD's March 2022 paper reportedly emphasized "promoting the Sinicization of religion, adhering to the orientation of the core socialist values and submerging all religious beliefs in Chinese culture to better adapt religion to China's socialist society and the New Era of Socialism with Chinese Characteristics," according to ChinaAid.
China's state-sanctioned churches must now actively promote Xi's thoughts "from the pulpit," which in practice means that churches which don't "flat-out fall at Xi's feet and worship him are considered 'inciting subversion of state power,'" Dingler told the DCNF.
Churches were reportedly even converted into political propaganda centers in order to broadcast Xi's speech during the 20th Party Congress in October 2022, according to ChinaAid's report. Likewise, churches in other provinces were also reportedly repurposed to hold "study" sessions on CCP policies such as "Reinforcing Management of Religion on All Fronts: 10 Prohibitions and 10 Mustn'ts."
The Chinese government also increasingly persecuted Christians online in 2022, censoring words like "Jesus," "Savior" and "Amen" on the Chinese social media platform WeChat, according to ChinaAid's report. At the same time, the Chinese government also shut down church websites and Christians' social media accounts.
"Congregants can't even give to their churches online anymore, thanks to new regulations," Dingler said. "They want to break down house churches even further, hoping they will finally give in and submit."
The Chinese Embassy did not respond to the DCNF's request for comment.