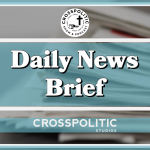 Trying to vote ourselves rich …and more on today's CrossPolitic Daily News Brief. This is Toby Sumpter. Today is Friday, February 18, 2022. Would you please Like and share this show? Do it now so we can reach more people with the truth.
Florida's Don't Say Gay Law
https://www.thebulwark.com/desantis-shapiro-co-want-to-put-my-kid-in-the-closet/
Florida Gov. Ron DeSantis has voiced his support for a bill that would prohibit the discussion of sexual orientation and gender identity in the state's primary schools.
Asked by reporters recently, he said it was "entirely inappropriate" for teachers to be having conversations with students about gender identity, citing instances of them telling children, "Don't worry, don't pick your gender yet," and also "hiding" classroom lessons from parents.
"Schools need to be teaching kids to read, to write," DeSantis said. "They need to teach them science, history. We need more civics and understanding of the U.S. Constitution, what makes our country unique, all those basic stuff."
"The larger issue with all of this is parents must have a seat at the table when it comes to what's going on in their schools," he added.
The Parental Rights in Education bill — dubbed by critics as the "Don't Say Gay" bill — says that "A school district may not encourage classroom discussion about sexual orientation or gender identity in primary grade levels or in a manner that is not age-appropriate or developmentally appropriate for students."
The enforcement section of the legislation takes a cue from the Texas abortion bounty legislation: "A parent of a student may bring an action against a school district to obtain a declaratory judgment that a school district procedure or practice violates this paragraph and seek injunctive relief. A court may award damages."
RIP PJ O'Rourke
https://nypost.com/2022/02/15/p-j-orourke-was-americas-greatest-satirist-and-coolest-conservative/
P.J. O'Rourke, the political satirist and journalist who served as foreign-affairs desk chief at Rolling Stone until 2005 and wrote for numerous publications, has died. He was 74. His death was confirmed by NBC News.
"Our dear friend and cherished Grove Atlantic author P.J. O'Rourke passed away this morning from complications of lung cancer," Deb Seager, a vice president and spokeswoman at his publisher Grove Atlantic, said in a statement to NBC.
Respected for his wit and storytelling by people across the political spectrum, O'Rourke's early essays suggested a liberal leaning after he earned an M.A. in English at Johns Hopkins University in 1970. However, he soon changed his political stance and his work reflected libertarian conservatism.
He wrote for several indie publications before landing at National Lampoon in 1973, where he had a variety of positions, including editor-in-chief. He also wrote for 1973 stage spinoff National Lampoon's Lemmings, which featured John Belushi, Chevy Chase, and Christopher Guest, and he co-wrote National Lampoon's 1964 High School Yearbook with Douglas Kenney.
In 2016, he famously endorsed Hillary Clinton over Donald Trump, announcing his begrudging decision during a Wait Wait … Don't Tell Me! episode. "It's the second-worst thing that can happen to this country. But she's way behind in second place," he said. "I mean, she's wrong about absolutely everything, but she's wrong within normal parameters."
While his writing could at times be unnecessarily crass, and his Roman Catholicism and libertarianism sometimes got the better of him, his wit allowed him to see and explain more clearly many things quite well and in certainly very entertaining ways.
Grab all the clips of O'Rourke: https://youtu.be/RrIeha0XHWs
0:00-1:49
P.J. O'Rourke, may you have found the peace of Christ.
AD: Cornerstone Work & Worldview Institute's vision is to see a community of businesses, churches, mentors, and instructors working together to provide our young people options beside the credentials game of our current culture. They desire to see confident students with integrity and a godly backbone that understand all things are subject to Christ and are trained to be competent on the job. Their mission is to build Kingdom culture in the workplace by equipping their Christian students with a Trinitarian worldview and vocational competencies. Visit their website: cornerstonework.org to learn how to enroll in their program or partner with them in their mission.
House Agenda if it Flips?
https://thehill.com/homenews/house/594452-gop-eyes-ambitious-agenda-if-house-flips
Republicans are eyeing an ambitious legislative agenda if they flip the House in November's elections, setting the stage for countless clashes with President Biden on a host of thorny issues, from COVID-19 protocols and Big Tech to border security and the national debt.
The midterm cycle is historically brutal for the party of first-term presidents, and that track record — combined with Biden's approval rating, which is underwater, and consumer inflation, which is soaring — has created a golden opportunity for Republicans to win back the lower chamber after just four years in the minority wilderness.
With that in mind, GOP leaders are already turning their gaze beyond the elections to discuss how they'd wield their power, presuming they seize it.
Their strategy features a series of lawmaker "task forces" charged with itemizing the party's top-tier reform ideas across a spectrum of hot-button issues — a wish list designed to serve as both a messaging tool on the campaign trail this year and a legislative guide in 2023 if they do gain the majority.
Providing counsel through the process have been a host of prominent Republicans, including former Trump administration officials; conservative power players, like Club for Growth President David McIntosh, who spoke to the Republican Study Committee last week; and former congressional leaders, like onetime Speaker Newt Gingrich (R-Ga.), who's acting as a kind of informal adviser.
Rep. Mike Johnson (R-La.), the vice chair of the House GOP conference, said the process is now in its "final stages," with much of the task force work expected to be presented at the Republicans' annual issues conference, which is scheduled for next month in Florida.
"I assume it will be rolled out, probably by early summer, in time for members to go home and talk about it in town halls and run on it," Johnson said. "It's all coming together."
The strategy marks an extension of the Republicans' "Commitment to America" campaign of 2020, which featured broad promises to tackle the COVID-19 pandemic, fight domestic crime, bolster the nation's infrastructure and empower parents when it comes to their children's education.
With Biden in the White House, this year's effort is much broader. The seven task forces are charged with crafting legislation designed to boost jobs, streamline health care, rein in the big tech companies, strengthen national security, counter Chinese influence, promote energy independence and secure individual freedoms such as gun rights.
Many are advocating for a focus on the southern border with Mexico, where a surge in migration has led to record detentions — and a humanitarian crisis — in the first year of the Biden administration. Republicans are framing it as a national security threat.
"Border security would be right at the top," said Rep. Doug LaMalfa (R-Calif.). "We need to finish the fence. We need to have all the protocols all along the border, in order to control our border."
Other Republicans argued that the emphasis should be on scaling back the public health protocols put in place by the Biden administration in the name of combating the COVID-19 pandemic. Conservatives have bashed those policies — particularly mask and vaccine mandates — as an unconstitutional encroachment on individual freedoms, vowing to outlaw any similar effort under their watch.
"I would like to think that the Democrats, in the majority, and this administration would let go of the unconstitutional, unlawful, unjustified, unscientific mandates relative to the China virus, and stop with the masks and vaccines on everybody long before a year from now," said Rep. Bob Good (R-Va.), a member of the far-right Freedom Caucus.
"However, they are clearly 'COVID forever,' and it seems as if they want to continue it — certainly the administration does," he continued. "So that is the No. 1 most important issue, is the trampling on people's freedoms."
Echoing other fiscal hawks, Good is also hoping GOP leaders move quickly to rein in government spending by adopting a balanced budget amendment. "We're heading for a fiscal crisis if we don't get a grip on spending," he said.
Still others are eager to launch a slew of investigations into the administration, to include its management of the coronavirus crisis, Biden's handling of the deadly U.S. withdrawal from Afghanistan and the federal government's interactions with local school boards.
To that list of investigative priorities, Rep. Marjorie Taylor Greene (R-Ga.) has added another: She wants Republicans to rush an investigation into the U.S. Capitol Police following accusations from Rep. Troy Nehls (R-Texas) that officers had entered his office and spied on him.
Psalm of the Day: 3
https://open.spotify.com/track/7nKOyu6HqwWIDBYEVlSIya?si=f7c301525ac94c67
Play: 0:50-1:39
"Lord rise and save me O my God
For you subdue my every foe
You strike the jaw of wicked men
Smashing their teeth with mighty blows"
Amen!
Remember you can always find the links to our news stories and these psalms at crosspolitic dot com – just click on the daily news brief and follow the links. Or find them on our App: just search "Fight Laugh Feast" in your favorite app store and never miss a show.
This is Toby Sumpter with Crosspolitic News. A reminder: Support Rowdy Christian media, and share this show or become a Fight Laugh Feast Club Member. What allows us to continuing growing to take on the Big Media Lie Fest is your monthly membership support. If you've already joined, a huge thanks to you, and if you haven't, please consider joining today and have a great day.