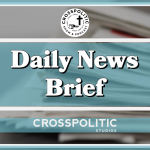 Good Friday! This is the Chocolate Knox with you CrossPolitic Daily News Brief for Friday February 19th 2021 Happy Black History month!
If you have any news stories you want to send us here you can do that at [email protected] that's [email protected]
You can also find the most important stories we think you need to know about on our new NEWS aggregator called DeftWire.com Where you can Drink Fresh Current Real News.
Federal regulators are moving forward with a $3.2 billion plan to subsidize Internet access for low-income households
https://finance.yahoo.com/news/covid-aid-coming-help-people-221859725.html
California parents are calling for the resignation of the Oakley Unified Elementary School District Board of Trustees after board members made disparaging remarks about parents in an online meeting.
https://www.conservativereview.com/parents-call-for-resignation-of-california-school-board-members-who-mocked-them-2650615706.html
N95 face masks bearing the 3M Co. logo in recent weeks,  as they urged thousands of hospitals and medical facilities to stop using suspected fakes.
https://www.wsj.com/articles/u-s-agents-seize-10-million-counterfeit-n95-face-masks-11613603061
Two National Events: Fight Laugh Feast Rally in Rapid City, South Dakota, April 29, 30, May 1 & the Fight Laugh Feast Conference in Nashville, TN, October 14-16. Why a rally in South Dakota in April? Because we want to stand with Kristi Noem – the only Governor in the Union to not overstep her authority. And we also want to encourage you wherever you are. Many churches are not meeting, many Christians feel alone. But you're not alone. So the theme of the Rally in South Dakota is Love God, Sing Psalms, Defy Tyrants. Gather with likeminded Christians who love freedom, confess Jesus Christ is Lord over all, and be equipped to stand firm in these insane days. Go to flfnetwork dot com forward slash rally and register today. Remember if you're a Fight Laugh Feast Club Member, you get a $100 off your registration. 
Biden says he has authorized FEMA to provide generators and supplies to states hit by deadly storms
https://www.washingtonpost.com/weather/2021/02/18/winter-storm-weather-live-updates/
The Mars 2020 Perseverance rover has successfully touched down — and, for the first time ever, humans were able to witness a landing on the Red Planet. 
https://people.com/human-interest/nasa-mars-rover-perseverance-successfully-lands/
Being that it is black history month the book I want to leave you with today is
Narrative of the Life of Frederick Douglass: An American Slave
This classic of American literature, a dramatic autobiography of the early life of an American slave, was first published in 1845, when its author had just achieved his freedom. Its shocking first-hand account of the horrors of slavery became an international best seller. His eloquence led Frederick Douglass to become the first great African-American leader in the United States. • Douglass rose through determination, brilliance and eloquence to shape the American Nation.
This is The Chocolate Knox with Crosspolitic News. You can find this and all of our shows at Crosspolitic.com or on our app, which you can download at your favorite app store, just search "Fight Laugh Feast". Support Rowdy Christian media, and become a Fight Laugh Feast Club Member and get your very own Fight Laugh Feast t-shirt and access to all the talks at our first annual Fight Laugh Feast Conference as well as many exclusive behind the scenes interviews as well as our very own Worldview Shotgun Series. We still have a few Fight Laugh Feast tumblers left for club members at 25$ a month or more. Go to FightLaughFeast.com This is Your Daily news brief with the Chocolate Knox