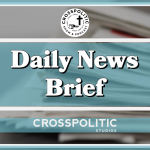 Good Monday! This is the Chocolate Knox with you CrossPolitic Daily News Brief for Monday February 22nd 2021 Happy Black History month!
If you have any news stories you want to send us here you can do that at news@crosspolitic.com that's news@crosspolitic.com
You can also find the most important stories we think you need to know about on our new NEWS aggregator called DeftWire.com Where you can Drink Fresh Current Real News.
Boeing backing grounding of 777s
https://www.wsj.com/articles/faa-orders-immediate-inspections-after-united-engine-failure-11613952428?st=fbznjyxedlc93qc&reflink=article_copyURL_share
Herd immunity by April
https://www.wsj.com/articles/well-have-herd-immunity-by-april-11613669731
Reaching Heard immunity isn't the only thing happening in April
Fight Laugh Feast Rally in Rapid City, South Dakota, April 29, 30, May 1 & 
South Dakota in April Because we want to stand with Kristi Noem – the only Governor in the Union to not overstep her authority. And we also want to encourage you wherever you are. Many churches are not meeting, many Christians feel alone. But you're not alone. 
So the theme of the Rally in South Dakota is Love God, Sing Psalms, Defy Tyrants. Gather with like minded Christians who love freedom, confess Jesus Christ is Lord over all, and be equipped to stand firm in these insane days. Go to flfnetwork dot com forward slash rally and register today. Remember if you're a Fight Laugh Feast Club Member, you get a $100 off your registration. 
Impeachment Process Against Governor Cuomo Has Begun
trendingpolitics.com /breaking-impeachment-process-against-governor-cuomo-has-begun/
Cuomo the gold standard for biden?
https://twitter.com/claytravis/status/1363559011036053509?s=21
Bye bye death penalty VA
https://www.washingtonpost.com/local/virginia-politics/virginia-death-penalty-ban/2021/02/22/742eed3e-7146-11eb-93be-c10813e358a2_story.html
MO laying down some cover fire for the second amendment
https://www.dailywire.com/news/sheriffs-can-arrest-feds-who-violate-citizens-gun-rights-new-missouri-county-ordinance-says
The Interesting Narrative of the Life of Olaudah Equiano
Olaudah Equiano's autobiography challenged minds and hearts in the late 1700s. The first autobiography ever written by a former slave, The Interesting Narrative of the Life of Olaudah Equiano is one of the most well-recognized slave-narratives. It was first published in 1789 and gained notoriety as a mechanism for the abolitionist movement in England in 1807. In his work, Equiano illuminates the life of himself as a slave and then a freed man, ultimately becoming a respected politician and philosopher.