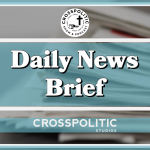 https://twitter.com/SohrabAhmari/status/1496881718879531011?s=20&t=aeeV3TBdacijzg83OCVPcA
Play 0:50-1:03
Hopefully President Putin will see that he's putting the climate at risk because a bunch of his country used to be an iceberg …and more on today's CrossPolitic Daily News Brief. This is Toby Sumpter. Today is Friday, February 25, 2022. Would you please Like and share this show? Do it now so we can reach more people with the truth.
Putin Declares Military Operation in Ukraine
https://breaking911.com/breaking-putin-announces-military-operation-in-ukraine-warns-attempts-to-interfere-will-be-met-with-consequences-never-seen/
Russian President Vladimir Putin essentially declared war on Ukraine Wednesday night. "Russia cannot feel secure," Putin said of Ukraine. "We have no other choice but to use the means we are about to announce."
"I have declared a special military operation," Putin added.
He also addressed the Ukrainian military directly, calling on the force to "lay down its arms." The operation will be aimed at 'defending people living in the newly-recognized republics of Donetsk and Lugansk,' state-run Russian media outlet RT reported.
However, there were reports of explosions in major cities throughout Ukraine. For example here behind a CNN reporter on a rooftop in Kyiv
https://twitter.com/brianstelter/status/1496684562767884292?s=20&t=xcTPkxkDzx1JkCFiDJMAfg
0:00-0:24
Russian forces seized the Chernobyl nuclear plant on Thursday, site of the world's worst nuclear disaster in 1986, triggering fears of contamination. Ukrainian troops defended a strategic airport outside of the capital, Kyiv. Images and videos of fighter jets engaging over suburban skies filled social media Thursday. US officials estimated that Russia may have launched as many as 160 missiles into Ukrainian military bases and airports. Ukraine President Volodymyr Zelenskyy cut diplomatic ties with Moscow and declared martial law on Thursday.
According to the LA Times, In a televised address Thursday, Biden imposed new sanctions on Russia and condemned Putin's attack.
"Putin is the aggressor," Biden said. "Putin chose this war, and now he and his country will bear the consequences."
Under the latest sanctions the U.S. and its allies will block the assets of four large Russian banks, impose export controls and sanction oligarchs. Biden also said the U.S. will deploy added forces to Germany to support NATO.
Ukrainian officials responded to Biden's address by calling for more drastic action, including cutting Russians off from the SWIFT
financial system.
"We demand the disconnection of Russia from SWIFT, the introduction of a no-fly zone over Ukraine and other effective steps to stop the aggressor," Ukraine President Volodymyr Zelenskyy said in a tweet.
The Biden administration has repeatedly said U.S. troops will not fight in Ukraine or rescue Americans trapped there, but Russia's invasion is shaping up to be the biggest land war in Europe since World War II.
On Thursday, the Pentagon said it was sending an additional 7,000 troops to Europe, deploying an armored brigade combat team to Germany to reassure NATO allies. The deployment brings the number of U.S. troops ordered to Europe since the Ukraine crisis began to 14,000; the number of American troops in Europe to 100,000.
As Mr. Putin announced the invasion of Ukraine, the United Nations Security Council met to discuss the crisis, with diplomats agreeing to vote on a resolution against Russia, though little is expected to come of it: Russia holds a veto as a permanent member.
What does Putin want?
"Ukraine is not just a neighboring country for us. It is an inalienable part of our own history, culture and spiritual space," Putin said in a televised speech Monday.
Ukraine is a former Soviet Union republic perched at the edge of Europe. It became independent after the Communist government collapsed in 1991. Ukraine is the largest, most fertile, mineral-rich and strategically important. A Russian gas pipeline crosses Ukraine to Europe, generating profits for Moscow.
Putin said in a televised speech Thursday that he considers the prospect of Ukraine joining NATO a "hostile act."
So remember that NATO was formed after WW2 essentially to resist and limit Soviet influence and expansion. When East Germany reunited with West Germany and the Berlin Wall came down, part of the agreement was that Ukraine would not be brought into NATO.
But why now? US NEWS speculates: It all could come down to Russia's resources at the moment, Pomeranz says. It might be the "most opportune time" from Putin's perspective, he adds, because the country has $600 billion in foreign currency reserves and has already put significant resources into reconstructing Russia's army.
"I think Vladimir Putin thinks this is the best time for him to right what he perceives as a great wrong and reverse Ukrainian independence and sovereignty," says Pomeranz of the Wilson Center.
Putin likely also views the West – including the U.S., specifically – as weak, Pomeranz adds, which could impact how much help he thinks Ukraine will actually get. Bowman echoes this sentiment and points to how the U.S. handled pulling troops out of Afghanistan in August.
"I don't know how he could have read that as anything other than American weakness," says Bowman, who served as an adviser to Republican senators for years. "I think he wondered whether, frankly, the Biden administration would be as weak as the Obama administration was in dealing with aggression toward Ukraine."
And our Secretary of State responded:
https://twitter.com/SohrabAhmari/status/1496881718879531011?s=20&t=aeeV3TBdacijzg83OCVPcA
Play
Right. Hopefully Putin will come to his senses and see that this war is causing carbon emissions that are only making all the ice in Russia melt faster. Right.
AD: Not so long ago, the American dream was alive and well. Employees who worked hard were rewarded, and employers looked for people who could do the job, not for people who had the right political views. RedBalloon.work (www.redballoon.work/flf/) is a job site designed to get us back to what made American businesses successful: free speech, hard work, and having fun. If you are a free speech employer who wants to hire employees who focus on their work and not identity politics, then post a job on RedBalloon. If you are an employee who is being censored at work or is being forced to comply with the current zeitgeist, post your resume on RedBalloon and look for a new job. www.redballoon.work/flf/, the job site where free speech is still alive!
Greg Abbot Directs Texas Protective Services to Investigate Tranny Kids
https://twitter.com/MontePooleNBCS/status/1496662082598539265?s=20&t=xcTPkxkDzx1JkCFiDJMAfg
On Tuesday, Gov. Greg Abbott of Texas directed the Texas Department of Family and Protective Services to uphold Texas laws criminalizing gender transition, reassignment surgeries, mastectomies, puberty-blocking drugs, and administration of hormones like estrogen and testosterone for gender transitions. His letter described this kind of so-called medical treatment as child abuse and urged the Protective Services to pursue the appropriate reporting protocols for child abuse. He also called upon them to investigate parents who are subjecting their child to such abuse. The internet lit its hair on fire and began screaming about all the hate. Of course, if the shoe was on the other foot – if a child was being denied hormone treatment by their parents, and a liberal governor called for an investigation, would they have the same problem?
I think there is a biblical principle here, but the problem is that Greg Abbott only appeals to Texas law that at this point in time can be changed over night. What Greg Abbott or some enterprising conservative needs to do is reassert biblical common law as the foundation of all justice. On that basis, it certainly is right for a civil magistrate to protect children from activists who want to destroy their bodies and lives. But empowering Social Services to meddle in families can be flipped around if say Beto gets elected in Texas and now Christian families are getting the same treatment for spanking their kids and refusing to let their little boys wear dresses. The only way this kind of assertion of power is good is if the foundation is good. But the only good foundation is Jesus Christ. Otherwise, it's all a powerplay. What distinguishes Putin, Biden, Trudea, and Abbott? Is it all just a power play. Is it just might makes right? Or is there a transcendent God and a trancendent truth and justice? If there is no Transcendent standard then you can do whatever you want, whatever you can get away with. But if there is a God then there is a right and wrong, truth and lies, justice and injustice, male and female, and goodness and beauty.
Psalm of the Day: 10 My Soul Among Lions
https://open.spotify.com/track/1MEz0fOk6E0gJl6291IgLS?si=41a72b67d53346aa
Play: 0:00-1:41
Rise up, O Lord, God lift up your hand
Why do you let these wicked men stand
When will you break them, take them in hand
You've always been a Helper of the Orphan
Rise up, O Lord.
Amen!
Remember you can always find the links to our news stories and these psalms at crosspolitic dot com – just click on the daily news brief and follow the links. Or find them on our App: just search "Fight Laugh Feast" in your favorite app store and never miss a show.
This is Toby Sumpter with Crosspolitic News. A reminder: Support Rowdy Christian media, and share this show or become a Fight Laugh Feast Club Member. What allows us to continue growing to take on the Big Media Lie Fest is your monthly membership support. If you've already joined, a huge thanks to you, and if you haven't, please consider joining today and have a great day.