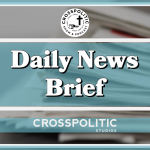 This is Garrison Hardie with your CrossPolitic Daily Newsbrief for Friday, February 3rd, 2023. In case you hadn't heard, Gabe Rench, the Waterboy, won his federal case yesterday against the city of Moscow… if you hadn't seen the episode where the guys talk about it on the show, you can go find it on our app, our social media pages, youtube, just go find it! In fact, I've gone ahead and linked it in today's show notes for you.
Another reminder, that our conference page for the Ark Encounter is now live! Head on over to fightlaughfeast.com, and you can sign up and reserve your spot today… If you're a club member, you'll also get a discount on your ticket pricing, that's ontop of early bird pricing! Early Bird pricing ends May 1st, so again, sign up right now at fightlaughfeast.com
https://thepostmillennial.com/antifa-claims-responsibility-for-attack-on-far-left-portland-bar-in-retaliation-for-them-spreading-covid-by-staying-open?utm_campaign=64487
Antifa claims responsibility for attack on far-left Portland bar in retaliation for them 'spreading Covid' by staying open
Members of Rose City Antifa have taken credit for vandalism that occurred at a worker-owned Portland Bar in the early hours of January 29.
In a "communique" posted to Rose City Counter-Info on January 31, the group stated that the vandalism, carried out by "disabled anarchists," targeted the Worker's Tap because of "how this bar inherently operates with unmitigated COVID spread."
"In the early hours of January 29th, some disabled anarchist attacked Worker's Tap by tagging it and damaging a window. Due to the bullet-proof glass, the window's damage would only consist of small dents," the statement read.
The group said that phrases and symbols like the anarchist "A," and "161" which calls out "that it was fascists forces whom originally paved the path of COVID as a genocide since April 2020 through the blood of primarily Black and Indigenous disabled people, a road of bones which now many liberals and ableist anarchists goose-stomp on in collaboration with the fascists to maintain a "normal" for keeping bars and other viral-friendly entertainment operating at the expense of disabled lives."
Additionally, the bar was tagged with "Covid Kills!" twice "to address how this bar inherently operates with unmitigated COVID spread, murdering disabled people in the process."
The statement continued on to say that the act was carried out in "retaliation" to the "event organizers in the anarchist scene who contribute to the COVID pandemic by organizing super-spreader gatherings that, in the end, lead to more disabled people dying."
In Multnomah County, where Portland is located, the number of new Covid-19 cases has remained under 1,000 since July. The most recent data shows that in the last full week of January, there were just 275 cases. 31 of those cases required hospitalization. This is down from a spike seen over the summer, with 3,180 cases recorded, and dramatically lower than the omicron spike seen last winter, with 11,373 cases being recorded at its peak, according to county data.
The Worker's Tap, the bar targeted by the vandalism, is a worker-owned and operated beer bar in Portland, Oregon. The bar required proof of vaccination to enter the establishment.
According to its website, "Our business is run democratically and profits are split amongst our members."
https://thepostmillennial.com/breaking-ilhan-omar-removed-from-foreign-affairs-committee?utm_campaign=64487
Ilhan Omar REMOVED from Foreign Affairs Committee
On Thursday, Minnesota Representative Ilhan Omar, who has a long history of anti-Semitic remarks, was removed from her position on the House Foreign Affairs Committee in a 218 to 2011 party-line vote.
Fox News Correspondent Chad Pergram tweeted, "The House has voted to remove Rep. Ilhan Omar (D-MN) from the Foreign Affairs Committee. The vote was 218 to 211 with one member voting 'present.'
In November, House Minority Leader Kevin McCarthy said he intended to remove Omar due to her history of antisemitic comments.
Minority leader Hakeem Jeffries acknowledged this history on Thursday and said, "Rep. Omar certainly has made mistakes. She has used antisemitic tropes."
Omer was elected to Congress in 2018, and in her long history of using antisemitic tropes has compared the boycotting of the Jewish state of Israel to the boycotting of Nazis.
A move to remove Omar began in 2021 after the Democrat-led Congress removed GOP Rep. Marjorie Taylor Greene from her committee assignments.
White House Press Secretary Karine Jean-Pierre said in a press conference that the removal was a "political stunt" and a "disservice to the American people."
https://twitter.com/i/status/1621214664901230597 – Play Video
New York congresswoman Alexandria Ocasio-Cortez said on the House floor "this is about targeting women of color" and slammed her notepad on the lecturn.
https://twitter.com/i/status/1621213643860807682 – Play Video
https://townhall.com/tipsheet/katiepavlich/2023/02/02/bidens-top-economic-advisor-is-bailing-n2619074
Not only is Omar out, but Biden's Top Economic Advisor Is Out
President Joe Biden announced Thursday morning his top economic advisor, Brian Deese, is leaving his position at the White House. Deese served as Biden's National Economic Council Director since taking office in January 2021.
Deese's departure comes as economists warn the U.S. is headed into a recession this year. As the head of the NEC, Deese repeatedly claimed Biden's inflation crisis was transitory and advocated for massive federal government spending by Democrats.
CBS' Margaret Brennan pressed Deese over Biden's lie that inflation was "transitory" and solely due to Putin's war:
https://twitter.com/i/status/1538579807092494340 – Play Video
Meanwhile, White House Chief of Staff Ron Klain officially left his position on Wednesday.
https://townhall.com/tipsheet/madelineleesman/2023/02/01/trans-inmate-sent-to-womens-prison-n2618969
Transgender Inmate Who Committed Kidnapping, Murder Transferred to Women's Prison
A biological male prisoner who began identifying as a transgender woman and has a history of violence against women was reportedly transferred from a men's prison in Kansas to a women's prison this week.
The inmate, who was known as Thomas Lamb, was convicted of kidnapping and killing a young woman in 1969 and kidnapping a second woman in 1970, according to News13. In 2007, Thomas Lamb changed his name to "Michelle."
In the years that followed, Lamb reportedly requested to be moved to a women's facility. This request, however, was denied. But, records obtained by News13 show that Lamb was moved to a women's prison this month (via News 13):
In 2017, a U.S. District Court ruled against Lamb in a lawsuit asking the state to transfer HIM to an all-female facility, and allow him to pursue gender re-assignment surgery. An Appeals Court upheld the ruling in 2018, stating that, although it was not the treatment Lamb might want, evidence showed he was being provided treatment for gender dysphoria, and the state was not showing "deliberate indifference" to his situation.
However, Kansas Dept. of Corrections records show he was transferred Jan. 27 to Topeka Correctional Facility.
While it is not known if Lamb will now be allowed to go forward with the gender reassignment surgery, 13 NEWS asked KDOC public affairs director Randall Bowman whether the state would pay for the procedure if he did.
Bowman would not comment on Lamb's case specifically.
"Healthcare decisions are not made by KDOC officials," Bowman said. "Due to patient privacy concerns, KDOC and the Governor's Office cannot comment on the specifics of medical care for any one individual."
Redballoon
Not so long ago, the American dream was alive and well. Employees who worked hard were rewarded, and employers looked for people who could do the job, not for people who had the right political views. RedBalloon.work is a job site designed to get us back to what made American businesses successful: free speech, hard work, and having fun. If you are a free speech employer who wants to hire employees who focus on their work and not identity politics, then post a job on RedBalloon. If you are an employee who is being censored at work or is being forced to comply with the current zeitgeist, post your resume on RedBalloon and look for a new job. redballoon.work, the job site where free speech is still alive!
https://www.boundingintosports.com/2023/02/tom-brady-announces-his-retirement-for-good-from-the-nfl/
Tom Brady Announces His Retirement 'For Good' From The NFL
Brady, 45, is widely considered the best to ever play his position and potentially the greatest NFL star of all time, following a 23-year career that saw him go to 15 Pro Bowls and win five league MVP awards. His accolades are so far-reaching that his name fills the record books. He leaves the game as its all-time leader in completions (7,753), yards (89, 214), and touchdowns (649).
After winning six titles playing for Coach Bill Belichick in New England, Brady mulled retirement before signing with Tampa Bay in 2020. He would go on to win his seventh Super Bowl in his first year for the Buccaneers. There, he would be reunited with his old Patriot partner in crime, Rob Gronkowski.
Unfortunately for Brady and the Bucs, the last two seasons have been a bit of a downward spiral. They captured the woeful NFC South. But at 8-9, they didn't look like they had a prayer of advancing in the postseason. They were bounced by the Dallas Cowboys in the opening round, 31-14, the team looked old and tired, even their forever-young signal caller.
Tom Brady on 2022 Season, Thanks Bucs Fans Following FINAL Game | Postgame Press Conference Play 3:55-4:28
Brady certainly was no slouch during the regular season. He still threw for threw for 4694 yards and 25 touchdowns.
However, he already (half-heartedly) put off retirement last year to return for one more round. He famously announced he was quitting, had a flirtation with joining the Miami Dolphins organization, and then finally acquiesced to returning to Tampa for 2022.
But the fatigue and frustration were already there. And the whispers grew into full-fledged gossip as the season progressed: This looked more and more like it was Tom Brady's final season. At least in Tampa.
Now, he's confirmed that he won't be playing for anyone in 2023. Brady is, as he puts it into his own words, retiring "for good" this time.
In his farewell video, the future NFL Hall of Famer was (as usual) reserved and reminiscent. Like so many of his famous fourth-quarter comebacks, he tried to stay calm and cool in the moment.
Still, Tom Brady couldn't hide a hint of emotion as he bid farewell to those who helped him on his epic journey.
Tom Brady announces his retirement 🙏🐐 #shorts-Play Video
When his story is eventually written, Brady's will be about an unlikely hero who rose to the level of royalty. He ascended to heights never before reached, all while coming from nearly the bottom of the heap.
He was famously picked 199th overall in the 2000 draft by the Patriots, behind six other quarterbacks. During his rookie campaign, he played in only one game and didn't exactly look like a future great: The University of Michigan product finished the season having only gone one-for-three for six yards.
In 2001, a serious injury to franchise quarterback Drew Bledsoe would necessitate the start of the Brady Era in New England.
What followed was the greatest run that any quarterback, head coach, or franchise would ever embark on in NFL history. After upsetting the dominant St. Louis Rams and 'The Greatest Show on Turf' in Super Bowl XXXVI the next 17 years were like a whirlwind.
What New England was able to accomplish in the 2000s and 2010s not only superseded anything ever seen in the NFL, it rivaled storied franchises from any sport and any era. The Murderers' Row Yankees of 1920s Major League Baseball or the NHL's Montreal Canadiens from the 1950s-70s come to mind… but that's about it.
The numbers alone put up by Brady and his teams over the years is astronomical. When Joe Montana retired as the gold standard of Super Bowl QBs, he had four rings. TB12 has almost twice that many. And he's played in a whopping TEN title games. The ability to stay healthy and play that well for so many years will likely never be seen by sports fans' eyes again.
To say that Brady's departure from a league where he will always be a figurehead is hard to overstate. His mark on the NFL and the game of football is unparalleled. And his track record of winning is nearly unfathomable. His road to Canton is literally paved in gold.
As one of his successors in signal calling, Chiefs quarterback Patrick Mahomes said about the G.O.A.T., "It's special to see the things he has done in this league. The way he was able to change the position — the longevity of great success. That's the crazy part: looking at his career, he has never really had a down year."
Hey, it's Friday… How about a quick feel-good story heading into your weekend?
https://www.conservativereview.com/amazon-driver-risks-his-own-safety-to-rescue-dog-from-burning-car-2659365675.html
Amazon driver risks his own safety to rescue dog from burning car
An Amazon driver with a history of helping others while on his route came to the rescue once again when he recently helped spring a dog that had become trapped inside a burning vehicle.
On the evening of January 23, Ervin Ruhe, a 49-year-old Amazon driver, was heading home after a long day at work. He had just assisted a colleague finish his deliveries when he spotted a car on fire on the side of the road in Merced, about 40 minutes outside his hometown of Modesto, California.
Ruhe spotted a man guiding his wife away from the burning vehicle and stopped to see whether he could help. Ruhe described the man — who, by that time, had returned to the vehicle and had begun attempting to open one of the car doors — as "distressed," so Ruhe pulled over and quickly grabbed the emergency fire extinguisher located in the back of his delivery van.
"It didn't look like it was too bad yet, but I was just hoping nobody was inside," Ruhe later recalled. "I just wanted to try and help out if I was able to."
Ruhe began immediately dousing the flames with the fire extinguisher when the couple apprised him of their main concern. "Our dog's inside," one of them shouted, "our dog's inside!"
Sure enough, a small chihuahua was trapped in the back seat of the vehicle. Ruhe managed to contain the fire enough to unlock the back door so that the man could open it and bring the little pooch to safety.
Once all creatures, great and small, were out of danger, Ruhe called 911 and took a quick video of the burning car.
https://www.yourcentralvalley.com/news/local-news/amazon-driver-saves-dog-from-burning-vehicle/ – Play Video