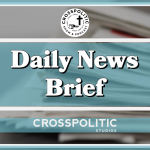 This is your CrossPolitic Daily News Brief for Friday, February 4th, 2022. I realize I'm probably not who you were expecting… My name is Garrison Hardie, and I am the Business Development Representative for CrossPolitic. You may have heard my ad before on some of our other shows, and now I'm pinch hitting for the news brief. Let's see how this first at-bat goes, starting with A Christian app called "Pray.com" reserves the right to sell your prayers!
https://faithfullymagazine.com/christian-apps-sell-your-prayers/
According to Faithfully Magazine, "Prominent venture capitalists are flocking to invest in Christian worship apps. The apps say users' prayers are a business asset."
"Pray.com collects data about its users in multiple ways. According to its privacy policy, the company records detailed information about users, including their physical location, the links they click on, and the text of the posts they make. Then, it supplements that information with data from "third-parties such as data analytics providers and data brokers," which can include "your gender, age, religious affiliation, ethnicity, marital status, household size and income, political party affiliation and interests… geographic location, and Personal Information." The policy also says Pray.com shares users' personal information, including identifiers that link their activity to specific devices, with "third parties" for "commercial purposes."
I guess as soon as a prayer in the app rings, a soul from purgatory springs!
LA Mayor Eric Garcetti defends maskless photo of him with Magic Johnson and claims there was 'zero per cent chance' of catching COVID – Saying "He held his breath."
https://www.dailymail.co.uk/news/article-10471247/LA-Mayor-Eric-Garcetti-says-held-breath-maskless-photo-Magic-Johnson.html
Los Angeles Mayor Eric Garcetti said he held his breath when he took off his mask to pose for a photo with NBA legend Magic Johnson at a football game Sunday, claiming there is 'zero percent chance' of COVID infection when doing this…….. Trust the science people!
'I'm holding my breath literally for two seconds,' he said. 'There is a zero percent chance of infection from that. I put my mask right back on … to make sure that there is no spread. And I think that we should all follow that advice until we're out of this period.'
Kind of like when Bill Clinton admitted to smoking marijuana quote, "a time or two. I didn't like it, and I didn't inhale it."
According to the CDC, like other respiratory diseases, people who are infected with COVID-19 emit tiny virus-laden droplets when they breath, speak or sing. Once these are suspended in the air, they can then be taken in by another person — allowing the infection to spread.
Garcetti wasn't alone in facing criticism for shedding his mask last weekend, if even for a moment.
Gov. Gavin Newsom and San Francisco Mayor London Breed also were photographed without masks at the game.
The smiling Democrats were seen posing barefaced for photographs with basketball legend Magic Johnson inside a box suite at the SoFi Stadium during the game.
Like Garcetti, Newsom said he removed his mask briefly during the game.
'I was very judicious yesterday … In my left hand's the mask, and I took a photo,' he said. 'The rest of the time I wore it, as we all should.' Well said sir Newsom, well said!
You know what we all should do? Have accountability on our electronic devices!
Accountable 2U DNB
​​https://Accountable2You.com/FLF
Using a smartphone or computer opens the door to a host of digital temptations. In a world saturated with pornography and other harmful content, what's a Christian to do? We need to take a proactive approach, welcoming transparency in our digital media choices—and Accountable2You makes that easy. Their accountability software shares detailed activity reports from all your devices, and your kids' devices, in real time to the accountability partners that you choose. With accountability in place, your family can effectively guard against temptations online and live with purity and integrity. Learn more and try it free at Accountable2You.com/FLF
Support those that support us!
https://thepostmillennial.com/breaking-trudeau-says-use-of-military-to-quell-truckers-protest-not-in-the-cards-right-now?utm_campaign=64487
Primeminister Trudeau says use of military to crack down on the truckers' protest is 'not in the cards right now'
Saying "There were questions a couple of years ago around military when it came to other protests that were blocking critical infrastructure. My answer then is consistent with my answer now, that one has to be very, very cautious before deploying military in situations engaging Canadians, it is not something that anyone should entertain in lightly. As of now, there have been no requests, and that is not in the cards right now," he said.
Was he consistent though? Here's what Trudeau said back in 2020 about deploying the military against its own citizens.
Play Video – https://twitter.com/i/status/1489029600441217024
Trudeau went on to say he'll continue "to stand by the almost 90 percent of truckers who are vaccinated, stand by the millions upon millions of Canadians who just want to get their lives back and who know that getting back to the things we love requires vaccinations."
Speaking of the truck convoy, GoFundMe has suspended a multimillion-dollar fundraiser for the Canadian freedom truckers for the second time in two weeks… Big Tech wants to cut them off at their knees.
https://notthebee.com/article/gofundme-has-suspended-a-multimillion-dollar-fundraiser-for-the-canadian-freedom-truckers-for-the-second-time-in-two-weeks?fbclid=IwAR1unswdlnpE8jKo99OEQA5F5P66mBxU0NHmAy7Xl3H6MwPomnXGFGoKXMU
GoFundMe has suspended a fundraiser for the "Freedom Convoy" of truckers and supporters who have tied up downtown Ottawa while protesting vaccine mandates.
The fundraiser, which is now under review, has currently raised more than $10 million [Canadian]. It's the second time GoFundMe has suspended access to the money.
GoFundMe stated:
"This fundraiser is currently paused and under review to ensure it complies with our terms of service and applicable laws and regulations," said a pinned post from GoFundMe at the top of the fundraiser on Wednesday night. "Our team is working 24/7 and doing all we can to protect both organizers and donors. Thank you for your patience."
Funds were frozen by GoFundMe the first time in mid-January when the funds were at $4.5 million…
Seeing as it's Friday today, let's end with some good news shall we? Facebook lost daily users for the first time in its 18-year history in the final quarter of 2021.
https://www.dailymail.co.uk/news/article-10471227/Facebook-loses-users-time-Zuckerberg-blames-TikTok-boom.html
CEO Mark Zuckerberg believes was caused by the TikTok boom. – Or maybe I don't know, it could be that he keeps banning users of the app…
The social media giant's devastating earnings report on Wednesday sent Facebook shares plunging more than 20 percent, wiping more than $200 billion off the company's market cap and erasing $29 billion from Zuckerberg's net worth. Facebook reported a drop of nearly 500,000 in daily logins during the last three months of 2021.
Let's hope this trend continues! See even if Big Tech tries to censor us, you can always find us on our app. Download it today if you haven't already, by searching Fight, Laugh, Feast in your favorite app store, so you'll always have access to our content. Lastly, if you're a business owner or CEO, and would like to become a corporate partner of CrossPolitic, let's talk about it! We need your support to continue to grow and fight tyranny. You can reach me by email at [email protected]
Thanks, and have a great weekend, see you Monday.