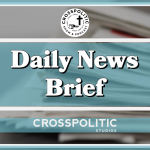 This is Garrison Hardie with your CrossPolitic Daily Newsbrief for Friday, January 13th, 2023. Happy Friday ladies and gentleman! Let's go ahead and finish the week strong by starting with a little on this day in history!
On this day in history: January 13th:
532 Nika riots begin in Constantinople, a revolt against Byzantine Emperor Justinian I that leaves half the city burned and thousands dead. The riots were prompted by the failed execution of chariot racing supporters and only stopped after Empress Theodora refused to flee, forcing her husband to act decisively.

1908 Henri Farman becomes the first person to fly an observed circuit of more than 1km, winning the Grand Prix d'Aviation

1930 "Mickey Mouse" comic strip 1st appears

1943 Adolf Hitler declares "Total War" against the Allies

1976 Sarah Caldwell is 1st woman to conduct at NYC Metropolitan Opera House as she led orchestra in a performance of "La Traviata"

2000 Microsoft chairman Bill Gates steps aside as chief executive and promotes company president Steve Ballmer to the position

How about some famous birthdays?

Julia Louis-Dreyfus, Patrick Dempsey, Orlando Bloom, and Liam Hemsworth all share a birthday on January 13th.
Club Membership Plug: (1/9)
Ladies and gentleman, now is the time to sign up for a club membership at fightlaughfeast.com! You've heard it all before, new year, new you! Well that's true for our club portal… This year, CrossPolitic will be dropping EXCLUSIVE content into our club portal, that you won't be able to find ANYWHERE else. Some of this content will include a Bible study series with Pastor Toby, a special with New Saint Andrew's President, Ben Merkle, our backstage content, and probably stuff that Gabe hasn't told myself or Knox about! So again, head on over to fightlaughfeast.com to get signed up today! That's fightlaughfeast.com.
https://www.foxnews.com/politics/biden-spars-classified-documents-garage-fox-news-peter-doocy
Biden spars over classified documents in garage with Fox News' Peter Doocy
President Biden sparred with Fox News White House correspondent Peter Doocy on Thursday, following revelations that a second batch of classified documents had been discovered at one of Biden's homes in Delaware.
The White House Counsel's Office announced the discovery on Thursday, saying it had initiated a search of Biden's homes in Rehoboth Beach and Wilmington after news of the first stash broke this week and found documents in the Wilmington home's garage.
Fox News presses Biden over classified docs in garage: 'What were you thinking?'– Play Video
White House lawyers say they immediately contacted the DOJ when they discovered the documents this week. There has been no indication of what the documents contain or whether Biden or anyone else read them after he left office as vice president.
The Wilmington documents are the second stash of Obama-era classified documents to be uncovered. The first collection was found at the Washington office of the Penn Biden Center, a Biden-aligned think tank.
https://www.washingtonexaminer.com/news/washington-secrets/more-americans-id-as-republicans-than-democrats
More Americans identify as Republicans than Democrats
For the first time in decades, more people identify as Republicans than Democrats, a striking change that bolsters polls showing that the United States is a moderate-conservative nation.
In the latest massive Gallup survey of 10,000 adults, 45% identified as Republicans and 44% as Democrats. That's a tiny edge for sure, but it's the first time the GOP has had the lead since former President George H.W. Bush launched the Gulf War in 1991.
Gallup said: "A virtual tie in party identification and leaning represents one of the better outcomes for the Republican Party over the past three decades."
However, when the choice of independents is thrown in, more U.S. adults picked that label. "Since 2009, independent identification has grown and reached levels not seen before. Now, political independents (41%) greatly outnumber Republican (28%) and Democratic (28%) identifiers," said Gallup on Thursday.
In a related survey, the polling giant also said that America politically is a moderate-conservative nation. When asked to describe their political views, 47% of adults said moderate, 30% conservative, and 21% liberal.
That survey also revealed that the Democrats are more liberal than ever. "After hovering near 50% in recent years, the percentage of Democrats who identify as politically liberal rose four percentage points in 2022 to 54%, a new high for this group," said Gallup.
https://www.based-politics.com/2023/01/11/these-5-states-lost-the-most-population-in-2022/
These 5 states lost the most population in 2022
Another year is in the books, which means there's another year of data to analyze, too. And the Tax Foundation just published an interesting analysis shedding light on which states gained the most population in 2022—and which ones saw residents leave in droves.
The analysis examined the time period between July 2021 and July 2022 and found overall US population growth was at 0.4%, but some states' populations shrank while others grew. As it turns out, the state that gained the most population was Florida, which saw 1.9% population growth.
Other states that gained 1% population include Idaho, South Carolina, Texas, South Dakota, Montana, Delaware, Arizona, North Carolina, Utah, Tennessee, Georgia, and Nevada.
Meanwhile, the 5 states that lost the most population were:
New York (-0.9%)
Illinois (-0.8%)
Louisiana (-0.8%)
West Virginia (-0.6%)
Hawaii (-0.5%)
Noticing any trends yet?
Generally speaking, the states losing population are blue states with high taxes and heavily restricted economies. On the other hand, the booming states, like Florida, South Carolina, and Texas, are red states with lower tax burdens and less-regulated economies. That's just speculation, but it's borne out in the data.
"People move for many reasons," the Tax Foundation explains. "Sometimes taxes are expressly part of the calculation. Often, they play an indirect role (by contributing to a broadly favorable economic environment). And other times, of course, they don't factor in at all. The Census data and these industry studies cannot tell us exactly why each person moved, but there is no denying a very strong correlation between low-tax, low-cost states and population growth."
It really is becoming so glaring that even New York Governor Kathy Hochul recently admitted their state needs to address its population drain—months after telling Republicans to "get out."
As twitter user Jim Stinson tweeted: If you tell people to leave, they will.
If you over-regulate them and overtax them, they will leave faster.
https://www.dailywire.com/news/out-of-left-field-uscs-school-of-social-work-bans-the-word-field-because-its-racist-apparently
USC's School Of Social Work Bans The Word 'Field' Because It's Racist, Apparently
Have you ever aspired to be the best in your field? Did you ever refer to doing a job outside of the office as "field work?"
Well, if you answered yes to any of those questions, then you may unwittingly be promoting racism and bigotry — according to the University of Southern California School of Social Work.
It seems wokeness knows no bounds — which is entirely the point of those who promote it. They have no limit in their zeal to assert power and are willing to coerce you into following along with their plan.
On January 9, the USC Suzanne Dworak-Peck School of Social Work sent an email to faculty, staff, and students notifying them that the department has new speech code guidelines in order to ensure "inclusive language and practice."
"Specifically, we have decided to remove the term 'field,' from our curriculum and practice and replace it with 'practicum,'" the letter explained.
What is so egregious about the word "field"? Well, according to the brainiacs out on the West Coast, it is offensive to black and immigrants everywhere.
"Language can be powerful, and phrases such as 'going into the field' or 'fieldwork' may have connotations for descendants of slavery and immigrant workers that are not benign," according to the letter.
If a word isn't "benign" that would mean it is malignant. Per the letter sent around, the word "field" is so malevolent that merely using it promotes "white supremacy, anti-immigrant and anti-blackness ideologies."
So, the school is beginning to put its words into action by banning the term altogether.
In doing so, of course, they are unwittingly revealing their own racism by implying that only black people and immigrants work in "fields." It doesn't need to be said, but of course, every civilization on earth has had "fields" in one form or another and somebody who worked there.
https://humanevents.com/2023/01/11/italian-mp-giorgia-meloni-mimics-desantis-sends-migrants-to-left-run-cities?utm_campaign=64487
Italian PM Giorgia Meloni Pulls a DeSantis, Sends Migrants to Left-Run Cities
The government of Italian Prime Minister Giorgia Meloni is facing a fierce backlash from their left-wing detractors after directing NGO ships carrying illegal migrants to ports in cities governed by pro-migration mayors, a move immediately compared to a policy ordered by Florida Governor Ron DeSantis,
As part of a recent security decree, authorities are now redirecting vessels that pick up migrants in the Mediterranean to ports located farther away from the search and rescue area, frequently opting for cities governed by leftist mayors.
the decree has been met with opposition from the left-leaning Democratic Party and the mayors of the affected cities, both of whom argue the measures are excessive and go against the supposed advantages of mass illegal migration.
However, these concerns were rubbished by Wand Ferro, the undersecretary at Italy's Interior Ministry, who said: "The left protests because NGO ships are finally disembarking in other regions of central Italy and no longer only in the South. Evidently, on the left, they would like to transform Calabria and Sicily into the refugee camp of Europe, a completely unacceptable prospect."
Ferro stated that the asylum centers in southern Italy have faced persistent strain for years and that the government's action to alleviate that pressure amount to a necessary response.
She also dismissed the criticisms from NGOs who operate the migrant transport ships, pointing out that it is not unusual for these ships to keep refugees at sea for extended periods while waiting to pick up more migrants, adding that these ships have a tendency to take migrants to European ports instead of closer ports located in North Africa.
"Perhaps the left suffers from a sort of NIMBY [not in my backyard] syndrome, preaching welcome as long as it is away from their backyard," Ferro continued.
However, NGOs who help facilitate these routes of illegal migration complained in a joint statement that the policy is hindering their efforts to save stranded migrants.
"Among other rules, the Italian government requires civilian rescue ships to head to Italy after each rescue immediately," the statement reads. "This delays further lifesaving operations, as ships usually carry out multiple rescues over the course of several days."
The policy of the Meloni conservative government, which came to power in last October's general election, immediately drew comparisons to Florida Gov. Ron DeSantis, who last year sent illegal migrants to the wealthy, heavily liberal island enclave of Martha's Vineyard in Massachusetts.
The move sparked outrage from wealthy residents, with local authorities opting to activate the National Guard in order to have the individuals quickly removed.
Armored Republic
The Mission of Armored Republic is to Honor Christ by equipping Free Men with Tools of Liberty necessary to preserve God-given rights. In the Armored Republic there is no King but Christ. We are Free Craftsmen. Body Armor is a Tool of Liberty. We create Tools of Liberty. Free men must remain ever vigilant against tyranny wherever it appears. God has given us the tools of liberty needed to defend the rights He bestowed to us. Armored Republic is honored to offer you those Tools. Visit them, at ar500armor.com