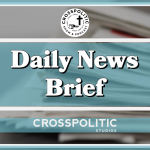 Play during opening: 0:00-0:10
…and more on today's CrossPolitic Daily News Brief. This is Toby Sumpter. Today is Friday, January 14, 2022.
SCOTUS Blocks Biden VAX Mandate & Upholds Healthcare Worker Mandate
https://www.cnbc.com/2022/01/13/supreme-court-ruling-biden-covid-vaccine-mandates.html
The Supreme Court on Thursday blocked the Biden administration from enforcing its sweeping vaccine-or-test requirements for large private companies, but allowed a vaccine mandate to stand for medical facilities that take Medicare or Medicaid payments.
The rulings came three days after the Occupational Safety and Health Administration's emergency measure for businesses started to take effect.
The mandate required that workers at businesses with 100 or more employees get vaccinated or submit a negative Covid test weekly to enter the workplace. It also required unvaccinated workers to wear masks indoors at work.
"Although Congress has indisputably given OSHA the power to regulate occupational dangers, it has not given that agency the power to regulate public health more broadly," the court wrote in an unsigned opinion.
"Requiring the vaccination of 84 million Americans, selected simply because they work for employers with more than 100 employees, certainly falls in the latter category," the court wrote.
President Joe Biden, in a statement, said the Supreme Court chose to block requirements that are life-saving for workers. Biden called on states and businesses to step up and voluntarily institute vaccination requirements to protect workers, customers and the broader community.
"The Court has ruled that my administration cannot use the authority granted to it by Congress to require this measure, but that does not stop me from using my voice as President to advocate for employers to do the right thing to protect Americans' health and economy," Biden said.
In a separate, simultaneously released ruling on the administration's vaccination rules for health-care workers, a 5-4 majority sided with the Biden administration.
"We agree with the Government that the [Health and Human Services] Secretary's rule falls within the authorities that Congress has conferred upon him," said the majority, writing that the rule "fits neatly within the language of the statute."
"After all, ensuring that providers take steps to avoid transmitting a dangerous virus to their patients is consistent with the fundamental principle of the medical profession: first, do no harm," the majority opinion read.
Justices Clarence Thomas, Samuel Alito, Neil Gorsuch and Amy Coney Barrett, four of the six conservatives on the nine-seat bench, dissented. Kavanaugh and Roberts joined the three liberals to enforce this ruling.
"I do not think that the Federal Government is likely to be able to show that Congress has authorized the unprecedented step of compelling over 10,000,000 healthcare workers to be vaccinated on pain of being fired," Alito wrote in his dissent.
FDA Issues Racist Triage Rationing for COVID Treatments
https://freebeacon.com/coronavirus/food-and-drug-administration-drives-racial-rationing-of-covid-drugs/
Fron the Washington Free Beacon: In New York, racial minorities are automatically eligible for scarce COVID-19 therapeutics, regardless of age or underlying conditions. In Utah, "Latinx ethnicity" counts for more points than "congestive heart failure" in a patient's "COVID-19 risk score"—the state's framework for allocating monoclonal antibodies. And in Minnesota, health officials have devised their own "ethical framework" that prioritizes black 18-year-olds over white 64-year-olds—even though the latter are at much higher risk of severe disease.
These schemes have sparked widespread condemnation of the state governments implementing them. But the idea to use race to determine drug eligibility wasn't hatched in local health departments; it came directly from the federal Food and Drug Administration.
When the FDA issued its emergency use authorizations for monoclonal antibodies and oral antivirals, it authorized them only for "high risk" patients—and issued guidance on what factors put patients at risk. One of those factors was race.
The FDA "fact sheet" for Sotrovimab, the only monoclonal antibody effective against the Omicron variant, states that "race or ethnicity" can "place individual patients at high risk for progression to severe COVID-19." The fact sheet for Paxlovid, Pfizer's new antiviral pill, uses the Centers for Disease Control and Prevention's definition of "high risk," which states that "systemic health and social inequities" have put minorities "at increased risk of getting sick and dying from COVID-19."
The guidance sheets are nonbinding and do not require clinicians to racially allocate the drugs. But states have nonetheless relied on them to justify race-based triage.
"The FDA has acknowledged that in addition to certain underlying health conditions, race and ethnicity 'may also place individual patients at high risk for progression to severe COVID-19,'" Minnesota's plan reads. "FDA's acknowledgment means that race and ethnicity alone, apart from other underlying health conditions, may be considered in determining eligibility for [monoclonal antibodies]."
Utah's plan contains similar language. In a section on the "Ethical Justification for Using Race/Ethnicity in Patient Selection," it notes that the FDA "specifically states that race and ethnicity may be considered when identifying patients most likely to benefit from this lifesaving treatment."
The FDA declined to comment on either state's plan, saying only that "there are no limitations on the authorizations that would restrict their use in individuals based on race."
The triage plans are part of a broader push to rectify racial health disparities through race-conscious means. In March of last year, for example, two doctors at Brigham and Women's Hospital in Boston outlined an "antiracist agenda for medicine" that involved "offering preferential care based on race." And last year, Vermont and New Hampshire both gave racial minorities priority access to the COVID-19 vaccine, resulting in at least one formal civil rights complaint against New Hampshire.
The trend has alarmed Roger Severino, the former civil rights director at the Department of Health and Human Services, who called racial preferences in medicine a "corrosive and grossly unfair" practice.
"Our civil rights laws are not suspended during a public health emergency," Severino said. "We should never deny someone life-saving health care because of the color of their skin."
The triage plans show how federal guidelines can encourage this sort of race discrimination. They also suggest that the FDA is making political judgments, not just scientific ones.
"They're injecting politics into science," said a former senior HHS official. "That's something the Trump administration was pilloried for allegedly doing."
One clear sign of that politicization, several legal and medical experts said, is the guidance's double standard between race and sex. Men in the United States have proven to be about 60 percent more likely than women to die of the disease, according to research from the Brookings Institution, and within some age brackets the mortality gap is even larger.
But the FDA doesn't list sex as a risk factor anywhere in its guidance. And while the Utah scheme does take it into account, the New York and Minnesota schemes do not. Nor do they or the FDA give any weight to geography and socioeconomic status, both of which are associated with COVID-19 mortality.
Instead, the triage plans give more weight to race than to many comorbidities. In Minnesota's scoring system, "BIPOC status" is worth two points, the same as diabetes and cardiovascular disease, whereas "hypertension in a patient 55 years and older" is worth just one.
In Utah's scoring system, "Non-white race or Hispanic/Latinx ethnicity" is worth two points—the same amount as diabetes, obesity, and "severely immunocompromised"—while hypertension, congestive heart failure, chronic pulmonary disease, and "shortness of breath" count for one each.
Men do receive one extra point under the Utah scheme, on the grounds that "male gender is associated with increased risk of severe COVID-19." Nonbinary patients, the document says, "may choose to answer" questions about their gender identity "with that background information."
Speaking of Woke medicine…
Microsoft WORD Will Now Offer Woke Corrections
https://notthebee.com/article/microsoft-word-introduces-new-woke-feature-to-monitor-your-language?fbclid=IwAR0sxOqYrccyxxhgAfuKMSuVVCtBFRRQaHfC8qs1PZ3HmOtL4S6PU6Z8DAE
From Not the Bee:
Microsoft has just introduced a woke, politically correct feature that I don't think anyone ever asked for…
Traditionally, Microsoft Word has been used by its 250 million users for things such as spelling, punctuation, and grammar checks. But that wasn't enough for the tech giant.
They (probably) thought, "spelling and grammar checks are great and all but what we really want to do is influence and control the masses." Control is the biggest rave these days.
Word will now highlight no-no words with a purple line beneath any problematic words or phrases that focus on gender, age, sexual orientation, ethnicity or even "socioeconomic status."
Red lines are for spelling errors. Green lines for grammar mistakes. And now, purple lines are politically correct language police alerts.
If you type a bigoted word like, let's say… "postman," Word will offer less offensive, gender-neutral alternatives like "mail carrier" or "postal worker."
The software also suggests altering astronaut Neil Armstrong's famous quote from "one giant leap for mankind," to "humankind" or "humanity" instead. Who knew Neil Armstrong was such a sexist bigot… Microsoft Word knew.
In the lyrics to Barry Manilow's party favourite Copacabana, Microsoft suggests Lola be referred to as a "dancer," "performer" or "performing artist" rather than a "showgirl."
Word is not just policing your language (and by default, your thoughts) but it seems as though Microsoft wants us to re-write and re-imagine history by suggesting we change famous quotes.
It also proposes changing "maid" to "house cleaner." Other changes include "headmaster" (Word suggests "principal"), "mistress" ("lover"), "master" ("expert"), "manpower" ("workforce") and "heroine" ("hero").
This isn't the first time Microsoft is cracking down on language, and it probably won't be the last!
Just last year, Microsoft 365 tried to filter swearing and "bad behavior."
Microsoft was also ridiculed in November over a video presentation showing senior execs introducing themselves by citing their race and gender pronouns. Marketing manager Nic Fillingham was filmed saying: "I'm a Caucasian man with glasses and a beard. I go by he/him."

The Reformed Sage DNB:
Founded in 2018, The Reformed Sage exists to edify Christians with products and services that build the kingdom of God and proclaim the gospel to all. We have created products that are unique, useful, beautiful, and humorous. We have wood art, engraved wall art, apparel, drinkware, decals, stamps, and much more. We also regularly make custom merchandise at wholesale prices for churches, ministries and businesses that want to add or expand their product offerings in turn increasing revenue. Please use promo code FLF22 for 10% off your first order.
AND HAPPENING NOW: All apparel is marked down until Super Bowl Sunday! (No promo code necessary) Shirts: $20 Hoodies: $30 and more! They are changing apparel vendors and removing some designs. We do not know at this time what color/sizing options we will have available come March 1. So, if there is an apparel combo you want (design/size/color) better grab it before it is gone for good! This sale ends on February 6th.

Next up from a listener – and remember you can send stories that you think we should cover on these Daily News Briefs to [email protected] dot com.
A Federal Agency Has Begun Collecting Names & Religious Exemption Records
https://www.washingtontimes.com/news/2022/jan/11/biden-administration-planning-lists-employees-seek/
The Washington Times reports: An obscure federal agency has proposed creating a database capturing the names and "personal religious information" of government employees who submit "religious accommodation requests" to be exempted from the Biden administration's COVID-19 vaccine mandate.
At least seven other federal agencies, including five Cabinet departments, are apparently setting up similar "personal religious information" databases, according to an analyst at the Heritage Foundation, a conservative think tank in the District.
The federal Court Services and Offender Supervision Agency for the District of Columbia, or CSOSA, published a "notice of a new system of records" in the Federal Register on Tuesday.
The agency, which supervises defendants awaiting trial as well as parolees, aims to "reduce recidivism" and "integrate offenders into the community by connecting them with resources and interventions."
The federal departments of Treasury, the Interior, Housing and Urban Development, Health and Human Services, and Transportation, as well as the General Services Administration and the Securities and Exchange Commission, have each published proposed rule-makings to implement "systems of records" tracking their workers' religious accommodation requests.
While there is "some data collection that is likely and legally permissible under Title VII, when an individual at a covered agency requests a religious accommodation," Sarah Parshall Perry, a legal fellow at the Heritage Foundation's Institute for Constitutional Government, said, "we have not seen it on a broad scale like this ever."
President Biden's COVID-19 vaccine mandate for federal workers took effect Nov. 22 under an executive order he issued Sept. 9. The executive order said its terms were "subject to such exceptions as required by law."
"We're not clear on what personal religious information is going to be gathered" under the CSOSA proposal, Ms. Perry said, adding that numerous sticky questions will come up.
"How does one as a federal agency determine the sincerity or lack thereof of an individual's religious beliefs?" she asked rhetorically.
"Normally, information like that goes directly to the [Equal Employment Opportunity Commission] and is maintained for internal purposes, just in the case that there is a future dispute about whether or not religious discrimination exists. However, we're not told why or how this information is being used. And that smacks of religious discrimination on a grand scale."
Psalm of the Day: 23
0:20-0:54, 3:33-4:11
The King of Love my shepherd is…
Good Shepherd, may I sing thy praise, within thy house forever.
Amen.
Remember you can always find the links to our news stories and these psalms at crosspolitic dot com – just click on the daily news brief and follow the links. Or find them on our App: just search "Fight Laugh Feast" in your favorite app store and never miss a show.
This is Toby Sumpter with Crosspolitic News. A reminder: Support Rowdy Christian media, and share this show or become a Fight Laugh Feast Club Member. What allows us to continuing growing to take on the Big Media Lie Fest is your monthly membership support. If you've already joined, a huge thanks to you, and if you haven't, please consider joining today and have a great weekend.