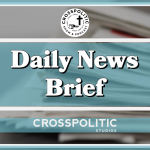 Backstage Content: Healing Cultures Though Christian Missionaries W/ Csaba Leidenfrost – Play 0:00-2:18
That was our latest backstage content of healing cultures through Christian Missionaries, with Csaba Leidenfrost. You can hear the rest of that talk back in the club portal! Hint hint… sign up for a club membership today, at fightlaughfeast.com, that's fightlaughfeast.com!
https://www.theepochtimes.com/new-supreme-court-report-fails-to-identify-abortion-opinion-leaker_4997363.html?utm_source=partner&utm_campaign=BonginoReport
New Supreme Court Report Fails to Identify Leaker of Roe v. Wade Draft Opinion
The Supreme Court released a report stating that, after a months-long internal investigation, the leaker of a draft opinion overturning Roe v. Wade last year couldn't be identified.
The leak shattered the image of the Supreme Court, which has long prided itself on maintaining proper decorum and on keeping as confidential the deliberations of the justices in cases argued before the court.
The day after the leak, Chief Justice John Roberts said there would be an investigation.
But despite his assurances, the unprecedented leak reportedly caused internal disruptions at the court and changed the atmosphere behind-the-scenes while giving rise to rampant speculation about the motives of the leaker or leakers.
Some said the leak was intended to generate a public backlash that would intimidate the conservative justices into leaving Roe intact, while others speculated that it was calculated to pressure the conservative justices, who had already signaled a willingness to reverse Roe, to stay the course and actually do it.
Supreme Court justices, including Justice Samuel Alito, who wrote both the draft and published versions of the opinion, previously described the leak of the document as a "grave betrayal." In recent months, various justices said an update on the progress of the investigation was coming, but no updates followed until the formal release of the report.
The leak was followed by months of raucous protests at the homes of the conservative justices in Maryland and Virginia, targeted harassment of justices in public by left-wing activists, and angry words in Congress. One man was arrested and charged with plotting to kill Justice Brett Kavanaugh.
The report (pdf) on Supreme Court Marshal Gail Curley's investigation was issued midday on Jan. 19.
The Supreme Court ruled on June 24, 2022, in Dobbs v. Jackson Women's Health Organization that there's no constitutional right to abortion, overturning Roe v. Wade, the 1973 precedent that legalized abortion nationwide. The Dobbs ruling returned the regulation of abortion to the states.
Five conservative justices voted to reverse Roe. Roberts, also considered a conservative, voted to uphold the restrictive Mississippi abortion law in question but wrote that he wouldn't have overturned Roe. Three liberal justices issued a strongly worded joint dissent.
Somehow, an early version of the draft majority opinion in Dobbs made its way to the media, a first-of-its-kind leak of a full high court opinion. Politico published the draft document, dated Feb. 10, 2022, on May 2, 2022, without disclosing its source. In the end, the draft document wasn't much different than the official published opinion.
The investigation itself is continuing, according to the report.
https://thepostmillennial.com/trump-probably-coming-back-to-twitter-gop-source?utm_campaign=64487
Trump 'probably coming back to Twitter'
Former President Donald Trump is looking to return to Twitter and Facebook. Trump, whose account was reinstated following the purchasing of Twitter by Tesla and SpaceX CEO Elon Musk, has stuck to his own platform, Truth Social, despite his account's unsuspended status.
A Republican with knowledge of private discussions on Trump's potential return to Twitter, who spoke with NBC News on condition of anonymity, said, "Trump is probably coming back to Twitter. It's just a question of how and when. He's been talking about it for weeks, but Trump speaks for Trump, so it's anyone's guess what he'll do or say or when."
Another person close to Trump told the outlet that Trump has sought input on his potential return to Twitter for weeks, and that his campaign advisors have been workshopping ideas for his first Tweet on the platform in over 2 years.
Some Trump advisors said that the 2024 presidential hopeful could be limited in posting to other social media platforms since he founded Truth Social. A spokesman for Trump told NBC though that the campaign believes he would be able to return to Twitter as before.
Trump was banished from the popular social media platform on January 8, 2021, two days after the Capitol riot on January 6.
Trump previously said that he would not be returning to the platform and that he would stick to Truth Social.
"Truth Social is through the roof," he said
Talks of Trump's potential return to Twitter comes as Trump's campaign has petitioned for his Facebook account to be reinstated, as the account nears the end of it's two-year suspension. The Facebook ban, enacted on January 7, 2021, was for an initial period of two years, after which it would come up for review.
https://thepostmillennial.com/breaking-alec-baldwin-to-be-charged-with-involuntary-manslaughter-in-fatal-rust-shooting?utm_campaign=64487
Alec Baldwin to be charged with involuntary manslaughter in fatal Rust shooting
On Thursday, prosecutors announced that they will charge Alec Baldwin and armorer Hannah Gutierrez-Reed with two counts each of involuntary manslaughter in the fatal shooting of cinematographer Halyna Hutchins on Baldwin's Rust set.
The announcement of the charge comes over two years after Alec Baldwin shot and killed 42-year-old cinematographer Halyna Hutchins and injured director Joel Souza with a live round from a prop gun.
According to CBS News National Correspondent Kris Van Cleve, Assistant Director David Hall "has signed a plea agreement for the charge of negligent use of a deadly weapon. The terms include a suspended sentence and six months probation."
No charges were filed in connection to the shooting of Rust director Joel Souza, who was injured but survived.
In a statement from New Mexico First Judicial District Attorney Mary Carmack-Altwies, she stated that her office will file criminal charges against the two by the end of the month.
Involuntary manslaughter is a fourth-degree felony in the state of New Mexico, and carries an 18-month jail sentence and a $5,000 fine.
Carmack-Altwies noted that "The other charge is involuntary manslaughter in the commission of a lawful act," which is also a fourth-degree felony carrying the same sentencing.
In 2021, Baldwin had said in an interview with George Stephanopolous that he "didn't pull the trigger," but a later FBI analysis concluded that he did in fact pull the trigger.
It was found that the prop gun had been loaded with live rounds, and that the gun had misfired multiple times leading up to the fatal shooting.
In April of 2022, New Mexico's Occupational Health and Safety Bureau fined Rust Movie Productions $136,793, the maximum possible fine.
The bureau also reportedly issued a "scathing narrative of safety failures in violation of standard industry protocols," which included testimony that the production's managers took little to no action to address two previous misfires leading up to the fatal October shooting.
They also documented numerous gun safety complaints brought forth by crew members that they say went unnoticed, and said that weapons specialists were not allowed to make decisions regarding additional safety training.
The production's head armorer, Hannah Gutierrez-Reed, had previously had a number of complaints lodged against her in regard to concerns over her careless handling of weapons. Gutierrez-Reed and her assistants had also been allegedly been playing with weapons on the set of Rust. Hutchins had reportedly been advocating for safer conditions for her team.
In November of 2022, Baldwin launched a lawsuit against several crew members of the film for reckless and dereliction of duty.
The suit named Hannah Gutierrez-Reed, the chief armorer, Assistant Director Dave Halls, Prop Master Sarah Zachry and Seth Kenney, the gun supplier.
The previous month, Baldwin settled with Hutchins' family in a wrongful death suit. As part of the agreement, Matthew Hutchins, Halyna's widower, will act as an executive producer when the film resumes production.
In October 2022, it was revealed that Rust would resume production in January, but the production would not resume in New Mexico, according to Variety.
https://www.foxnews.com/lifestyle/sister-andre-worlds-oldest-person-dies-118
Sister André, world's oldest person, dies at age 118
Lucile Randon, the French nun who was the world's oldest living person and the oldest person to survive COVID-19, died in her sleep on Tuesday, Jan. 17, at the Sainte-Catherine-Laboure nursing home in the town of Toulon.
Randon was less than a month away from celebrating her 119th birthday, multiple outlets reported.
Born on Feb. 11, 1904, Randon worked as a teacher, governess and child care provider before becoming a Catholic nun in 1944.
After becoming a nun, Randon took the name "Sr. André."
Randon was declared to be the "oldest person living (female)" and "overall oldest person living" following the death of 119-year-old Kane Tanaka of Japan on April 19, 2022, according to Guinness World Records.
During her life, Randon spent nearly 30 years working with orphans and the elderly at a hospital in Vichy
Randon told Guinness World Records that she enjoyed eating chocolate and other sweets as a "guilty pleasure" and had a glass of wine each day.
She also credited her long life to hard work, telling French media in 2022 that she worked until she was 108 years old.
Randon was what's known as a "supercentenarian" — someone who lives over the age of 110.
The world's eight verified oldest living people are all women, according to the Gerontology Research Group's website.
Four of the top eight were born in Japan, three were born in the United States, one was born in France and one was born in Brazil.
https://www.cnbc.com/2023/01/18/tech-layoffs-microsoft-amazon-meta-others-have-cut-more-than-60000.html
Microsoft, Amazon and other tech companies have laid off more than 60,000 employees in the last year
The job cuts in tech land are piling up, as companies that led the 10-year bull market adapt to a new reality.
Microsoft said Wednesday that it's letting go of 10,000 employees, which will reduce the company's headcount by less than 5%. Amazon
also began a fresh round of job cuts that are expected to eliminate more than 18,000 employees and become the largest workforce reduction in the e-retailer's 28-year history.
The layoffs come in a period of slowing growth, higher interest rates to battle inflation, and fears of a possible recession next year.
Here are some of the major cuts in the tech industry so far. All numbers are approximations based on filings, public statements and media reports:
Microsoft: 10,000 jobs cut
Microsoft is reducing 10,000 workers through March 31 as the software maker braces for slower revenue growth. The company also is taking a $1.2 billion charge.
"I'm confident that Microsoft will emerge from this stronger and more competitive," CEO Satya Nadella announced in a memo to employees that was posted on the company website Wednesday. Some employees will find out this week if they're losing their jobs, he wrote.
Amazon: 18,000 jobs cut
Earlier this month, Amazon
CEO Andy Jassy said the company was planning to lay off more than 18,000 employees, primarily in its human resources and stores divisions. It came after Amazon said in November it was looking to cut staff, including in its devices and recruiting organizations. CNBC reported at the time that the company was looking to lay off about 10,000 employees.
Amazon went on a hiring spree during the Covid-19 pandemic. The company's global workforce swelled to more than 1.6 million by the end of 2021, up from 798,000 in the fourth quarter of 2019.
Salesforce: 7,000 jobs cut
Salesforce is cutting 10% of its personnel and reducing some office space as part of a restructuring plan, the company announced Jan. 4. It employed more than 79,000 workers as of December.
In a letter to employees, co-CEO Marc Benioff said customers have been more "measured" in their purchasing decisions given the challenging macroeconomic environment, which led Salesforce to make the "very difficult decision" to lay off workers.
Salesforce said it will record charges of $1 billion to $1.4 billion related to the headcount reductions, and $450 million to $650 million related to the office space reductions.
Meta: 11,000 jobs cut
Facebook parent Meta
announced its most significant round of layoffs ever in November. The company said it plans to eliminate 13% of its staff, which amounts to more than 11,000 employees.
Meta
's disappointing guidance for the fourth quarter of 2022 wiped out one-fourth of the company's market cap and pushed the stock to its lowest level since 2016.
The tech giant's cuts come after it expanded headcount by about 60% during the pandemic. The business has been hurt by competition from rivals such as TikTok, a broad slowdown in online ad spending and challenges from Apple's iOS changes.
Twitter: 3,700 jobs cut
Shortly after closing his $44 billion purchase of Twitter in late October, new owner Elon Musk cut around 3,700 Twitter employees, according to internal communications viewed by CNBC. That's about half the staff. Since then, significantly more employees have quit after Musk changed some policies around working from home and wrote that he expected all employees to commit to a "hardcore" work environment.
In a tweet on Nov. 4, Musk said there was "no choice" but to lay off employees as the company was losing $4 million per day.
https://www.boundingintosports.com/2023/01/philadelphia-flyers-ivan-provorov-stands-by-his-faith-refuses-to-wear-lgbtq-pride-night-jersey/
Philadelphia Flyers' Ivan Provorov Stands By His Faith, Refuses To Wear LGBTQ+ Pride Night Jersey
During the recent match between the Philadelphia Flyers and the Anaheim Ducks, one member of the Flyers did not wear the Pride Night themed rainbow warmup jersey meant to show support for the LGBTQ+ movement.
Defensemen Ivan Provorov, a religious Christian and part of the Russian Orthodox Church, abstained from taking part in the compulsory-endorsement of beliefs that go against his faith. For his refusal, the Flyers put out a politically correct response before the online mob descended on them.
The reports of Provorov's refusal to wear the Pride Night jersey were confirmed by head coach John Tortorella, who unlike the statement released by the unnamed team spokesperson, praised the player for standing by his faith instead of throwing him under the bus.
https://twitter.com/i/status/1615542361697787906 – Play Video
Provorov did speak with the media where he affirmed his position not to take part in the LGBTQ+ propaganda.
1/17 PHI vs. ANA Postgame: Ivan Provorov– Play 0:00-0:16