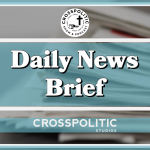 Kids don't belong to their parents…and more on today's CrossPolitic Daily News Brief. This is Toby Sumpter. Today is Friday, January 14, 2022.
If you want to see more of this sort of thing, please consider joining the Fight Laugh Feast Club. For less than a few coffees a month, you can help us build a rowdy Christian media response to liberal legacy media, big tech, and build a Christian megaphone for the truth. Got to flfnetwork.com and click on "join the club."
This resurfaced video of then MSNBC's Melissa Harris-Perry from 2013 is currently making the rounds on twitter.
Play video: 0:00 to 0:29
"We have to break through this idea that kids belong to their parents, or kids belong to their families".
What you're hearing there is exhibit A of the principle of "not whether but which." Christians need to get this in their bones. It is not whether there will be a god: it is always: which god will be worshiped and obeyed. It is not whether there will be parents; the question is only who will do the parenting? And in this case: it is not whether there will be some concept of covenant community, the only question is who will the community be and how will it be ruled and governed.
Related to this is the law of displacement. I just made that up. But the point is that when the God-ordained government fails to do its God-ordained duty, another government always swoops in or creeps in to take its place. So if you're a father or mother and you are abdicating your duties as parents, it's only a matter of time before some other government will step in to do your job. And when we disobey God in these matters, we are always invite tyranny, oppression, and slavery. And if you say, me and my family are enough. My kids don't need anything else. You're disobeying God. Children born into families of at least one believing Christian parent are called "holy" – and that means they are claimed by God. And therefore, they are to be raised in the covenant community of the Church. Either you will have God's way or you will have MSNBC's way. You'll have the Biblical covenant community, or else you'll have the creepy secularist cult community.
While 1950s morality was a lot more Christian, there was a humanistic, secular perversion of that traditional family that was already a weakening of the family. The strongest way to raise kids is in obedience to God. The strongest is not you huffing and puffing about being the head of your family. The strongest is not you going to all the church things. The strongest is faith in God and simple obedience to His Word. The strongest is under the blessing of God.
Speaking of families taking their duties seriously, I want to tell you about Armis Dei, a Christian, Classical, and Collaborative school founded in 2021 in the lake country of Rhinelander, WI. Armis Dei is currently seeking its first Head of School. Their goal is to partner with parents to mature students to love all of God's truth so that they might live with courage in the world for His glory. Armis Dei school currently has 5 staff members and currently serve grades 4K to 5th grade with 37 students. They are planning to add an additional grade each year up through 12th grade. Even though this is a new work, its funding is solid with a growing tuition base and fundraising that will cover salaries and other start-up costs for several years. Compensation is competitive and Armis Dei intends to provide a generous income based on experience. Interested applicants should submit a resume or CV to Pastor Jeremy Vander Galien at armisdeischool@gmail.com.
Speaking of confused governments: Starbucks has announced the end of its COVID vaccine requirement for its U.S. workers in response to Supreme Court ruling
https://www.cbsnews.com/news/starbucks-covid-vaccine-requirement-stop-supreme-court/?fbclid=IwAR0bf1sYCsZ77bKg1pRDnbelSZBn0onzAOYhSZn1fXh2W2xQNF-QrqAbV7w
Starbucks is no longer requiring its U.S. workers to be vaccinated against COVID-19, reversing a policy it announced earlier this month.

In a memo sent Tuesday to employees, the Seattle coffee giant said it was responding to last week's ruling by the U.S. Supreme Court. In a 6-3 vote, the court rejected the Biden administration's plan to require vaccines or regular COVID testing at companies with more than 100 workers.

"We respect the court's ruling and will comply," Starbucks Chief Operating Officer John Culver wrote in the memo.
Ahem. For the record, Mr. Culver, the court simply struck the Biden tyranny mandate down. The court is not god. You need to comply with God's word, not the word of man.

Starbucks' reversal is among the most high-profile corporate actions in response to the Supreme Court ruling. Many other big companies, including Target, have been mum on their plans, although some businesses have said they will maintain plans to require vaccinations.

Clothing maker Carhartt, for one, told its employees on Friday that it was sticking with its own vaccine mandate, citing the higher health risks faced by unvaccinated people.


Dime Payments is a Christian-owned processing payment business. Every business needs a payment process system, so please go to https://dimepayments.com/flf and sign your business up. Working with them supports us. They wont cancel you, like Stripe canceled President Trump. They wont cancel you, like Mailchimp canceled the Babylon Bee. Check them out. At least have a phone call and tell them that CrossPolitic sent you. Go to https://dimepayments.com/flf.
Ghislaine Maxwell Asks Judge for New Trial
h​​ttps://www.wsj.com/articles/ghislaine-maxwell-asks-judge-for-new-trial-11642696832?mod=e2tw
Lawyers for Ghislaine Maxwell asked a federal judge to grant her a new trial after raising concerns about statements a juror made following the disgraced socialite's conviction last month on sex-trafficking charges.
In a brief letter filed late Wednesday, Bobbi Sternheim, a lawyer for Ms. Maxwell, told U.S. District Judge Alison Nathan that the attorneys had filed their motion for a new trial and related exhibits under seal. Ms. Sternheim requested that material pertaining to the juror remain sealed until after Judge Nathan rules on the motion.
Lawyers for Ms. Maxwell indicated earlier this month that they would seek a new trial.
After the trial, the juror, a 35-year-old man, told media outlets that sharing his experiences as a sex-abuse victim influenced deliberations. The juror told Reuters that he talked about his experience after some jurors questioned how accurate the memories of Ms. Maxwell's accusers were.
"When I shared that, they were able to sort of come around on, they were able to come around on the memory aspect of the sexual abuse," the juror said, according to Reuters.
Ms. Maxwell, 60 years old, was convicted of five of six criminal counts in late December. The most serious count, sex trafficking of minors, carries a maximum of 40 years in prison. Judge Nathan has scheduled Ms. Maxwell's sentencing for June 28.
During the three-week trial, federal prosecutors said that between 1994 and 2004, Ms. Maxwell recruited and groomed teens for sex acts with disgraced financier Jeffrey Epstein.
@libsoftiktok: "NYPD arrest multiple people including a young child, for trying to enter a museum (@AMNH) without proof of vaccination"
Play: 0:03 to 0:14
One of the young men arrested can be heard saying "God will judge you."
Psalm of the Day: 134
0:09-1:25
Remember you can always find the links to our news stories and these psalms at crosspolitic dot com – just click on the daily news brief and follow the links. Or find them on our App: just search "Fight Laugh Feast" in your favorite app store and never miss a show.
This is Toby Sumpter with Crosspolitic News. A reminder: Support Rowdy Christian media, and share this show or become a Fight Laugh Feast Club Member. What allows us to continuing growing to take on the Big Media Lie Fest is your monthly membership support. If you've already joined, a huge thanks to you, and if you haven't, please consider joining today and have a great weekend.