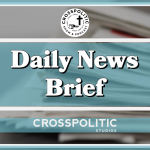 Play 0:42-0:45 during intro
What do we want? Freedom. When do we want it? Now …and more on today's CrossPolitic Daily News Brief. This is Toby Sumpter. Today is Friday, January 28, 2022.
If you want to see more of this sort of thing, please consider joining the Fight Laugh Feast Club. For less than a few coffees a month, you can help us build a rowdy Christian media response to liberal legacy media, big tech, and build a Christian megaphone for the truth. Go to flfnetwork.com and click on "join the club."
OK one more thing: would please Like and share this show? Do it now so we can reach more people with the truth.
Canadian Broadcasting Points the Camera in the Wrong Direction
https://twitter.com/canmericanized/status/1486772972719247361?s=20&t=kMVv2-_m9Q7mb-pLue7jRg
No one else is showing this, so I'm going to play this full 2 minute video because I want you to see this freedom protest in Canada along the route of the Trucker Convoy.
According to Johns Hopkins University, Israeli COVID cases have broken a new world record.
Over 100,000 new COVID cases have been recorded in Israel for their 7-day rolling average, setting set a new world record high, where over 90% of the adult population has received 2 vaccine doses, 80% have received 3 doses, and over 500,000 Israelis have received 4 doses—which the government is now pushing for all adults.
Clearly, they have not had enough doses.
Next, I want to tell you about Cornerstone Work & Worldview Institute. College is great! But it's not for everyone. Cornerstone Work & Worldview Institute seeks to fill that gap. Their mission is to build kingdom culture in the workplace through their integrative program of worldview instruction and on-the-job skills training under the guidance of mentors. They offer courses in Bible, theology, and economics as well as business, project management, and marketing and more. They also provide their students with internships with business partners so they can learn and gain practical skills. You are invited to join their mission to provide Christians another educational opportunity. Together you can help students grow confident in their faith and competent in their labor. Visit them today at cornerstonework.org to learn more, to enroll, or to become one of their partners.
Thousands of Mississippians are locked up in jails awaiting trial because they can't afford a lawyer.
Duane Lake spent six years locked up in a jail cell in Clarksdale for a triple murder he didn't commit.
"I lost it all — my family, my marriage, my job, my career," said the 35-year-old welder. "Now I'm working, trying to get everything back. I've got to take it one day at a time."
He spent many of those days in the "dead zone" — what defense lawyers are calling the time behind bars without legal representation. He was arrested in 2015, but he wasn't indicted until two years later. Then he spent another four years in jail while awaiting trial.
But he had no lawyer to fight for his release, so he wound up filing his own motions for a speedy trial. He never heard anything back. A court-appointed lawyer represented him at a hearing after his arrest. Another court-appointed lawyer represented him at a hearing after his indictment. In November — more than six years after he was jailed — a jury acquitted him of capital murder.
Thousands of Mississippians are locked up in jails awaiting trial because they can't afford a lawyer.
Cliff Johnson, director of the Roderick and Solange MacArthur Justice Center at the University of Mississippi School of Law, said about 85% of those charged with crimes in the state can't afford private lawyers and must rely on public defenders.
The problem? "Many of those same poor people who can't make bail are forced to rely on a public defender system that appoints them a lawyer at the outset of their case who handles only preliminary matters and then disappears," Johnson said. "No other lawyer is appointed until after an indictment is obtained by the district attorney, and in Mississippi that can takes months or even years because we don't have a time limit on how long a person can be jailed prior to action by a grand jury."
He referred to that lengthy stretch without representation as "the dead zone."
"It is a failure of Mississippi's criminal legal system that has devastating consequences for poor defendants," Johnson said.
Mississippi is one of five states with no statewide public defender system. Instead, the burden for legal representation falls on local governments, many of which struggle to fund such representation.
Johnson said he's amazed "how cavalier some Mississippians are when it comes to allowing the government to take people's liberty. They say they don't trust the government, but they sure seem happy to let the government rob other folks of their freedom."
Because Lake's case appeared to have been weak, he said, if a public defender had been appointed and worked early on the matter, perhaps prosecutors would have considered a request to dismiss the charge.
"The law and our criminal rules say that there is a presumption of release prior to trial and that requiring payment for one's freedom should be the exception rather than the rule," he said. "But Mississippi judges demand that people pay for their liberty in 99 percent of felony cases, presumption of innocence be damned."
Th​e problem ​caused by the combination of Mississippi's bail practices and spotty public defender system is growing because the jail population continues to grow, he said. The number of Mississippians incarcerated in county jails across the state have increased by more than 500 since the pandemic began, a report by his office shows.
Of the more than 5,700 jailed, 2,700 have been there longer than 90 days. More than 1,000 have been incarcerated at least nine months, and 740 have been stuck in county jails over a year.
An MCIR analysis of the database shows that 1 out of every 17 people in a Mississippi jail hasn't been indicted. Most have been jailed for more than two months — enough time for people to lose jobs and fall behind on financial commitments while they wait for legal help.
Of those, 89 have been jailed more than six months, and 29 have gone more than a year. One man arrested for murder in Lauderdale County has been jailed for nearly four years. He still hasn't been indicted.
That extra time behind bars costs Mississippi counties, which spend at least $90 million a year for pretrial incarceration alone.
This is just your friendly reminder that prisons are wicked, unbiblical, and unjust. Christians must be at the forefront of demanding the dismantling of the prison system. And Christians of all people should know why. Because they get used to abuse the innocent, you know, like Christians, like Christians in China, like Christians in Canada. Sure, very short jail time for violent criminal awaiting their trial and punishment. But mass incarceration is heinous sin against God. It treats human being bad in His image as animals. It prevents true restorative justice from being carried out where restitution is possible, and it prevents the justice of the death penalty from taking away the blood guilt from the land.
Boston patient removed from heart transplant list for being unvaccinated
A 31-year-old father has been removed from the heart transplant list at a Boston hospital because he is refusing to get the COVID-19 vaccine, his family said.
DJ Ferguson's family say he was first on the list to receive the transplant at Brigham and Women's Hospital — but he is no longer eligible because of his vaccination status, CBS Boston reported.
His father, David Ferguson, said his son — who is fighting for his life in the hospital and is in desperate need of the transplant — doesn't believe in the COVID-19 vaccine.
Play: 0:12-016, 0:27-33
"It's kind of against his basic principles, he doesn't believe in it. It's a policy they are enforcing and so because he won't get the shot, they took him off the list of a heart transplant," David told the outlet.
Dr. Arthur Kaplan, head of medical ethics at NYU Medical School:
1:25-1:41
How are those vaccines working out in Israel? Oh nevermind… It's time for Christians to step up their game in the medical industries. Start your own practices, your own surgery centers, you own pharmacies, and hospitals. And let's get some states to deregulate the medical industry and let families choose what they believe is best for themselves. Why? Because Jesus is Lord. Because He is Lord of the family and the state, and He gives them their respective authorities, and they cannot go beyond what He has given them or abdicate the duties He has given.
Psalm of the Day: Psalm 110
0:00-0:41, 1:26-2:09
Remember you can always find the links to our news stories and these psalms at crosspolitic dot com – just click on the daily news brief and follow the links. Or find them on our App: just search "Fight Laugh Feast" in your favorite app store and never miss a show.
This is Toby Sumpter with Crosspolitic News. A reminder: Support Rowdy Christian media, and share this show or become a Fight Laugh Feast Club Member. What allows us to continuing growing to take on the Big Media Lie Fest is your monthly membership support. If you've already joined, a huge thanks to you, and if you haven't, please consider joining today and have a great day.