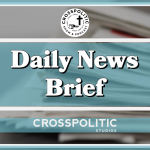 This is Toby Sumpter with your CrossPolitic Daily News Brief for Friday, January 29, 2021.
Today you will hear about the Senate on Impeachment, Biden signs two more executive orders, the Hyde Amendment on the chopping block, Robin Hood is robbing the poor, and a new psalm of the day.
Remember: If you have a news story you think we might need to cover, please send articles and links to News@CrossPolitic.com
Two National Events: Fight Laugh Feast Rally in Rapid City, South Dakota, April 29, 30, May 1 & the Fight Laugh Feast Conference in Nashville, TN, October 14-16. Why a rally in South Dakota in April? Because we want to stand with Kristi Noem – the only Governor in the Union to not overstep her authority. And we also want to encourage you wherever you are. Many churches are not meeting, many Christians feel all alone. But you're not alone. So the theme of the Rally in South Dakota is Love God, Sing Psalms, Defy Tyrants. Gather with likeminded Christians who love freedom, confess Jesus Christ is Lord, and be equipped to stand firm in these insane days. Go to FLFNetwork.com/Rally. 
The Senate Considered Whether Taking Up the Articles of Impeachment Was Constitutional
https://www.wsj.com/video/most-gop-senators-back-motion-challenging-trump-impeachment-trial/F8C220B6-92AE-4650-850D-837D1112F9DD.html
So the Senate will be going forward with a trial, currently scheduled to begin the week of February 8th. 
Biden Signed Two Executive Orders Thursday
https://www.wsj.com/video/biden-signs-executive-orders-for-affordable-care-act-womens-health/72C62BBC-9F31-4A8E-9754-2DEA85944626.html
As President Biden noted, the first executive order was directed at restoring elements of Obamacare and Medicare, the second rescinded the Mexico City policy, which prohibits international non-governmental organizations from receiving federal money if they provide abortions, abortion counseling, or referrals. This policy has been instituted and reversed by previous administrations repeatedly. 
And this underlines the impotence of executive orders, or at least their limited effectiveness. 
Another related item is the Hyde Amendment, legislation that has barred the use of federal funds to pay for abortions, except for rape or incest. Since conservatives only want to pay for the murder of a baby if they came into existence as a result of some one else's crime. Because we should definitely punish innocent babies for the crimes of their parents. 
The Hyde Amendment was originally passed in 1976, and I'm not sure if it included those exceptions, but a "life of the mother" exception was added in the version in force from 1981 to 1993, and then the version Bill Clinton signed added the rape and incest clauses. 
It passed the House in 1976 with a 312-93 vote. Contrast that with the 2016 Democrat platform including explicit call to repeal the Hyde Amendment. In 2017, the House passed HR 7 attempting to make the Hyde Amendment permanent, but it failed to pass a Republican majority Senate. 
https://disrn.com/news/congressional-republicans-draw-line-in-the-sand-on-federally-funded-abortion/
As disrn news pointed out, as recently as 1994, Biden boasted that he had upheld the Hyde Amendment, voting against federal funding of abortions no fewer than 50 times. However, you may remember that during the recent presidential compaign, Biden reversed his position, claiming that circumstances have changed. 
So with the Hyde Amendment presumably on the chopping block: A Republican Study Committee, led by Congressman Jim Banks of Indiana, has sent a letter to House Speaker Nancy Pelosi (D-CA) and Senate Majority Leader Chuck Schumer (D-NY), notifying them that the committee has pledged to unanimously and rigorously defend the historic Hyde Amendment.
If Mr. Banks was smart, he and his colleagues would also begin campaigning to remove the exceptions to the Hyde Amendment. Why are Democrats in favor of punishing babies for the crimes of other people? 
Share Plug
Is CrossPolitic a blessing to you? One of the most significant ways you can help us (and we need a LOT of help!) is by sharing this news brief or your favorite show with someone you think would appreciate it. Tell someone about the Fight Laugh Feast App. And last of all, become a Fight Laugh Feast Club Member. We are building a platform that Lord-willing cannot be cancelled by big media. And your support is helping to make that possible. Thanks to all of you who have already shared our content and become club members. 
Robin Hood is Robbing the Poor to Feed the Rich?
https://www.reuters.com/article/us-retail-trading/american-airlines-joins-gamestop-trading-frenzy-as-calls-for-probe-build-idUSKBN29X12T?fbclid=IwAR1BR_N2mQhORcQ7JY94InGpDAEHQZrBVuZghLUwEzl8vzPTU8WQakgvvqk
GameStop, the video game chain whose 1,700% rally has been at the heart of the slugfest in the past week, lost half its value in early trading. The stock had rallied initially, then retreated, while American Airlines joined the growing list of stocks making stellar gains as small-time traders and major Wall Street institutions broadened their battle.
On Reddit thread WallStreetBets, where calls to buy stocks have helped drive the extraordinary moves, some of its more than 4 million members reported trading platform Robinhood was now preventing investors from buying GameStop and other volatile stocks.
Robinhood cited "recent volatility" in a statement on its website. (bit.ly/36nNBz4). It said restricted stocks also included BlackBerry, Koss and Express. Interactive Brokers, another online trading platform, also said it was restricting trading in those stocks. "We do not believe this situation will subside until the exchanges and regulators halt or put certain symbols into liquidation only," Interactive Brokers said.
On Twitter, many observers decried the decision to remove certain stocks, arguing the retail trading platforms were trying to protect Wall Street interests at the expense of Main Street.
"Robin Hood: a parable about stealing from the rich to give to the poor. Robinhood: an app about protecting the rich from being short squeezed by the poor," Tweeted Jake Chervinsky, a lawyer for fintech company Compound.
Psalm of the Day: Psalm 110
https://open.spotify.com/track/5qNuoZUYo5HU9SVEcDMlJL?si=acvu4Qk0R6C7oxiCc5ZhQA
First off, I don't care who you are: your guitar and praise team can't hold a candle to that organ that congregation belting out Psalm 110. That recording is from Independent Presbyterian Church in Savannah, George from Spotify. But it's one of our favorites here in Moscow at Christ Church. But listen to that verse again. Did you catch it. Go ahead, listen to it again. I'll wait. 
"The Lord at Thy right hand shall smite
Earth's rulers in His wrath.
Among the nations, He shall judge; 
The slain shall fill His path.
In many lands He'll overthrow 
Their kings with ruin dread;
And marching, He'll drink from the brook
Ans so lift up His head. 
Who is that Lord at God's right hand? It is our Lord Jesus Christ. What is He doing right this minute? Ruling and reigning until all of His enemies have been put beneath His feet. He is striking the rulers of the nations with the Sword of His mouth, some are struck dead and come back to life by the power of the gospel, and some are simply struck dead. But the history of the world is the history of the slain that fill His path. And He does not grow weary. He marches all day and all night, and drinks from the brooks and lifts His head in triumph. 
This is Toby Sumpter with Crosspolitic News. You can find this and all of our shows at Crosspolitic.com or on our app, which you can download at your favorite app store, just search "Fight Laugh Feast". Support Rowdy Christian media, and become a Fight Laugh Feast Club Member and get your very own Fight Laugh Feast t-shirt and access to all the talks at our first annual Fight Laugh Feast Conference as well as many exclusive behind the scenes interviews as well as our very own Worldview Shotgun Series. We still have a few Fight Laugh Feast tumblers left for club members at 25$ a month or more. Go to FightLaughFeast.com. Have a great day.