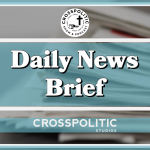 This is Garrison Hardie with your CrossPolitic Daily Newsbrief for Friday, January 6th, 2022. Happy Friday everyone! Let's start this newsbrief off with a little, on this day in history!
On this day in history for January 6th:
1681 First recorded boxing match is engineered by Christopher Monck, 2nd Duke of Albemarle; his butler vs his butcher

How about a famous wedding? 1759 US 1st President George Washington marries Martha Dandridge Custis at White House Plantation

1941 US President Franklin Roosevelt makes his "Four Freedoms" speech (freedom of speech and worship; freedom from want and fear) during his US State of Union address

1942 Pan American Airlines becomes the first commercial airline to schedule a flight around the world ("Pacific Clipper").

1975 "Wheel Of Fortune" debuts on NBC-TV

1979 The Village People's Y.M.C.A becomes their only UK #1 single. At its peak it sold over 150,000 copies a day.

1987 Astronomers at University of California see 1st sight of birth of a galaxy

2021 Supporters of US President Donald Trump storm the Capitol in Washington during congressional certification of Joe Biden and Kamala Harris's win.
And that… was on this day in history… brought to you by…
Classical Conversations
Classical Conversations supports homeschooling parents by cultivating the love of learning through a Christian worldview in fellowship with other families. They provide a classical Christ-centered curriculum, local like-minded communities across the United States and in several countries, and they train parents who are striving to be great classical educators in the home. For more information and to get connected, please visit their website at ClassicalConversations.com. Again that's ClassicalConversations.com.
https://www.washingtonexaminer.com/news/matt-gaetz-continue-speaker-stalemate-until-mccarthy-concedes
Matt Gaetz vows to continue speaker stalemate until McCarthy concedes or limits power
One of Rep. Kevin McCarthy's most stubborn opponents in his House speaker bid is vowing not to fold and to continue the current stalemate until the California Republican either agrees to the defectors' demands or drops out altogether.
Rep. Matt Gaetz (R-FL), who has been one of McCarthy's most vocal opponents, pledged not to back down in the House speaker showdown, intensifying what has already been a dayslong fight as the chamber looks to elect its next leader.
"I think this ends one of two ways," Gaetz told Fox News after the House adjourned on Wednesday. "Either Kevin bows out, realizing there is no path to become speaker of the House even with one or two or three or five of the 20 who have opposed him half a dozen times on the floor, or he essentially has to wake up, bring the House into session, and put on a straitjacket with a rules package that we've presented to him that doesn't allow a lot of discretion for the speaker of the House."
After failing to make headway in three rounds of roll call votes on Wednesday, McCarthy proposed a new bout of concessions to some of his most stubborn opponents in a last-ditch effort to win their support before the chamber reconvenes. As part of his latest concessions, McCarthy agreed to a proposal to add more Freedom Caucus members to the House Rules Committee, as well as further lowering the number of members needed to call for a floor vote to oust a sitting speaker, according to CNN.
The compromise builds on previous concessions in which McCarthy agreed to lower the number of votes needed to oust him from the position possibly should he be elected, marking a significant win for far-right conservatives such as Gaetz.
"The reason we've demanded that is we do not trust Kevin McCarthy, and it's not a small body of work," the Florida Republican said.
Even if those demands are met, however, Gaetz has vowed not to back McCarthy's bid.
Twenty GOP lawmakers voted against McCarthy to back Rep. Byron Donalds (R-FL) in the latest round of voting, with one Republican voting present. Donalds initially voted for McCarthy in the first two roll call votes before backing Rep. Jim Jordan (R-OH) in the third round on Tuesday, conceding that "at the end of the day, we've got to get to 218."
https://thepostmillennial.com/black-couple-given-plot-of-land-in-reparations-sells-it-back-to-la-for-20-million?utm_campaign=64487
Black couple given plot of land in reparations sells it back to LA for $20 million
The heirs to Bruce's Beach, the prime beachfront property in California's Manhattan Beach, have sold the land back to the county for $20 million after receiving it just over a year ago in an act of restorative justice.
The direct descendants of the black couple who were run off of their land and business got a form of "reparations," according to LA County.
In 1912, Charles and Willa Bruce, a black couple, bought the plot of land for $1,225 and opened up a black beach club, reported the Los Angeles Times. These clubs were common in southern California during that period, when segregation kept black people out of "whites-only" beaches.
Facing mounting pressure from racist individuals and groups, including the Ku Klux Klan, city officials condemned the property to eminent domain in 1924, claiming that they needed it to build a park.
According to the Los Angeles County website, no park was actually built until nearly 30 years later, and the real reason for seizing the land was racially motivated.
"It is well documented that the real reason behind the eminent domain process was racially motivated with the intention of bringing an end to the successful Black business and to thwart other African Americans from settling in or developing businesses in Manhattan Beach," the government site reads.
The county ended up forcing the black couple off of their land, paying them only $14,000 when the plot was actually valued at $70,000, according to Daily Mail. The Bruces left the beach and closed their business.
According to their family, they never financially recovered. In July 2022, LA County returned the land to direct descendants Marcus and Derrick Bruce as well as Derrick's sons, Anthony and Michael.
"It destroyed their chance at the American Dream. I wish they could see what has happened today," Anthony said when the land was finally returned.
On Tuesday, it was announced that the Bruces had opted to cash out on the land instead.
The chair of the Los Angeles County Board of Supervisors, Janice Hahn, stated that the selling of the land will help rebuild "generational wealth" that the family lost out on after their great-grandparents' business was destroyed.
"This fight has always been about what is best for the Bruce family, and they feel what is best for them is selling this property back to the county for nearly $20 million and finally rebuilding the generational wealth they were denied for nearly a century," she said.
"This is what reparations look like and it is a model that I hope government across the country will follow," the county official added.
https://townhall.com/tipsheet/madelineleesman/2023/01/04/indigenous-arts-leader-revealed-as-white-n2617839
'Non-Binary' Founder of Indigenous Artists' Collective Accused of Faking Native American Heritage
The co-owner of a "queer Indigenous artists' collective" in Wisconsin reportedly faked her Native American background and "used the front to make money," the New York Post reported.
Kay LeClaire, a woman who identifies as "non-binary," was accused in an online forum of being white after claiming for years that she was of Metis, Oneida, Anishinaabe, Haudenosaunee, Cuban and German descent. LeClaire is a founding member of an art collective and is well-known in the Indigenous arts community in Madison, Wisconsin. LeClaire went by the Indigenous name "Nibiiwakamigkwe," the Post noted.
Reportedly, LeClaire earned artist stipends, a paid residency at the University of Wisconsin, paid speaking gigs, and art exhibitions based on her Native American background. But, a "hobbyist genealogist" who did not reveal their identity posted evidence of LeClaire's real ancestry on an online forum. It showed that LeClaire is of German, Swedish, and French Canadian descent.
"I am sorry," LeClaire reportedly told local outlet Madison365. "A lot of information has come to my attention since late December. I am still processing it all and do not yet know how to respond adequately. What I can do now is offer change."
The art collective said in an Instagram post that it had parted ways with LeClaire on Dec. 31, 2022.
The anonymous user who published LeClaire's ancestry online went by the screen name "AdvancedSmite." They spoke with Madison365 and revealed they are of Native American heritage.
Townhall reported that several high-profile activists had been caught pretending to have Native American ancestry, including Sen. Elizabeth Warren (D-MA), Canadian academic Carrie Bourassa, and actress Sacheen Littlefeather, whose sisters came forward late last year after her death to reveal that she was of Mexican descent.
Redballoon
Not so long ago, the American dream was alive and well. Employees who worked hard were rewarded, and employers looked for people who could do the job, not for people who had the right political views. RedBalloon.work is a job site designed to get us back to what made American businesses successful: free speech, hard work, and having fun. If you are a free speech employer who wants to hire employees who focus on their work and not identity politics, then post a job on RedBalloon. If you are an employee who is being censored at work or is being forced to comply with the current zeitgeist, post your resume on RedBalloon and look for a new job. redballoon.work, the job site where free speech is still alive!
As we head into the weekend… why don't we talk about some entertainment!
https://boundingintocomics.com/2023/01/03/indiana-jones-and-the-dial-of-destiny-reportedly-pacing-far-behind-transformers-rise-of-the-beasts-and-guardians-of-the-galaxy-vol-3/
Indiana Jones Theme Song [HD] Play 0:00-0:21
'Indiana Jones And The Dial Of Destiny' Reportedly Pacing Far Behind 'Transformers: Rise Of The Beasts' And 'Guardians Of The Galaxy Vol. 3' In Audience Interest
A report from Puck's Matthew Belloni claims that Indiana Jones and the Dial of Destiny significantly underperformed compared to Transformers: Rise of the Beasts and Guardians of the Galaxy Vol. 3 after the three films released trailers during Brazil Comic Con back at the beginning of December.
According to studio source Belloni reports that Transformers: Rise of the Beasts racked up over 506 million views in two weeks across YouTube, Facebook, TikTok, Instagram, and Twitter.
Guardians of the Galaxy Vol. 3 drew in 187 million views while Indiana Jones and the Dial of Destiny only brought in 79 million views.
Taking a peek at the YouTube numbers, as of today, the Indiana Jones and the Dial of Destiny trailer only has 10 million views on the Lucasfilm YouTube channel.
Transformers: Rise of the Beasts has 26.3 million views on the official Paramount Pictures YouTube channel.
While Guardians of the Galaxy Vol. 3 isn't trailing Transformers: Rise of the Beasts as much as Belloni reported after two weeks, Indiana Jones and the Dial of Destiny is still significantly off the pace compared to Transformers: Rise of the Beasts and Guardians of the Galaxy Vol. 3.
In fact, both films have more than doubled up on trailer views compared to Indiana Jones and the Dial of Destiny.
Indiana Jones and the Dial of Destiny is not only trailing these films when it comes to trailer views as noted by both Belloni's inside source as well as spot-checking YouTube, but Belloni also claims the film is already at a disadvantage because Stephen Spielberg is not directing the film and Harrison Ford is 80 years old and is supposedly the leading man in a film franchise known for its action adventure heroics.
The film's promotion has also been plagued by director James Mangold's antagonistic behavior to concerned fans about what he and Lucasfilm have planned for the film.
Lucasfilm has a track record of destroying their male-led franchises, one needs only look at the the desecration of Han Solo in The Force Awakens that turned his character into a deadbeat dad, who then gets murdered by his own son.
This anti-male theme would be doubled down on in Rian Johnson's The Last Jedi that shows Luke Skywalker as a man who has abandoned everything he believed in and even tosses his lightsaber away like a piece of garbage.
This theme is not isolated to the sequel trilogies, The Mandalorian turns what was pitched as a ruthless bounty hunter living in the outer reaches of the galaxy into a glorified baby sitter for a child-like Yoda character that is apparently not a child at all. The Book of Boba Fett also turned the famed bounty hunter into an incompetent town manager.
Given this track record, fans have a healthy skepticism of what Lucasfilm and Mangold will do to the franchise and have especially had their hackles up following the casting of self-proclaimed feminist Phoebe Waller-Bridge.
In response to one fan concern, Mangold decided to attack him and then proceeded to lie about his attacks on the fan.
Matthew Kadish shared his concerns writing on Twitter, "To anyone thinking Indiana Jones 5 might be good, just let me point out… 1. Steven Spielberg is not directing. 2. Kathleen Kennedy is producing. 3. Harrison Ford is 78 years old. 4. It's written by Jonathan Kasdan, who wrote SOLO."
Mangold responded writing, "Thanks, Matt! 1) Keep making the world a better place crapping on things in the 1st week of production from your basement. 2) Never seen a script by Jon. Nothing against him. Just reality. Butterworths & I started from a blank page. 3) 1-3 r hugely talented & all at my side."
Clearly, Indiana Jones and the Dial of Destiny does not appear to be connecting to people via trailer views and on top of that it has an antagonistic director who not only confirmed fan fears about Lucasfilm's production are legitimate, but he's openly degrading them for expressing such concerns.