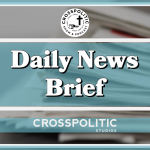 Evangelical worship in the House of Representatives … and more on today's CrossPolitic Daily News Brief. This is Toby Sumpter. Today is Friday, January 7, 2022.
Yesterday, Nancy Pelosi led the House of Representatives in a worship service:
6:19-6:33,
There was a prayer to some unnamed deity: 8:23-8:29
A homily: 9:14-9:33
Concluding with a moment of silence: 13:49-13:55
And at some point there was a praise song:
3:08-3:45
So pretty much it was exactly like most evangelical worship services in this country. You are the light of the world, and what the church does, the world follows suit.
We've been worshiping idols, and so our nation worships idols. We say Lord, Lord, Lord, Lord, Lord, and we don't know who the Hell we're talking about. And so, neither do our leaders.
We sing stupid songs to our idols in our church services, and so Nancy Pelosi leads the House Democrats in singing stupid songs to their idols.
Supreme Court to Hear Case for Federal VAX Mandate
https://www.wsj.com/articles/supreme-court-to-weigh-vaccine-requirements-for-the-workplace-11641481822?mod=hp_lead_pos5
From the WSJ: The Supreme Court will hold a special session today to consider whether the Biden administration can enforce vaccine-and-testing rules for large private employers and a vaccine mandate for most healthcare workers.
The issues come to the court on an emergency basis during a record increase in U.S. Covid-19 infections. In a departure from its usual procedures, the court is hearing arguments on cases that haven't been fully aired in lower courts.
Technically, the justices—all of whom, according to a court spokeswoman, are fully vaccinated and have received booster shots—don't have to issue a definitive decision on whether the administration's vaccine rules are lawful. Instead, they are considering whether President Biden's team can implement them now while more detailed litigation continues. The cases, however, will require the justices to assess whether the White House has credible claims that it stayed within legal boundaries as it has sought to use longstanding laws to implement aggressive rules in the name of public health.
The answer is likely to decide the fate of the administration's current approach to a virus that has killed more than 800,000 Americans and infected more than 50 million. Moreover, the court's decisions could reset the public-health playbook for years to come.
The Supreme Court's conservative majority is skeptical of broad claims of federal power and has been considering arguments for reining it in, said Michael Greenberger, a law professor and director of the Center for Health and Homeland Security at the University of Maryland.
But with the vaccine cases, the justices "are walking into the jaws of the pandemic," he said. "And there may be enough justices who would worry that pulling back [the mandates] in the middle of the pandemic is a dangerous thing to do."
Mr. Biden in September introduced several interrelated mandates on vaccination against Covid-19. The private-employer and healthcare rules, both formally issued in November, are coming before the justices while other requirements, including vaccination mandates for federal workers and contractors who do business with the federal government, remain in lower courts.
The regulations for large employers, issued by the Occupational Safety and Health Administration, require businesses with 100 or more employees to ensure that their workers are vaccinated or tested each week for Covid-19. The policy covers some 84 million workers. The administration intended the rules to go into effect in early January, but because of legal uncertainties, OSHA recently said it would give employers until Feb. 9 before fully enforcing them.
One federal appeals court blocked the rules nationwide in November, but another court reinstated the requirements last month.
The vaccination mandate for healthcare workers comes from the Centers for Medicare and Medicaid Services, which said facilities that accept money from those programs must comply. The mandate covers more than 10 million healthcare workers.
Lower courts have blocked that mandate in half of the states, but the agency is preparing to begin implementing it this month in states where it is allowed to do so.

A Little History Lesson
Long ago, the Supreme Court upheld the power of state governments to mandate vaccinations. In the 1905 case, Jacobson v. Massachusetts, the justices upheld the state's authority to require that individuals vaccinate against smallpox. "The liberty secured by the Constitution…does not import an absolute right in each person to be, at all times and in all circumstances, wholly freed from restraint," Justice John Marshall Harlan wrote for the court.
In 1922, the court upheld the city of San Antonio's power to require proof of vaccination to enroll in public school.
During the coronavirus pandemic, the justices already have turned down several challenges to orders from state officials requiring that healthcare workers and returning college students obtain vaccines.
The current legal challenges to the Biden administration's vaccine rules covering employers and healthcare facilities are based less on their substance than their source: the executive branch of the federal government.
The challengers argue that Congress never granted the power for such mandates to the secretaries of labor and of health and human services. For support, they look to the Supreme Court's decisions last year that terminated a moratorium on evictions ordered by the Centers for Disease Control and Prevention, on the grounds that the ban exceeded the agency's authority.
The Supreme Court is considering emergency requests by 26 business groups and 27 states to block the vaccine-and-testing rules for private employers.
The business litigants, including trade associations representing retailers, wholesalers and transportation and energy companies, said Covid-19 vaccines "are undeniable marvels of modern medicine" that companies have promoted to their workforces. "But the reality is that tens of millions of Americans remain unpersuaded," they said in court papers.
Companies, they said, will either have to absorb testing costs and pass them along to consumers, or make unvaccinated workers responsible, "who will quit en masse rather than suffer additional testing costs each week."
A Kaiser Family Foundation survey in November found that 49% of employees in relevant workplaces in November opposed the federal vaccine-or-testing mandate and 49% supported it. A far higher proportion of Democrats and vaccinated employees backed the measure.
The business groups and the states, nearly all led by Republican attorneys general, argue that Congress never clearly gave OSHA the power to conscript businesses into implementing a vaccine-and-testing mandate. They also say the agency unlawfully adopted the mandate without first formally seeking input from the public.
The states separately argue that if OSHA's mandate is permissible under federal workplace-safety law, then the regulations raise constitutional problems, because public health-and-safety initiatives are powers reserved for the states, not the federal government.
In response, the Justice Department, representing the administration, said OSHA has a clear grant of authority from Congress to ensure that all workers have safe and healthy working conditions. And the vaccine-and-testing rules raise no constitutional problems, the department said, because the federal government has the power to regulate businesses that participate in interstate commerce.
Blocking the OSHA rules "would cost many worker lives and result in thousands of worker hospitalizations—all the more so as the pandemic's most recent surge drives case counts to new highs," U.S. Solicitor General Elizabeth Prelogar wrote in court papers.
It was the Biden administration that filed the emergency appeals to the Supreme Court in the healthcare cases after it lost some lower-court rulings to state attorneys general who sued to challenge that mandate. There, the administration argues that it has the power to ensure that Medicare and Medicaid providers meet the needed health and safety standards to protect patients. And it said the government has clear authority to impose conditions—including vaccine requirements—on facilities that accept federal healthcare funds.
The states challenging the policy say it will exacerbate an already critical shortage of healthcare workers, particularly in rural communities.
There is no set timetable for the Supreme Court to issue its decisions, but given the time-sensitive nature of the disputes, rulings are likely in a matter of weeks, if not days.
While you're waiting for that decision, have you subscribed to the Fight Laugh Magazine. I'm holding the brand new Christmas Issue in my hands.
Fight Laugh Feast Magazine DNB
Our Fight Laugh Feast Magazine is a quarterly issue that packs a punch like a 21 year Balvenie, no ice. We don't water down our theology, why would we water down our scotch? Order a yearly subscription for yourself and then send a couple yearly subscriptions to your friends who have been drinking luke-warm evangelical cool-aid. Every quarter we promise quality food for the soul, wine for the heart, and some Red Bull for turning over tables. Our magazine will include cultural commentary, a Psalm of the quarter, recipes for feasting, laughter sprinkled through out the glossy pages, and more.
Seattle-Area Prosecutor Slammed for Mocking Rehabilitation Legislation
https://www.foxnews.com/us/seattle-area-prosecutor-juvenile-restorative-justice-program-guns-school
A Seattle-area prosecutor was slammed over a recent presentation to law enforcement officials in which he insisted police should "get used to" the district attorney's office allowing juvenile suspects – even those accused of bringing a gun to school – to avoid jail time.
Ben Carr, senior deputy prosecuting attorney for King County, made a recent Zoom presentation on "considerations for juvenile suspects."
"Even for serious offenses the primary focus will be on rehabilitation," Carr wrote, adding in parentheses, "get used to this concept."
The prosecutor presented a scenario where "young Timmy brings a pistol to school, brandishes it during a confrontation and causes panic," before debating whether a crime was committed, whether the juvenile court has jurisdiction in this case and what will happen to the kid "in Juvie."
That slide in particular drew ire from officials in the Seattle suburb of Federal Way, which has seen at least six instances over the past year of guns confiscated at schools in its district.
According to the presentation, if a student enters juvenile court, the case will result in "most likely, no time in custody and no ultimate conviction." Carr then presented on a "new concept of diversion," after King County Council recently approved a "restorative community pathways" program for juveniles.
Juveniles or adults charged with a first-time "non-violent felony offense" may be offered an opportunity to skirt appearing before a judge and instead face a "non-profit community panel" to decide how they "can be held accountable for their crime."
Carr was forced to explain to his boss why the slideshow featured a popular meme of a dog sipping coffee in a burning building. "This is fine," the dog says ironically, surrounded by flames.
KTTH said those groups that submitted the program proposal are run by liberal activists, many of whom have advocated for either abolishing or defunding the Seattle Police Department.
According to Carr's presentation, juveniles accused of assault, burglary, criminal trespassing, felony harassment, obstructing a law enforcement officer or second-degree unlawful possession of a firearm can still be referred to the restorative justice program and avoid appearing before a judge.
Now as best as I can tell, this is a great example of Right and Left feeding right into one another's narratives and ruts. Like an old argumentative couple, the Left and Right in this narrative actually need each other and feed off one another's hypocrisies. It's a little convoluted, but it looks like a Righty mocked a Lefty proposal for Rehabilitation for juvenile delinquents. Rightys think Leftys go soft on crime. And that's because they do. And they do because they have rejected Original Sin, and they think people do bad things because they didn't have enough chocolate milk when they were little or maybe they had too much chocolate milk, I can't remember. But the Rightys have their own problems. They want to be tough on crime, but that isn't the same thing as being biblical about crime. The Leftys right that incarceration doesn't solve problems. In fact, there's virtually no place for imprisonment in biblical law. Basically, you have two options for crimes: restitution or the death penalty. If it can be paid back or restored in some fashion, then pay back what you stole, what you damaged, plus double or more depending on how egregious the crime was. And if you took a life, then your life is forfeit. No mass incarceration.
And so when it comes to non-violent juvenile delinquents, I'm in the odd position of agreeing with the Leftys while not trusting them to do any good with their rehabilitation classes and maybe even making the delinquents more violent. Because man, what makes a person more frustrated that having to listen to liberals preach about morals they know nothing about.
And remember there are a bunch of kids were talking about here whose fathers have abandoned them. Men and churches need to step and step in.
So what we need is a Psalm.
Psalm of the Day: 10
0:00-0:55
You are the helper of the fatherless. Amen.
Remember you can always find the links to our news stories and these psalms at crosspolitic dot com – just click on the daily news brief and follow the links.
This is Toby Sumpter with Crosspolitic News. A reminder: Support Rowdy Christian media, and share this show or become a Fight Laugh Feast Club Member. Remember if you didn't make it to the Fight Laugh Feast Conferences, club members have access to all the talks from Douglas Wilson, Joe Boot, Jeff Durbin, Glenn Sunshine, Nate Wilson, David Bahnsen, Voddie Baucham, Ben Merkle, and many more. Join today and have a great day.