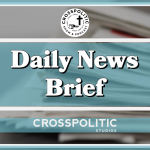 This is Garrison Hardie with your CrossPolitic Daily News Brief for Friday, July 14th, 2023.
Redballoon
Not so long ago, the American dream was alive and well. Employees who worked hard were rewarded, and employers looked for people who could do the job, not for people who had the right political views. RedBalloon.work is a job site designed to get us back to what made American businesses successful: free speech, hard work, and having fun. If you are a free speech employer who wants to hire employees who focus on their work and not identity politics, then post a job on RedBalloon. If you are an employee who is being censored at work or is being forced to comply with the current zeitgeist, post your resume on RedBalloon and look for a new job. redballoon.work, the job site where free speech is still alive!
https://www.washingtonexaminer.com/policy/energy-environment/how-farmers-angry-about-green-rules-helped-spur-dutch-governments-collapse
How farmers angry about green rules helped spur Dutch government's collapse
Nitrogen emissions reduction targets have divided the Dutch population, ushering in an upstart political party and playing a primary role in the ouster of Prime Minister Mark Rutte just days after the shocking collapse of his coalition government.
Rutte, the longest-serving Dutch prime minister and a sharp tactician who has presided over four different governing coalitions, does not appear to have an immediate successor lined up.
Rutte's looming vacancy and the waning popularity of his People's Party for Freedom and Democracy could also clear the way for him to be replaced by someone on the far Right, as growing controversies over migration, farming, and nitrogen emissions reduction targets continue to sow deep divisions among voters.
The Dutch government agreed last summer to comply with the European Union's nitrate directive, a mandate that requires the country to slash 50% of its nitrogen emissions by 2030 — and which it plans to do primarily by reducing nitrogen-heavy fertilizer deposits on its many livestock farms.
That agreement touched off a massive protest by tens of thousands of Dutch farmers, who massed in the streets to protest the decision, which they decried as unrealistic and unfair, given the country's status as a farming and agriculture powerhouse.
Roughly 40,000 people took part in the demonstrations, gathering outside government buildings, setting fire to bales of hay, and using their many tractors to block Dutch highways, canals, and warehouses.
The protests all but forced the country's economy to a standstill — and may have also played a role in reshaping the country's political tide.
Just months after the summer protests, the Farmers Citizens Movement, a populist, pro-farmer party known by its Dutch acronym of BBB, swept to power in the country's provincial elections, ultimately gaining enough seats in parliament to put it on par with the left-of-center Labor Party and the Green Party in the Senate.
Leaders of BBB, a party formed only three years earlier, made a name for themselves largely by appealing to the anger of farmers and others who work in the Dutch agriculture sector and campaigned on the promise of fighting the EU's mandated nitrogen emissions targets.
This week's news of Rutte's departure, coupled with the rise of BBB, is widely expected to exacerbate existing deep-seated divisions over the future of agriculture and farming in the Netherlands.
It also makes it far less likely that the splintered parties will be able to strike a compromise on key politically fraught issues, including nitrate emissions.
In the near term, the Dutch government will effectively be held at a standstill, since Rutte will remain in his position through November to oversee a so-called "caretaker" government.
Leading a caretaker government means that Rutte and the holdover group of officials are unable to approve new and important policy decisions until a new government is formed later this year.
Until then, action will be suspended for months on key issues — including the country's ability to pass important policies on migration or climate, including taking further action on the EU's nitrate directive.
In May, the European Commission approved the Dutch government's plan to buy out some of its most heavily polluting farms at roughly 120% of their value. The plan, estimated to cost around $1.65 billion, was aimed at helping the government deliver on its nitrogen emissions reduction commitments without sparking the deep unrest seen last summer.
In announcing the effort, it warned the buyouts could become compulsory if farmers do not comply.
"There is no better offer coming," Dutch Nitrogen Minister Christianne van der Wal told members of parliament.
The Netherlands is the EU's largest emitter of nitrogen oxide and ammonia and was ordered by the European Court of Justice in 2018 to address the problem. It also has a nitrogen balance nearly twice the European average — the majority of which comes from farming.
And if it hopes to deliver on its 50% nitrogen reduction target by 2030, the Dutch government must act quickly — it has estimated that to meet its goal, 11,200 farms in the country will have to close. Roughly 17,600 others will have to significantly reduce their livestock numbers.
But that has not gone over smoothly in the Netherlands, a farming and agriculture powerhouse where disagreements over nitrogen pollution reductions have sparked bitter protest and disagreement.
Despite its size of just 16,158 square miles — an area only slightly larger than the state of Maryland — the Netherlands is home to more than 110 million livestock and 54,000 agricultural businesses. It is the most intensively farmed country in all of Europe, and the world's second-largest exporter of agricultural goods, behind only the United States.
Farm and agriculture groups in the Netherlands have slammed the Dutch government's plans as "unrealistic," according to the farming group LTO, and argued that the country's farmers have been unfairly targeted compared to other industries, which they argue remain comparably unscathed.
Others point to the massive amount of revenue generated by agriculture exports, which totaled roughly 105 billion euros in 2021 alone.
"This is not going to work," LTO Netherland Chairman Sjaak van der Tak, whose organization represents 35,000 farmers, said in response to the government targets.
Others fear these divisions in the Netherlands could portend a larger trend in Europe and the Western world as environmental targets grow more ambitious.
https://thepostmillennial.com/breaking-secret-service-says-no-suspect-in-white-house-cocaine-scandal?utm_campaign=64487
Secret Service says 'no suspect' in White House cocaine scandal
The Secret Service has reportedly concluded its investigation into the bag of cocaine that was discovered in the White House. But no suspect has been identified, according to two sources, per CNN.
The Secret Service looked through visitor logs and surveillance footage of those who came into the West Wing in the days leading up to the discovery, but they came up short.
Investigators weren't even able to identify a specific moment or day when the baggie was left inside the White House. One source said the prevailing theory is that the baggie was left behind by one of the hundreds of visitors who entered the West Wing for tours.
The cubbies where the small bag of cocaine was apparently found were in a blind spot for surveillance cameras, per the report. This has made it difficult to pin down who may have been responsible.
Representative Tim Burchett posted a video on Twitter about the investigation: https://twitter.com/i/status/1679502198374277120 – Play Video
A so-called powdery substance was discovered at the beginning of July, and speculation has since swirled as to who it may have belonged to. By July 5, officials had confirmed that the powdery substance was, in fact, cocaine.
According to Politico, an unidentified source familiar with the case said that it's "gonna be very difficult for us to do that because of where it was," noting that the baggie was discovered in a blind spot that wasn't picked up by the surveillance cameras.
Though the substance was discovered in the heavily trafficked West Wing, White House Press Secretary Karine Jean-Pierre said the Biden family was not at the White House when the substance was discovered on Sunday. Joe, Jill, and Hunter had dashed to Camp David on the previous Friday, and they returned to the White House on Tuesday for Independence Day.
https://twitter.com/i/status/1676673509819404301 – Play Video
However, there has been speculation as to whether the cocaine belonged to Hunter Biden, who has openly spoke about his drug problems. Hunter was reportedly at the White House in the days before the cocaine was discovered. But there has been no evidence to directly connect the baggie of cocaine to the president's son.
Jean-Pierre had previously been asked whether the Biden administration would seek out prosecution if the culprit was found, but she evaded the question by saying she was "not going to get into hypotheticals."
Now for my facvorite topic… sports!
https://sports.yahoo.com/nba-approves-rule-change-to-make-flopping-a-technical-foul-004257997.html?guccounter=1&guce_referrer=aHR0cHM6Ly9ib25naW5vcmVwb3J0LmNvbS8&guce_referrer_sig=AQAAAN0ALfDif8Ng24K_3S2Ldit0ZVhgHi-1UlF8Oc4HwFsLIlnWOVxGDUGyyGt6mRUl9rvX7lOMcziNxuIR2MVOu3p0V1oFnM9cqfB2g67sMCNkkgSbKJDRlV_p41MwrLokuFaZYn3P6LqYZq5qZ8ReSTaWkxnzioOmW0Mb_lpxUeXG
NBA approves rule change to make flopping a technical foul
Look out [insert your least favorite NBA player here], flopping is about to come at a real cost.
The NBA Board of Governors approved a rule change that will make flopping a technical foul for the 2023-24 season, the league announced Tuesday, the result of increasing frustrations from fans and teams toward players who go out of their way to sell contact.
The change will come on a one-year trial basis.
Specifically, when a game official calls a flop, defined by the NBA as "a physical act that reasonably appears to be intended to cause the officials to call a foul on another player," the offending player will be charged with a non-unsportsmanlike technical foul and give the other team one free-throw attempt.
Because of the nature of the technical foul, a player will not be ejected from a game due to flopping violations. Refs will also not have to interrupt play to call a flop, as they can wait until the next stoppage to hit a player with the penalty.
The NBA specifically notes it's possible for the officials to call both a foul and a flop on the same play.
The league also instituted a change that will give coaches a second challenge if their first challenge is successful.
Flopping was previously punished with a warning, then fines escalating from $5,000 to $30,000. Such punishments were rare. The fines will change now that flopping is a tech, as it will be rolled into the existing fines for technical fouls instead.
The NBA was already trying out this system in the Summer League. Lester Quinones of the Golden State Warriors was the first player to feel the effect, getting called for a flop during a break in play.