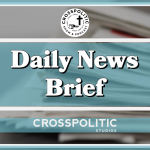 This is Toby Sumpter with your CrossPolitic Daily News Brief for Friday, July 16, 2021.
Plug: Fight Laugh Feast Conference in Lebanon, TN, just outside of Nashville.
Sex is inherently political. What you do in the privacy of the bedroom never stays there. It always impacts the world. A culture is either built on the fruitfulness of a godly union between one man and one woman, or else it dies from self-inflicted fruitlessness and sexual rebellion against God. Our sexual choices and values are building and cultivating a particular kind of public square. Join us in Lebanon, TN with Pastor Douglas Wilson "Gay Pulpits", Voddie Baucham "Critical Sex Theory", Doug TenNapel "Sex, Lies, and the Prophetic Peot", David Bahnsen "Punk Rock Home Economics", and then on Saturday will have 9 SWAT talks with over 20 speakers arming you to go out into the world to take dominion with your gifts and abilities. Sheologians: Dishes, Diapers, and Dominion and All People Matter with Dennis Sarfate, Zach Lautenschlager, and Rob Sentz. Registration is live now: flfnetwork.com/politics-of-sex/ Club members get $100 off registration. Seating is limited!
Tucker Carlson on Voter Fraud in Fulton County Georgia
Play 2:29-4:28
Meanwhile, Things Are Looking Increasingly Interesting in Maricopa County, Arizona
Play Audio: 1:16-1:52
Arizona Senate President Karen Fann held a public briefing on Thursday with the leaders of the ongoing election audit that she authorized. The auditors' update was harrowing: 74,000 absentee ballots lacked documentation, thousands of ballots were duplicated without proper documentation, and most shockingly, over 11,000 voters were not on the November election voter rolls, but showed up later on the December voter rolls.
But other than that, everything is going fine, and nothing to see here.

Shark advocates call for rebranding violent attacks as 'interactions'
https://twitter.com/nypost/status/1415686120059269135?s=21

Marine experts and advocates in Australia are urging the public to refrain from using the word "attack" in reference to sharks, declaring that the majestic predatory fish has been unfairly stigmatized as a deliberate killer.
Instead, officials have suggested that violent run-ins with sharks be dubbed with more neutral words — such as "interactions."
Others have suggested swapping the word with the terms "negative encounter," "incident" or simply "bites," the Sydney Morning Herald recently reported.
" 'Shark attack' is a lie," said University of Sydney language researcher Christopher Pepin-Neff, who argued that a majority of what people call "attacks" are merely nips and minor injuries from smaller sharks.
In other news, the Drag Queens of America are petitioning the world to begin calling what they are doing to little kids in public libraries "interactions."

Speaking of which, and what I mean is, speaking of nonsense and insanity, The Atlantic just ran a story wherein they calmly and apparently in all seriousness published an article entitled "The Hidden Bigotry of Crosswords." This is not the Babylon Bee. You can see screen shots in the link included in the notes.
Kristi Noem Shoots Herself in the Foot at CPAC
http://acecomments.mu.nu/?post=394743
Play Audio: 0:15-0:44
Which all sounds bold and gritty until you remember that it was Gov. Kristi Noem who initially said she would be signing that law to protect girls from boys in their bathrooms and locker rooms and then when the NCAA and Big Business threatened to walk, she backtracked.
0:33-0:44
We need leaders with grit, their first instinct is to make the right decision that they don't backtrack and try to fool you to think they never made the wrong decision.
But it wasn't just the Tranny Bill. Jon Schweppe posts some of Gov. Noem's early proposals to the South Dakota legislature that included following CDC guidelines and granting emergency powers. The South Dakota legislature soundly defeated that Bill and soon Noem changed her toon.
https://jonschweppe.substack.com/p/actually-kristi-noem-supported-covid
Given the early reports and unknowns that is not necessarily evil of her, but it does seem like political opportunism to use this to take shots at other governors who didn't have such strong legislatures reigning them in from jump. Should South Dakota be thankful they didn't shut down? Of course. Should we celebrate that? Absolutely. But given the Tranny Bill face plant and a taking a shot like this, it looks to me like Gov. Noem is increasingly shooting her chances of future political action right in the foot.
Psalm of the Day: All Hail the Power of Jesus Name
https://www.christkirk.com/music/hail-power-jesus-name/?fbclid=IwAR2U8K53hd0FaNAoPJvQk7wnCVqZpObAh1M63lNdxDVPoo6ZkV-iksov-aM
Play Audio: 1:17-2:30
Sinners, whose love can never forget
the wormwood and the gall
Go spread your trophies at His feet
And crown Him! Crown Him Lord of All!
O that with yonder sacred throng
We at His feet may fall
We'll join the everlasting song
And crown Him! Crown Him Lord of All!
This is Toby Sumpter with Crosspolitic News. You can find this and all of our shows at Crosspolitic.com or on our app, which you can download at your favorite app store, just search "Fight Laugh Feast". A reminder: if you see news stories and links that you think we should cover on the daily news brief, please send them to news @ crosspolitic.com and don't forget to check deft wire dot com where we are constantly posting all our stories.
Support Rowdy Christian media, and share this show or become a Fight Laugh Feast Club Member. You always get a free Fight Laugh Feast t-shirt with a membership and remember if you didn't make it to the Fight Laugh Feast Conference or Rally, club members have access to all the talks and lots more. Join today and have a great day.