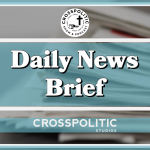 Happy Friday ladies and gentleman, and happy July 1st to you and yours'! I hope and pray y'all have an excellent weekend and Monday, celebrating our nations' independence. Celebrate hard folks because our current administration hates that we have freedom… Before I get into the news:
Club Membership Plug:
Let's stop and take a moment to talk about Fight Laugh Feast Club membership. By joining the Fight Laugh Feast Army, not only will you be aiding in our fight to take down secular & legacy media; but you'll also get access to content placed in our Club Portal, such as past shows, all of our conference talks, and EXCLUSIVE content for club members that you won't be able to find anywhere else. Lastly, you'll also get discounts for our conferences… so if you've got $10 bucks a month to kick over our way, you can sign up now at flfnetwork.com
https://thefederalist.com/2022/06/29/white-house-encourages-girls-15-or-younger-to-abort-without-their-parents-consent/
White House Encourages Girls '15 Or Younger' To Abort Without Their Parents' Consent
The White House just promoted a website that guides girls under 15 to getting an abortion without their parents' knowledge or consent.
On June 25, the day after the Supreme Court overturned Roe v. Wade, the White House advertised an online Health and Human Services flier containing a link to AbortionFinder.org, a network that connects women wanting abortions to local facilities that will perform them and provides information on the legality of abortion in their state.
The website has a search engine to find abortionists based on the seeker's location and age, including for minors "15 or younger."
AbortionFinder.org also includes a link to the If/When/How Judicial Bypass (JB) Helpline, which is designed to help minors bypass their parents or guardians to obtain an abortion. This Judicial Bypass system cuts 14-16-year-olds off from their support systems, isolating them and allowing them to kill their children in utero and put their bodies through the trauma of abortion with no familial protection.
There's a picture in the article, and you can find the article in our show notes by the way…
Despite studies showing that women who go through abortions suffer increased mental health issues than women who decide to give birth to their children, Biden and his administration are capitalizing on the outrage sparked by the overturning of Roe to target American youth.
After the Dobbs decision, the Department of Health and Human Services immediately published a website, "ReproductiveRights.gov," for the express purpose of providing "accurate and up-to-date information about access to and coverage of reproductive health care and resources."
This page — which is itself a misnomer since abortion is neither health care nor a right — though branding itself as full-range coverage of the choices available to women, made no reference at all to a woman's choice to keep her baby and instead pandered almost entirely to abortion-related services. The website also linked to AbortionFinder.org, once again promoting the bypass of parental consent for minors to obtain abortions.
https://thepostmillennial.com/breaking-supreme-court-rules-against-epas-authority-to-limit-emissions-by-remaking-energy-sector?utm_campaign=64487
Supreme Court rules against EPA's authority to limit emissions by remaking energy sector
The Supreme Court on Thursday issued a ruling in the case of West Virginia v. Environmental Protection Agency. The 6-3 ruling sides with West Virginia, which sought to limit the Clean Air Act.
At issue were the EPA's plans to use regulation to "reduce carbon pollution mostly by moving production to cleaner sources." Once the EPA determined this course of action, they began to limit allowable emissions from fossil fuel production. They enacted goals that they viewed as a "'reasonable' amount of shift which it based on modeling how much more electricity both natural gas and renewable sources could supply without causing undue cost increases or reducing the overall power supply."
Chief Justice Roberts wrote in his opinion: "Since passage of the Act 50 years ago, EPA has exercised this authority by setting performance standards based on measures that would reduce pollution by causing plants to operate more cleanly. In 2015, however, EPA issued a new rule concluding that the 'best system of emission reduction' for existing coal-fired power plants included a requirement that such facilities reduce their own production of electricity, or subsidize increased generation by natural gas, wind, or solar sources."
This meant that the EPA was effectively regulating coal businesses to wind down toward the end goal of no longer being in the business of providing energy. Roberts asked the question as to "whether this broader conception of EPA's authority is within the power granted to it by the Clean Air Act."
The opinion states that the EPA does not have this broad authority under the Clean Air Act, and that this power has not been bestowed by Congress.
Hey, are you looking to make a move? Well you need to talk to our friends, Story Real Estate:
Story Real Estate:
Home. It's where you build your legacy. Where traditions are started, seeds are planted, meals are shared, and stories are told. Home is where you prepare to go out into the world. Finding the home that's perfect for your family is a big job.
Story Real Estate is Moscow's top real estate team. They give people real estate advice all over the country. Family homes, investments, land, new construction, or commercial— they know real estate.
If you've thought about a move to Moscow or anywhere in the country, reach out to get connected with a Story Real Estate agent. Wherever you're going, they can help guide you Home. Visit storyrealestate.com.
https://www.washingtonexaminer.com/news/donald-trump-open-trump-desantis-gop-presidential-ticket
Donald Trump is open to a 'Trump, DeSantis' 2024 presidential ticket
Former President Donald Trump said his family is on board with the possibility of him running for president again in 2024.
"Well, they love our country, and they hate to see what's happening," Trump said of former first lady Melania Trump and son Barron Trump.
https://twitter.com/i/status/1542484310632046593 – Play Video
DeSantis's popularity among registered Republican voters continues to climb. A recent poll showed about 45% would vote for Trump compared to 36% who leaned toward DeSantis, the closest any challenger has ever gotten to the former president in a GOP primary poll, with a difference of only 9 points.
Now it's time for the topic that I love… sports! We've got a fair bit to cover in the world of sports, so let's get to it:
https://www.outkick.com/australian-tennis-star-nick-kyrgios-spits-at-fan-in-wimbledon-calls-lineswoman-a-snitch/
Wimbledon is under way currently, and Australian tennis star Nick Kyrgios, has caught some attention: https://twitter.com/i/status/1541833358254243841 – Play Video
Facing off against Britain's Paul Jubb, the 27-year-old Kyrgios went through a gauntlet of emotion in the close win (6-3, 1-6, 5-7, 7-6 [3], 5-7).
Kyrgios' highlights on the day included calling a line judge a "snitch," sending a tennis ball into orbit, requesting that a fan get escorted out of The Championships and spitting in the direction of the heckling fan after the match.
The tennis star has long been known for his on-court antics and contentious persona.
Kyrgios has received $113,000 in fines in ONE tournament, at the Southern Open in Cincinnati in the past.
The more ya know… In other sports news, Kevin Durant has reportedly requested a trade from the Brooklyn Nets, this after his teammate and fellow star, Kyrie Irving, just signed an extension with the club. Whoops!
The Phoenix Suns and Miami Heat are among the teams Durant has on his wish list for a potential trade, sources told Wojnarowski. However, the Nets are not tied to honoring any of Durant's preferred destinations and plan to make a deal that allows them the greatest return of assets, sources told Wojnarowski. There's also rumor that Kyrie Irving wants to try and move with KD to his new team.
Irving eventually opted into the final year of his contract after being unable to find a suitable sign-and-trade for the Nets to make from his preferred list of destinations — one that included the Los Angeles Lakers, LA Clippers, New York Knicks, Heat, Dallas Mavericks and Philadelphia 76ers.
Of those teams, however, only the Lakers were interested in giving Irving a max contract, sources told Wojnarowski — and they didn't have any package to offer the Nets that was appealing enough to get a sign-and-trade deal done.
Durant averaged 29.9 points, 7.4 rebounds and 6.4 assists this season, but he saw action in just 55 games during the regular season as he recovered from an MCL injury.
And finally: USC, UCLA planning move from Pac-12 to Big Ten as early as 2024, sources say
https://www.espn.com/college-sports/story/_/id/34173688/source-usc-ucla-considering-move-pac-12-big-ten
USC and UCLA, two of the Pac-12's flagship programs, are planning to leave the conference for the Big Ten as early as 2024, and a move is considered imminent, sources confirmed to ESPN on Thursday.
There is still a formal notification process, as the two schools have to let the Pac-12 know their intentions to leave. USC and UCLA also have to formally apply to the Big Ten. According to a source, that process is underway.
Big Ten presidents and chancellors will meet to vote on the addition of USC & UCLA, sources told ESPN.
Multiple sources told ESPN on Thursday that the move is expected to happen. A source called the next steps "formalities."
The reason this move would be less disruptive than potential moves in the ACC is that USC and UCLA have a grant of rights tied to the current Pac-12 television contract, which expires after the 2023 football season and 2023-24 school year. That's why the expectation is that both schools can go to the league for the 2024-25 season and not suffer any financial penalty.
Pac-12 officials had been nudging both Los Angeles schools for years to extend the grant of rights. The fact that they didn't hinted that they had greater ambition.
"We just got Sooner'd and Horn'd," a high-ranking university official at one of the Pac-12 schools told ESPN, referring to the decision made last year by Texas and Oklahoma to leave the Big 12 conference for the SEC.
College sports has officially turned into a farm league for the NBA & NFL…
That's gunna do it for this CrossPolitic Daily News Brief. If you liked the show, hit that share button for me will ya? If you want to sign up for our conference, become a club member, or subscribe to our FLF Magazine, you can do all of that at flfnetwork.com. And as always, if you'd like to become a corporate partner with CrossPolitic, you should email me at [email protected]. For CrossPolitic News, I'm Garrison Hardie. Have a great Fourth of July with you and yours, and Lord bless.