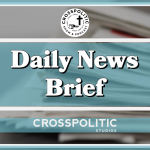 This is Toby Sumpter with your CrossPolitic Daily News Brief for Friday, July 2, 2021.
Plug:
Fight Laugh Feast University is offering two new online classes starting this July! Get the whole family involved and participate in live online classes via Zoom. Hangout with fellow friends of the network, and learn together with the whole family. We have two classes beginning in July: The first class is with Comedian John Branyan called: Life is Hardy Har Hard: A Comedy Workshop for Christians and Jesse Sumpter: Education is Warfare: How to Start a School
So go to https://flfnetwork.com/flf-edu/ to find out more and to sign up now. Classes are limited to only 25 spots!
https://notthebee.com/article/behold-what-total-depravity-looks-like
https://www.washingtonpost.com/outlook/2021/06/29/pride-month-kink-consent/#click=https://t.co/lLvhUusQci
Yes, kink belongs at Pride. And I want my kids to see it.
Children need to know that they can make their own ways in the world
Children who witness kink culture are reassured that alternative experiences of sexuality and expression are valid — no matter who they become as they mature, helping them recognize that their personal experiences aren't bad or wrong, and that they aren't alone in their experiences. I can't think of a more relevant or important reminder for youth, who often struggle with feelings of isolation and confusion as they discover more about themselves and wrestle with concerns about whether they're normal enough. Including kink in Pride opens space for families to have necessary and powerful conversations with young people about health, safety, consent, and — most uniquely — pleasure. Kink visibility is a reminder that any person can and should shamelessly explore what brings joy and excitement. We don't talk to our children enough about pursuing sex to fulfill carnal needs that delight and captivate us in the moment. Sharing the language of kink culture with young people provides them with valuable information about safe sex practices — such as the importance of establishing boundaries, safe words and signals, affirming the importance of planning and research and the need to seek and give enthusiastic consent. I never want my children to worry that exploring any aspect of consensual sex or touch is too taboo.
As Allie Beth Stuckey commented on this story on Twitter: Straight to Jail.
Here the Washington Post has given a platform for openly grooming children for pedophile relationships. As we have said many times, if a small child can consent to transitioned to another gender, then there is no way you can say a small child cannot consent to sexual activities with an adult. And mark my words: if you don't let them, you are the hater, the bigot, and you will be forced to affirm or you will be fined or jailed. Remember when James Coates was arrested for holding worship services in Alberta, the same day a sex offender was released with a public service announcement warning citizens of a high chance of repeating crimes.
Plug: Fight Laugh Feast Conference in Lebanon, TN, just outside of Nashville.
Sex is inherently political. What you do in the privacy of the bedroom never stays there. It always impacts the world. A culture is either built on the fruitfulness of a godly union between one man and one woman, or else it dies from self-inflicted fruitlessness and sexual rebellion against God. Worldview matters, the nuclear family matters, definitions of male and female matter, godly children matter. Our sexual choices and values are building and cultivating a particular kind of public square. Join us in Lebanon, TN with Pastor Douglas Wilson, Voddie Baucham, Doug TenNapel, David Bahnsen, and then on Saturday will have 9 SWAT talks with over 20 speakers arming you to go out into the world to take dominion with your gifts and abilities. Registration is live now: flfnetwork.com/politics-of-sex/ Seating is limited!
Facebook Is Openly Becoming the Gestapo

Are you concerned that someone you know is becoming an extremist? We care about preventing extremism on Facebook. Others in your situation have received confidential support. How you can help: Hear stories and get advice from people who escaped violent extremist groups. Click: Get Support.
Other uses received notices that addressed them by their first name and said, you may have been exposed to harmful extremist content recently. Violent groups try to manipulate your anger and disappointment. You can take action now to protect yourself and others. Get support from experts. Spot the signs, understand the dangers of extremism and hear from people who escaped violent groups. Click: Get Support.
I suggest that everyone who has receive this notice report the Washington Post editorial defending public sex acts for kids.
Duke University Says Boys Out-Perform Girls
Duke University found that high school boys out-perform the fastest, best adult female runners in the world in every single track event. https://law.duke.edu/sports/sex-sport/comparative-athletic-performance/
"there is an average 10-12% performance gap between elite males and elite females. The gap is smaller between elite females and non-elite males, but it's still insurmountable and that's ultimately what matters."
"…Olympic, World, and U.S. Champion Allyson Felix's 400 meters lifetime best of 49.26. Just in the single year 2017, men and boys around the world outperformed her more than 15,000 times."
"This differential isn't the result of boys and men having a male identity, more resources, better training, or superior discipline. It's because they have an androgenized body."
"The results make clear that sex determines win share. Female athletes – here defined as athletes with ovaries instead of testes and testosterone (T) levels capable of being produced by the female non-androgenized body – are not competitive for the win against males—
here defined as athletes with testes and T levels in the male range. The lowest end of the male range is three times higher than the highest end of the female range. Consistent with females' far lower T levels, the female range is also very narrow, while the male range is broad"
"These biological differences explain the male and female secondary sex characteristics which develop during puberty and have lifelong effects, including those most important for success in sport: categorically different strength, speed, and endurance."
"There is no other physical, cultural, or socioeconomic trait as important as testes for sports purposes."
San Jose, California Will Require Gun Owners to Pay Liability Insurance
https://www.newsmax.com/us/san-jose-guns-fees-insurance/2021/07/01/id/1027137/?fbclid=IwAR0B5OofxR2siW3Ft6gvEIrZ3h_xlpRYqfxgPPxxEJcG7HVGs8ieeD-ys4M
The city of San Jose, California, will require gun owners to pay a yearly fee and purchase liability insurance.
A new law would make San Jose the first city in the nation to require owners of firearms to have insurance and pay fees to relieve taxpayers of the costs of responding to gun violence, the San Francisco Chronicle reported. The city council voted unanimously to draft the law on Tuesday.
The move comes about a month after a gunman killed nine workersat a rail yard in San Jose.
The gunman shot himself as police closed in on him. The shooter and the nine victims were employees of the transit agency situated near the city's airport.
"Grieving communities don't have the luxury of forgetting," Sam Liccardo, mayor of San Jose wrote in a column posted by CNN on June 15. "We live among devastated family members, we hear the echoes of painful eulogies, and we work with traumatized friends.
"I joined several colleagues to propose a comprehensive set of initiatives to reduce gun-related harm in San Jose.
"These proposals include two measures that no other city nor state in the United States has ever tried: mandatory gun insurance to support victims, and mandatory gun fees to compensate taxpayers. As with many other Silicon Valley innovations, we intend to implement and test these ideas, learn from our mistakes, improve, iterate and provide a platform for others to scale them to benefit their own communities.
"We will require every gun owner in my city to have liability insurance, regardless of where they purchased their gun. Insurance compensates the victims of unintentional gun harm — which annually injures 27,000 Americans and claims the lives of 500 more — paying medical bills, rehabilitative needs, and tragically, funeral expenses.
"We will require gun owners to pay a modest annual fee to compensate taxpayers for the cost of gun-related violence. Every day, our residents bear the financial burden for police officers who bravely respond to shootings, for ambulances that transport the wounded, and for trauma surgeons to save them."
It is uncertain just how much the fees will be, but the Chronicle reported that Liccardo said it would probably be "a couple dozen dollars" and would not be charged to those who could not afford it.
Fox News noted that officials said that anyone found to be in noncompliance will have their weapons confiscated.
Psalm of the Day: Psalm 7
https://open.spotify.com/track/1bwVLq85xBt6J9bxcWpMWu?si=b16ec3efdd17400d
Play Audio: 1:06-1:39
Lord rise in anger and be my defense
Against my enemies, rage so intense
Rise bring the judgment that you have decreed
Let peoples come and with you gathered be.
Trinity Psalter and Book of Psalms for Worship on Spotify
This is Toby Sumpter with Crosspolitic News. You can find this and all of our shows at Crosspolitic.com or on our app, which you can download at your favorite app store, just search "Fight Laugh Feast". A reminder: if you see news stories and links that you think we should cover on the daily news brief, please send them to news @ crosspolitic.com and don't forget to check deft wire dot com where we are constantly posting all our stories.
Support Rowdy Christian media, and share this show or become a Fight Laugh Feast Club Member. You always get a free Fight Laugh Feast t-shirt with a membership and remember if you didn't make it to the Fight Laugh Feast Conference or Rally, club members have access to all the talks and lots more. Join today and have a great day.