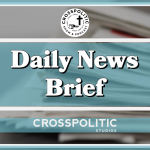 The House votes on a contraception bill, a new electoral college reform bill is coming before Congress, and military chaplains continue their fight for freedom from medical coercion…
… and more on today's CrossPolitic Daily News Brief. My name is Toby Sumpter and today is Friday, July 22, 2022.
FLF Conference Plug:
Folks, our upcoming Fight Laugh Feast Conference is just 4-months away from happening in Knoxville TN, October 6-8! Don't miss beer & psalms, our amazing lineup of speakers which includes George Gilder, Jared Longshore, Pastor Wilson, Dr. Ben Merkle, Pastor Toby, and we can't say yet…also dont miss our awesome vendors, meeting new friends, and stuff for the kids too…like jumpy castles and accidental infant baptisms! Also, did you know, you can save money, by signing up for a Club Membership. So, go to FightLaughFeast.com and sign up for a club membership and then register for the conference with that club discount. We can't wait to fellowship, sing Psalms, and celebrate God's goodness in Knoxville October 6-8.
Sen. Blumenthal Thinks it's Very important for congress to pass a bill guaranteeing access to drugs that prevent pregnancy.
https://twitter.com/SenBlumenthal/status/1550216973199474688?s=20&t=atHLw9SjnQTHPyZrUIBPug
0:00-0:33
Meanwhile nations in Europe are already trying to incentivize couples to have more children because there is already a sansdemic, that is a growing population gap that is not replacing current population levels, leaving nations without workers. Turns out your need people to work and to provide, to have a thriving economy and nation.
House votes to pass bill guaranteeing access to contraception
https://www.cnn.com/2022/07/21/politics/contraception-access-house-vote/index.html?fbclid=IwAR2WKa07UvjlHP5qKWXPzgSm1ylUFA4JoREcolRudQTpD6e-nL7SviSLF1U
The House voted Thursday to pass a bill that would guarantee access to contraception by protecting the right to buy and use contraceptives without government restriction.
The final vote was 228-195.
Eight Republicans crossed over to vote with Democrats. Reps. Liz Cheney of Wyoming, Nancy Mace of South Carolina, Fred Upton of Michigan, Anthony Gonzalez of Ohio, John Katko of New York, Brian Fitzpatrick of Pennsylvania, Maria Salazar of Florida and Adam Kinzinger of Illinois joined all the Democrats in voting for the bill. Two Republicans, Reps. Bob Gibbs of Ohio and Mike Kelly of Pennsylvania, voted present, meaning they took no position either way on the bill
The vote falls among action House Democrats are trying to take following the Supreme Court's decision that overturned Roe v. Wade. In that decision, Justice Clarence Thomas wrote separately in a concurring opinion that the high court should reconsider "substantive due process precedents" in decisions, including Griswold v. Connecticut, that allows access to contraception.
The Right to Contraception Act, introduced by Democratic Rep. Kathy Manning of North Carolina, aims to "protect a person's ability to access contraceptives and to engage in contraception, and to protect a health care provider's ability to provide contraceptives, contraception, and information related to contraception," according to text of the bill.
We should note that the text of the bill also includes "emergency contraceptives" in its list of what is included. Historically "emergency contraceptives" has also included chemicals intending to prevent or disrupt implantation of a fertilized egg. It should also be pointed out that some forms of oral contraception also include this as an intended function. Why would we trust Margaret Sanger and her descendants to give us good medicine? The mindless embrace of birth control by Christians got us into this mess.
The White House said it "strongly supports" the bill in a statement Monday, adding "access to contraception is essential to ensuring all people have control over personal decisions about their own health, lives, and families." And making sure that we don't have enough people to work productive jobs to provide for their families.
This on the heels of Earlier this week, the House passed a bill that would enshrine protections for same-sex marriage into federal law, with 47 Republicans joining Democrats voting in favor of the bill. It is unclear whether the bill can pass the Senate where at least 10 Republicans are needed to side with Democrats to overcome the filibuster's 60-vote threshold.
Redballoon
Not so long ago, the American dream was alive and well. Employees who worked hard were rewarded, and employers looked for people who could do the job, not for people who had the right political views. RedBalloon.work is a job site designed to get us back to what made American businesses successful: free speech, hard work, and having fun. If you are a free speech employer who wants to hire employees who focus on their work and not identity politics, then post a job on RedBalloon. If you are an employee who is being censored at work or is being forced to comply with the current zeitgeist, post your resume on RedBalloon and look for a new job. redballoon.work, the job site where free speech is still alive!
New Electoral College Count Reform Proposal
https://www.nationalreview.com/corner/a-promising-new-electoral-count-act-reform-proposal/
The proposal takes the form of two bills. The first is sponsored by nine Republican senators (Susan Collins, Shelley Moore Capito, Lindsey Graham, Lisa Murkowski, Rob Portman, Mitt Romney, Ben Sasse, Thom Tillis, and Todd Young) and seven Democratic senators (Joe Manchin, Ben Cardin, Chris Coons, Chris Murphy, Jeanne Shaheen, Kyrsten Sinema, and Mark Warner) and is focused on the Electoral Count Act itself.
This bill clarifies that states must appoint presidential electors in accordance with the laws they each pass before election day and does away with the dangerously vague concept of a "failed election" in the original ECA. It requires that the governor of each state (or else another particular official specifically assigned this role by state law) be the person to certify the state's slate of electors, to avoid the possibility of different officials sending different slates to Congress. It clarifies that the vice president's role in counting electoral votes in Congress is purely ministerial and does not involve any sole decision-making authority. It raises the threshold for raising objections to a state's electoral votes in Congress from one member of each house to one-fifth of the members of each house and narrows and clarifies the grounds for filing objections. And it allows for expedited federal judicial review of any challenges raised by a presidential candidate under already existing federal law to a state's certification of its elections, but does not create any new right of action in federal court regarding state officials' enforcement of state laws.
Some Democrats wanted to go further, and give the federal courts more jurisdiction over the ways in which state officials enforce state election laws. This was a disastrously misguided idea, and it is very good that this proposal avoids any such path. This is a significant success for a number of Republicans who fought hard against that approach — particularly Ben Sasse and Mitt Romney. And it is the reason why I think this bill could get enough Republican votes to pass the Senate. The restraint shown in this proposal suggests this bipartisan group really wants to get these reforms enacted.
The second bill, sponsored by most of the same senators as the first (with the exception of Republican senators Capito, Young, Sasse, and Graham) takes up some issues beyond the scope of the Electoral Count Act. It would increase the penalties for threatening election officials, improve the postal service's procedures for handling mail-in ballots where those are allowed under state law, reauthorize the Election Assistance Commission, and increase the penalties for tampering with election records. These are modest reforms directed to modest problems, and the result is a bill that doesn't do anything particularly important. If it's necessary to get more Democrats to accept the restrained approach to ECA reform in the first bill, then I see no problem with it, and certainly some of what it proposes is worthwhile.
Chaplains File Class Action Lawsuit Against DOD
https://uncoverdc.com/2022/07/21/vaccine-mandate-chaplains-file-class-action-lawsuit-against-dod/
Thirty-one military chaplains filed a class action lawsuit in May alleging the unconstitutional denial of religious accommodations relating to the vaccine mandate. The chaplains maintain they are protected by the First Amendment and the Religious Freedom Restoration Act (RFRA). Defendants in the case are the Department of Defense (DoD), several military branches, the Department of Health and Human Services, the FDA, and the CDC. The lawsuit provides a fulsome review of the blatant, concerning changes in definitions and procedural rules to achieve politically driven agendas and goals that seemingly ignore service members' most basic constitutional rights.
Plaintiffs argue that the vaccine mandate and the military's "no accommodation directive" are unconstitutional. Military chaplains who fail to comply with the vaccine mandate face "threat of disciplinary action" and "punitive discharge," violating their "express statutory rights to follow their conscience as formed by their faith."
Defendants in the case contend the "venue is not proper," Plaintiffs' claims "are not ripe or justiciable prior to exhaustion of military remedies" (some requests have not yet been adjudicated), and the vaccine is the best remedy for "the health and readiness" of the military forces.
The 2013 National Defense Authorization Act (NDAA) lays out in Section 533—the right of chaplains to conduct themselves according to their conscience or religious faith. Section 533 allows a chaplain to reject performing any duty that violates their conscience without repercussion or penalty. As the footnote on page 5 of the lawsuit explains, the genesis of the 2013 NDAA amendment grew out of social policy changes in 2012 during the Obama administration concerning "the repeal of the military ban on homosexual behavior and the Supreme Court's invalidation of the Defense of Marriage Act." Chaplains at the time were concerned that they might have to perform wedding ceremonies that would violate their religious beliefs. Those protections were reinforced in both the 2016 and the 2018 NDAAs.
Retired Army veteran Arthur A. Schulcz's testimony filed on July 18, 2022, speaks poignantly to the difficulties of defining and implementing religious freedom policies in the military in recent years. He fought to properly define the role of chaplains in the military in December 2012, working with Congress in anticipation of amendments to the 2013 NDAA to "defend chaplains' rights to authentically represent their faith to the military, especially in their speech." He describes the discrimination many in the military have experienced over the years if they dared speak against the prevailing political agenda. The complaint states military chaplains are "unique military officers" because they are both commissioned officers and clergy. As such, they "raise unique statutory and constitutional religious liberty claims, in addition to the claims for systematic violations of service members' RFRA and First Amendment rights that several courts have recently found Military Defendants likely committed."
The lawsuit states congressional authority concerning honoring and protecting military chaplains' conscience and faith has been violated by the mandate. Chaplains are unique in their roles as service members because they are afforded additional First Amendment protections as a result of their clerical roles. It has to do with the potential violations of the First Amendment's Establishment Clause. The Establishment Clause prohibits the government from making any law "respecting an establishment of religion."
Psalm of the Day: St. Patrick's Breastplate
https://www.youtube.com/watch?v=1SXXz5k_F_I&list=PL1C638E88FCA83B7A&index=22
0:18-1:24
Amen!
This is Toby Sumpter with CrossPolitic News. Remember you can always find the links to our news stories and these psalms at crosspolitic dot com – just click on the daily news brief and follow the links. Or find them on our App: just search "Fight Laugh Feast" in your favorite app store and never miss a show. If this content is helpful to you, would you please consider becoming a Fight Laugh Feast Club Member? We are building a cancel-proof news and media network with Christ at the center, and we can't do it without your help. Join today and get a $100 discount at the Fight Laugh Feast conference in Knoxville, TN Oct. 6-8, and have a great day.