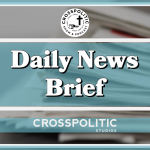 This is Garrison Hardie with your CrossPolitic Daily News Brief for Friday, July 28th, 2023.
Story Real Estate:
Home. It's where you build your legacy. Where traditions are started, seeds are planted, meals are shared, and stories are told. Home is where you prepare to go out into the world. Finding the home that's perfect for your family is a big job.
Story Real Estate is Moscow's top real estate team. They give people real estate advice all over the country. Family homes, investments, land, new construction, or commercial— they know real estate.
If you've thought about a move to Moscow or anywhere in the country, reach out to get connected with a Story Real Estate agent. Wherever you're going, they can help guide you Home. Visit storyrealestate.com.
https://www.breitbart.com/europe/2023/07/26/russia-preparing-to-enforce-blockade-on-ukraine-with-warships-says-uk/
Russia Preparing to 'Enforce Blockade on Ukraine' With Warships, Says UK
Russia has redeployed its warships in the Black Sea and there is a "realistic possibility" that it will deploy a task force to intercept civilian ships heading to and from Ukraine's ports as part of a blockade, a British intelligence digest says.
The Black Sea Grain Initiative collapsing last week, meaning there is no longer a safe corridor for Ukrainian grain exports by sea, has seen a shift in Russian military posture says the United Kingdom, predicting the coming of a full-on blockade.
Noting the redeployment of a modern Russian corvette to the southern Black Sea, the UK's Ministry of Defence said in an intelligence digest that: "Russia's Black Sea Fleet has altered its posture since Russia pulled out of the Black Sea Grain Initiative (BSGI), in preparedness to enforce a blockade on Ukraine… There is a realistic possibility that it will form part of a task group to intercept commercial vessels Russia believes are heading to Ukraine."
Without the Grain Initiative moderating behaviour in the Black Sea and providing a corridor for exports, there is now "the potential for the intensity and scope of violence in the area to increase", the MOD said. Russia has already massively stepped up attacks on Ukraine's port infrastructure, regularly bombing Odessa for over a week.
The consequences of the collapse of the grain deal are potentially considerable, given Ukraine's status as a major exporter in the world food market, and the fact a lot of their exports have traditionally gone to less wealthy countries. As previously reported, a sudden spike in grain prices causes fresh waves of emigration from the developing world, sparking new migrant crises in Europe.
It is claimed the collapse of the grain deal will see global grain prices spike by up to 15 per cent. While Ukraine has a considerable land border with Europe, simply switching from maritime to overland shipping for grain is extremely difficult given the enormous bulk of the commodity, the typical destinations for the product, and the lack of infrastructure.
Exporting by the Danube is being explored. Ukraine says Russia is deliberately targeting its grain exporting infrastructure, with Ukrainian Agrarian Council Denys Marchuk remarking: "Russia understands that Ukrainian grain is one of the key directions of Ukraine's potential export, which gives money, and they really don't want to see Ukrainian grain. In fact today, by blocking the Black Sea, they are artificially raising the price of grain in the world so that later offer their grain to poor countries, and at high prices".
Marchuk said if European countries didn't want to see fresh waves of migration from poor nations, it should give Ukraine more weapons more quickly.
Given the importance of grain exports from Ukraine to the rest of the world, even if just indirectly for developed nations wanting to reduce push-factors for global mass migration, there may be pressure for the West to do more to defend merchant shipping in the Black Sea. This could take the form of more equipment donations to Ukraine, but as has been previously suggested, could be more direct, risking direct conflict between NATO and Russia.
Speaking of the military…
https://www.washingtonexaminer.com/news/white-house/biden-diversity-level-of-the-military
Biden: 'Critical' that diversity is 'reflected at every level' of the military
President Joe Biden released a statement Wednesday committing to further advancing diversity at "every level of the Department of Defense, including at the highest levels of leadership."
The president's Wednesday statement commemorated the 75th anniversary of the signing of President Harry Truman's executive order desegregating the armed forces after World War II.
"This landmark Order, issued more than a decade before the passage of the Civil Rights Act, directed the military to ensure the 'equality of treatment and opportunity for all persons in the armed services without regard to race, color, religion or national origin,'" Biden wrote. "It was a vital step forward for our nation. It recognized the equal bravery and equal sacrifices of generations of service members of color who deserved to be equally honored."
The president highlighted the contributions of black service members throughout U.S. history, including black regiments who fought for the Union in the Civil War, the Harlem Hellfighters, and the Tuskegee Airmen.
"Today, more than 40 percent of active-duty service members are people of color. Yet, despite this growing diversity, service members of color still face unacceptable barriers," Biden continued. "They are underrepresented in positions of senior leadership, face bias in the military justice system, and are still more likely to be dishonorably discharged. We owe it to them and the entire force to continue working to build a military where equal dignity and equal respect are fully realized."
The president specifically called advancing equity throughout the military a personal "priority," both for him and his "entire administration."
Earlier this week, Biden designated three sites as part of a new Emmett Till national memorial, but the president is also facing growing concerns among black voters, a key demographic, heading into the 2024 election cycle.
A May poll from Ipsos and the Washington Post showed that just 34% of black Americans believe that Biden's agenda has helped their community. Nearly a majority of black respondents said his policies have had no impact, and 14% say the president's agenda is harming black people.
And a poll conducted by YouGov and the Economist found that only 46% of black respondents wanted Biden to seek a second term, compared to 56% of all Democrats.
https://www.dailywire.com/news/summer-camps-embrace-gender-theory-trans-inclusion-critical-race-theory
Summer Camps Embrace Gender Theory, 'Trans Inclusion,' Critical Race Theory
National summer camp organizations have adopted practices and policies based on gender identity theory, "trans inclusion," and Critical Race Theory (CRT).
The American Camp Association (ACA), an organization of 10,000 summer camp professionals, is one of the groups that has embedded leftwing theories on race and gender into their operations. The organization is also responsible for accrediting summer camps across the country.
ACA's 2023 National conference, which took place in February, included one session, titled "Trans Inclusion in Overnight Programs." It focused on "best practices for overnight camps striving to be welcoming spaces for trans and gender non-conforming campers and staff." The session was led by Chris Rehs-Dupin, the founder of a group that hosts trainings on "LGBTQIA+ inclusive practices" called Transplaining for Camps.
"Transplaining for Camps exists to help camps build inclusive practices that will create spaces of belonging for campers and staff of all gender identities and sexualities," the organization's website reads.
Another ACA conference session, which focused on the creation of racially exclusive "affinity groups," was titled "Creating Belonging Through Affinity Spaces At Camp" and led by members of the Aloha Foundation, which runs camp programs in Vermont.
Meanwhile, a different session at the ACA conference, titled "Centering Equity and Justice at Summer Camp: The Kids Are Ready" argues that there is an evident need "to tackle issues of social justice with our young people … and provide them not only with a safe(r) space to discuss these topics but the tools to become agents of change."
Other ACA sessions included "Creating Safe and Affirming Spaces for LGBTQIA2S+ Folks at Camp" and "Lessons Learned in LGBTQIA+ Inclusive Practices." The ACA also has a "checklist for gender inclusive practices at camp" and a "gender support plan for camp" created by Gender Spectrum, an organization that promotes child transgenderism.
An equity statement from Outward Bound USA claims that the "outdoor community was and is a part of the underlying structure of injustice that governs American society," also going on to add "we are deeply committed to dismantling inequities and working to write a new chapter."
There's also Camp Fire, an organization that runs teen leadership events and camps, and seeks to connect young people to the outdoors "through playful, inclusive, affordable, and powerful out-of-class experiences." It boasts that it has over 1,300 program sites across the country.
A report from The Daily Wire revealed that there are also several summer camps across the country that have not only adopted policies based on gender theory or Critical Race Theory, but are specifically intended for children who identify as transgender or LGBT.
The ACA, Outward Bound USA, and Camp Fire did not respond to requests for comment.
In entertainment news…
https://www.foxnews.com/entertainment/kevin-spacey-not-guilty-sexual-assault-trial
Kevin Spacey found not guilty in sexual assault trial
A jury found Oscar-winning actor Kevin Spacey not guilty Wednesday in his criminal sexual assault trial in London surrounding allegations that he assaulted four men.
Jurors began deliberating Monday after nearly four weeks of testimony. The jury returned the verdicts at the Southwark Crown Court after three days. Spacey sobbed as he spoke to media outside the courthouse after the verdicts were announced.
Kevin Spacey speaks after being acquitted in U.K. sexual assault trial– Play Video
Spacey, who also turned 64 on Wednesday, pleaded not guilty to charges of sexual assault, indecent assault and causing a person to engage in penetrative sexual activity without consent. Four men testified about similar encounters that involved Spacey allegedly groping them.
The acts alleged between 2001 and 2013 ranged from unwanted touching to aggressive crotch-grabbing and, in one instance, performing oral sex on an unconscious man.
In closing arguments, prosecutors had argued Spacey got away with his behavior because of his celebrity status.
Spacey allegedly seized brief moments for an "opportunity grab" and was able to get away with the assaults for years because he was a celebrity who took advantage of his power, prosecutor Christine Agnew said.
Agnew emphasized that the four men's accounts were similar not because they had conspired to bring Spacey down, but because groping was reportedly Spacey's "trademark" move, according to the prosecution.
Spacey's defense lawyer said during closing arguments Friday that three of the men are liars, and he suggested jurors not convict him for making a "clumsy pass" at a fourth man.
Spacey testified himself over a span of two days, during which he denied violently groping one of his accusers and instead painted a picture of their "intimate" and "somewhat sexual" relationship for the jury. "I never thought that (the man) I knew would … 20 years later stab me in the back," he said.
Elton John also testified remotely in Spacey's defense at one point during the trial, confirming the "American Beauty" star only attended one of the musician's annual gala parties in 2001. One of Spacey's alleged victims claimed the actor assaulted him while the two were driving to John's White Tie & Tiara Ball in 2004 or 2005.
Spacey first faced allegations of sexual misconduct when actor Anthony Rapp came forward in 2017. Rapp accused Spacey of assaulting him at a party in the 1980s. Spacey was found not liable in Rapp's civil lawsuit.
Following Rapp's claim, more men came forward with accusations against Spacey, and he was booted from the Netflix show "House of Cards."
Spacey recently returned to the screen with roles in Italian director Franco Nero's "The Man Who Drew God," the biopic "Once Upon a Time in Croatia" and the film "Peter Five Eight."