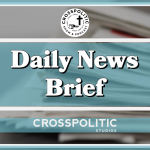 Biden says we're in the midst of a very strong economic rebound, Sen. Democrats are working on some climate shenanigans, monkeypox and more…
… and more on today's CrossPolitic Daily News Brief. My name is Toby Sumpter and today is Friday, July 29, 2022.
Biden says this is the strongest economic rebound
https://twitter.com/greg_price11/status/1552704562733129728?s=20&t=a-HUqldY9_KgPD2hB8rwtA
Play audio
Fight Laugh Feast Magazine
Our Fight Laugh Feast Magazine is a quarterly issue that packs a punch like a 21 year Balvenie, no ice. We don't water down our scotch, why would we water down our theology? Order a yearly subscription for yourself and then send a couple yearly subscriptions to your friends who have been drinking luke-warm evangelical cool-aid. Every quarter we promise quality food for the soul, wine for the heart, and some Red Bull for turning over tables. Our magazine will include cultural commentary, a Psalm of the quarter, recipes for feasting, laughter sprinkled through out the glossy pages, and more. Sign up today, at fightlaughfeast.com.
https://dailycaller.com/2022/07/28/dems-new-spending-bill-methane-tax-fund-environmental-justice/
Senate Democrats agreed Wednesday to the biggest climate spending package in U.S. history, including billions in new taxes on methane emissions that will fund "environmental justice" programs for marginalized communities.
Democratic Sens. Joe Manchin and Chuck Schumer salvaged a deal on an economic bill they dubbed "The Inflation Reduction Act of 2022" that places new fees on methane emissions and devotes hundreds of billions of dollars to climate change initiatives, according to the bill's text. The proposed legislation would place new taxes on energy firms' methane emissions beginning in 2025, invest nearly $370 billion in "energy security and climate change" and spend billions to protect disadvantaged communities from the effects of climate change.
The package will spend $60 billion on protecting low-income areas and communities of color that are more affected by environmental pollution. The bill will also offer large sums of money to the green industry, including direct-pay options to support domestic green energy manufacturers over the next five years.
"Somehow the 'solutions' to climate change have morphed into including $60 billion in climate reparations in the name of 'equity,'" Marc Morano, Climate Depot publisher and former U.S. Senate senior staff on Environment & Public Works Committee, told the Daily Caller News Foundation. "Anyone who drinks milk or eats meat will now be paying reparations. Will the $60 billion actually help solve racism? Anyone who thinks this climate bill has anything to with the climate has not been paying attention."
The bill will raise about $739 billion in total, with a large portion of the money coming from a 15% corporate minimum tax and increased tax enforcement operations conducted by the Internal Revenue Service, as well as potential savings from enabling Medicare to negotiate prescription drug prices, according to the package summary.
Climate provisions in the deal also provide tax credits for electric vehicles (EVs) that can offer up to $4,000 to subsidize the purchase of used vehicles and $7,500 for new vehicles. Individuals and married couples with incomes under $75,000 and $150,00 would be eligible for the tax breaks for used electric cars, while those with incomes up to $300,000 would be eligible for the write-offs on new vehicles.
The newly reached consensus on the package comes after Manchin struck down his party's climate provisions in the bill in mid-July causing Democrats, climate activists, and green energy groups to pressure the party to reach an agreement prior to the August 5 recess.
Democrats are hoping to advance the bill without Republican votes through the reconciliation process, where bills tied to the budget can pass with a simple majority.
https://twitter.com/BillFOXLA/status/1552763846346977280?s=20&t=a-HUqldY9_KgPD2hB8rwtA
BREAKING: @lapublichealth Director Barbara Ferrer announces L.A. County will NOT be reimposing another indoor mask mandate at the current time, citing a recent decrease in COVID-19 case numbers & hospitalizations. @FoxNews
Idaho Family Policy Center:
I wanted to let you all know about Idaho Family Policy Center. IFPC is currently the only explicitly Christian policy organization in Idaho politics. Toby Sumpter and Israel Waitman serve on the board, and the president is Blaine Conzatti, a member of our sister CREC church, Kings Congregation down in Meridian. Blaine and IFPC have been leading the efforts to defund Planned Parenthood, end abortion in Idaho, and protect children from the transgender agenda. Basically, Blaine is a really strategic voice in Idaho politics, and he represents many of our biblical and constitutional concerns in Boise. IFPC is a brand new ministry and as such is in significant need of donations to help fund it. I know we all have many commitments to other good ministries, but if you are particularly concerned about Idaho politics, this is one way you can have a very direct impact. Go to www.idahofamily.orgto learn more and make a donation.
And WH press secretary gets pressed on migrants
https://twitter.com/townhallcom/status/1552755334732779520?s=20&t=QmbXPWSeycltu2IBvlT1Kg
Play: 0:00-1:12
https://open.spotify.com/track/5VBmTJZSL7wkc0Pu2O6ZJ8?si=97b01ec392cb4ef0
0:00-0:33
Amen!
This is Toby Sumpter with CrossPolitic News. Remember you can always find the links to our news stories and these psalms at crosspolitic dot com – just click on the daily news brief and follow the links. Or find them on our App: just search "Fight Laugh Feast" in your favorite app store and never miss a show. We are now doing a daily show, with daily backstage content for Fight Laugh Feast Club Member. Join today and get access as well as a $100 discount at the Fight Laugh Feast conference in Knoxville, TN Oct. 6-8, and have a great day.