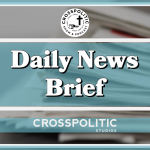 https://www.cbc.ca/radio/thecurrent/the-current-for-may-10-2021-1.6017944/monday-may-10-2021-full-text-transcript-1.6021249
Play Audio: 22:59-23:14
Prayers to the Covid Vaccine and much more on today's CrossPolitic Daily News Brief
This is Toby Sumpter today is Friday, July 30, 2021.
"In the beautiful town of Moscow, ID, Erber Automotive is looking for Christians to join forces and wage war together on broken cars. Since Adam's fall, cars have been suffering at the hand of the second law of thermodynamics, starting with that very first Eden Model 1 that Adam puttered out of the garden. Paul said that all creation groans, and he'd never even heard a poor car owner on the side of the road with a steaming engine! At Erber Auto, you'll work to make auto repair fun for customers with bouncy castles, motorcycle cruises, and honest service. Most importantly, you'll work alongside Christians to show entropy the Uno reverse card!
Erber Auto is looking for a shop manager/service writer, and is always looking for resumes from qualified and experienced technicians, who are ready to do battle with the forces of evil, or at least metal fatigue. They have 2 positions to fill at competitive salaries. Please send your resume to business@erberauto.com."

Mark Driscoll is Back in the News
https://www.christianitytoday.com/news/2021/july/mars-hill-elders-letter-mark-driscoll-pastor-resign-trinity.html
ore than 40 elders who served with Mark Driscoll during the final years of Mars Hill Church are publicly calling for him to step down from his current pastoral position and seek reconciliation with those he has hurt.
"We are troubled that he continues to be unrepentant despite the fact that these sins have been previously investigated, verified, and brought to his attention by his fellow Elders, prior to his abrupt resignation" from Mars Hill, they wrote in a statement originally released Monday to CT. "Accordingly, we believe that Mark is presently unfit for serving the church in the office of pastor."

Driscoll founded The Trinity Church in Scottsdale in 2016, two years after resigning from Mars Hill at the conclusion of an investigation into his leadership. In recent months, several former Mars Hill elders have heard directly from members leaving The Trinity Church over concerns around Driscoll.

Several former members of The Trinity Church, including its recently resigned director of security, Chad Freese, have begun to share their experiences online. Their accounts and criticism predate Christianity Today's recent podcast, The Rise and Fall of Mars Hill, which looks back at the factors around the former church's growth and collapse under Driscoll.
When the Eneas family joined The Trinity Church last year, they felt like they fit in as fellow transplants from the Pacific Northwest. "We were even telling our friends, 'Don't google him, just come and see it for yourself,'" she told CT.
[Wait, wait. Stop. Pause. Time out. This should be a first warning flag. Why would you not do any investigating? Why would you not ask questions about what happened in Seattle? This seems like an enormous lack of wisdom and discernment. So I'm already a skeptic about your ability to assess Driscoll. Ok, continue.]
CT continues: [Mrs. Eneas] is grateful for the counsel she received from some former Mars Hill elders who joined an 85-member Facebook group of people who left Driscoll's congregation in Scottsdale. She estimates that over 100 people in the church she now attends had also left Trinity.
[Wait. Wait. Stop. You joined a Facebook group of people who left Driscoll's congregation in Scottsdale? And that's not weird??? I'm sure there is only wholesome, uplifting things being said in that Facebook group. No bitterness. All very judicious, gracious, forgiving. No slander. No gossip. I'm sure every report is carefully investigated and all accusations are being taken directly to Mark Driscoll and the elders of his church…. Maybe I shouldn't hold my breath.]
No I haven't listened to the chart-topping CT podcast called Who Killed Mars Hill? The rise and fall of Mars Hill… but do I trust the story-tellers? Nope. Not a bit. Remember Christianity Today has long since rejected fidelity to Scripture. Am I saying that Driscoll was sinless or perfect? Nope. Do I think he made some big mistakes. Yep. But I also think there were a lot of enemies of the gospel that wanted him taken down. And there are still many enemies of the gospel that are happy to use the more faithful to stir up discontent and bitterness. Be judicious, people.
Remember as the church goes, so goes the world. We are practicing for a certain kind of public square.
Guys: the Fight Laugh Feast Conference in Lebanon, TN, just outside of Nashville is coming up soon. Have you registered?
The whole thing kicks off with Beer and Psalms Thursday night, with an after party sponsored by Darren Doane, then Friday is loaded for bear: Pastor Douglas Wilson "Gay Pulpits", Voddie Baucham "Critical Sex Theory", Doug TenNapel "Sex, Lies, and the Prophetic Poet", David Bahnsen "Punk Rock Home Economics", I'll be talking about "Molotov Monogamy," and then on Saturday will have 9 SWAT talks with over 20 speakers arming you to go out into the world to take dominion with your gifts and abilities. Sheologians: Dishes, Diapers, and Dominion – Nancy Wilson will be joining them, and All People Matter with Dennis Sarfate, Zach Lautenschlager, and Rob Sentz – talking about ending abortion and our population implosion. But wait, there's more: The PugCast will be doing a live show: Glenn Sunshine, Tom Price, C.R. Wiley—with George Grant as their special guest. And you know what? Doug Wilson and Voddie Baucham will be staying to do a live show with the CrossPolitic guys Saturday afternoon, and then the whole thing finishes off with a family style sabbath dinner. We want this conference to be full of fighting, laughing, and feasting. So register now: flfnetwork.com/politics-of-sex/ Club members get $100 off registration. If you're not already a club member, why not join now and register and get that discounted price?
Biden Wants to Push Toward Universal Vaccine Mandates
Play Audio
Dr. Wayne Koch, a professor at Johns Hopkins Medicine from Columbia Presbyterian Church in Maryland
Play Audio
"When you see the person next to you, we hope that person is vaccinated, but we hope that they have the Spirit dwelling in them…"
Giving the best spin on this, this guy is being very unclear. Worst case, he's basically equating the COVID vaccine to the Holy Spirit – our protection, our assurance.
But also prayers and poems to the vaccine…
https://www.cbc.ca/radio/thecurrent/the-current-for-may-10-2021-1.6017944/monday-may-10-2021-full-text-transcript-1.6021249
Play Audio: 22:42-23:50
Maybe you should pray louder; perhaps you god has gone on a long journey or is in the bathroom…
House Passed Spending Bill without Hyde Amendment
https://time.com/6085444/hyde-amendment-spending-bills-congress/
The House of Representatives passed a package of spending bills this week without provisions banning federal funding for most abortions in the U.S. and abroad, marking the first time in decades that the restrictions have not been included.
The changes face long odds in the evenly divided Senate, where moderate Democrats and Republicans have said they oppose removing the abortion limits, but the House's move represents a milestone in the national battle over abortion access.
The Hyde amendment… prohibits federally funded programs like Medicaid from paying for abortions except in the cases of rape, incest or to protect the life of the woman. It was first passed in 1976 and has been added to every federal spending bill since.

Psalm of the Day: Psalm 5
Play Audio: 1:37-2:07
Remember you can always find the links to our news stories and these psalms at crosspolitic dot com – just click on the daily news brief and follow the links.
This is Toby Sumpter with Crosspolitic News. You can find this and all of our shows at Crosspolitic.com or on our app, which you can download at your favorite app store, just search "Fight Laugh Feast". A reminder: if you see news stories and links that you think we should cover on the daily news brief, please send them to news @ crosspolitic.com and don't forget to check deft wire dot com where we are constantly posting all our stories.
Support Rowdy Christian media, and share this show or become a Fight Laugh Feast Club Member. You always get a free Fight Laugh Feast t-shirt with a membership and remember if you didn't make it to the Fight Laugh Feast Conference or Rally, club members have access to all the talks and lots more. Join today and have a great day.