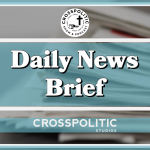 This is Garrison Hardie with your CrossPolitic Daily News Brief for Friday, July 7th, 2023.
Samaritan Ministries
How are you paying for your health care, and how's it working out? If it's working perfectly,
great! If not, then listen closely, because I have a solution for you. A Biblical solution.
Samaritan Ministries is a community of Christians who pay one another's medical bills. Here's
how it works. When a medical need arises, you choose the provider that's right for you, and
have a say in the treatment you receive, even if it's a non-conventional approach. Your medical
bills are shared with fellow members, and your need is covered in prayer.
It's affordable, and you can join anytime, even today. Learn more at samaritan ministries dot
org slash cross politic.
We start today off with world news as Ukraine and Russia are playing a game of he did it – he did it.
https://www.foxnews.com/world/ukraine-russia-accuse-each-other-planning-imminent-attack-europes-largest-nuclear-plant
Ukraine, Russia accuse each other of planning imminent attack against Europe's largest nuclear plant
Ukraine and Russia have accused each other of planning an imminent attack against one of the world's largest nuclear plants.
In a video address Tuesday night, Ukrainian President Volodymyr Zelenskyy alleged that information from Ukrainian intelligence officials shows the "Russian military has placed objects resembling explosives on the roof of several power units" of the Za-po-ree-zia Nuclear Power Plant – located in southeastern Ukraine and occupied by Russian troops.
The "foreign objects" were placed on the roof of the plant's third and fourth power units, according to a statement from the General Staff of Ukraine's armed forces. "Their detonation should not damage power units but may create a picture of shelling from Ukraine," the statement said.
In Russia, Kremlin spokesman Dmitry Peskov raised the specter of a potentially "catastrophic" provocation by the Ukrainian army at the nuclear plant, which is Europe's largest but has its six reactors shut down. It still needs power and qualified staff to operate crucial cooling systems and other safety features.
Over the last year, the U.N.'s atomic watchdog repeatedly expressed alarm over the possibility of a radiation catastrophe like the one at Chernobyl, where a reactor exploded in 1986.
While Russia and Ukraine regularly traded blame over shelling near the plant that caused power outages, Ukraine has alleged more recently that Moscow might try to cause a deliberate leak in an attempt to derail Kyiv's ongoing counteroffensive in the surrounding Za-po-ree-zia region.
Moscow, meanwhile, had accused the Ukrainians of "deliberate sabotage" of the Ka-hove-ka hydroelectric power plant, claiming Kyiv was "pursuing the goal of depriving Crimea of water."
The International Atomic Energy Agency has officials stationed at the Russian-held plant, which is still run by its Ukrainian staff. IAEA Director General Rafael Mariano Grossi said his agency's most recent inspection of the plant found no mining activities, "but we remain extremely alert."
We now go to California.
https://www.dailywire.com/news/california-bills-keep-pride-marching-long-past-june
California Bills Keep Pride Marching Long Past June
The infernal provocation that is Pride Month might be over, but the marches continue through the legislature in California. They are here, they are queer, and they are coming for your children — legally.
Multiple bills at various stages in the California legislative process proclaim who ultimately has authority of your kids, and it's not you. Some have understandably garnered much media attention, but SB 407 is working its way through the Assembly without much fanfare or discussion.
SB 407 would require all potential foster families to demonstrate their capacity and willingness to facilitate pharmaceutical and surgical interventions for "gender-expansive" children. Even if the child seems to give no indication of such inclinations at the time, the resource family must be assessed with the understanding that need for such care could arise at any stage of development.
Sen. Scott Weiner (D-San Francisco) in introducing the bill, claimed it would protect children from being placed in "hostile foster homes." Hostile homes are the homes of any foster families who are unwilling to commit to actively supporting gender transition interventions for minors. SB 407 effectively institutionalizes a prohibition against orthodox Christians as well as other religious believers.
It effectively prohibits foster parents who think it unwise to allow the mutilation of perfectly healthy body parts on minors.
Current and historic data give us insight into the demographics of those most prone to foster non-related babies and minors. Barna Group's research shows that Christians engage in adoption, foster care, and other ways of aiding vulnerable children more than the average. "Practicing Christians (5%) are more than twice as likely to adopt than the general population (2%). Catholics are three times as likely. And evangelicals are five times as likely to adopt as the average adult." Practicing Christians are also nearly three times more likely to have seriously considered foster care, and 65% of non-kin foster parents attend religious services weekly — compared to 39%for the general population.
In any just world such families willing to stretch themselves to help kids would be sought after, not precluded from the foster system. However, the only families fit to foster, according to the supporters of this bill, are those who give full assent to the most radical tenets of gender theory. What is obvious to most everyone (except the bill's authors) is that such ideological assent signals a willingness to reject sexual boundaries. It is that rejection that makes sexual chaos far more likely in the home, not less. Is that the goal? If minors can consent to invasive transitioning interventions, what can they not consent to?
There is also the reality that SB407 is hardly the only bill in California attacking parental rights.
SB 107, passed and was signed into law in September of last year, allowing minors to be brought to the Golden State against the will of a parent if it is for the sake of seeking gender transitioning.
In-state parents are not really calling any shots either, according to AB 957 which puts parental custody in jeopardy absent the guardian's support of their child's "gender identity." Absent full support, which is not defined in the bill, a parent can be charged by a court with child abuse. The age at which the child's desires to begin transitioning must be accommodated is not mentioned, but the bill's author, Assemblywoman Lori Wilson (D-Suisun City) used an example of a seven-year old in arguing the merits of this bill.
Now this is the author of the article talking here: At a recent speaking event I attended for the Awake Americans launch, some protestors carried a sign that read, "We don't co-parent with hate groups." Bemused, a few of us commented that obviously we don't want them to co-parent with us either, so…no problem. But their meaning was more sinister. It was not that they would not co-parent our kids with us, it was that we are unfit to co-parent our own kids with them. They see our kids as theirs to parent and ours to lose.
Biden said as much out loud recently, "There's no such things as someone else's child. Our nation's children are all our children." There's no such thing as someone else's child. In no situation do normal people act as though that were true. I do not decide when to speak to other people's children about sex, nor take them home with me at will. I don't even know their food allergies much less make pivotal decisions for them. Someone could dismiss Biden's words as an empty platitude or incoherent ramblings except that they reflect a real perspective that is incrementally creeping into policy.
https://www.dailywire.com/news/governor-vetoes-bipartisan-bill-protecting-womens-sports
Governor Vetoes Bipartisan Bill Protecting Women's Sports
North Carolina Governor Roy Cooper vetoed a bipartisan bill that would protect women's sports on Wednesday.
HB 574, which is titled the "Fairness in Women's Sports Act" and passed with bipartisan supermajorities, would prohibit men from playing in women's sports in middle schools, high schools, and universities.
"We don't need politicians inflaming their political culture wars by making broad, uninformed decisions about an extremely small number of vulnerable children that are already handled by a robust system that relies on parents, schools and sports organizations," the Democratic governor stated. "Republican governors in other states have vetoed similar bills because they hurt their states' reputation and economy and because they are neither fair nor needed."
The Fairness in Women's Sports Act was passed with the support of two Democrats in the state legislature — Rep. Michael Wray in the House, and Sen. Val Applewhite in the Senate. If Cooper's veto is overridden, the bill would apply to all public schools and any private school that competes against public schools.
Applewhite said that her vote was "a tough decision to make" and was based on conversations with coaches and other constituents in her district. One umpire told the Democrat that changes in strength levels between boys and girls can start as soon as seven years old.
According to the Fayetteville Observer, Applewhite received "bad threats" after her vote. When approached by The News & Observer, Wray declined to comment on why he supported the bill.
Cooper also vetoed SB 49, named the "Parents' Bill of Rights," and HB 808, which would ban sex change treatments for minors. Unlike the women's sports bill, these two bills passed with no Democratic support.
Cooper's vetoes of HB 574 and HB 808 are likely to be overridden by the North Carolina General Assembly, since the GOP holds supermajorities in both houses, thanks in part to Rep. Tricia Cotham, who switched parties from Democrat to Republican in April and voted for all three bills.
However, the path forward for the Parents' Bill of Rights is less certain, since one Republican, Rep. Hugh Blackwell, voted against the bill, leaving Republicans one vote short of overriding the governor's veto on that bill.
Cooper is not the only Democratic governor to veto bipartisan bills surrounding protecting womens' sports, banning sex change treatments for minors, and strengthening parental rights in education.
Governor John Bel Edwards of Louisiana vetoed three similar bills Friday, all of which saw multiple Democrats join Republicans to support them in the state legislature. In a press conference, Edwards compared the bills' supporters to segregationists during the Civil Rights Movement.
We now go to Phoenix…
https://thepostmillennial.com/phoenix-city-council-votes-to-send-unclaimed-firearms-to-national-police-of-ukraine?utm_campaign=64487
Phoenix City Council votes to send 'unclaimed' firearms to National Police of Ukraine
The Phoenix City Council passed a vote last week that allows up to 600 unclaimed guns from Phoenix to be donated to the National Police of Ukraine.
The plan is going through a contract with a company, DT Gruelle, that is specially approved for overseas arms trading. Around $200,000 worth of firearms will be handed over to the company for shipment, according to the Arizona Daily Independent.
Under Arizona City law, unclaimed arms need to be resold within one year after they have been obtained by the city. The arms are disposed of or sold "to any business that is authorized to receive and dispose of the article under federal and state law."
In the June 28 City Council report, the city "selected approximately 500-600 unclaimed firearms to transfer through Gruelle, a private company which provides export and import services." The plan passed with unanimous support.
The report stated that "firearms are unclaimed when there has been no owner contact after a thirty day notice, in which case the City can dispose of them." The Phoenix Police Department states that the firearms are "lost, unclaimed, or found in possession of the Phoenix Police Department." KJZZ said of unclaimed firearms, "essentially they end up in the police department's lost and found"
"Only 9mm, 45mm, 39mm and 12 gauge firearms will be sent," according to the notes.
The council promoted the "two year" contract with the private company and, according to the meeting notes, no taxpayer money will be "expended by the City."
However, questions about the transfer of arms have been raised. The law in Arizona states that firearms that are authorized to be sold by the city need to be sold "to the public" by the business.
The company's website says, "We have a breadth of experience due to 40 years of continuous support to the United States and over 150 other countries, including Iraq, Afghanistan, and Ukraine."
"We comply with all required procedures which permeate through our ongoing operations," it goes on.
The company has a history of working in Ukraine. In April of 2022 last year, a report showed that a township in Pennsylvania worked with DT Gruelle to raise funds for the Ukrainian war effort, according to the Tribune-Democrat.
Now this! Is it time to boycott Ben & Jerry's?
https://www.newsweek.com/ben-jerry-boycott-calls-july-4th-message-1810991
Ben & Jerry's Faces Boycott Calls Over 4th of July Message
Ben & Jerry's is facing a boycott after calling on the United States to "commit to returning" stolen Indigenous land in its 4th of July message.
On Independence Day, the iconic American ice cream brand sparked outrage on social media by publishing a Twitter post with an image reading: "The United States was founded on stolen Indigenous land. This Fourth of July, let's commit to returning it."
In the caption, the company added: "It's high time we recognize that the US exists on stolen Indigenous land and commit to returning it."
Ben & Jerry's message generated a flood of negative responses on social media, with some calling it the company's "Bud Light moment," referring to controversy and subsequent boycott after the beer brand partnered with a transgender activist in April.
Other Twitter users called on the company to be the first to give up its profits and properties, including factories, buildings and stores. Others said that the company should be returning its factory land to the Abenaki people.
"Ok you start. Relinquish your headquarters," one Twitter user wrote. "This should be easy then," wrote another. "Shut down and donate all of your land, facilities, and assets to indigenous people."
Others accused the company of virtue-signaling—the practice of expressing opinions or sentiments intended to demonstrate one's good character, social conscience and awareness of a certain issue, just for the sake of appearing good in people's eyes.
Scrutiny has continued to escalate over the company's support of the LGBTQ+ community and the Black Lives Matter movement, among other polarizing issues.