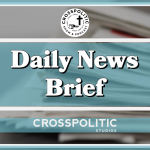 Good morning everyone, this is Garrison Hardie with your CrossPolitic Daily News Brief for Friday, July 8th, 2022… Happy Friday to you and yours, and let's start off by talking about our conference!
FLF Conference Plug:
Folks, our upcoming Fight Laugh Feast Conference is just 4-months away from happening in Knoxville TN, October 6-8! Don't miss beer & psalms, our amazing lineup of speakers which includes George Gilder, Jared Longshore, Pastor Wilson, Dr. Ben Merkle, Pastor Toby, and we can't say yet…also dont miss our awesome vendors, meeting new friends, and stuff for the kids too…like jumpy castles and accidental infant baptisms! Also, did you know, you can save money, by signing up for a Club Membership. So, go to FightLaughFeast.com and sign up for a club membership and then register for the conference with that club discount. We can't wait to fellowship, sing Psalms, and celebrate God's goodness in Knoxville October 6-8.
https://www.theepochtimes.com/boris-johnson-resigns-as-uk-prime-minister_4580680.html?utm_source=partner&utm_campaign=BonginoReport
Boris Johnson Announces Resignation as UK Prime Minister
Boris Johnson has finally announced he is stepping down as prime minister after the resignation of more than 50 government ministers, including a Chancellor of the Exchequer, ruh-shee soo-naak, whose successor Nadhim Zahawi, then called for his boss to "do the right thing and go."
Johnson, standing at a podium in Downing Street with his wife Carrie and his baby daughter Romy behind him, said, "It's clearly the will of the Conservative Party that there should be a new leader of the party and a new prime minister."
He thanked those who voted for the Tories in December 2019 and he said the reason he had held on for so long to the job was because of the mandate he received in that election.
Johnson said it was "painful" to give up the job of prime minister but he said nobody was "indispensible."
On Wednesday Johnson, 58, had vowed to soldier on, after admitting it was a "mistake" to keep Chris Pincher on as a government whip despite sexual misconduct allegations against him.
After receiving a hostile grilling at Prime Minister's Question Time, and then before the House of Commons Liaison Committee, he was lobbied by Michael Gove and several other Cabinet ministers who urged him to resign.
But Johnson then sacked Gove as Secretary of State for Levelling Up and appeared determined to carry on, having told MPs earlier he had a "mandate" from the general election victory of December 2019 and would continue to deliver on the Conservative Party's manifesto promises.
On Thursday morning Nadhim Zahawi, who had been appointed chancellor less than 48 hours before following Sunak's resignation, turned on Johnson, writing on Twitter: "This is not sustainable and it will only get worse: for you, for the Conservative Party and most importantly of all the country. You must do the right thing and go now."
Then, at lunchtime on Thursday, Johnson finally confirmed he would be resigning, triggering a leadership contest in the Conservative Party.
So now what?
Johnson will remain as prime minister until a leadership election takes place in the ruling Conservative Party.
Among the front-runners will be Sunak and former Health Secretary Sajid Javid, but the Foreign Secretary Liz Truss is expected to be in the running, along with Attorney General Suella Braverman, and possibly Defence Secretary Ben Wallace and trade minister Penny Mordaunt.
When a new leader has been chosen Johnson—the 14th prime minister of Queen Elizabeth II's 70-year reign—will visit the head of state at Buckingham Palace to formally tender his resignation.
The scandal over Chris Pincher had proved to be the final straw for many of his Cabinet colleagues, who had backed him in a vote of confidence over the "partygate" scandal last month.
https://www.npr.org/sections/health-shots/2022/07/07/1110078914/montana-abortion-pills
Montana clinics preemptively restrict out-of-state patients' access to abortion pills
The four states bordering Montana have "trigger laws" in effect or pending now that the U.S. Supreme Court has ended federal protections for abortion, making conservative Big Sky Country an unlikely haven for women seeking to end their pregnancies.
But Montana's potential to become an abortion refuge has been diminished — not by the lawmakers and governor whose attempts to restrict abortions have been stymied by the state constitution's right to privacy, but by the operators of at least four of the state's five clinics, which are preemptively limiting who can receive abortion pills.
Officials from Planned Parenthood of Montana, which operates three of the four clinics, said the intent is to ensure that they and their patients from states with trigger bans — laws to ban or restrict abortion that were designed to go into effect if Roe v. Wade was struck down — are protected from criminal charges and lawsuits. But the policy change is yet another complication for women in neighboring states such as South Dakota who want to end a pregnancy and face a rapidly narrowing field of options.
"That was a state that we were hoping was going to be available," said Kim Floren, director of the Justice Through Empowerment Network, a South Dakota abortion fund which provides financial aid to people who need the procedure. "At this point, it's just more bad news on top of more bad news."
Patients often prefer medication abortions over surgical abortions because they are cheaper, require less time at a clinic, and offer them greater privacy and more control. The most common type of medication abortion is a two-part pill regimen: The first taken in the clinic if an in-person visit is required; the second typically taken at home. In many states, the medications can be shipped to the patient after a telemedicine appointment.
In 2020, medication abortions made up more than half of abortions in the U.S. for the first time, according to the Guttmacher Institute, a research organization that supports abortion rights. Advocates expect medication abortions to become a target of new state laws. In South Dakota, a law that bans abortions by telemedicine took effect July 1.
The Planned Parenthood policy change in Montana is a response to the shifting legal landscape, said Jennifer Sandman, senior director of public policy litigation and law for Planned Parenthood's national organization. "People are acting under conditions of extraordinary chaos and fear that has been instilled by where the Supreme Court has left us and by threats by anti-abortion politicians in some states," Sandman said.
Planned Parenthood of Montana decided June 30 not to provide abortion pills at their clinics in Billings, Great Falls and Helena to patients from states where trigger laws have gone into effect. At the time, bans were in place in South Dakota, Arkansas, Missouri and Oklahoma, but Planned Parenthood officials said they see a significant number of patients from South Dakota. The officials did not respond when asked how many South Dakota patients would likely be affected.
Montana's other neighbors — Idaho, Wyoming and North Dakota — also have trigger laws, but they have not yet gone into effect.
Story Real Estate:
Home. It's where you build your legacy. Where traditions are started, seeds are planted, meals are shared, and stories are told. Home is where you prepare to go out into the world. Finding the home that's perfect for your family is a big job.
Story Real Estate is Moscow's top real estate team. They give people real estate advice all over the country. Family homes, investments, land, new construction, or commercial— they know real estate.
If you've thought about a move to Moscow or anywhere in the country, reach out to get connected with a Story Real Estate agent. Wherever you're going, they can help guide you Home. Visit storyrealestate.com.
https://www.foxnews.com/us/last-surviving-band-brothers-member-bradford-freeman-dead-97
Last surviving 'Band of Brothers' member Bradford Freeman dead at 97
Bradford Freeman, the last surviving member of Easy Company that was portrayed in the World War II series "Band of Brothers," has passed away.
Freeman, 97, died Sunday at Caledonia, Mississippi's Baptist Memorial Hospital-Golden Triangle, according to Stars and Stripes.
His death was announced in his local newspaper, with an obituary composed by his children.
The military legend is survived by a sister, two daughters and four grandchildren. He is also survived by 10 great-grandchildren.
Freeman was the last surviving soldier who helped to inspire "Band of Brothers," a seminal television series depicting life in combat during World War II.
The "Band of Brothers" HBO miniseries, based on a book by Stephen Ambrose, followed the members of Easy Company, 506th Regiment, 101st Airborne Division from training in Georgia in 1942, through some of the war's fiercest European battles and through the war's end in 1945.
Its producers included Tom Hanks and Steven Spielberg.
Richard "Dick" Winters, Easy Company commander, died following a several-year battle with Parkinson's disease, longtime family friend William Jackson said Monday.
An intensely private and humble man, Winters had asked that news of his death be withheld until after his funeral, Jackson said. Winters lived in Hershey, Pennsylvania, and died in suburban Palmyra.
If you guys haven't watched that series, I highly recommend it. One of the best war series I've ever seen.
Now, it's time for the topic that I love sports!
https://nymag.com/intelligencer/2022/07/brittney-griner-pleads-guilty-faces-10-years.html
Brittney Griner Pleads Guilty, Faces 10 Years in Russian Prison
But wait a minute Garrison, you might say… I thought you said sports! Not a WNBA player! In a court outside Moscow on Thursday, WNBA superstar Brittney Griner pleaded guilty to drug-smuggling charges widely thought to be politically motivated. She faces up to ten years in prison — though the Biden administration is working to secure her release, possibly as part of a prisoner swap.
In an appearance on Thursday detailed by the state news agency RIA Novosti, Griner told the court she hadn't intended to commit a crime when she brought two cartridges of hashish oil into Russia in February but that she had merely packed in a hurry. For years, Griner has played for a team in central Russia to supplement her income in the WNBA.
Griner's trial, which began several days ago, is all but predetermined in the state's favor; the majority of cases in Russia that are not pleaded out end in a guilty verdict. Her next hearing is scheduled for July 14.
A guilty plea may help set the wheels in motion for a potential prisoner exchange. (Speculation in Russia has focused on Viktor Bout, an arms dealer known as the Merchant of Death.) Russian authorities have previously stated there will be no prisoner swap until a verdict is handed down. On Wednesday, the White House announced that President Joe Biden and Vice-President Kamala Harris had spoken with Griner's wife, Cherelle, to assure her that the administration is working to bring Griner home. The call came after Griner asked for help in a handwritten letter delivered to the White House on July 4. In it, she wrote that she was "terrified I might be here forever."
This has been your CrossPolitic Daily News Brief. If you liked this show, hit that share button for me would ya? If you'd like to sign up for our conference, become a club member, or subscribe to our Fight Laugh Feast Magazine, you can do all of that at fightlaughfeast.com. And as always, if you'd like to become a corporate partner with CrossPolitic, email me, at garrison@fightlaughfeast.com. For CrossPoltiic News, I'm Garrison Hardie. Have a great weekend, and Lord bless.