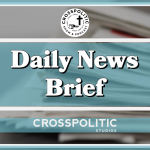 This is Toby Sumpter with your CrossPolitic Daily News Brief for Friday, July 9, 2021.
Plug: Fight Laugh Feast Conference in Lebanon, TN, just outside of Nashville.
Sex is inherently political. What you do in the privacy of the bedroom never stays there. It always impacts the world. A culture is either built on the fruitfulness of a godly union between one man and one woman, or else it dies from self-inflicted fruitlessness and sexual rebellion against God. Worldview matters, the nuclear family matters, definitions of male and female matter, godly children matter. Our sexual choices and values are building and cultivating a particular kind of public square. Join us in Lebanon, TN with Pastor Douglas Wilson "Gay Pulpits", Voddie Baucham "Critical Sex Theory", Doug TenNapel "Sex, Lies, and Propaganda", David Bahnsen "Punk Rock Home Economics", and then on Saturday will have 9 SWAT talks with over 20 speakers arming you to go out into the world to take dominion with your gifts and abilities. Registration is live now: flfnetwork.com/politics-of-sex/ Club members get $100 off registration. Seating is limited!
We're Coming For Your Children
https://www.youtube.com/watch?v=Vj4UffoHcjo
San Francisco Gay Men's Choir
Play Audio: 0:00-2:23
First off, Ben Merkle pointed out in his FLF Rally talk that you might not be paedobaptist of postmillennial, but the liberals are. This is exhibit A of his point.
Second, do not miss the pedophile undertones in this. And historically, it's just a fact that homosexuality and pedophilia were closely related.
Third, the expected response to this would be fussy and fearful denunciations. But I would suggest ignoring it and/or mocking it. These are men who have chosen lifestyles where they can't have children. Remember also that the Bible tells us that the root cause of this kind of sickness is refusing to give God thanks and worship Him as Creator. That would seem to mean that gratitude might be one of the greatest weapons against this darkness. So live grateful joyful lives in your families. Gayness is a false joy that is rotting inside. One day many of these men and women will be starving for grace, and we should be there ready to give it to them.
Why Limbless Evangelist Nick Vujicic [Voy'achuch] Is Launching a Bank for Pro-Lifers
Evangelist and motivational speaker, Nick Vujicic, announced that he plans to start a bank that supports pro-life efforts after learning that many financial institutions donate to organizations that endorse abortions.
During an interview Thursday with The Epoch Times, Vujicic said he began to speak out against the innocent killing of unborn babies in March 2019. Within 16 weeks of doing that, he revealed, "we had a grenade at our house, a false magazine article published against me, a lawsuit threat, a spying drone, and a bank kicked me out."
Around that same time, Vujicic spoke with his good friend Betsy Gray about launching Pro-Life Bank. The 38-year-old, who has an extensive financial background, told Gray that he needed to pray more about the idea.
Vujicic explained that during that period, he experienced more adversity, but this time from his own bank.
"I got kicked out of a bank with no warning. They froze my credit cards, froze my debit cards," he said. "They gave me a letter to say that they did a review of me as a client and they don't want anything to do with me."
The pro-life advocate chose to take on the project with Gray and is excited to educate others by exposing banking networks that partner with abortion providers.
"We want to tell everyone, yeah, there's a choice coming for you," Vujicic said. "And not only will this be a for-profit bank, we are actually known as a for-giving bank. We will not fund abortion, but we'll actually fund 50 percent net profits to Judeo-Christian-aligned nonprofit organizations that are biblically aligned in doing the will of God according to our belief systems."
Vujicic said with this initiative, he is hoping to share a positive message about protecting the sanctity of life at all stages.
"We love everyone. But we believe as well though that there should be equal protection and equal justice for the unborn who exist from the moment of conception," he pointed out.
Vujicic has tetra-amelia syndrome, a disorder that caused him to be born without limbs. But despite some major challenges, he created his own ministry, Life Without Limbs. As an evangelist, he has reached millions of people across dozens of countries — a feat he credits to God.
Speaking of Cancel Culture, Tucker Carlson Says the NSA has Leaked His Private Emails to the Press
https://twitter.com/DailyCaller/status/1412787307468427274?s=20
Play Audio: 0:26-2:12
Meanwhile Biden Says They Will Be Bringing the Good News of Vaccination Door to Door
Play Audio
Press Secretary Jen Psaki Also Mentioned this Plan in a White House News Briefing
Play Audio: 0:17-0:33
No one seems to mind that "Pfizer received the biggest fine in U.S. history of $2,300,000,000 in 2009 for "bribing doctors and suppressing adverse trial results"."
And Just For Fun, CNBC Mocks Their Viewers By Suggesting that a Perk of Inflation would be Higher Salaries
https://www.cnbc.com/2021/07/08/the-upside-to-inflation-rising-wages.html?utm_term=Autofeed&utm_medium=Social&utm_content=Main&utm_source=Twitter#Echobox=1625752013
Convicted Extortionist Michael Avenatti Cries in Court As He's Sentenced to 2.5 Years in Prison
https://redstate.com/jenvanlaar/2021/07/08/convicted-extortionist-michael-avenatti-cries-in-court-as-hes-sentenced-to-2-5-years-in-prison-n408159
Former Stormy Daniel's hot shot lawyer Michael Avenatti was sentenced in a Manhattan courtroom yesterday to 2.5 years in prison for attempting to extort up to $22.5 million from Nike. Avenatti's woes are far from over; he's set to go to trial on 10 counts (out of a 36-count indictment) of tax fraud starting July 13 in Orange County, California.

Something about falling into the pits you have dug.
Psalm of the Day: Psalm 30
Play Audio: 0:00-0:36, 2:47-3:28
O Lord, I will exalt you, for you have lifted me;
My foes you kept from boasting, denied them victory.
O Lord, my God, I pleaded that you might heal and save;
Lord, you from death have ransomed, and kept me from the grave.
You turned my grief to dancing, from sackcloth set me free.
You wrapped me up in gladness; I shall not silent be.
Indeed, my soul, my glory, will praise you and adore;
O Lord, my God, I'll thank you both now and evermore.
This is Toby Sumpter with Crosspolitic News. You can find this and all of our shows at Crosspolitic.com or on our app, which you can download at your favorite app store, just search "Fight Laugh Feast". A reminder: if you see news stories and links that you think we should cover on the daily news brief, please send them to news @ crosspolitic.com and don't forget to check deft wire dot com where we are constantly posting all our stories.
Support Rowdy Christian media, and share this show or become a Fight Laugh Feast Club Member. You always get a free Fight Laugh Feast t-shirt with a membership and remember if you didn't make it to the Fight Laugh Feast Conference or Rally, club members have access to all the talks and lots more. Join today and have a great day.