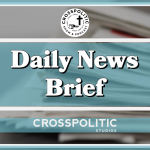 Elon Musk's Twitter deal, mass shooter stats, and electric cars running on coal???… and more on today's CrossPolitic Daily News Brief. My name is Toby Sumpter and today is Friday, June 10, 2022.
https://www.dailywire.com/news/twitter-reverses-course-over-complying-with-elon-musks-demands
Daily Wire reports: Twitter's Board of Directors reportedly now plans to comply with a demand from Elon Musk to turn over internal data after Musk threatened to terminate his $44 billion purchase of the company for refusing to provide details related to how many bot accounts are on the platform.
"The information could be provided as soon as this week," The Washington Post reported.
"Currently some two dozen companies pay for access to the trove, which comprises not only a real-time record of tweets but the devices they tweet from, as well as information about the accounts that tweet."
An attorney for Musk said in a letter to Twitter's general counsel and head of legal, policy, and trust, Vijaya Gadde, that the social media company was "actively resisting and thwarting his information rights" as agreed to in the contract.
"This is a clear material breach of Twitter's obligations under the merger agreement and Mr. Musk reserves all rights resulting therefrom, including his right not to consummate the transaction and his right to terminate the merger agreement," the letter said.
The number of fake accounts on the platform could inflate the company's ad revenue and thus lead Musk to seek to renegotiate how much he is willing to pay for the company.
https://twitter.com/sethdillon/status/1534745379941539841?s=21&t=83BQTMhFyDujbhv5HztW_A
On Wednesday, Babylon Bee CEO tweeted: "BREAKING: Twitter just locked out @libsoftiktok for posting a thread about several recent drag shows for kids. The thread allegedly violates Twitter's rules against "abuse and harassment."
You know what's actually abusive? Drag shows for kids."
​​You can promote drag shows for kids on Twitter. That's fine. You can even share videos of yourself performing in them. The only thing you can't do is criticize them.
Somehow the feelings of a few drag queens matter more to Twitter than the corruption of a generation of children.
Finally, Seth reported that the Libs of Tictok's appeal had been rejected.
Dime Payments
Dime Payments is a Christian owned processing payment business. Every business needs a payment process system, so please go to https://dimepayments.com/flf and sign your business up. Working with them supports us. They wont cancel you, like Stripe canceled President Trump. They wont cancel you, like Mailchimp canceled the Babylon Bee. Check them out. At least have a phone call and tell them that CrossPolitic sent you. Go to https://dimepayments.com/flf.
A Gunman was arrested this last Tuesday night for allegedly threatening to kill Supreme Court Justice Brett Kavanagh.
https://twitter.com/mlchristiansen/status/1534566375162671104?s=21&t=83BQTMhFyDujbhv5HztW_A
Pete Williams from MSNBC:
Play 0:00-1:04
Wednesdays New York Times front page lead with a story about gun violence and buried this story at the bottom of the page. Even Nate Silver commented on Twitter that it was crazy it wasn't receiving more coverage.
https://twitter.com/johnstossel/status/1073616122619092993?s=21&t=83BQTMhFyDujbhv5HztW_A
Speaking of gun violence, John Stossel shared a video this week on the common claim that the US has the highest rate of mass shootings in the world. But his research has been clouded with questions,
Play 0:00-2:36
and when John Lott's research think tank company did his own research, they found very different results:
3:36-4:26
Lies, Propaganda, Story Telling, and the Serrated Edge:
This year our national conference is in Knoxville, TN October 6th-8th. The theme of this year's conference is Lies, Propaganda, Storytelling and the Serrated Edge. Satan is the father of lies, and the mother of those lies is a government who has rejected God. We have especially been lied to these last two years, and the COVIDpanic has been one of the central mechanisms that our government has used to lie to us and to grab more power. Because Christians have not been reading their bibles, we are susceptible to lies and weak in our ability to fight these lies. God has given us His word to fight Satan and his lies, and we need to recover all of God's word, its serrated edge and all. Mark your calendars for October 6th-8th, as we fight, laugh and feast with fellowship, beer and Psalms, our amazing lineup of speakers, hanging with our awesome vendors, meeting new friends, and more. Early bird tickets are available now, but will be gone before you know it! Sign up now at flfnetwork.com/knoxville2022
https://twitter.com/katiepavlich/status/1534930743717203976?s=21&t=55p2TcoLi9CJTF_kZ0M44Q
Where do electric cars get their power from? Here's a video where an electric car is being celebrated, but when asked where the power is coming from, we find out… well, just listen for yourself:
Play full video:
95% of the power comes from coal. Heh.
The Psalm of the Day: Psalm 47 – All Peoples Clap Your Hands
https://open.spotify.com/track/3OVMAqkszB84CLWTmzNrjM?si=91f7d73f415a46e2
Play: 0:00-1:27
Amen!
This is Toby Sumpter with CrossPolitic News. Remember you can always find the links to our news stories and these psalms at crosspolitic dot com – just click on the daily news brief and follow the links. Or find them on our App: just search "Fight Laugh Feast" in your favorite app store and never miss a show. If this content is helpful to you, would you please consider becoming a Fight Laugh Feast Club Member? We are building a cancel-proof Christian media platform, and we can't do it without your help. Join today and get a $100 discount at the Fight Laugh Feast conference in Knoxville, TN Oct. 6-8, and have a great day.