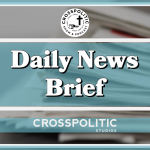 This is Toby Sumpter with your CrossPolitic Daily News Brief for Friday, June 11, 2021.
Fourth of July Club Member Liberty Bash
Join us at our first annual 4th of July Club Member Liberty Bash! We are so grateful to our club members, and can't think of a better way to celebrate America, than a joyous, raucous, party with our club members at Waterboy's farm.
Unfortunately, space is limited, so sign up ASAP. Ok pay attention, here is how you register: Go to www.FightLaughFeast.com and login into the club portal and you will find the 4th of July event. Click on it and follow the registration steps from there. If you have forgotten your password, just go through the fast and easy password reset process. If you get stuck, email us at [email protected].
The event is free, though we would gladly accept donations to cover some costs. Our software is a little funny, so just note that you have to put in a 0 (zero) into the price box at checkout to move forward.
Heading into Inflation or Deflation
https://www.wsj.com/articles/us-inflation-consumer-price-index-may-2021-11623288303?mod=hp_lead_pos1
The U.S. economy's rebound from the pandemic is driving the biggest surge in inflation in nearly 13 years, with consumer prices rising in May by 5% from a year ago.
The Labor Department said last month's increase in the consumer-price index was the largest since August 2008, when the reading rose 5.4%. The core-price index, which excludes the often-volatile categories of food and energy, jumped 3.8% in May from the year before—the largest increase for that reading since June 1992.
Consumers are seeing higher prices for many of their purchases, particularly big-ticket items such as vehicles. Prices for used cars and trucks leapt 7.3% from the previous month, driving one-third of the rise in the overall index. The indexes for furniture, airline fares and apparel also rose sharply in May.
May's jump in prices extends a trend that accelerated this spring amid widespread Covid-19 vaccinations, relaxed business restrictions, trillions of dollars in federal pandemic relief programs and ample household savings—all of which have stoked demand for Americans to spend and travel more.
Overall prices jumped at a 9.7% annualized rate over the three months ended in May. On a month-to-month basis, overall prices rose a seasonally adjusted 0.6% and core prices rose 0.7%.
The annual inflation measurements are being boosted by comparisons with figures from last year during pandemic-related lockdowns, when prices plummeted because of collapsing demand for many goods and services. This so-called base effect is expected to push up inflation readings significantly in May and June, dwindling into the fall.
Compared with two years ago, overall prices rose a more muted 2.5% in May.
Prices for new vehicles have soared because of a computer-chip shortage that has crimped car production. That, in turn, has bolstered prices for used autos. Rental-car prices have soared because companies sold their fleets when demand collapsed along with travel during the pandemic. Airfares and hotel-room rates are rebounding as consumers start traveling again.
Policy makers are watching May's reading to gauge the magnitude of what many expect to be several months of stronger inflation after a year of very weak price pressures during the worst of the pandemic. Whether the pickup in inflation proves temporary is a key question for the U.S. economy and financial markets as the Biden administration, Congress and the Federal Reserve continue to support the economy with fiscal and monetary policy measures.
The Fed expects the inflation rate to rise temporarily this year. A sustained, large increase in inflation could compel the central bank to tighten its easy-money policies earlier than it had planned, or to react more aggressively later, to achieve its 2% average inflation goal.
However, Deflation Is Still Reality in Japan
https://www.wsj.com/articles/bank-of-japan-drops-stock-buying-target-after-markets-rise-11616128225
From back in March, WSJ: "A restaurant chain just made its fried-chicken meal about 50 cents cheaper. A Uniqlo shirt costs a dollar or two less as of this month. And home-products maker Muji slashed the price of a storage box by 35%.
In Japan, the world's deflation champion, America's talk about inflation heating up is a "fire on a distant shore," as the Japanese saying goes. Despite eight years of spending trillions of dollars to perk up the economy, the central bank is still digging in for a lengthy further battle with falling prices.
Prices excluding fresh food fell 0.4% in February compared with a year earlier, the government said Friday just as Bank of Japan policy board members were gathering to discuss again how to get the nation's consumers and lenders into a more spirited mood.
Their answer, for now, was more fine-tuning. The central bank said it might lower its short-term interest rate to minus 0.2% or further from minus 0.1% now, and it laid out a path for doing so without hitting commercial banks' profitability. It also said it would give incentives to boost lending.
Japan has been struggling with deflation for more than two decades. While price cuts look good to consumers, steadily falling overall prices can lead to a negative cycle of low corporate investment and sluggish wages.
The Japanese lesson has sunk in with central bankers around the world. Federal Reserve Chairman Jerome Powell reiterated Wednesday that inflation would have to exceed 2% for a sustained period before the Fed would raise interest rates.
He mostly shrugged off concerns from some economists that the $1.9 trillion economic program just passed by Congress plus a wave of pent-up demand could trigger sharper price rises in the U.S. Yields on 10-year Treasury notes topped 1.7% on Thursday, up from 1.1% in early February.
Mr. Powell was trying to keep the U.S. from falling into what the Bank of Japan described Friday as Japan's "complex and sticky" deflationary mind-set, in which people expect prices will never rise and companies act accordingly.
That mind-set has proved impervious to some forces that would normally nudge prices up. Japan's stock market this year reached a 30-year high, with help from a Bank of Japan stock-buying program that was meant to encourage risk-taking behavior. Yet in a country where most people don't own shares, the windfall from more-valuable stock portfolios isn't translating into a willingness to splurge on higher-priced items.
With the stock purchases showing little power to lift the broader economy, the Bank of Japan on Friday dropped its annual purchase target, which had stood at the equivalent of $55 billion since 2016. It said it reserved the right to buy more shares if needed.
Some economists said they didn't expect much inflation even after the coronavirus pandemic eases and people can shop and travel again as they did before 2020.
"To win that demand and compete with rivals, companies are unlikely to carry out price increases," said Kazuo Momma, an economist at Mizuho Research Institute who formerly served as a BOJ executive director in charge of monetary policy. "It wouldn't be surprising if we don't reach 2% inflation for another 10 or 20 years."
David Bahnsen's Guest Dr. Lacy Hunt on His Podcast Capital Record
https://podcasts.apple.com/us/podcast/deflation-the-reward-for-a-society-living-above-its-means/id1550665912?i=1000524936794
He says that increased debt and cash infusions results in short term inflation but long term deflation because long term, the law of diminishing returns slowly suffocates an economy, slowing it down, hence deflation is the real danger:
Japan: 4:55-6:19,
Birthrates falling: 7:48-10:54
Law of diminishing returns means the economy grinds slower and slower: 14:30-16:06
Law of diminishing returns means that as countries are increasingly indebted, they get less and less return for that debt and therefore have less and less to pay toward that debt and therefore have less and less money to spend, and therefore prices have to fall.
If I understand correctly, debt is like economic obesity. It makes the economic heart work harder to pump money through markets and eventually that burden causes the heart to pump slower and slower. Is that right? Scripture says that the borrower is slave to the lender, and slavery would seem to be the apt picture of the law of diminishing returns. When you know you aren't going to be able to keep or inherit any of what you're working for it puts a damper on your enthusiasm and work. That sounds like deflation.
If you want to learn more, I would recommend you catch the Water Break Show with the Water Boy from yesterday. He had David Bahnsen on his show to talk about this stuff.
Psalm of the Day: Psalm 63
https://open.spotify.com/track/7AThmBAjLGAfuUr1oisZc1?si=e0fdc788d39c434b
Play Audio: 0:43-1:24
I've seen thy glory and thy power
Through all thy temple shine;
My God, repeat that heav'nly hour,
That vision so divine.
Not all the blessings of a feast
Can please my soul so well,
As when thy richer grace I taste,
And in thy presence dwell.
This is Toby Sumpter with Crosspolitic News. You can find this and all of our shows at Crosspolitic.com or on our app, which you can download at your favorite app store, just search "Fight Laugh Feast". Support Rowdy Christian media, and share this show or become a Fight Laugh Feast Club Member. You always get a free Fight Laugh Feast t-shirt with a membership and remember if you didn't make it to the Fight Laugh Feast Conference or Rally, club members have access to all the talks and lots more. Join today and have a great day.