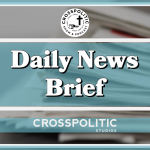 Good Monday everyone! This is Garrison Hardie with your CrossPolitic Daily News Brief for Monday, June 13th, 2022… and I'm here to bring you what you missed over the weekend… so buckle up, and let's get to it. Today we'll start off with the Senate announcing bipartisan framework for gun control package…
https://www.foxnews.com/politics/senate-bipartisan-framework-gun-control
This is from Fox News, A bipartisan group of senators announced a "commonsense" agreement on a gun package Sunday.
"Today, we are announcing a commonsense, bipartisan proposal to protect America's children, keep our schools safe, and reduce the threat of violence across our country. Families are scared, and it is our duty to come together and get something done that will help restore their sense of safety and security in their communities," the group of senators said in a press release on the announcement.
The senators include: Chris Murphy, John Cornyn, Thom Tillis , Kyrsten Sinema, Richard Blumenthal, Roy Blunt, Cory Booker, Richard Burr, Bill Cassidy, Susan Collins, Chris Coons, Lindsey Graham, Martin Heinrich, Mark Kelly, Angus King, Joe Manchin, Rob Portman, Mitt Romney, Debbie Stabenow, and Pat Toomey.
"Our plan increases needed mental health resources, improves school safety and support for students, and helps ensure dangerous criminals and those who are adjudicated as mentally ill can't purchase weapons. Most importantly, our plan saves lives while also protecting the constitutional rights of law-abiding Americans. We look forward to earning broad, bipartisan support and passing our commonsense proposal into law," the senators continued in their group statement.
The proposal includes initiatives to support state crisis intervention orders; a national expansion of mental health services for children and families; expanding mental health programs in schools; enhanced review process for gun buyers under the age of 21; penalties for straw purchases; additional funding for school resource officers.
Senate Republican Leader Mitch McConnell issued a statement in support of the agreement later Sunday, saying he was "glad Senators Cornyn and Murphy are continuing to make headway in their discussions."
"I continue to hope their discussions yield a bipartisan product that makes significant headway on key issues like mental health and school safety, respects the Second Amendment, earns broad support in the Senate, and makes a difference for our country," McConnell added in his statement.
If you needed another reason to despise public school, get a load of this: NYC shells out $200K in taxpayer dollars to bring drag performers to public schools: report
https://www.foxnews.com/us/nyc-200k-taxpayer-dollars-drag-performers-public-schools
This from Fox News, by the way, Fox News, New York City shelled out more than $200,000 in taxpayer funding in the past five years to have drag queens come into classrooms and interact with schoolchildren as young as age 3, according to a report.
The nonprofit Drag Story Hour NYC, previously known as Drag Queen Story Hour NYC, received approximately $207,000 in taxpayer funding since 2018, the New York Post reported, citing city records.
The total includes a $50,000 contribution from New York State through its Council on the Arts, along with $157,000 earmarked from New York City's Departments of Education, Cultural Affairs, Youth and Community Development, and even from the Department of Transportation, according to the Post.
Records show that the non-profit received $46,000 from city contracts for appearances at public schools, street festivals and libraries in May alone ahead of Pride month.
The events involve cross-dressed drag performers reading to school children at public schools, libraries and other LGBTQ centers, but has expanded to also include coloring activities. Photos show drag performers also instructing children in classrooms how to apply drag makeup.
According to a reading list the non-profit shared online, performers read a variety of books ranging from classics like "The Very Hungry Caterpillar" and "The Rainbow Fish," which discuss topics like growth, acceptance and diversity, to others that more overtly discuss gender identity, such as "The Hips on the Drag Queen Go Swish Swish Swish" and "The Dragtivity Book."
Sigh…
I know I'm preaching to the choir here on CrossPolitic when I say, "get your kids out of Public School…" well, here's an alternative option to that kind of marxist education. Cornerstone Work & Worldview Institute.
Did you know that more than 75% of those raised in evangelical, Presbyterian, and Reformed churches don't pursue any kind of Christian higher education? Surprising isn't it. Cornerstone Work & Worldview Institute is seeking to provide a new, exciting, and affordable option for Christians.
Their mission is to build Kingdom culture in the workplace by equipping their students in a Trinitarian worldview and vocational competencies. Their low-cost full-time program offers integrative course modules, internships, and mentoring so their students can finish debt-free with vocational preparation, a robust faith, and financial potential to build strong godly families and homes rooted in their communities and churches long-term.
Visit their website at www.cornerstonework.org to find out more about enrolling.
Now shifting to news across the globe:
Tasty name but no Big Mac: Russia opens rebranded McDonald's restaurants
https://financialpost.com/pmn/business-pmn/tasty-name-but-no-big-mac-russia-opens-rebranded-mcdonalds-restaurants
It might look and smell like McDonald's but now it's Vkusno & tochka. The golden arches are gone, the Filet-O-Fish is simply a fish burger. The Big Mac has left Russia.
A new era for Russia's fast-food and economic scene dawned on Sunday, as McDonald's restaurants flung open their doors in Moscow under new Russian ownership and with the new name, which translates as "Tasty and that's it."
The unveiling of the rebranded outlets, more than three decades after the American burger giant first opened its doors in Moscow in a symbolic thaw between East and West, is once again a stark sign of a new world order. The reopenings took place on Russia Day, a holiday celebrating national pride.
The fortunes of the chain, which McDonald's sold when it exited the country over the conflict in Ukraine, could provide a test of how successfully Russia's economy can become more self-sufficient and withstand Western sanctions.
On Sunday, scores of people queued outside what was formerly McDonald's flagship restaurant in Pushkin Square, central Moscow. The outlet sported a new logo – a stylised burger with two fries – plus a slogan reading: "The name changes, love stays."
The queue was significantly smaller than the thousands of people who thronged to the original McDonald's opening there in 1990 during the Soviet era.
Vkusno & tochka's menu was also smaller and did not offer the Big Mac and some other burgers and desserts, such as the McFlurry. A double cheeseburger was going for 129 roubles ($2.31) compared with roughly 160 under McDonald's and a fish burger for 169 roubles, compared with about 190 previously.
The composition of burgers has not changed and the equipment from McDonald's has remained, said Alexander Merkulov, quality manager at the new company.
McDonald's closed its Russian restaurants in March and said in mid-May that it had decided to leave the country altogether.
In a sign of the haste the new owners have had to rebrand in time for the launch, much of the packaging for fries and burgers was plain white, as were drink cups, while takeaway bags were plain brown. The old McDonald's logo on packets of ketchup and other sauces were covered over with makeshift black markings.
Sergei, a 15-year-old customer, saw little difference though.
"The taste has stayed the same," he said as he tucked into a chicken burger and fries. "The cola is different, but there really is no change to the burger."
Iran and Venezuela sign a 20-year agreement
https://www.theblaze.com/news/-2657497477
Venezuela's socialist leader Nicolas Maduro and Iran's hardline theocratic president Ebrahim Raisi recently signed a 20-year cooperation agreement.
The Associated Press reported that this new agreement came just one day after Maduro praised the Iranian Islamic Republic for sending badly needed fuel to Venezuela despite American sanctions.
In an interview with Maduro after he arrived for a two-day visit in TAY-RON, Iranian state media reported that Maduro heaped praise upon Iran's efforts to send fuel tankers in support of his country.
Maduro said, "TAY-RON's delivery of oil to Caracas was a great help to the Venezuelan people."
Maduro's visit to Iran comes as tensions heighten across the Middle East as negotiations over Iran's nuclear deal fell apart and as U.S. sanctions and rising global food prices choke Iran's suffering economy. This was Maduro's first visit to Iran.
A high-ranking delegation from Venezuela comprised of political and economic officials joined Maduro on his visit to Iran after receiving an invitation from Raisi. Venezuela, like Iran, is under heavy sanctions from the U.S., which hinder its economic growth.
In a joint press conference on Saturday, Raisi and Maduro signed the 20-year agreement that solidified the country's commitment to economic, political, and militaristic cooperation.
Maduro reportedly said that Venezuela and Iran are united by "a common vision." The two presidents are aligned on international issues, and both have suffered economic difficulties, which are said to be caused by sanctions from America and its allies.
Club Membership Plug:
Let's stop and take a moment to talk about Fight Laugh Feast Club membership. By joining the Fight Laugh Feast Army, not only will you be aiding in our fight to take down secular & legacy media; but you'll also get access to content placed in our Club Portal, such as past shows, all of our conference talks, and EXCLUSIVE content for club members that you won't be able to find anywhere else. Lastly, you'll also get discounts for our conferences… so if you've got $10 bucks a month to kick over our way, you can sign up now at flfnetwork.com/product/fightlaughfestclub.
Now let's wrap this news brief up with the topic I love. Sports!
Commanders' Jack Del Rio leaves Twitter following Jan. 6 remarks
https://www.foxnews.com/sports/commanders-jack-del-rio-leaves-twitter-jan-6-remarks
Washington Commanders defensive coordinator Jack Del Rio's comments about the Jan. 6 Capitol riot and the 2020 George Floyd protests have now cost the coach his social media account.
The longtime NFL coach deactivated his Twitter account following the controversy about his remarks and the $100,000 fine levied by Washington coach Ron Rivera.
Del Rio on Wednesday downplayed the Jan. 6, 2021, riots at the Capitol and questioned why the intense protests in the summer following Floyd's death didn't receive the same scrutiny.
Del Rio called the Jan. 6 riot a "dust-up at the Capitol" and later attempted to backtrack on his remarks.
"I made comments earlier today in referencing the attack that took place on the United States Capitol on Jan. 6, 2021. Referencing that situation as a dust-up was irresponsible and negligent, and I am sorry," Del Rio said in a statement.
"I stand by my comments condemning violence in communities across the country. I say that while also expressing my support as an American citizen for peaceful protest in our country. I have fully supported all peaceful protests in America. I love, respect and support all my fellow coaches, players and staff that I work with and respect their views and opinions."
Rivera on Friday announced a fine and said the comments were hurtful to the community and didn't reflect the views of the organization.
"He understands the distinction between the events of that dark day and peaceful protests, which are a hallmark of our democracy," Rivera said. "Words have consequences, and his words hurt a lot of people in our community. I want to make it clear that our organization will not tolerate any equivalency between those who demanded justice in the wake of George Floyd's murder and the actions of those on Jan. 6 who sought to topple our government."
Rivera said Del Rio's fine would be donated to the United States Capitol Police Memorial Fund.
There were also calls for Del Rio to resign, or be fired if you can believe that… shocking I know. But his team doesn't appear to feel that way.
Commanders defensive lineman Jonathan Allen said he wasn't bothered by Del Rio's opinion.
"Me personally, I don't care about his opinion. As long as he shows up every day, and he works hard, that's what I want from my defensive coordinator," Allen told NBC Sports Washington.
"In my opinion, everyone's entitled to their own opinion. Some guys decide to share it on Twitter; some guys don't. It doesn't make one person better than the other. At the end of the day, you can have a difference in opinion and still respect one another. I feel like that's what our country is about. That's what our team is about."
And finally, for those of you who may have missed game 4 of the NBA Finals between the Boston Celtics, and the Golden State Warriors, here's a brief recap, courtesy of Hall of Fame broadcaster, Mike Breen.
Final 4:32 WILD ENDING Warriors vs Celtics – Game 4 NBA Finals 🔥
Play 0:00-0:11

Play 2:27-2:45

Play 3:00-3:23
Golden State evened the series on Friday night at two games a piece, with a 107-97 win over the Celtics, as the scene now shifts back to San Francisco, for game 5. In game 4, Steph Curry put on a masterful performance, as he continues to add to his legacy, with 43 points in the win. You can watch game 5 tonight, at 9pm ET, on ABC, or ESPN2.
That's going to do it for this CrossPolitic Daily News Brief. If you liked the show, share it far and wide, as that really helps us grow, and our content spread. If you want to come to our conference in Knoxville TN, you can sign up now at flfnetwork.com/knoxville2022, if you sign up now, you'll get that early bird pricing, and if you're a club member, well that's $100 off right there. And as always, if you want to become a corporate partner with CrossPolitic, in our effort to destroy secular media, let's talk. Email me at garrison@fightlaughfeast.com. For CrossPolitic News, I'm Garrison Hardie. Have a great day, and Lord bless.