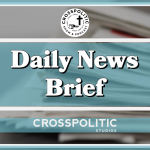 https://youtu.be/MYA-KAs9uZ0 -Play 0:00-0:27
Will there be war between China & Taiwan? That was Taiwan's minister of foreign affairs, Joseph Wu responding, you'll hear more from him in a moment. Happy Friday ladies and gentleman, this is Garrison Hardie, pinch hitting for Pastor Toby, for this Friday, June 17th, 2022. Today, we'll be talking about the potential of war between Taiwan, and China, the U.S. is still supplying Ukraine with weapons, and urging its allies to not lose steam with regards to supporting Ukraine militarily, a big win for Republicans in a historically blue south Texas, and a university changes it's mascot, because it wasn't inclusive enough… Before we get to our news for the day, a word, from New St. Andrews!
New Saint Andrews:
Today's culture shifts like sand. But New Saint Andrews College is established on Christ, the immovable rock. It is a premier institution that forges evangelical leaders who don't fear or hate the world. Guided by God's Word, they take the world back because they're equipped with the genius of classical liberal arts and God-honoring wisdom, thanks to a faculty dedicated to academic rigor and to God's kingdom.Find out more, at nsa.edu/
https://www.nytimes.com/2022/06/13/world/asia/china-taiwan-ukraine-military.html
So, back to Taiwan and China… ever since Russia began an assault against Ukraine, many have speculated that China may do the same to its neighbor Taiwan. Taiwan's minister of foreign affairs, Joseph Wu, sees a lot of similarities between what's happening in Ukraine, with Taiwan's situation with China:
https://youtu.be/MYA-KAs9uZ0 -Play 0:27-0:136
Did you catch that? He said, "China has said Taiwan is just another part of China." That sounds pretty familiar to what Putin had said leading up to his invasion of Ukraine, where he was quoted as saying, "Ukraine is not just a neighboring country, it's an integral part of our history, culture… modern Ukraine was created entirely by Russia. By Bolshevik Communist Russia to be exact." Interesting.
So what's going on in Taiwan in preparation for a potential war? According to the New York Times, Taiwan's defenses are, by many accounts, ill-equipped and understaffed. Its president, has vowed to defend the island, but she has struggled to impose a new strategic vision on the uniformed leadership.
Taiwan spends billions on fighter jets and submarines, yet its conscripts barely get enough ammunition for training. The mandatory military service is seen by many as too short, and the reservist program, insufficiently rigorous. The military is building a professional force, but has struggled to recruit and retain highly skilled soldiers.
On top of that… Taiwanese citizens are not allowed to be training with weapons of war… there are videos of them training with airsoft guns! Go look it up on Youtube right now. Not exactly the kind of preparation for all out war you want right? Thank God for the second amendment. I always hate the argument made by gun control supporters that say, "oh what do you think the average gun owner would have a chance against the federal troops?" Answer, yes, they would. We have 300 + million people in this country, about 42% of American households have guns in the home, and there are more guns than people here in the U.S… yes, they'd be a problem to those federal troops. Oh by the way, visit our friends at Armored Republic if you want to get armor that could stop bullets from the imperial troops… anyways.
Underlying Taiwan's defense dilemma is a question left unanswerable by design: Will the United States send military forces to Taiwan's aid? In May, President Biden suggested he would, but the United States offers no explicit security guarantees, a strategy it hopes will avoid either provoking Beijing or emboldening Taiwan to declare formal independence.
Mr. Xi has said he seeks a peaceful unification with Taiwan, and he may be deterred by the huge economic and diplomatic blowback China would suffer for an invasion. But China has also been pointed in its warnings. Its defense minister, Gen. Wei Fenghe, said over the weekend that Beijing would "fight to the very end" for Taiwan. It is sending fighter jets toward the island almost daily — including 30 aircraft in one day last month alone.
The concern is that such maneuvers could, intentionally or otherwise, be a prelude to conflict. Now I mentioned Ukraine earlier, let's see what's going on over there.
https://apnews.com/article/russia-ukraine-zelenskyy-sweden-finland-jens-stoltenberg-1feb3640d59b05aceca62766d7d4f74d
According to the Associated Press, US sending $1 billion more military aid to outgunned Ukraine
Oh well good, at least this won't add to our inflation. The U.S. announced it will send an additional $1 billion in military aid to Ukraine, as America and its allies provide longer-range weapons they say can make a difference in a fight where Ukrainian forces are outnumbered and outgunned by their Russian invaders.
President Joe Biden and his top national security leaders said Wednesday the U.S. is moving as fast as possible to get critical weapons to the fight, even as Ukrainian officials protest that they need more, faster, in order to survive.
The latest package, the U.S. said, includes anti-ship missile launchers, howitzers and more rounds for the High Mobility Artillery Rocket Systems (HIMARS) that U.S. forces are training Ukrainian troops on now. All are key weapons systems that Ukrainian leaders have urgently requested as they battle to stall Russia's slow but steady march to conquer the eastern Donbas region.
The aid is the largest single tranche of weapons and equipment since the war began. Biden, who spoke by phone with Ukraine President Volodymyr Zelenskyy for about 40 minutes Wednesday, also said the U.S. will send $225 million more in humanitarian assistance to provide safe drinking water, medical supplies, food, health care, shelter and money for families to buy essential items.
The U.S. remains committed, Biden said in a statement, "to supporting the Ukrainian people whose lives have been ripped apart by this war."
The aid comes as Austin convened a meeting in Brussels of more than 45 nations to discuss support for Ukraine. At the start of the meeting, he warned that the West must step up weapons deliveries to Ukraine and prove its commitment to helping the country's military fight along a 1,000-kilometer (620-mile) front line in a grinding war of attrition with Russia.
He told the participating nations, "We can't afford to let up and we can't lose steam. The stakes are too high."
Overall, since the war began in late February, the U.S. has committed about $5.6 billion in security assistance to Ukraine, including this latest package. Officials said that about one-third of the latest $1 billion will be from presidential drawdown authority, which means the Pentagon will take weapons and equipment from it's own stock and ship them to Ukraine. The remaining two-thirds would be equipment and weapons purchased from industry by the U.S. and then transferred to Ukraine.
Lies, Propaganda, Story Telling, and the Serrated Edge:
This year our national conference is in Knoxville, TN October 6th-8th. The theme of this year's conference is Lies, Propaganda, Storytelling and the Serrated Edge. Satan is the father of lies, and the mother of those lies is a government who has rejected God. We have especially been lied to these last two years, and the COVIDpanic has been one of the central mechanisms that our government has used to lie to us and to grab more power. Because Christians have not been reading their bibles, we are susceptible to lies and weak in our ability to fight these lies. God has given us His word to fight Satan and his lies, and we need to recover all of God's word, its serrated edge and all. Mark your calendars for October 6th-8th, as we fight, laugh and feast with fellowship, beer and Psalms, our amazing lineup of speakers, hanging with our awesome vendors, meeting new friends, and more. Early bird tickets are available now, but will be gone before you know it! Sign up now at flfnetwork.com/knoxville2022
https://www.dailywire.com/news/republican-mayra-flores-wins-u-s-house-seat-in-south-texas-first-gop-win-there-in-150-years
Republican Mayra Flores Wins U.S. House Seat In South Texas, First GOP Win There In 150+ Years
According to The Daily Wire, Republican Mayra Flores has flipped a U.S. House seat in deep blue south Texas in what is a likely indicator of the coming red tsunami that could hit the Democrat Party this fall during the midterm elections.
Flores beat Democrat Dan Sanchez in the special election for Texas' 34th Congressional District. The seat was previously held by Rep. Filemon Vela (D) who stepped down earlier this year to become a lobbyist as all signs pointed to a brutal upcoming midterm election season for Democrats.
Flores is now "the first GOP candidate to represent that area of the Rio Grande Valley since 1870," the Houston Chronicle reported, adding that she is now "the first congresswoman born in Mexico."
To put this win into perspective for you guys, Hillary Clinton won Mayra's county, Cameron County, by 33 points back in 2016. Biden won it by 13.
The region has been devastated by Democrat President Joe Biden's border crisis, something that has turned off many Hispanic voters that typically have voted for Democrats in the past.
"Republicans have been eager to flip the seat as part of their new offensive in South Texas after Biden's underperformance throughout the predominantly Hispanic region in the 2020 election. Flores and her allies spent over $1 million on TV ads in the special election," the Texas Tribune reported. "The dynamic put Democrats into an unusual underdog position in a region of the state they have long dominated. Vastly outspent by Flores, Sanchez repeatedly compared the special election to a David vs. Goliath fight, with himself playing David."
MSNBC columnist Eric Michael Garcia panicked over the results of the election, saying that Democrats needed to be sounding the alarm immediately.
Now for the topic that I love… sports!
https://www.breitbart.com/tech/2022/06/15/george-washington-u-dumps-colonial-mascot-for-not-being-inclusive/
George Washington U. Dumps Colonial Mascot for Not Being 'Inclusive'
George Washington University (GW) officials have decided to remove the school's "Colonial" mascot following years of woke activists demanding the university ban it for not being "inclusive." Students then suggested the university change its mascot to a "hippo" or a "riverhorse" instead.
"After a thoughtful and deliberate process that engaged the university community for feedback, the George Washington University's Board of Trustees has accepted the recommendation of a Special Committee to discontinue the use of the Colonials moniker," GW announced in a statement.
"The decision to change the Colonials moniker was not taken lightly," the university added, before stressing that "a new moniker will help unify the university community and serve as a source of pride."
In a purported email shared to Twitter by Young Americas Foundation, the university went on stress that it is important for the new GW mascot to reflect "the values, strengths and diversity of our worldwide population."
The university added that choosing a new moniker "will require a deliberate and thoughtful process" that "will engage the entire GW community of alumni, students, friends, faculty and staff to ensure that everyone has the chance to be heard."
GW announcing that it has decided to scrap the Colonials comes after years of woke activists demanding the school change its mascot. The initial call to ban the university's mascot began in 2018.
In urging GW to end the Colonials, students argued the nickname may "discourage" the campus community due to it not being "inclusive." Students then suggested the university change its mascot to a "hippo" or a "riverhorse" instead.
Hippo? That is so not inclusive of fat people! I am sickened by these suggestions!
The university said it will continue to use the Colonials mascot until a new nickname is chosen. The school's new moniker is expected to be introduced by the 2023-2024 academic year.
This has been your CrossPolitic Daily News Brief. If you liked the show, share it, and if you really like us, you should sign up for a club membership at flfnetwork.com/membership/. And as always, if you want to become a corporate sponsor of CrossPolitic, let's talk. Email me at garrison@fightlaughfeast.com. For CrossPolitic News, I'm Garrison Hardie. Have a great day, and Lord bless.