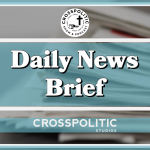 This is Toby Sumpter with your CrossPolitic Daily News Brief for Friday, June 18, 2021.
First a Word from the President
Play Audio
Plug:
Fight Laugh Feast University is offering two new online classes starting this July! Get the whole family involved and participate in live online classes via Zoom. Hangout with fellow friends of the network, and learn together with the whole family. We have two classes beginning in July: The first class is with Comedian John Branyan called: Life is Hardy Har Hard: A Comedy Workshop for Christians and Jesse Sumpter: Education is Warfare: How to Start a School
So go to https://flfnetwork.com/flf-edu/ to find out more and to sign up now. Classes are limited to only 25 spots!
A reminder: if you see news stories and links that you think we should cover on the daily news brief, please send them to news @ crosspolitic.com and don't forget to check deft wire dot com where we are constantly posting all our stories.
Ann Coulter Says the John Lewis Act is the Democrats Path to Permanent Power
The official position of Fox News is that the Democrats' John Lewis vote-stealing bill is "narrower" than the Democrats' "For the People" vote-stealing bill. (This will be an exhibit in my museum titled, "Stupid People Can Never Help Your Cause.")
Yes, it's "narrower" in the sense of being 1 MILLION times worse. The John Lewis bill will do everything the "For the People" bill does — and so much more! They just don't tell us what, exactly. The language of the bill is full of anodyne, uplifting language about equal voting participation — but the details will be turned over to left-wing zealots at the Department of Justice, suddenly empowered to enforce voting rules so insane that no elected official would dare vote for them.
Inasmuch as nearly every congressional Democrat is fine with the provisions in the "For the People" bill — which are ludicrous — imagine how much worse the "You Can't Blame Me" bill is.
It will be faceless bureaucrats at the Department of Justice who give meaning to the happy words in the John Lewis bill. Federal government employees — i.e., the people actually making the rules — cannot be voted out of office. (Or fired — this is government work.) Indeed, these are people who could never be elected to any office on account of their repellent political views and, often, repellent physical appearance.
This is how Democrats impose fascistic rules on the citizenry without ever having to cast a dangerous vote: They write laws with vague statements of high principle, then dump the actual rule-making onto a government agency, where refugees from the ACLU issue edicts outlawing private property, due process, free speech and honest elections.
Recall:
— It wasn't elected members of Congress who ordered a nice Idaho couple to halt work on their home because it was allegedly on a protected wetland (in the middle of a subdivision with many other homes). That was environmentalist wackos at the EPA.
— It wasn't elected members of Congress who required universities to deny basic due process rights to students accused of rape. That was feminist loons at the Department of Education.
— It wasn't elected members of Congress who directed Obama's IRS to target groups with "tea party" or "patriots" in their names. That was liberal ideologue Lois Lerner and other civil service functionaries.
The lunatics at these agencies look like Reason Personified compared to the DOJ's voting rights attorneys.
Ironically, meaning totally predictably, the original 1965 Voting Rights Act was necessary because Democrats were trying to prevent black people from voting. Today, Democrats are using these new "voting rights" bills to ensure that 110% of black people vote, even if they are convicted felons, don't live in the state, didn't actually fill out a ballot or are dead.
It wasn't until 2013 that the Supreme Court mercifully overturned key portions of the 1965 Voting Rights Act. (Citing the overwhelming Senate vote for the wonderfully named Voting Rights Act, Justice Antonin Scalia remarked at oral argument: "This is not the kind of a question you can leave to Congress.")
Chinese Researchers are Doing Experiments on Birthing-Rats
Researchers in China are subjecting rats to disturbing experiments where they attach the uterus of a female rat to a male, in the hopes of helping him carry a pup.
Per a summary of the study: "Male pregnancy is a unique phenomenon in syngnathidae which refers to the incubation of embryos or fetuses by males. However, whether male mammalian animals have the potential to conceive and maintain pregnancy remains unclear. Here, we constructed a rat model of male pregnancy by a four-step strategy: a heterosexual parabiotic pair was firstly produced by surgically joining a castrated male rat and a female rat. Uterus transplantation (UTx) was then performed on the male parabiont 8 weeks later. After recovery, blastocyst-stage embryos were transplanted to the grafted uterus of male parabiont and the native uterus of female parabiont.
"Caesarean section was performed at embryonic day (ED) 21.5. The success rate of modeling was only 3.68%, but 10 pups could still be delivered from male parabionts and developed. Our experiment reveals the possibility of normal embryonic development in male mammalian animals, and it may have a profound impact on reproductive biology."
According to Wesley Smith, a noted bioethicist, the pregnancy for the male rat was achieved by surgically attaching him to a female so the two could share blood. The embryos, created via the IVF process, were then transferred into the uterus that was attached to him.
Plug: Fight Laugh Feast Conference in Lebanon, TN, just outside of Nashville.
We have been taught to stay out of the bedroom and leave people's sexual preferences alone. But the truth is that sex affects everything, and because the church has only spoken about sex in the areas the world has given her permission too, we now can lose our jobs, our livelyhoods, our way of life. Because the church has not unashamedly preached the gospel into our perverted and sexualized culture, as a result we have given the definition of marriage over to the world, men "can" claim the status of women and you have to go along with it, and cancel culture now lurks at everyone corner. Join us in Nashville (Lebanon) as we gather to sing, fellowship, and grow in God's word. We will have tried and true, cancel free speakers, including Pastor Wilson, Voddie Baucham, Pastor Toby, Doug TenNapel, David Bahnsen, and then on Saturday we will have an Academy full of 9 workshops with over 20 speakers arming you to go out into the world to take dominion with your gifts and abilities. So sign (when the link is out)at https://flfnetwork.com/politics-of-sex/ Seating is limited!
God Bless Jack Phillips and Masterpiece Cakes
https://adfmedia.org/case/scardina-v-masterpiece-cakeshop
On Tuesday, Denver District Judge A. Bruce Jones said Autumn Scardina was denied a cake that was blue on the outside and pink on the inside to celebrate her gender transition on her birthday because of her transgender status in violation of the law. While Jack Phillips said he could not make the cake because of its message, Jones said the case was about a refusal to sell a product, not compelled speech.
One of Scardina's attorneys, John McHugh, said the case is about how LGBT people are treated, not just what happened to her.
"This is about a business that is open to the public that simply says to an entire class of people in the community that your identity, who you are, is something that is objectional," he said.
However, Alliance Defending Freedom, representing the Christian cakebaker said the Colorado trial court's decision Tuesday punishes cake artist Jack Phillips for not designing a custom cake celebrating a gender transition when asked to do so by an activist attorney:

"Jack Phillips serves all people but shouldn't be forced to create custom cakes with messages that violate his conscience. In this case, an activist attorney demanded Jack create custom cakes in order to 'test' Jack and 'correct the errors' of his thinking, and the activist even threatened to sue Jack again if the case is dismissed for any reason. Radical activists and government officials are targeting artists like Jack because they won't promote messages on marriage and sexuality that violate their core convictions. This case and others—including the case of floral artist Barronelle Stutzman, whose petition is pending before the U.S. Supreme Court—represents a disturbing trend: the weaponization of our justice system to ruin those with whom the activists disagree. The harassment of people like Jack and Barronelle has been occurring for nearly a decade and must stop. We will appeal this decision and continue to defend the freedom of all Americans to peacefully live and work according to their deeply held beliefs without fear of punishment."
Fourth of July Club Member Liberty Bash
Join us at our first annual 4th of July Club Member Liberty Bash! We are so grateful to our club members, and can't think of a better way to celebrate America, than a joyous, raucous, party with our club members at Waterboy's farm.
Unfortunately, space is limited, so sign up ASAP. Ok pay attention, here is how you register: Go to www.FightLaughFeast.com and login into the club portal and you will find the 4th of July event. Click on it and follow the registration steps from there. If you have forgotten your password, just go through the fast and easy password reset process. If you get stuck, email us at contact@FightLaughFeast.com.
The event is free, though we would gladly accept donations to cover some costs. Our software is a little funny, so just note that you have to put in a 0 (zero) into the price box at checkout to move forward.
Supreme Court
https://www.reuters.com/world/us/us-supreme-court-rules-catholic-group-lgbt-rights-dispute-2021-06-17/
The U.S. Supreme Court ruled in favor of a Catholic Church-affiliated agency that sued after Philadelphia refused to place children for foster care with the organization because it barred same-sex couples from applying to become foster parents.
The 9-0 ruling, written by Chief Justice John Roberts, was a victory for Catholic Social Services (CSS), part of the Archdiocese of Philadelphia, and represented the latest instance of the Supreme Court defending religious rights under the U.S. Constitution.
The justices decided that Philadelphia's refusal to use Catholic Social Services for foster care services unless it agreed to certify same-sex couples as foster parents violated the Constitution's First Amendment guarantee of the free exercise of religion.
Catholic Social Services argued that Philadelphia had penalized it for its religious views and for following church teachings on marriage.
In the ruling, Roberts wrote, "CSS seeks only an accommodation that will allow it to continue serving the children of Philadelphia in a manner consistent with its religious beliefs; it does not seek to impose those beliefs on anyone else."
Conservative and religious advocacy rights groups cheered the decision – and the fact that the court's three liberal members joined the six conservative justices – saying it will have a major impact on future legal disputes involving religious beliefs.
"This is a strong ruling in favor of religious freedom, especially for social services providers," said Lori Windham, a lawyer for the Becket Fund for Religious Liberty, which represented the agency and three foster parents in the case. "The court recognized that it is not the government's place to exclude religious agencies because of their religious beliefs."
"I am grateful that we can finally rest knowing that the agency that has brought my family together can continue to do the same for other families," said Toni Lynn Simms-Bush, who has served as a foster parent through Catholic Social Services and was one of the plaintiffs.
The justices decided that foster care certification provided by Catholic Social Services did not fall under the city's anti-discrimination ordinance because it is a service not "readily available" to the public.
"It involves a customized and selective assessment that bears little resemblance to staying in a hotel, eating at a restaurant or riding a bus," Roberts wrote.
The Supreme Court declined to take even-broader action in the form of overruling its 1990 precedent that upheld "generally applicable" laws even if they curb religious freedom. Conservative Justices Samuel Alito, Clarence Thomas and Neil Gorsuch said the court should have overruled that precedent.
Catholic Social Services, which has helped provide foster care services for more than a century, had said it would be compelled to close its foster care operations if it was barred from Philadelphia's program.
Compare this willingness to stand up and fight or else quit to the wholesale caving-in of Bethany Services, the largest Protestant adoption agency in the U.S.
https://www.nbcnews.com/feature/nbc-out/national-evangelical-adoption-agency-will-work-gay-couples-across-u-n1259344
The 77-year-old organization, which operates in more than 30 states and a dozen countries, confirmed the policy change in an email back in March of this year.
"These days, families look a lot different than they did when we started. And Bethany is committed to welcoming and serving all of them," Nathan Bult, Bethany's senior vice president of public and government affairs, said in an email. "For us to carry out our mission, we are building a broad coalition of people – finding families and resources for children in the greatest need. The people we serve deserve to know they are worthy of being safe, loved, and connected. The need is great, so we are taking an 'all hands on deck' approach."
First off, Bethany Services has just agreed to allow for some children to be harmed by being placed in homes full of sexual confusion. Second, the rates of child abuse, including sexual abuse in homosexual relationships are astronomical, and third, the Catholics in Philadelphia have more of a backbone than Bethany Sodomite Services.
So yeah… the Politics of Sex… Hope to see you in Tenessee in September
Psalm of the Day: Psalm 22
https://open.spotify.com/track/4AojnUpNo6rK6nPLiKF8BX?si=e621cd59f85a4ec3
Play Audio: 0:00-1:29
The lord the kingdom owns
And rules above all earthly thrones
All those who prosper in the earth
Will eat and low before him bend
In his presence all will bow
This is Toby Sumpter with Crosspolitic News. You can find this and all of our shows at Crosspolitic.com or on our app, which you can download at your favorite app store, just search "Fight Laugh Feast". Support Rowdy Christian media, and share this show or become a Fight Laugh Feast Club Member. You always get a free Fight Laugh Feast t-shirt with a membership and remember if you didn't make it to the Fight Laugh Feast Conference or Rally, club members have access to all the talks and lots more. Join today and have a great day.