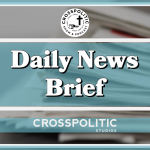 This is Garrison Hardie with your CrossPolitic Daily News Brief for Friday, June 23rd, 2023.
Dime Payments
Dime Payments is a Christian owned processing payment business. Every business needs a payment process system, so please go to https://dimepayments.com/flf and sign your business up. Working with them supports us. They wont cancel you, like Stripe canceled President Trump. They wont cancel you, like Mailchimp canceled the Babylon Bee. Check them out. At least have a phone call and tell them that CrossPolitic sent you. Go to https://dimepayments.com/flf.
https://thepostmillennial.com/breaking-us-coast-guard-states-all-5-aboard-lost-titan-submersible-are-dead?utm_campaign=64487
US Coast Guard states all 5 aboard lost Titan submersible are dead
The US Coast Guard confirmed on Thursday that those who were aboard the Titan submersible are now dead. A spokesperson said that the debris that was found shows that the Titan passengers could not have survived the destruction of the pressure chamber.
A Remote Operating Vehicle discovered the debris on Thursday morning. In consultation with experts from within the unified command, the debris is consistent with the catastrophic loss of the pressure chamber." The Coast Guard immediately reached out to the families, and offered their condolences.
https://twitter.com/i/status/1671957337308033024 – Play Video
Authorities do not believe that bodies will be recovered, and stated that as to the cause of the destruction, an expert said that the Titanic, or a crash with the Titanic, was not at fault. Instead, they believe it was "an implosion in the water column." This was a "catastrophic implosion."
The timing of the implosion as regards the length of time Titan was underwater before the implosion is not yet known.
A statement released by OceanGate, the company behind the Titan submersible that went missing Sunday after descending to the depths to view the wreckage of the famed, ill-fated luxury liner Titanic, stating that all of those aboard are dead.
https://dailycaller.com/2023/06/22/bidens-plan-to-cancel-student-loan-debt-stands-after-house-fails-to-overturn-veto/
Biden's Plan To Cancel Student Loan Debt Stands After House Fails To Overturn Veto
President Joe Biden's veto of a bill intended to block his plan to cancel up to $20,000 in student loan debt for some borrowers remains standing after House Republicans failed to garner the two-thirds majority needed to override.
After the Government Accountability Office (GAO) determined that Biden's plan was subject to the Congressional Review Act (CRA), House Republicans moved to block the president's proposal, The Hill reported. Republicans have argued that student loan forgiveness would cost the American taxpayer $400 billion and is unfair to those who repaid their student loans or didn't attend college.
The subsequent resolution passed both the House and the Democrat-majority Senate after gaining support from Democrats Joe Manchin of West Virginia and Jon Tester of Montana, as well as Independent Arizona Sen. Kyrsten Sinema. Earlier in June, however, Biden vetoed the resolution, arguing that student loan relief would help offset the financial strains felt by borrowers during and after the Covid-19 pandemic.
Despite having enough support to pass the initial resolution, House Republicans failed to garner enough support Wednesday to overcome Biden's veto. The resulting 221-206 vote in the House was among party lines. Although Congress was unable to overturn Biden's veto, the Supreme Court still must rule on the measure. Republican attorney generals and conservative groups have argued that Biden's plan is "an illegal abuse of executive power."
https://www.bbc.com/news/business-65981876
Elon Musk and Mark Zuckerberg agree to hold cage fight
Two of the world's most high-profile technology billionaires – Elon Musk and Mark Zuckerberg – have agreed to fight each other in a cage match.
Mr Musk posted a message on his social media platform Twitter that he was "up for a cage fight" with Mr Zuckerberg.
Mr Zuckerberg, the boss of Facebook and Instagram parent company Meta, then posted a screenshot of Mr Musk's tweet with the caption "send me location".
"The story speaks for itself," a Meta spokesperson said.
Mr Musk then replied to Mr Zuckerberg's response with: "Vegas Octagon."
The Octagon is the competition mat and fenced-in area used for Ultimate Fighting Championship (UFC) bouts. The UFC is based in Las Vegas, Nevada.
Mr Musk, who turns 52 later this month, also tweeted: "I have this great move that I call 'The Walrus', where I just lie on top of my opponent & do nothing."
He later tweeted short videos of walruses, perhaps suggesting his challenge to Mr Zuckerberg may not entirely be serious.
https://www.boundingintosports.com/2023/06/dodgers-strange-struggles-continue-in-the-fallout-of-recent-pride-month-controversy/
Dodgers' Strange Struggles Continue In The Fallout Of Recent 'Pride' Month Controversy
The Los Angeles Dodgers' 2023 season has been one of the strangest ones that Tinsel Town has ever seen. Between a front office that has struggled to explain the team's social stances and a team that has been playing well below its potential, both manager Dave Roberts and team president Andrew Friedman have been left searching for answers.
The Dodgers are by no means out of the race, sitting in third place in the NL West. They entered play on Wednesday with a 40-33 record, 3.5 games behind the Arizona Diamondbacks. In between Los Angeles and The Snakes stand the second-place Giants, with the Dodgers currently one game behind their rival. In their last 10 games, the Boys in Blue have gone an underwhelming 4-6 and are currently marred by mediocre momentum and morale.
So, there's still a strong possibility that Roberts leads the squad to another playoff berth, and the year is certainly not a lost cause. There's also no reason to believe that the players suddenly forgot how to hit, catch, and throw, just because of the storm that swirled around the organization recently.
Still, it's not a stretch to wonder if all the off-the-field distractions haven't affected the club's psyche. The media scrutiny surrounding the team has been at a fever pitch surrounding their inclusion of the LGBTQ group, The Sisters of Perpetual Indulgence, at last week's Pride Night event. The organization, often labeled an anti-Catholic hate group, was even awarded during the team's recognition of the LGBTQ community.