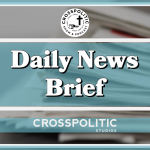 This is Garrison Hardie, pinch hitting for Pastor Toby, for this Friday, June 24th, 2022. Today, we'll cover Supreme Court STRIKES DOWN New York concealed carry restrictions, Nancy Pelosi's husband charged in his DUI case, The Military Vaccine Mandate is Under Review as Unvaccinated Public Servants Return to Work, and we'll end with the topic that I love… sports! Let's get to it:
https://thepostmillennial.com/breaking-supreme-court-strikes-down-new-york-concealed-carry-restrictions?utm_campaign=64487
Supreme Court STRIKES DOWN New York concealed carry restrictions
In the case of the New York State Rifle and Pistol Association v. Bruen, the Supreme Court has ruled that a New York gun-control law that required citizens to show "proper cause" to obtain a concealed carry license is in violation of the Constitution.
The vote broke down on party lines, 6-3. In the 135 page opinion, with the majority opinion written by Justice Clarence Thomas. Thomas was joined in the majority by Justices Roberts, Alito, Gorsuch, Kavanaugh, and Barrett.
The opinion discusses the New York state law that made is a crime to own a firearm without a license, whether that possession was inside the home or external to it. The only way for New Yorkers to obtain an unrestricted permit was to prove that they had "proper cause" to do so. A person had to "demonstrate a special need for self-protection distinguishable from that of the general community."
Two men, Brandon Koch and Robert Nash, applied for these permits and had them denied. They are "adult, law-abiding New York residents," who wanted to have the opportunity for self-defense. They were found by authorities to not have good enough reasons for wanting to carry, and so their permits were denied. They brought suit.
The two claimed that both their Second and Fourteenth Amendment rights had been violated by the denial.
Thomas writes that "New York's proper-cause requirement violates the Fourteenth Amendment by preventing law-abiding citizens with ordinary self-defense needs from exercising their Second Amendment right to keep and bear arms in public for self-defense."
"It is undisputed that petitioners Koch and Nash—two ordinary, law-abiding, adult citizens—are part of 'the people' whom the Second Amendment protects," Thomas said further, citing Heller.
"And no party disputes that handguns are weapons 'in common use' today for self-defense," he wrote.
"The Court has little difficulty concluding also that the plain text of the Second Amendment protects Koch's and Nash's proposed course of conduct—carrying handguns publicly for self-defense. Nothing in the Second Amendment's text draws a home/public distinction with respect to the right to keep and bear arms, and the definition of 'bear' naturally encompasses public carry. Moreover, the Second Amendment guarantees an "individual right to possess and carry weapons in case of confrontation,'… and confrontation can surely take place outside the home."
As to the state of New York's contention, Thomas writes that "the Court concludes that respondents have failed to meet their burden to identify an American tradition justifying New York's proper-cause requirement."
"The constitutional right to bear arms in public for self-defense is not 'a second-class right, subject to an entirely different body of rules than the other Bill of Rights guarantees,'" the Court states, citing McDonald.
Lies, Propaganda, Story Telling, and the Serrated Edge:
This year our national conference is in Knoxville, TN October 6th-8th. The theme of this year's conference is Lies, Propaganda, Storytelling and the Serrated Edge. Satan is the father of lies, and the mother of those lies is a government who has rejected God. We have especially been lied to these last two years, and the COVIDpanic has been one of the central mechanisms that our government has used to lie to us and to grab more power. Because Christians have not been reading their bibles, we are susceptible to lies and weak in our ability to fight these lies. God has given us His word to fight Satan and his lies, and we need to recover all of God's word, its serrated edge and all. Mark your calendars for October 6th-8th, as we fight, laugh and feast with fellowship, beer and Psalms, our amazing lineup of speakers, hanging with our awesome vendors, meeting new friends, and more. Early bird tickets are available now, but will be gone before you know it! Sign up now at flfnetwork.com/knoxville2022
From one legal battle to another, Nancy Pelosi's husband charged in DUI case
https://www.washingtonexaminer.com/news/nancy-pelosi-husband-charged-dui-case
Paul Pelosi, the husband of House Speaker Nancy Pelosi, was charged Thursday in connection to a car crash in California last month.
The 82-year-old was charged with driving under the influence of alcohol causing injury and driving with .08% blood alcohol level, according to the Napa County District Attorney's Office.
"Based upon the extent of the injuries suffered by the victim, the District Attorney filed misdemeanor charges. This decision is consistent with how our office handles these cases with similar injuries," the office said in a statement.
Paul Pelosi had been driving a 2021 Porsche 911 toward a Pelosi country house in Napa Valley around 10 p.m. local time on May 28 when a Jeep rammed into his vehicle as he attempted to cross the highway, the New York Times reported. No one was injured in the incident.
Pelosi was booked at Napa County jail on suspicion of driving under the influence with a blood alcohol level of 0.08 or higher and was released several hours later after posting $5,000 bail, records show. He is expected to appear in Napa County Superior Court at 8:30 a.m. PST on Aug. 3, the county district attorney's office said last Thursday.
"The punishment for driving under the influence causing injury as a misdemeanor is set by California law. It includes up to five years of probation, a minimum of five days in jail, installation of an ignition interlock device, fines and fees, completion of a court ordered drinking driver class, and other terms as appropriate," the district attorney's office said on Thursday.
Prior to the accident, Paul Pelosi underwent cataract surgery and the night before, he had attended a dinner with Alexander Mehran, a friend and Democratic donor, according to the New York Times.
A previous statement from a representative for Paul Pelosi said he was alone in his car, CBS News reported, adding that he was "fully cooperative" with authorities.
When asked for comment on charges, a spokesperson for Nancy Pelosi referred the Washington Examiner to a communications firm that stated, "We are declining comment at this time.
Military Vaccine Mandate Under Review as Unvaccinated Public Servants Return to Work
https://www.theepochtimes.com/military-vaccine-mandate-under-review-as-unvaccinated-public-servants-return-to-work_4550902.html?utm_source=partner&utm_campaign=BonginoReport
Unvaccinated public servants were allowed back to work on June 20, including civilians of the Department of National Defence (DND), but unvaccinated Canadian Armed Forces (CAF) personnel will have to wait for their employer's review of the vaccine mandate to know their fate.
"Given updated guidance from the Treasury Board, we are currently reviewing the CDS [Chief of Defence Staff] Directives on COVID-19 Vaccination, in order to maintain a safe working environment and while remaining ready to conduct CAF operations in support of Canadians at home and around the world," DND said in an emailed statement on June 22.
"In the meantime, the CDS Directives remain in effect for CAF members until further notice."
The CDS directive, which was issued in October, allowed for exemptions under medical, religious, or human rights grounds, but not many have been granted.
Out of 1,300 exemption requests, DND says that as of May 31 only 157 were granted, with 98 for religious reasons, 42 for medical reasons, and 17 for "other reasons" (which can include claims of discrimination under the Canadian Human Rights Act).
The department says that as of June 15, the voluntary release of 103 regular forces members has been granted by the CAF. Those members cited the directive on vaccination as the primary reason for seeking release.
Another 234 CAF members have been released non-voluntarily for not complying with the directive.
As of June 15, 805 soldiers face remedial measures. If the CAF judges those measures to be unsuccessful, further administrative actions can be taken leading to release.
DND says 463 personnel are under administrative review.
Lawyer Philip Millar, a CAF combat arms veteran, is representing about 30 armed forces members affected by the vaccine mandate. He predicts the CDS will not expedite the review in order to release as many non-compliant personnel as possible.
"Now that it's clear that the mandates are untenable, unjustifiable, and unconscionable, the CDS is dragging its feet because the longer they wait, the more people get released," he said.
Millar was set to debate a motion in court on the CAF vaccine mandate this week but the hearing was postponed.
"I'm sure they knew [the motion] was going to be successful, and that's why the government changed it, but they're playing games with people's lives," he says.
Well hey, if you're looking for a new job, I've got just the place for you:
Redballoon
Not so long ago, the American dream was alive and well. Employees who worked hard were rewarded, and employers looked for people who could do the job, not for people who had the right political views. RedBalloon.work is a job site designed to get us back to what made American businesses successful: free speech, hard work, and having fun. If you are a free speech employer who wants to hire employees who focus on their work and not identity politics, then post a job on RedBalloon. If you are an employee who is being censored at work or is being forced to comply with the current zeitgeist, post your resume on RedBalloon and look for a new job. redballoon.work, the job site where free speech is still alive!
Now for the topic that I love… sports!
https://www.espn.com/college-football/story/_/id/34136486/qb-arch-manning-no-1-recruit-2023-class-commits-texas
QB Arch Manning, No. 1 recruit in 2023 class, commits to Texas
The recruitment of blue-chip quarterback Arch Manning, a rare collision of talent, pedigree and possibility, captivated college football for years.
Manning ended the intrigue Thursday afternoon, committing to Texas over suitors that included Georgia, Alabama, LSU, Clemson and Virginia.
Although Manning has long been considered the top player in the class of 2023, the family remained intent on attempting to keep his recruitment as low-key as possible. His Instagram is private, and he has not been an active participant in name, image and likeness opportunities. But keeping things low-key has still been difficult, considering the family's football history and the magnitude of how much his decision could sway a program's fortune.
Manning even used his first tweet to make the announcement, on a verified Twitter account with a bio that simply says "high school student."
Texas coach Steve Sarkisian also reacted to Manning's announcement, first retweeting his new quarterback recruit then writing "All Gas, No Brakes!!!" in a follow-up post.
Manning is a nephew of Eli and Peyton Manning, a grandson of Archie Manning and son of former Ole Miss wide receiver Cooper Manning. He is the star quarterback at Isidore Newman High School in New Orleans — throwing for 5,731 yards and 72 touchdowns in his first three years of high school football — and has been considered a top-flight prospect since middle school.
Any morsel of news around the quarterback has rippled significantly throughout the recruiting universe. The commitment of Manning's high school teammate and close friend Will Randle, a three-star tight end who committed to Texas earlier this week, drew interest as it represented a bellwether for where Manning could be leaning.
Manning's commitment to Texas represents him both carving his own path and perhaps reuniting with the family's SEC roots. The Manning family has strong ties at Ole Miss and Tennessee, and Arch Manning could end up as a link to the SEC, as he could be Texas' starting quarterback in 2025, when the Longhorns are slated to debut in the conference.
The commitment represents Texas' first No. 1 overall recruit in the ESPN 300 era (since 2006) and its first quarterback ranked in the top 20 since Garrett Gilbert in 2009. It also gives Texas a key building block for its 2023 recruiting class, with skill players expected to be attracted to playing with a talent such as Manning.
The decision marks a massive win for Sarkisian, especially coming off a 5-7 debut season that included a home loss to Kansas. Manning's decision reaffirms Sarkisian as one of the country's top quarterback tutors and Texas as a quarterback destination. Sarkisian is the Longhorns' playcaller and has coached such quarterbacks as Tua Tagovailoa, Mac Jones and Matt Leinart.
Thanks for tuning into this CrossPolitic Daily NewsBrief. If you liked the show, hit that share button for me. If you want to sign up for our upcoming FLF Conference, sign up now, at flfnetwork.com… and if you want to chat about becoming a corporate partner of CrossPolitc, let's talk. Email me at garrison@fightlaughfeast.com.
For CrossPoltic news, I'm Garrison Hardie. Have a great day, and Lord bless.