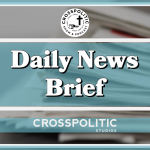 This is the Waterboy with your CrossPolitic Daily News Brief for Friday, June 25, 2021.
Supreme Court rules against labor unions, UK ban on junk food ads, Junk COVID science should be band, and a US Senator standing up for #freetimstephens
If you have any news articles or tips, please email us at news@crosspolitic.com.
Plug: Fight Laugh Feast Conference in Lebanon, TN, just outside of Nashville.
We have been taught to stay out of the bedroom and leave people's sexual preferences alone. But the truth is that sex affects everything, and because the church has only spoken about sex in the areas the world has given her permission too, we now can lose our jobs, our livelyhoods, our way of life. Because the church has not unashamedly preached the gospel into our perverted and sexualized culture, as a result we have given the definition of marriage over to the world, men "can" claim the status of women and you have to go along with it, and cancel culture now lurks at everyone corner. Join us in Nashville (Lebanon) as we gather to sing, fellowship, and grow in God's word. We will have tried and true, cancel free speakers, including Pastor Wilson, Voddie Baucham, Pastor Toby, Doug TenNapel, David Bahnsen, and then on Saturday we will have an Academy full of 9 workshops with over 20 speakers arming you to go out into the world to take dominion with your gifts and abilities. So sign up now at https://flfnetwork.com/coming-soon/. Seating is limited!
UK to ban junk food advertising online and before 9pm on TV from 2023
https://www.theguardian.com/media/2021/jun/23/uk-to-ban-junk-food-advertising-online-and-before-9pm-on-tv-from-2023
The government is poised to announce a ban on junk food advertising online and before 9pm on TV from 2023, as Boris Johnson looks to deliver on his pledge to tackle the UK's growing obesity crisis.
The new measures, which will be some of the toughest marketing restrictions in the world, will heavily impact the more than £600m spent by brands on all food advertising online and on TV annually.
The 9pm pre-watershed ban on advertising TV products deemed to be high in fat, salt and sugar (HFSS) could cost TV broadcasters such as ITV, Channel 4, Channel 5 and Sky more than £200m a year in revenue.
The online ad ban would affect all paid-for forms of digital marketing, from ads on Facebook to paid-search results on Google, text message promotions, and paid activity on sites such as Instagram and Twitter. It is estimated that more than £400m is spent on advertising food products online in the UK annually.
The tough rules, which are expected to be announced as soon as Thursday, follow Johnson changing his view on personal health decisions after his hospitalisation with coronavirus last year. The prime minister is said to blame his own health issues for contributing to his illness. Overweight people are at greater risk of severe illness or death from Covid.
Research has found that one in three children leaving primary school are overweight or obese, as are almost two-thirds of adults in England. Last year, the government's consultation on proposals to implement a ban estimated that children under 16 were exposed to 15bn junk food ads online in 2019, compared with 700m two years earlier.
Guitarist quits Mumford & Sons to 'speak freely' on politics
https://apnews.com/article/europe-entertainment-music-arts-and-entertainment-fd8c24396fb818558a9c95c7724d12bf
Winston Marshall, a founding member of folk-rock group Mumford & Sons, announced Thursday that is leaving the band so that he can "speak freely" about political issues.
Marshall took a break from the band in March after sparking a social media storm by tweeting admiration for "Unmasked," a book by right-wing writer-activist Andy Ngo that attacked far-left militant groups collectively known as antifa.
Marshall was accused online of endorsing the far right, but said Thursday that "nothing could be further from the truth. I condemn unequivocally all political extremism, be it of the Right or Left."
Marshall, who plays guitar and banjo with the group, said his bandmates had "invited me to continue with them," but he had decided to leave so that he could "speak freely without them suffering the consequences."
Marshall said that "as long as I am a member of the band, speaking my mind on the evils of political extremism could bring them trouble. My loyalty and love for them cannot permit that."
Marshall said he plans to undertake new creative projects, "as well as speaking and writing on a variety of issues."
Earlier this year Marshall co-founded Hong Kong Link Up, a charity that works to integrate Hong Kongers settling in Britain because of increasing political repression in the semi-autonomous Chinese city state.
"We wish you all the best for the future, Win, and we love you man," the three other band members — Marcus Mumford, Ben Lovett and Ted Dwane — wrote on Instagram in response to the announcement.
California Gov. Newsom Recall Election Is Officially On
https://www.washingtonexaminer.com/news/newsom-recall-moves-forward-signature-threshold
The recall effort of California Gov. Gavin Newsom will move forward after organizers collected enough signatures.
Only 43 signatures were removed in the allotted 30-day period from April 26 to June 8 allowing voters to request theirs to be removed, and 1,719,900 verified signers remain, well above the roughly 1.5 million needed, Secretary of State Shirley Weber's office announced Wednesday.
A statement said the Department of Finance will now "estimate the costs of the gubernatorial recall" and send the projections to Newsom, the lieutenant governor, the secretary of state, and the chairperson of the Joint Legislative Budget Committee by Aug. 5.
Once the committee has 30 days to review and comment, the secretary of state will "then certify the sufficiency of signatures pursuant to statute," the statement added.
If Newsom prevails in the recall vote, he will be up for reelection in 2022. Although California is a solidly blue state, many on the Right consider a recall election as their opportunity to win it back.
Republicans are already lining up to challenge him, including former San Diego Mayor Kevin Faulconer and reality television star and former Olympic athlete Caitlyn Jenner.
Plug:
Fight Laugh Feast University is offering two new online classes starting this July! Get the whole family involved and participate in live online classes via Zoom. Hangout with fellow friends of the network, and learn together with the whole family. We have two classes beginning in July: The first class is with Comedian John Branyan called: Life is Hardy Har Hard: A Comedy Workshop for Christians and Jesse Sumpter: Education is Warfare: How to Start a School
So go to https://flfnetwork.com/flf-edu/ to find out more and to sign up now. Classes are limited to only 25 spots!
Supreme Court Strengthens Property Rights in Case Involving Labor Organizing on Farms
https://www.theepochtimes.com/supreme-court-strengthens-property-rights-in-case-involving-labor-organizing-on-farms_3872596.html?utm_source=partner&utm_campaign=BonginoReport
A California regulation allowing labor organizers to disrupt businesses for hours every day for one third of the year to recruit new members is unconstitutional, the Supreme Court ruled in a 6-3 vote along ideological lines.
"Today's ruling is a huge victory for property rights," Pacific Legal Foundation (PLF) senior attorney Joshua Thompson said in a press release. The decision "affirms that one of the most fundamental aspects of property is the right to decide who can and can't access your property."
PLF is a national public interest law firm based in Sacramento that represented farmers challenging the law.
The ruling is likely to have major repercussions for labor and property law well beyond agribusiness.
The Cato Institute, which filed a friend-of-the-court brief in the case, called the ruling the "biggest Supreme Court win for property rights in a long, long time."
Conversely, Slate's Mark Joseph Stern described it as "a crushing blow to organized labor, which often relies on workplace access to safeguard workers' rights."
The ruling "undermines the broader legal framework that permits the government to impose all manner of regulations on private property, including workplace safety laws and nondiscrimination requirements," Stern wrote, and hands "business owners a loaded gun to aim at every regulation they oppose."
After Year Of Lockdown, Youth Suicide, Self-Harm, And Mental Health ER Visits Skyrocket
https://www.conservativereview.com/after-year-of-lockdown-youth-suicide-self-harm-and-mental-health-er-visits-skyrocket-2653523862.html
According to four mental health experts at Newton-Wellesley Hospital's Division of Child and Adolescent Psychiatry in Massachusetts, 2021 referrals to their Child and Adolescent Psychiatry outpatient clinic "have doubled compared to [their] pre-pandemic baseline." These doctors have also witnessed an 80 percent increase in emergency department visits regarding pediatric mental health issues.
The problem gets worse. "We are seeing three times as many patients ages 8 to 18 following suicide attempts," the doctors say, "with 13- and 14-year-olds representing the highest proportion of such ER visits thus far in 2021."
Research suggests this isn't an isolated mental health crisis in one particular hospital or city. It's a much broader societal problem.
The Centers for Disease Control and Prevention (CDC) found that, between April and October 2020 alone, U.S. hospitals experienced "a 24% increase in the proportion of mental health emergency visits for children ages 5 to 11, and a 31% increase for children ages 12 to 17."
Dr. Indra Cidambi, the medical director at Center for Network Therapy and one of the preeminent addiction experts in America, told The Federalist that "The result [of pandemic-induced isolation, dislocation, and increased anxiety] has been a resurgence in mental health issues such as depression or anxiety and the increased use of substances to self-medicate."
Senator Josh Hawley
https://www.hawley.senate.gov/sites/default/files/2021-06/Hawley-Letter-USCIRF-Canada.pdf
Dear Chair Maenza: (U.S. Commission on International Religious Freedom)
One of the most fundamental human rights is the freedom to practice one's faith
according to the dictates of one's conscience.
Last year, I urged the Department of Justice
to bring federal lawsuits to uphold the rights of houses of worship burdened by unjust
restrictions. Now I am writing to express my deep concern that this freedom is in peril
across our nation's northern border.
In recent months, there have been numerous instances of Canadian pastors being
arrested and jailed for holding worship services that do not comply with COVID-19
restrictions. On June 14, Pastor Tim Stephens of Fairview Baptist Church in Calgary,
who was previously arrested in May, was arrested again at home in front of his wife and
children. Media outlets captured heartbreaking video of the pastor's children sobbing as
they held their father's hand through the barred window of a police car. Pastor Stephens'
alleged violation was holding an outdoor worship service in a park, which was apparently
discovered by a police helicopter flying overhead.
Other Canadian pastors, such as Pastor James Coates of GraceLife Church in
Spruce Grove, have similarly faced arrests and enforcement actions. Authorities
reportedly seized and fenced off the GraceLife Church building in April, which sparked a
protest of hundreds of people in opposition to the move.
I am troubled that our Canadian neighbors are effectively being forced to gather
in secret, undisclosed locations to exercise their basic freedom to worship. The Canadian
Charter of Rights and Freedoms states that "[e]veryone has the following fundamental
freedoms," which include the "freedom of conscience and religion." The arrests and
actions taken to enforce overly burdensome and unjustified orders, however, do not seem
to live up to this praiseworthy statement.
Frankly, I would expect this sort of religious crackdown in Communist China, not in a prominent Western nation like Canada. Canadian authorities' arrest of faith leaders and seizure of church property, among other enforcement actions, appear to constitute systematic, ongoing, and egregious violations of religious freedom.
I urge the Commission on International Religious Freedom to take whatever action is necessary to address and rectify this situation, and consider adding Canada to the Commission's Watch List.
Thank you for your attention to this pressing matter.
Sincerely, Senator Josh Hawley
Please sign the petition asking to release Pastor Tim Stephens:
https://www.rebelnews.com/release_pastor_tim_stephens_petition?recruiter_id=258589
If you think Pastor Stephens should be released immediately, then please sign the petition now.
Lastly, former Minneapolis police officer Derek Chauvin faces sentencing Friday in the death of George Floyd, with a judge weighing a prison term experts say could be as much as 30 years.
Fourth of July Club Member Liberty Bash
Join us at our first annual 4th of July Club Member Liberty Bash! We are so grateful to our club members, and can't think of a better way to celebrate America, than a joyous, raucous, party with our club members at Waterboy's farm.
Unfortunately, space is limited, so sign up ASAP. Ok pay attention, here is how you register: Go to www.FightLaughFeast.com and login into the club portal and you will find the 4th of July event. Click on it and follow the registration steps from there. If you have forgotten your password, just go through the fast and easy password reset process. If you get stuck, email us at contact@FightLaughFeast.com.
The event is free, though we would gladly accept donations to cover some costs.
Closing
This is Gabriel Rench with Crosspolitic News. Support Rowdy Christian media by joining our club at fightlaughfeast.com, downloading our App, and head to our annual Fight Laugh Feast Conference next fall. With your partnership, together we will fight outdated and compromised media, engage news and politics with the gospel, and replace lies and darkness with truth and light. Go to fightlaughfeast.com to take all these actions. Have a great day. Lord bless