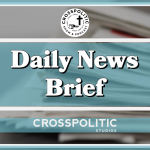 This is Garrison Hardie with your CrossPolitic Daily News Brief for Friday, June 30th, 2023.
Page50 ad read concepts:
Page50 is a distinctly Christian marketing company striving to help Christian-owned businesses grow and succeed in our digital age. They don't want to just make a paycheck, they want to
change the world, and that means building it alongside you.
The mission is bigger than just Sunday. Page50 wants to help Christians recapture the work week, economic and political influence, and the public square.
Page50 doesn't work with just anybody, but if you're a believer they want to work with you. Visit pagefifty.com (ya gotta spell it out, because i don't own the page50.com domain) and see what they can do for you. That's pagefifty.com.
https://www.washingtonexaminer.com/policy/courts/supreme-court-affirmative-action-race-conscious-college-admissions
Supreme Court bans affirmative action in ruling against race-conscious college admissions
The Supreme Court ruled to ban the consideration of race as part of admissions decisions at colleges, including Harvard University and the University of North Carolina, ending the decadeslong practice known as affirmative action.
Chief Justice John Roberts wrote for the six-member majority to undo the lasting impacts of the landmark 1978 case Regents of the University of California v. Bakke, which upheld race-conscious admissions at universities.
"Harvard's and UNC's admissions programs violate the Equal Protection Clause of the Fourteenth Amendment," the majority held in Students for Fair Admissions v. President and Fellows of Harvard College.
Liberal Justice Sonia Sotomayor dissented and was joined by Justice Elena Kagan. Justice Ketanji Brown Jackson dissented in the UNC case, joined by Sotomayor and Kagan. Jackson recused herself from the Harvard case due to her past service on the university board.
Justices have been mulling since November over two cases brought by the nonprofit group Students for Fair Admissions, headed by conservative legal strategist Edward Blum, a staunch critic of affirmative action policies.
The majority held that "nothing in this opinion should be construed as prohibiting universities from considering an applicant's discussion of how race affected his or her life, be it through discrimination, inspiration, or otherwise. But, despite the dissent's assertion to the contrary, universities may not simply establish through application essays or other means the regime we hold unlawful today."
Justice Clarence Thomas added that he would "highly doubt" universities could carry on with considering race in admissions policies with the new test that was established Thursday.
"In the future, universities wishing to discriminate based on race in admissions must articulate and justify a compelling and measurable state interest based on concrete evidence. Given the strictures set out by the Court, I highly doubt any will be able to do so."
During oral arguments in October 2022, the court's inclination to ban affirmative action was evident. The court's six conservatives expressed skepticism toward the practice, even as attorneys for Harvard and UNC, along with U.S. Solicitor General Elizabeth Prelogar, implored the court to permit the practice to continue.
Another case filed in 2014 alleged the University of North Carolina at Chapel Hill unlawfully discriminates against white and Asian American applicants. That suit accused the university of violating the Constitution's 14th Amendment promise of equal protection under the law.
Banning the use of affirmative action will force elite colleges to reinvent their policies and find new ways to ensure diversity in their student populations without using race as a consideration. Several universities have expressed concerns in legal briefs that a decision to overturn affirmative action could result in fewer minority students on campuses.
But ahead of the high court's opinion release, legal experts speculated colleges might attempt to maintain a superficial vision for diversity on campus without taking race into consideration.
The matter of race-neutral admissions policies that are implemented for racially conscious ends could find its way to the Supreme Court soon. A group of parents, alumni, and community members at Thomas Jefferson High School for Science and Technology in Fairfax, Virginia, sued the school for changing its admissions process to increase the number of black and brown students and decrease the number of Asian students.
The U.S. 4th Circuit Court of Appeals ruled that the school's new process did not violate federal law. The case's next stop would be the Supreme Court.
https://www.npr.org/2023/06/29/1185087587/google-says-it-will-start-blocking-canadian-news-stories-in-response-to-new-law
Google says it will start blocking Canadian news stories in response to new law
Google said on Thursday that it will block all links to Canadian news articles for people using its search engine and other services in the country in response to a new law that would compel tech companies to pay publishers for content.
It comes a week after Meta vowed its own blackout of Canadian publishers on Facebook and Instagram, calling the law "fundamentally flawed."
The two tech giants have been battling the Canadian government over the law that would force them to negotiate compensation deals with news organizations for distributing links to news stories.
The law, called the Online News Act, passed last week. But it could take months for it to take effect. Once it does, Google and Meta say they will start removing news articles by Canadian publishers from their services in the country.
Supporters of the legislation have argued that it could provide a much-needed lifeline to the ailing news industry, which has been gutted by Silicon Valley's ironclad control of digital advertising.
Under the law, platforms like Meta and Google would have to come to the negotiating table with news organizations and hammer out compensation deals. Government estimates predict that the law would result in a cash injection of some $329 million into the Canadian news industry, which has been beset by news staff layoffs and other downsizing in recent years.
Canada's law was modeled on a similar effort in Australia, where Meta did block news articles for nearly a week before tense negotiations led Meta and Google to eventually strike deals with news publishers.
A bill to force tech companies to pay publishers is also advancing in California, where the tech industry has levied similar blackout threats.
In Canada, both tech platforms have long been against the law, saying the companies are already helping news companies by directing web traffic to their sites. On Facebook and Instagram, news represents a tiny fraction — on Facebook, it's about 3% — of what people see every day.
Google, too, does not consider news articles as essential to its service. So both companies have wagered that it is simply easier to block links to news articles than to start paying news organizations.
While most major publishers in Canada back the new law, outside media observers have not been so sure. Tech writer Casey Newton has argued that a tax on displaying links would "effectively break the internet" if it was applied to the rest of the web. Other critics have pointed to the lack of transparency over who actually would receive cash infusion from the tech companies. Some fear the programs could be hijacked by disinformation sites that learn how to game the system.
Yet press advocates insisted that tech companies retaliating by threatening to systemically remove news articles will be a blow to civil society and the public's understanding of the world.
"At a moment when disinformation swirls in our public discourse, ensuring public access to credible journalism is essential, so it's deeply disappointing to see this decision from Google and Meta," said Liz Woolery, who leads digital policy at PEN America, an organization that supports freedom of expression.
Woolery continued: "As policymakers explore potential solutions to the challenges facing the journalism industry, platforms are free to critique, debate, and offer alternatives, but reducing the public's access to news is never the right answer."
https://www.stripes.com/theaters/asia_pacific/2023-06-28/taiwan-russia-warships-passage-china-10574003.html
Taiwan tracks pair of Russian warships off island's eastern coast
Taiwan scrambled aircraft and dispatched ships late Tuesday to monitor the passage of two Russian warships off its eastern coast, according to the island's Ministry of National Defense.
Two Russian frigates traveled northward along the coast toward the East China Sea around 11 p.m. Tuesday, the ministry said in a news release Tuesday. It did not specify how far offshore the ships were.
In response, Taiwan's military used "joint intelligence, surveillance and reconnaissance methods" and "dispatched mission aircraft, ships and shore-mounted missile systems to closely monitor" the Russian vessels, according to the release.
The ships continued on course and left Taiwan's "response area" southeast of Suao, a city on the island's northeastern edge that is also home to a logistics support naval base, according to the Defense Ministry.
While Taiwan reports near-daily activity from the Chinese military off its western coast in the Taiwan Strait — 49 Chinese aircraft and 20 ships have been reported in the waterway since Sunday — Russian activity is less common.
The warships' passage comes less than a week after the Wagner Group, a Russian paramilitary outfit, organized a brief, two-day rebellion against the Russian government that began Friday with the group taking over military headquarters in Rostov-on-Don and concluded Saturday after they stood down and withdrew from the city.
It also comes just over a week after Secretary of State Antony Blinken visited Beijing to meet with high-level Chinese officials, including President Xi Jinping, which Blinken described as "candid and constructive" but failed to secure the United States' top priority of renewed communication between the two countries' militaries.
Beijing considers Taiwan, a functionally independent democracy, to be a breakaway province and aims to reunite it with the mainland.
China and Russia remain close allies, with the two countries regularly coordinating military exercises together, although Beijing has not openly endorsed Russia's invasion of Ukraine.