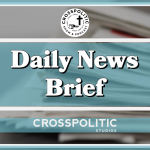 …and more on today's CrossPolitic Daily News Brief. My name is Toby Sumpter and today is Friday, June 3, 2022.
This year our national conference is in Knoxville, TN October 6th-8th. The theme of this year's conference is Lies, Propaganda, Storytelling and the Serrated Edge. Satan is the father of lies, and the mother of those lies is a government who has rejected God. We have especially been lied to these last two years, and the COVIDpanic has been one of the central mechanisms that our government has used to lie to us and to grab more power. Because Christians have not been reading their bibles, we are susceptible to lies and weak in our ability to fight these lies. God has given us His word to fight Satan and his lies, and we need to recover all of God's word, its serrated edge and all. Mark your calendars for October 6th-8th, as we fight, laugh and feast with fellowship, beer and Psalms, our amazing lineup of speakers, hanging with our awesome vendors, meeting new friends, and more. Early bird tickets are available now, but will be gone before you know it! Sign up now at flfnetwork.com/knoxville2022
Tulsa police report that a gunman, who killed four people at a medical building in the Oklahoma city, went to the facility to kill a doctor he blamed for the pain he experienced after surgery.
The gunman, identified as Michael Lewis, entered a building on the St. Francis Health System campus with an AR-15-style weapon and opened fire, killing two doctors and two other people, Tulsa Police Chief Wendell Franklin said at a news briefing. The gunman apparently then turned the gun on himself.
This is of course tragic and horrific, but the question I have is how many other shootings happened this week in Chicago, LA, or NYC? All of them are tragic and horrific, but there certainly seems to be a selective bias related to how we report shootings, and the highlighted ones are calculated to try to steer public opinion and outrage toward blaming guns and gun laws rather than recognizing that we have something rotten in our culture, something rotten in our souls.
Matt Walsh released a new documentary this week named What is a Woman?
https://twitter.com/SethDillon/status/1532208535974645760?s=20&t=tSdjbpEWyoI7i4WFbtPpzw
Play full clip
https://www.dailymail.co.uk/news/article-10875017/Pediatrician-says-prepubescent-kids-ready-HRT-ask-new-documentary.html
The documentary shows doctors claiming prepubescent children are ready to change genders 'whenever they ask for it' and claiming they can safely 'pause' hormone development 'like music'.
The documentary, What Is A Woman, aired last night on The Daily Wire at 9pm.
It sees filmmaker and author Matt Walsh asking trans activists and doctors to define what a woman is through the lens of today's political and sociological climate. Many fail to give a straight answer.
In the trailer for the film, Walsh prompts giggles from African tribesmen by asking them if a 'man can become a woman' and challenging protesters at the Women's March over their idea of what a female is.
In their sit-down, pediatric professor Dr. Michelle Forcier says kids are ready for 'medical affirmation when they ask for it' – even if it's before they have reached puberty.
'Medical affirmation begins when the patient says they're ready for it.
Play Clip:
Quite apart from the alarming medical damage being done by people who are basically experimenting on children – "kiddos," everyone needs to keep their eye on the ball. The goal in all of this is to lower the age of consent. Pedophilia is coming people. If children can ask for surgeries and puberty blockers because they want to be a different sex, and if judges determine that they have that "fundamental right," there is absolutely no reason why they cannot be preyed upon by older men or women and have that fundamental right.
This is why the increasing rhetoric of "grooming" and "groomers" is exactly right, and you shouldn't let up. June is Groomer Month. The connection between sexual perversion, particularly homosexuality, and pedophilia is historic and well documented.
Lies, Propaganda, Story Telling, and the Serrated Edge:
https://spectatorworld.com/topic/cheers-tattoos-and-the-end-of-metoo-at-the-depp-verdict/
A jury has found both Amber Heard and Johnny Depp liable for defamation in their lawsuits against each other. The jury awarded significantly more damages to Depp, a legal win for the actor.
Depp sued Heard, his ex-wife, for defamation over a 2018 op-ed she wrote for The Washington Post in which she described herself as a "public figure representing domestic abuse." Though Depp was not named in the article, he claims it cost him lucrative acting roles. Heard countersued her ex-husband for defamation over statements Depp's attorney made about her abuse claims.
The jury found that Heard defamed Depp in three separate statements in The Washington Post piece, and that Depp defamed Heard with one statement his attorney made.
Depp was awarded $15 million to Heard's just $2 million. But what the Spectator and others are noting is that this might be one of the most high profile cases where a man won a court case against a woman on the topic of abuse. One woman outside the courthouse after the verdict said, "The #MeToo movement was very serious, but it lost its value," she said. "Not everybody was truthful." She added, "Depp did great things for men by coming forward… Even if Depp did lose, he won in everyone else's eyes."
While the Depp Heard case seems a bit gauche, the SBC is embroiled in a current controversy surrounding accusations of abuse and cover ups. But there are signs of some sanity beginning to emerge even here: one Christian attorney Matt Martens tweeted Thursday: "The abused parishioner is due a process that condemns the guilty. The accused minister is due a process that protects the innocent. Both the abused and the accused are due a fair process. Love your abused and accused neighbors as yourself. The point of due process isn't process for the sake of process. It's not process so we can all feel better when we judge. The point of process is accuracy. Good process is how we reach accurate results. And accuracy is the core of justice in matters of judgment." While this kind of sanity is not yet going viral, the fact that it garnered a bit of attention was noteworthy.
Gold River Trading Co.
Are you tired of buying sugary drinks and coffee from large woke corporations? Throw a tea party!
Gold River Trading Co. is an American company that offers premium alternatives for Americans who enjoy a delicious cup of tea. Start your day with Gold River's invigorating American Breakfast Blend, cool down with a pitcher of crisp & refreshing Iced Tea, or unwind with Chamomile Herbal tea. Explore a variety of high-quality blends and enjoy a healthy, flavorful alternative from an American company that shares your values.
Go to goldriverco.com and save 10% off all orders using discount code CROSSPOLITIC at checkout.
Queen Elizabeth II marks 70 years on the throne with a four-day celebration. Her Majesty the Queen is the first British monarch to celebrate a Platinum Jubilee.
A beaming Queen Elizabeth waved to cheering crowds massed outside Buckingham Palace on Thursday as Britain kicked off four days of pomp, parties and parades to celebrate her record-breaking 70 years on the British throne.
Tens of thousands of royal supporters waving flags lined the streets of London for a military parade at the start of the four-day Platinum Jubilee. Millions of people across Britain and the world were expected to watch the festivities, join street parties and light beacons in honour of the 96-year-old queen.
Elizabeth has been on the throne for longer than any of her predecessors, and is the third-longest reigning monarch ever of a sovereign state. Opinion polls show she remains hugely popular and respected among British people.
The celebrations began with the Trooping the Colour, a military parade held annually to mark the queen's official birthday, where 1,500 soldiers marched to military music in ceremonial uniforms of scarlet tunics and bearskin hats.
Later the crowds moved to the Mall, the grand boulevard running up to Buckingham Palace, where in brilliant sunshine they cheered and waved Union flags while a display of modern and historic planes took place overhead.
Fifteen Typhoon jets spelled out the number 70.
Thursday marks not only the start of the Jubilee, but also the 69th anniversary of the coronation of Elizabeth, who became queen on the death of her father George VI in February 1952.
Psalm of the Day: Psalm 100 – Matthew David Montegomery Psalms for Singing
https://open.spotify.com/track/4n0Pc3FB7JV1bLprizvOxF?si=fcbed6bdc32843a7
Play 0:00-0:59
Amen!
This is Toby Sumpter with CrossPolitic News. Remember you can always find the links to our news stories and these psalms at crosspolitic dot com – just click on the daily news brief and follow the links. Or find them on our App: just search "Fight Laugh Feast" in your favorite app store and never miss a show. If this content is helpful to you, would you please consider becoming a Fight Laugh Feast Club Member? We are building a cancel-proof Christian media platform, and we can't do it without your help. Join today and get a $100 discount at the Fight Laugh Feast conference in Knoxville, TN Oct. 6-8, and have a great day.