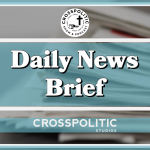 This is Toby Sumpter with your CrossPolitic Daily News Brief for Friday, June 4, 2021.
Fourth of July Club Member Liberty Bash
Join us at our first annual 4th of July Club Member Liberty Bash! We are so grateful to our club members, and can't think of a better way to celebrate America, than a joyous, raucous, party with our club members at Waterboy's farm.
Unfortunately, space is limited, so sign up ASAP. Ok pay attention, here is how you register: Go to www.FightLaughFeast.com and login into the club portal and you will find the 4th of July event. Click on it and follow the registration steps from there. If you have forgotten your password, just go through the fast and easy password reset process. If you get stuck, email us at contact@FightLauhgFeast.com.
The event is free, though we would gladly accept donations to cover some costs. Our software is a little funny, so just note that you have to put in a 0 (zero) into the price box at checkout to move forward.
Teacher Tanner Cross
https://twitter.com/imichaelsmiller/status/1398005991795572736?s=20
Play audio: 0:09-0:57
Less than 12 hours after Cross had his say during the public comments, he was hauled into a meeting where he was informed he'd been put on administrative leave pending an investigation. Cross is a Loudon County, Virginia elementary P.E. Teacher.
According to the letter he got from district officials, there was no explanation for the decision – only a warning that an investigation had been launched and Tanner was banned from school property.
Cross's Alliance Defending Freedom attorney, Tyson Langhofer, wasn't surprised the district didn't explain the suspension, because, as far as he's concerned, there's no legitimate rationale – legal or otherwise – to justify it. "Teachers don't shed their constitutional rights when they step on to a schoolhouse property," Langhofer argued. "And in this case, he wasn't even on the school's property. He went to a public meeting where the school board invited the public to come comment on proposed policies…"
Loudoun County, ADF insisted, can't retaliate against Tanner just because he doesn't share their views. In a counter-letter to the district, demanding Cross's reinstatement, Langhofer warned that the administration was walking on dangerous ground by sending the message that employees have to "toe the line or face the consequences." Unfortunately, he explained, this is a new pattern that we're seeing in school boards across the country.
Tony Perkins writes at Lifesite news" As tough as the last week has been, there's been an outpouring of support for the Crosses from the local community. Tanner and his family had just started going to Cornerstone Chapel in Leesburg, where our good friend Pastor Gary Hamrick has been preaching with cultural clarity for years. His unapologetic stand, Tanner says, was one of the main reasons he had the courage to stand up and speak out.
When I talked to Pastor Gary, who spent a good chunk of his Sunday sermon on Tanner's story and encouraging the community to "take back our schools," he said this is what living out your faith is all about. "It's applying what we know to be true from God's word to everyday life… [W]e have to be ready to be salt and light" – no matter what the opposition looks like.
If Pastor Gary means taking back our schools – as in taking them back from the government, to make them private and thoroughly Christian – then yes, but if he just means a 1950s government school with Jesus and Bible sprinkled over the top. Hell, no.
But I am thankful for Tanner Cross's stand. More Christians need to speak with that kind of kindness and clarity into the microphone and not flinch. Let the backlash come. Smile. And keep on saying it.
Blues Clues Grooming Kids for Abuse
Of course if you're grooming kids for sexual exploitation, you'll get millions of taxpayer dollars on PBS to create propaganda, like this song from PBS children's show Blues Clues:
Play Audio: 0:00-1:03
Ok, just one more verse:
1:40-1:57
"Ace, Bi, and pan grown ups…" Apparently "ace" is short for asexual.
Huge thanks to everyone who attended and watched the Fight Laugh Feast Rally in Rapid City, South Dakota: all the talks were archived for Fight Laugh Feast Club Members in the club portal. Become a club member today so you don't miss any of them. And if you see some of the clips from the talks floating around on social media, don't forget to share them. That's a great way to share the love and encourage other folks to join.
We're already gearing up for the next conference back in Nashville: Sep. 9-11: the Politics of Sex. I hope many of you are planning to come. Registration will be opening this weekend. Check the website early and often.
Coach K Retiring from Duke Basketball
https://www.espn.com/mens-college-basketball/story/_/id/31560265/duke-blue-devils-coach-mike-krzyzewski-says-retiring-family-not-due-changes-sport
Play Audio: 0:00-0:19
Mike Krzyzewski, legendary coach of the Duke Blue Devils men's basketball program, announced yesterday he will retire following the upcoming 2021-22 season. Jon Scheyer, the 33-year-old current associate head coach of the Blue Devils and a former player under Krzyzewski, is expected to take over.
The 74-year-old Hall of Famer is the winningest coach in men's Division I basketball, having amassed a 1,170-361 record. After a five-year coaching stint at Army, Krzyzewski joined Duke in 1980, elevating the program to a perennial presence at the top of the sport. He won five national championships across three decades, made 12 Final Fours, and was named College Coach of the Year three times. Krzyzewski also led the US men's national team to three straight Olympic gold medals from 2008-16.
Duke missed the NCAA tournament during last year's pandemic-disrupted season, its first absence since 1995—a season Krzyzewski missed due to health reasons. The team is ranked No. 13 in early rankings for Krzyzewski's upcoming swan song.
RIP Foster Friess
Known for his business success and his generosity to conservative causes,
We had Foster Friess on CrossPolitic back on Sept. 15, 2019
Play Audio: 22:30-23:50
Foster was a believer, and he entered his rest last week on May 27. He was 81.

Psalm of the Day: Death May Dissolve My Body
Death may dissolve my body now,
And bear my spirit home;
Why do my minutes move so slow,
Nor my salvation come?
God has laid up in Heav'n for me
A crown which cannot fade;
The righteous Judge at that great day
Shall place it on my head.
God is my everlasting aid,
And hell shall rage in vain;
To Him be highest glory paid.
And endless praise—Amen.
This is Toby Sumpter with Crosspolitic News. You can find this and all of our shows at Crosspolitic.com or on our app, which you can download at your favorite app store, just search "Fight Laugh Feast". Support Rowdy Christian media, and share this show or become a Fight Laugh Feast Club Member. You always get a free Fight Laugh Feast t-shirt with a membership and remember if you didn't make it to the Fight Laugh Feast Conference or Rally, club members have access to all the talks and lots more. Join today and have a great day.