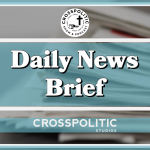 This is Garrison Hardie with your CrossPolitic Daily News Brief for Friday, June 9th, 2023.
Olive Tree Biblical Software:
Discover why more than a million people use the free Olive Tree Bible App as their go-to for reading, studying, and listening to the God's Word.
Download one of many free Bibles and start taking notes, highlighting verses, and bookmarking your favorite passages.

Read at your own pace, or choose from a large selection of Reading Plans, including the Bible Reading Challenge.

When you are ready to go deeper into your studies, Olive Tree is right there with a large selection of study Bibles, commentaries, and other helpful study resources available for purchase.

An extensive bookstore allows you to build your digital library one book at a time.

Olive Tree's sync technology lets you pick up where you left off on your tablet, pc or phone and get right to studying on another supported device.
Now here's the best part – You can start with the Olive Tree Essentials Bundle for FREE. Visit www.olivetree.com/FLF and download it today! 
We start today's news, with world news…
https://justthenews.com/government/security/china-place-secret-base-cuba-spy-us-report
China to place secret base in Cuba to spy on US:
China reportedly reached an agreement with Cuba to allow them to create an electronic eavesdropping facility on the Caribbean island, which is located about 100 miles south of Florida, as tensions between Beijing and Washington have been rising dramatically over the past several months.
The Cuban facility would allow Chinese intelligence officials to monitor U.S. ship traffic and to listen to electronic communications throughout the southeastern United States, according to U.S. officials with knowledge of highly classified intelligence, The Wall Street Journal reported Thursday.
China reached an agreement in principle to pay several billion dollars to the impoverished Marxist-Leninist nation of Cuba, officials familiar with the matter also said.
The Biden administration is especially concerned about the report due to Cuba's close proximity to the United States, and the fact that the eavesdropping facility could try to listen to communications from the many military bases in the southeast. U.S. intelligence indicates that the base would allow China to monitor communications ranging from satellite transmissions to emails to phone calls.
This brings to mind the 1962 Cuban Missile Crisis, when the Soviet Union attempted to extend its influence in the Western Hemisphere, as the Journal points out. "The U.S. and the Soviet Union came to the brink of nuclear war after the Soviets deployed nuclear-capable missiles to Cuba, prompting a U.S. Navy quarantine of the island."
This new report comes after China sent a spy balloon across most of the continental United States in February reportedly to gather intelligence from several sensitive military sites.
More U.S. states are banning or considering banning foreign farmland ownership after China bought 370 acres of land in North Dakota about 12 miles from the Grand Forks Air Force Base. According to a 2021 Agriculture Department report, China owns approximately 384,000 acres of agricultural land in the U.S.
Additionally, China is placing its own police officers in New York City to target Chinese dissidents, according to the U.S. Justice Department.
https://www.foxnews.com/us/canadian-wildfires-pour-smoke-us-heavy-haze-creates-martian-like-scene-new-york-city
Canadian wildfires pour smoke into US, heavy haze creates Martian-like scene in NYC
Canadian wildfires are continuing to pour smoke along the East Coast of the United States, including the New York City area, which Wednesday afternoon, appeared red like it was on the planet Mars.
Canadian officials have reached out to other countries to help fight the more than 400 fires across the country that have displaced 20,000 people.
The Canadian officials also said this is shaping up to be the nation's worst wildfire season ever, after being sparked on drier-than-usual ground and accelerating quickly.
In Quebec, more than 100 fires were burning uncontrollably Tuesday.
One of the biggest concerns from the fires is the air quality.
New York City is experiencing its worst air quality in recorded history, per FOX Weather's analysis of EPA historical data, affecting millions of people.
NYC officials like Mayor Eric Adams and health and emergency management officials warned residents to remain indoors as much as possible and limit their time outside. If residents must go outside, officials suggested masking up.
The governor also posted an update from the New York Department of Environmental Conservation and issued another Air Quality Health Advisory tomorrow for all of New York.
Because of the smoke, the Federal Aviation Administration grounded all planes at New York City's LaGuardia Airport on Wednesday.
Delays are also expected at other area airports.
Many other officials turned to Twitter regarding the fires.
The mayor of Ottawa. Mark Sutcliffe, said he was very concerned about the conditions and sympathetic to those who have reduced lung capacity and asthma, and might be having difficulty today.
Ottawa Public Health advised citizens to keep an eye on their health symptoms as the Air Quality Health Index continues to degrade.
"If you experience symptoms such as tightness in your chest, wheezing or shortness of breath, seek medical attention," the agency said.
We now turn our attention to Matt Walsh…
https://www.dailywire.com/news/matt-walsh-undercover-investigation-catches-trans-health-care-providers-falsifying-patient-info-to-fast-track-sex-change-surgeries
Matt Walsh Undercover Investigation Catches Trans Health Care Providers 'Rubber-Stamping' Sex-Change Surgeries
Some of the nation's largest transgender "health care" providers are rubber-stamping approvals for life-altering sex-change procedures — and even falsely representing health diagnoses of patients — so insurance companies will cover the medical expenses, Daily Wire host Matt Walsh revealed in a tweet thread Wednesday.
In an undercover investigation, Walsh and his team discovered how easy it is to get approved for sex-change surgery when one of the host's producers got a thumbs up for an orchiectomy — a procedure to remove testicles — after just a 22-minute virtual appointment with Plume, the largest transgender health care provider in the U.S.
Walsh's producer Gregg Re got scheduled for a video call with Plume after providing a fake name on an intake form. Re made it clear that he had not been experiencing gender dysphoria for six months or more, he mispronounced the name of the surgery he wanted, and he said he didn't know what effect the surgery would have on him. Yet, Plume's nurse practitioner told Re "she wanted to write the most 'solid' letter possible to justify surgery," Walsh explained.
Three days later, Plume sent a letter to Re, who said his name was "Chelsea Bussey," saying Re was experiencing "significant, ongoing gender dysphoria" — despite "Bussey" stating unequivocally that this was not the case — and recommending "Chelsea" for testicle removal. Walsh said that in a text message to Re, Plume explained that the letters of recommendation are sent using a template based on standards provided by the radical World Professional Association for Transgender Health, also known as WPATH. Plume sells letters of recommendation for $150 to those seeking transgender surgeries.
Now I'm about to play a brief audio clip for you guys… Gregg also tells Plume's nurse practitioner that his father has been prescribing him hormones for years. The nurse doesn't question this in any way. Instead, she says that arrangement is "perfect."
https://twitter.com/i/status/1666496338035367937 – Play Video
Folx, another popular transgender telehealth service, also approves patients for sex-change procedures even if they are not diagnosed with "gender dysphoria," according to Walsh.
"Folx, which provides letters authorizing surgeries for a nominal fee, goes on to admit that 'it's quite possible' patients will receive a letter indicating a gender dysphoria diagnosis, even though they 'really do not have dysphoria,'" Walsh noted. "We reached out to Folx about this. A staff member confirmed that a 'diagnosis' of gender dysphoria — with the word 'diagnosis' in scare quotes — is a 'requirement' for insurance purposes, even if it 'doesn't apply.'"
Ari Groner, a licensed clinical social worker who educates doctors on "trans healthcare," openly admitted in a video that those seeking transgender surgeries can easily get letters of recommendation.
https://twitter.com/i/status/1666496309535072257 – Play Video
Groner tells her audience to treat the letters as a "persuasive essay," and to green-light even suicidal patients.
https://twitter.com/i/status/1666496312433336324 – Play Video
Walsh and his team dug deeper into how Plume and Folx have expanded across the U.S. with Plume reaching people in 41 states and Folx present in 47 states.
"The answer is that there's big money behind this," Walsh said. "Plume and Folx raised more than $45 million last year. [Craft Ventures] just led Plume's $14 million fundraising round. Is [Craft general partner David Sacks] aware this is going on?"
With Plume and Folx operating in most of the U.S., The Daily Wire host asked if medical insurance companies were aware that the transgender medical providers were sending letters of recommendation "based on obviously false information."
Walsh concluded his thread by arguing that his investigation revealed yet another dark secret in the "corrupt and fraudulent" transgender medical industry.
Moving on… The White House may have a back up plan if SCOTUS strikes down Student Loan giveaways.
https://dailycaller.com/2023/06/08/white-house-plots-backup-plan-scotus-student-debt-cancellation-overturn-biden/
White House Quietly Prepares Backup Plan If SCOTUS Strikes Down Student Loan Giveaway
The Biden administration is quietly preparing for the possibility that the Supreme Court will strike down its controversial student loan forgiveness plan later in June, according to a Wall Street Journal report.
The White House's public position is that it expects the court to uphold the debt cancellation package, but several administration officials have conveyed private doubts about its prospects of survival upon review, according to the report. Behind the scenes, administration officials are exploring various legal and communications strategies to pursue in the event that the Supreme Court eventually overturns the signature Biden policy, according to the report.
As you might recall, the federal student debt cancellation plan allows for millions of individual borrowers to cancel up to $20,000 in federal student loan debt as currently constructed. The court's majority signaled its critical attitude of the sweeping policy action in oral arguments in February 2023, according to the report.
Observers anticipate that the Supreme Court will issue a ruling on the debt cancellation plan later in June 2023. Biden administration officials privately have discussed more precisely targeted policy alternatives to the current plan, according to the report. However, it is unlikely the president and his staff will be keen to engage in another similar protracted legal battle should the administration opt to try a different legal approach to widespread student debt cancellation, according to the report.
These preparations come on the heels of the bipartisan debt-ceiling negotiations, a condition of which included the resumption of student loan payments by Aug. 29 of this year.
After that date, the administration is planning to establish a three-month grace period for borrowers who miss payments so that they will not immediately be considered delinquent to the detriment of their personal credit, according to the WSJ report. Administration officials have informed companies that process the affected loan payments of the plan for the grace period, but have not yet received other guidelines from the Department of Education (DOE) which were supposed to have been delivered in April, according to the WSJ report.
The DOE is also considering options to work around a prospective Supreme Court slap down, seeking to expand targeted debt cancellation already available to disabled borrowers and public servants, according to the WSJ report. Additionally, the White House is making plans to highlight its proposed alterations to income-based payment options which the administration is to finalize by year's end.
And before we go today….. It's time for my favorite topic, sports!!!
https://www.breitbart.com/sports/2023/06/06/damar-hamlin-practices-with-bills-for-first-time-since-suffering-cardiac-arrest-on-monday-night-football/
Damar Hamlin Practices with Bills for First Time Since Suffering Cardiac Arrest on Monday Night Football
Bills safety Damar Hamlin is on the field and practicing with his teammates for the first time since suffering cardiac arrest during a Monday Night Football game less than six months ago.
The practice was not without difficulty for Hamlin, however. At one point, he was slow getting up after a play and had to be evaluated by team trainers who seemed to focus on his right arm and shoulder, Alaina Getzenberg reports.
Hamlin's presence is not a complete surprise. He was cleared to resume football activities in April. Though, his full participation with a helmet may have come as a bit of a surprise to his head coach Sean McDermott. Before practice on Tuesday, McDermott said the team was "going to continue to take it one day at a time and just support Damar in every way possible."
He further said that Hamlin wasn't practicing but was "in the building working." Well, as seen in the video, he did much more than stay in the building.
Hamlin was cleared to return by multiple specialists in and out of the NFL. Hamlin is entering his third season with Buffalo.