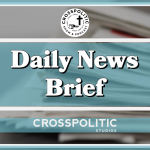 This is Toby Sumpter with your CrossPolitic Daily News Brief for Friday, March 12, 2021.
Chocolate Knox & Water Boy on are on Spring Break this week, and I will be out of the office next week. Good luck!
Happy One Year Anniversary of All Things COVID.
Today you will hear Biden thanking that guy who runs the thing, Gavin Newsom says California is not going back to normal, a priest goes off on Biden, it's still crazy in Portland, and they're releasing pedophiles from the same Canadian prison that is holding Pastor James Coates.
President Biden Wants to Thank that Guy that Runs that Outfit Over There
Play Audio: 0:00-0:11
Also, that guy, the guy who was just making those comments about the guy that runs that oufit over there… yeah, that guy just signed the thing about the stuff. You know the stuff? It's a lot of stuff, like almost 2 Trillion stuff. Yeah, that stuff. That guys signed that thing that does all the things.
Also, Axios reports that that guy, will be directing states to designate all adult Americans eligible for COVID vaccines no later than May 1. This is Biden's plan to get the nation "closer to normal" by July 4th. Biden is expected to make these announcements Thursday night in his primetime address on the American PorkBarrel Obesity Act, also known as the American Rescue Plan Act.
But Gov. Gavin Newsom Says California is Not Going Back to Normal
Play Audio
Newsome made these remarks in an empty Dodger Stadium, even as the announcement was made that the Recall Movement has reached the necessary 2 Million Signatures to force a Recall Election.
Papist Priest Goes Off on Biden
https://www.facebook.com/realCharlieKirk/videos/902897520498788
Play Audio: 0:22-1:36
On the one hand, the same could be said for vast swaths of the evangelical and protestant church. We have lacked catechesis and courage. Instead of teaching the whole counsel of God with boldness, we went in for rock bands and latte pastors and youth pastors on unicycles. On the other hand, with getting on any kind of high horse, we might also note that apart from justification by faith alone and sola scriptura (among other things), you're not going to be able to find that catechesis or courage in the Vatican or Marian idolatry or the Mass. But that means Protestants should be even more upset that we elected this bumbling fool as our President.
Rally Plug
Have you registered for the Fight Laugh Feast Rally in Rapid City, South Dakota, April 29, 30, May 1? Gov. Kristi Noem was the only Governor in the Union not to overstep her authority. We want to support her and we want to encourage you wherever you are. Many churches are not meeting, many Christians feel alone. But you're not alone. So the theme of the Rally in South Dakota is Love God, Sing Psalms, Defy Tyrants. Come hear talks from Pastor Doug Wilson, Ben Merkle, Steve Deace, Sheriff Daryl Wheeler from Bonner County, Idaho, myself – and hot off the presses, Pastor Joe Boot will be smuggled out of the Canadian tundra and will also be speaking at the Rally. Gather with likeminded Christians who love freedom, confess Jesus Christ is Lord over all, and be equipped to stand firm in these insane days. Go to FLFNetwork.com/Rally and register today. Remember if you're a Fight Laugh Feast Club Member, you get a $100 off your registration. 
Remember: If you have a news story you think we might need to cover, please send articles and links to [email protected] and DeftWire.com 
Meanwhile It's Still Cray-Cray in Portland
Video of Antifa rioters apparently trying to break into a Chase Bank:
Play Audio: 0:00-0:20
But don't worry while there are real criminals running around out there, the Royal Canadian Mounted Police are harassing law abiding Christians in Alberta.
Grace Life Church Update
The RCMP have laid more charges in the GraceLife church saga as its pastor still sits behind bars in solitary confinement.
"Last week, on March 4, the legal counsel for GraceLife Church was served with a Summons to attend Stony Plain Provincial Court on May 5, 2021. GraceLife Church was charged as an entity for exceeding the 15 per cent allowable capacity for the services held on Feb. 21 and Feb 28., 2021, contrary to section 73(1) of the Public Health Act," said RCMP Cpl. Laurel Scott
"The Parkland RCMP supported the AHS investigation at GraceLife Church this past Sunday. The Church was non-compliant with the Public Health Order in that it was over the allowed capacity. The RCMP members were present for public safety and to support AHS, and did not go inside the church.
"Investigation continues into the church by AHS and supported by the Parkland RCMP. These charges are now before the court and further comments will not be available."
Meanwhile, as Danielle Smith pointed out on Western Standard there are a number of strange anomalies about this case, including the fact that a convicted sex offender was released the same day that Pastor Coates was denied bail. The first woman talking here is Danielle Smith and the second woman is Erin Coates, Pastor James Coates' wife.

https://westernstandardonline.com/2021/03/breaking-rcmp-lay-charges-against-gracelife-church/?fbclid=IwAR2ZG_6La2Zpg2DTNggJcHOXZB2A4YJ7E-0FvORwcloCX3dk7QzUSaeAQUs
8:02-9:17, 10:51-11:13
You know what this calls for? A war song, a Psalm of War.
Psalm of the Day: Psalm 10
https://open.spotify.com/track/79MkFAUNZRCsp6CpG10qdK?si=6bvD_Vu7TxSzbuoVvSXyqw
0:23-1:42
Rise up, O Lord and break the teeth of the lions that are seeking to devour your people in Alberta, Canada. Rise up and defend the Coates, defend Grace Life Church. Rise up, O Lord, and defend the orphans in all our lands that are being slaughtered by the millions every day. Rise up, O Lord. We have no one to fight for us but You.
This is why we need the Psalms. We need words for battle. We need prayers for the fight. We need steel in our souls.
This is Toby Sumpter with Crosspolitic News. You can find this and all of our shows at Crosspolitic.com or on our app, which you can download at your favorite app store, just search "Fight Laugh Feast". Support Rowdy Christian media, and share this show or become a Fight Laugh Feast Club Member. Remember to sign up for the Fight Laugh Feast Rally. Go to FLFNetwork.com/Rally Have a great day.