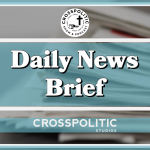 This is Garrison Hardie with your CrossPolitic Daily News Brief for Friday, March 17th, 2023. Happy Friday everyone!
New Saint Andrews:
Today's culture shifts like sand, but New Saint Andrews College is established on Christ, the immovable rock. The college is a premier institution that forges evangelical leaders who don't fear or hate the world. Guided by God's word, equipped with the genius of classical liberal arts and God-honoring wisdom, with a faculty dedicated to academic rigor and to God's kingdom, New Saint Andrews College offers an education that frees people.
Logic and language, hard work and joyful courage, old books and godly professors — New Saint Andrews Colleges provides time-tested resources that can equip your student for any vocation. To find out more, visit: nsa.edu
https://www.theepochtimes.com/health/american-children-are-dying-at-highest-rate-in-50-years_5124568.html?utm_source=partner&utm_campaign=BonginoReport
American Children Are Dying at Highest Rate in 50 Years
Mortality rates among American children and adolescents rose by almost 20 percent in just two years, with non-COVID injuries being a top reason for increased deaths.
Between 2019 and 2020, all-cause mortality rates for Americans in the age group of 1 to 19 years jumped by 10.7 percent, according to data collected and published by JAMA Network from the American Medical Association. This was followed by an 8.3 percent spike between 2020 and 2021. The total mortality rate in the two years between 2019 and 2021 was 19 percent—the biggest increase in at least 50 years. "These increases, the largest in decades, followed a period of great progress in reducing pediatric mortality rates," the editorial stated.
"This reversal in the pediatric mortality trajectory was caused not by COVID-19, but by injuries," the editorial stated. "In 2020, the COVID-19 mortality rate at ages 1 to 19 years was 0.24 deaths per 100 000, but the absolute increase in injury deaths alone was nearly 12 times higher (2.80 deaths per 100 000)."
Between 2019 and 2020, injury mortality rose by 22.6 percent among those between the ages of 10 and 19, with homicides rising by 39.1 percent and drug overdose deaths jumping by 113.5 percent. Among children aged 1 to 9 years, injuries accounted for 63.7 percent of the increase in all-cause mortality in 2021.
"We've now reached a tipping point where the number of injury-related deaths is so high that it is offsetting many of the gains we've made in treating other diseases," said Elizabeth Wolf, an author of the editorial and an assistant professor in the department of pediatrics at the Virginia Commonwealth University's School of Medicine.
The editorial points out that the increase in injury deaths predates the pandemic. For instance, suicides among individuals between 10 and 19 years of age began to rise in 2007, with homicide rates starting to increase in 2013.
Between 2007 and 2019, mortality rates for suicide rose by 69.5 percent. Between 2013 and 2019, homicide rates increased by 32.7 percent. The editorial blamed the increase in suicide and homicide rates on a "deepening" mental health crisis and access to firearms.
Despite the fear created by the pandemic, the share of COVID-19 in deaths among children and young people (CYP) was lower when compared to other causes, according to a Jan. 30 study published in JAMA Network.
The study identified 821 deaths among CYP aged 0 to 19 years between August 1, 2021, and July 31, 2022, in the United States and compared it with other causes of death in 2019 prior to the pandemic. COVID-19 was ranked eighth among all causes of death within this demographic, accounting for 2 percent of all causes of death.
According to data from the National Center for Health Statistics, unintentional injuries were the leading cause of death among children in 2020, accounting for 12.5 percent of deaths below the age of 12 and 31.4 percent of deaths among adolescents aged 12-17.
COVID-19 accounted for 0.3 percent of deaths in children under the age of 12 and 0.8 percent of deaths among those aged 12-17.
Mental health among children and adolescents worsened during the pandemic per a paper published in The Lancet Psychiatry that analyzed emergency department visits. The analysis found a 22 percent jump in youth visits for suicide attempts when comparing the period prior to the pandemic to the pandemic period until July 2021.
This surge in suicide visits happened even though there was a 32 percent reduction in pediatric emergency department visits for health-related reasons during the pandemic. In addition, there was also an 8 percent increase in visits for suicidal ideation—referring to individuals who entertain suicidal thoughts.
A study on the National Poison Data System found that suspected suicide attempts through self-poisoning among children rose by 26.7 percent between 2015 and 2020.
Speaking of children…
https://hotair.com/david-strom/2023/03/15/fda-pushing-vaccine-boosters-for-infants-based-upon-trials-in-just-24-children-n537177
FDA pushing vaccine boosters for infants based upon trials in just 24 children
The FDA has approved the use of a new bivalent COVID-19 booster for children 6 months old to 4 years old based upon trials that included almost no children.
24 participants for the 6-month-23-month cohort, and 36 for the 2 years through 4 years old cohort. 60 children in all.
There are tens of millions of children in these age cohorts, and while this sort of trial is better than one where only 9 mice are given the jab, it strikes me as bizarre that the FDA is pushing this out the door and recommending that all children in America be vaccinated with a jab that has barely been tested.
Particularly given that the COVID virus presents almost no threat to any children those ages.
European countries have pulled back from recommending or even giving COVID vaccines to people under 50, except in cases where the patient is in a high-risk category. It beggars belief that the United States FDA is still going full steam ahead recommending vaccines that are not actually approved–they are being given under an Emergency Use Authorization, not full approval–to millions of children at little risk for serious disease.
Even the FDA admits that there are side effects, because of course there are. There are with everything. Side effects can be justified if the benefits outweigh the downsides, but there really is no evidence that the benefits are there.
Alps Precious Metals Group
The Word of God in Genesis 2:10-12b teaches this:
"…And a river went out of Eden to water the garden; and from thence it was parted, and became into four heads. The name of the first is Pison: that is it which compasseth the whole land of Havilah, where there is gold; And the gold of that land is good…"
Gold maintains God's stamp of approval if used with the wisdom He gives us by His Grace.
Since the creation of the Federal Reserve and all of the other Central Planning Banks around the world, tumultuous modern financial markets have been the natural consequence. In the midst of these tempests, such as the one that is upon us now, Gold has maintained an impeccable record of preserving the labor and wealth of individuals, families and institutions.
Alps Precious Metals is a U.S.-based company formed for the purpose of re-establishing the essential role of Physical Precious Metals within investment portfolios. Whether as a compliment or replacement for bank/brokerage accounts and/or Retirement accounts, Physical Precious Metals allow the investor to own *the* bedrock asset that has weathered all financial storms.
Call James Hunter of Alps at 251-377-2197, and visit our website at www.alpspmg.com to begin the discussion of the trading and Vaulting of Physical Precious Metals.
https://townhall.com/tipsheet/spencerbrown/2023/03/16/biden-administration-pursuing-a-taxpayer-funded-bailout-for-moderna-n2620646
The Biden Administration Is Trying to Bail Out Moderna
While Americans' eyes and justified outrage are aimed at the Biden administration's "not a bailout" bailout of failed banks, there's an even larger bailout — and potentially a new scandal for Biden — his administration is pursuing.
Specifically, the Biden Department of Justice has inserted the federal government — and with it hardworking American taxpayers — into a patent infringement dispute alleging that Moderna stole intellectual property from smaller biotech companies and used it to create and produce its COVID-19 mRNA vaccine that's since been administered more than 250 million times in the U.S. and sent the company's revenue soaring.
According to the two small biotech companies alleging patent infringement — called Arbutus and Genevant — Moderna stole their vaccine delivery method that uses lipid nanoparticles (LNPs) to protect vaccine-introduced mRNA in the bloodstream and help ensure it reaches the intended target to become effective.
Moderna's response to Arbutus and Genevant has not focused on the companies' claims, but sought to have the case dismissed entirely. Moderna says that, under a World War I-era law found in Section 1498 of U.S. Code, its vaccine development and production is shielded from patent claims because it was under contract to provide the vaccine to the federal government. Moderna maintains its COVID vaccine did not infringe on intellectual property, but said that "dispute is for later."
Rather than allowing the case to play out on its own, the Biden administration — via Delaware U.S. Attorney David Weiss — filed a statement of interest in the dispute last month "to relieve Moderna of any liability for patent infringement resulting in performance of the '-0100 Contract and to transfer to the United States any liability for the manufacture or use of the inventions claimed in the Patents-in-Suit resulting from the authorized and consented acts."
The "-0100 Contract" mentioned by the U.S. attorney in its statement of interest is an $8.2 billion contract between Moderna and the Department of Defense coded as "pharmaceutical preparation manufacturing."
So, the Biden administration appears to be stepping in and seeking to put hardworking American taxpayers on the hook for what could be potentially billions of dollars worth of liability claims caused by Moderna's alleged theft of intellectual property to make its COVID vaccine.
Why would the Biden administration, after the federal government has already poured billions of dollars into Moderna for its COVID vaccine, now seek to bail them out for, potentially, billions more? And why did the Biden DOJ wait until February of 2023 to file a statement of interest when the case against Moderna has been in motion since early 2022?
And that's where another twist complicates the Biden DOJ's intervention and raises more questions about how the decision to intervene was made.
The U.S. attorney filed the statement of interest on behalf of the Biden DOJ on February 14 and, one day later on February 15, Moderna announced its "commitment to patient access in the United States." The company's announcement states that "Moderna remains committed to ensuring that people in the United States will have access to our COVID-19 vaccines regardless of ability to pay" and Americans who are uninsured or underinsured will still be able to get Moderna's COVID vaccines at pharmacies and doctors' offices at "no cost" to them.
In 2019, the company's revenue was $60 million. It increased to $803 million in 2020, then surged to more than $18 billion in 2021. It seems as though the federal government has done enough to help Moderna by now, and yet the U.S. government intervened on Moderna's behalf in the patent infringement case to say American taxpayers should assume liability for claims stemming from the company's alleged intellectual property theft.
So far, the judge hearing claims against Moderna has not sided with the company's — or the Biden DOJ's — claims that the federal government (again, read: taxpayers) should be held liable instead, and has ruled against motions to dismiss the case outright.
Next week, Moderna's CEO Stéphane Bancel will testify before the Senate Health, Education, Labor and Pensions (HELP) Committee. That hearing, led by HELP Chairman Bernie Sanders (I-VT), is titled "Taxpayers Paid Billions For It: So Why Would Moderna Consider Quadrupling the Price of the COVID Vaccine?"
And finally…
https://www.washingtonexaminer.com/restoring-america/community-family/california-pushes-360k-person-reparations-despite-major-deficit
California pushes for $360,000 per person in reparations despite major deficit
The state-endorsed California Reparations Task Force is pushing to give every black resident $360,000 in reparations despite a major budget deficit.
In 2020, the United States Census Bureau recorded approximately 2.251 million black people residing in California, of whom 1.8 million had at least one ancestor who was a slave, Fox News reported , making the total reparations cost around $640 billion. It is unknown where the state will come up with the funds, however, as Gov. Gavin Newsom (D-CA) reported that California is facing a budget deficit of $22.5 billion for this coming fiscal year.
Chas Alamo, the state's Legislative Analyst's Office's principal fiscal and policy analyst, appeared at the Reparation Task Force's second in-person meeting, in which he proposed further steps that could be taken to fulfill the reparations plan. He proposed several different paths the task force could take to make reparations state law, including the creation of a new agency that would oversee the dispensation of reparations.
"The creation of a new agency would be initiated through the governor's executive branch and reorganization process, but other options exist," Alamo said, California Black Media reported. "Regardless of the path, to initiate a new agency or enact any other recommendation that makes changes to state law, fundamentally both houses from the state legislature would have to approve the action and the governor will have to sign it."
The task force is due to submit a final report and its accompanying recommendations by July 1. The state legislature, which created the commission amid the fallout from George Floyd's death in 2020, will then vote on the proposal, at which point it will be sent to Newsom to sign.
So far, neither the panel nor any government agency has suggested how the reparations will be paid for.
Meanwhile, a separate, city-appointed reparations task force in San Francisco recommended giving $5 million in reparations to every black resident, which would total nearly $225 billion.