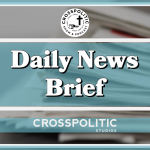 This is Garrison Hardie with your CrossPolitic Daily News Brief for Friday, March 24th, 2023.
Hi Contrast Hymn Books
If you don't teach your kids the Lord's songs, the world will teach them its songs.
The brand-new Hi-Contrast Hymn Book is designed to help you teach your children the most beloved songs of the Christian faith.
Its captivating illustrations will create special moments of truth, goodness, and beauty in your home every day.
To get a copy for your family, go to www.hicontrasthymnbooks.com/FLF.
That's www. "H" "I" contrasthymnbooks.com/FLF.
https://www.foxnews.com/politics/blinken-says-several-americans-remain-detained-taliban-afghanistan
Blinken says 'several Americans' remain detained by Taliban in Afghanistan
Secretary of State Antony Blinken confirmed that "several Americans" remain detained by the Taliban in Afghanistan after the Biden administration's withdrawal from the country in the summer of 2021.
Blinken's comments came during an exchange with Rep. Joe Wilson, R-S.C., during a House Foreign Affairs Committee hearing on Thursday to examine the "State of American Diplomacy in 2023: Growing Conflicts, Budget Challenges, and Great Power Competition."
"There are several Americans who are being detained by the Taliban. We are working to secure their freedom. The families have asked that we protect their identities and don't speak publicly to their cases," Blinken responded when asked by Wilson how many Americans remain in the war-torn country.
Blinken's comments come as Republicans continue to push for accountability from the Biden administration over its rocky withdrawal from Afghanistan in 2021, which resulted in the deaths of 13 U.S. service members who were killed in a suicide bombing while protecting the evacuation at the Kabul airport.
Republicans in the House of Representatives have begun an investigation into Biden's handling of the withdrawal. Lawmakers seek to examine what they called a "stunning failure" of leadership in their first hearing on the topic earlier this month.
The Taliban quickly took over Afghanistan's capital of Kabul in August 2021 as U.S. troops prepared to withdraw on Biden's orders, timed for the 20th anniversary of the 9/11 attacks. In addition to the thirteen U.S. service members who were killed, 170 others also lost their lives during the withdrawal and thousands of U.S. citizens and allies were left behind in the country overrun by the terrorist group.
Earlier this week, House Foreign Affairs Committee Chairman Michael McCaul, R-Texas, sent a letter — one of many in recent months — to Blinken demanding that he provide the committee with "documents and information concerning the Biden Administration's disastrous withdrawal from Afghanistan."
Specifically, McCaul is demanding information from Blinken regarding a "Dissent Channel cable reportedly sent on July 13, 2021, by 23 State Department officials and the Department's response to it," as well as an after-action report and two versions of U.S. Embassy Kabul's Emergency Action Plan (EAP) prior to the embassy's closure.
In the letter, McCaul warned Blinken that his "failure to produce" those documents would "result in the Committee issuing a subpoena to compel their production."
https://www.dailywire.com/news/your-platform-should-be-banned-congresswoman-rips-into-tiktok-ceo-for-targeting-kids
'Your Platform Should Be Banned': Congresswoman Rips Into TikTok CEO For Targeting Kids
Rep. Cathy McMorris Rodgers (R-WA) tore into TikTok CEO Shou Zi Chew during a Thursday morning hearing, accusing him and his company of targeting American children and feeding data to the Chinese Communist Party.
Rodgers, who chairs the House Committee on Energy and Commerce, held nothing back in a blistering opening statement, saying that the platform specifically and intentionally targets children outside of communist China while protecting their own children from the platform's harmful content.
Chair Rodgers to TikTok CEO: "Your Platform Should be Banned" Play 3:00-6:01
Now we go to Michigan…
https://www.foxnews.com/media/michigan-university-hosting-separate-graduation-celebrations-based-on-race-sexuality
Michigan university hosting separate graduation celebrations based on race, sexuality
A Michigan college is coming under fire for hosting five graduation celebrations separated by race, sexuality and gender identity, in addition to the university's larger commencement ceremony.
Grand Valley State University's Multicultural Affairs Office lists graduation ceremonies or celebrations for Black students, Asian students, "Latinx" students, Native American students, and "LGBTQIA+" students next month. The university will also have a general commencement ceremony for all students.
The college describes the graduation celebration for "Latino/a/x students" as "an opportunity to come together and acknowledge Latin accomplishments in the spirit and traditions of culture."
Similarly, the Black Graduation Celebration encourages students to celebrate all "that is representative of Black/African American and African tradition, heritage, culture, and legacy." The ceremony appears to go back to at least 2016.
An annual "Native American Graduation Feast" has also been held by the school's Native American Advisory Council (NAAC) for the past several years.
A celebration just for Asian graduates will also take place.
The only celebration hosted by the center not focused on race appears to be the "Lavender Graduation." The rainbow-decorated GVSU webpage will celebrate "the personal and academic achievements of LGBTQIA+ and allied students."
Students are also eligible for an "Outstanding LGBTQIA+ Graduate Award," which is given "to an exceptional student graduating in the Fall or Winter semester of 2023…who self-identifies as a member of the LGBTQIA+ community," the GVSU site says.
Several other liberal universities have followed similar practices for graduations in recent years.
New York's Columbia University host graduation celebrations for affinity groups on campus, including "Lavender (LGBTQIA+), Asian, First-Generation and/or Low-Income, Black, Latinx, and Native communities," its website says.
Harvard University also hosts graduation celebrations for Black students, Asian students, Latino students and LGBTQ students.
Grand Valley State University told Fox News Digital that there are unified graduation ceremonies for all students:
"Grand Valley State University holds unified Commencement ceremonies for all of its graduates. GVSU is not 'segregating graduation ceremonies by race,' as some people and outlets have said.
"Grand Valley also welcomes student organizations and faculty leaders to hold smaller scale celebrations designed to honor graduates. These more intimate celebrations are a complement to GVSU's Commencement and are open to all students and their supporters."
"The vast majority of graduating students who participate in these celebrations also choose to participate in our larger Commencement ceremony where degrees are conferred," a representative said.
https://townhall.com/tipsheet/leahbarkoukis/2023/03/22/dead-dolphins-nj-n2620984
NJ Lawmakers Demand Pause on Offshore Wind Projects After Latest Mass-Death Incident at Beach
Eight dolphins have died in New Jersey after washing ashore a Sea Isle City beach on Tuesday.
According to the Marine Mammal Stranding Center, two dolphins died shortly after they were spotted on the beach while the six others were euthanized after a veterinarian determined their conditions were deteriorating so rapidly that returning them to the water would have prolonged their suffering in what would have resulted in an "inevitable death."
The mass stranding on Tuesday follows a dead dolphin washing up at a New Jersey marina last week, the sixth one to be found along the state's shoreline in under a month.
In addition to dolphin deaths, nearly a dozen dead whales have washed up along the New Jersey-New York coast since December.
The spate of deaths has prompted lawmakers to call for a suspension of offshore wind projects until it can be determined why the animals are dying.
The eight dolphins that died on Tuesday will be sent to a state lab to determine the cause of death.
Let's take a look at the job market:
Jobless Claims Fall to 191,000
New claims for unemployment benefits fell last week to 191,000, the Labor Department said Thursday.
Economists had forecast a rise in claims to 197,000. The prior week was unrevised at 192,000.
The Federal Reserve has been attempting to soften demand for labor in order to sap inflationary pressures from the economy. Despite many headlines about layoffs at companies like Amazon and Facebook, unemployment remains extraordinarily low.
The 4-week moving average of initial claims fell by 250 to 196,250.
Continuing claims, which are reported with a one week delay, rise by 14,000 to 1,694,000.
https://www.theblaze.com/news/chicago-blackhawks-opt-out-pride23
Chicago Blackhawks opt out of 'Pride Night' jerseys, citing safety concerns for Russian players
The Chicago Blackhawks are yet another NHL team to decline wearing "pride"-themed jerseys for the 2023 season, citing safety concerns for their Russian players, according to the New York Post.
The Blackhawks are the fourth team to decline wearing such jerseys, behind the New York Rangers, New York Islanders, and Minnesota Wild. multiple sports outlets are citing anonymous sources that state the team is doing so to protect Russian players.
The Athletic says that the move was made by "team management and security officials" and not the players.
Russia has laws against the spread of certain views, which make it illegal to "spread 'propaganda' about 'nontraditional sexual relations' in all media, including social, advertising and movies," according to the New York Times.
The Blackhawks have several players on their roster who could potentially run into problems, including Moscow-born defenseman Nikita Zaitsev.
Goalie Anton Khudobin is a Kazakhstani-born Russian, and forward Philipp Kurashev was born in Davos, Switzerland, but holds Russian citizenship and is the son of a former professional hockey player.
As well, Canadian-born Boris Katchouk holds Canadian and Russian citizenship, and his mother was an Olympian for the Soviet Union.
However, other Russian NHL players have worn similar jerseys in the same season, including San Jose Sharks players Alexander Barabanov and Nikolai Knyzhov and Pittsburgh Penguins star Evgeni Malkin.
Just two months prior to the Blackhawks' decision, Ivan Provorov, Russian-born player for the Philadelphia Flyers, cited his Russian Orthodox beliefs as the reason why he didn't want to wear a "pride" warm-up jersey, with San Jose Sharks goalie James Reimer following suit in March 2023 because of his Christian faith.