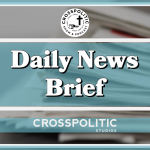 https://twitter.com/larryelder/status/1507099324139782145?s=20&t=QdbTjWjZAaZB0xzLCbUwzQ
Play 0:59-1:06 during opening music
Where was all the concern about black females then? … and more on today's CrossPolitic Daily News Brief. This is Toby Sumpter. Today is Friday, March 25, 2022.
The Confirmation hearings for Biden's nominee to the Supreme Court Ketanji Brown Jackson finished yesterday, Sen. Mitch McConnell says he will not vote to approve:
https://twitter.com/thehill/status/1507036016003235840?s=20&t=QdbTjWjZAaZB0xzLCbUwzQ
Play Audio/video
and Larry Elder had this to say:
https://twitter.com/larryelder/status/1507099324139782145?s=20&t=QdbTjWjZAaZB0xzLCbUwzQ
Play full video
Larry Elder will be with us in Rapid City, South Dakota on April April 7th with Gary Demar doing a FREE day long God and Government workshop, John Branyon will do some Comedy, and we will do a live CrossPolitic Show with Gary Demar and Larry Elder that night. We will be in Phoenix Arizona, in May finishing our Spring Liberty Tour, and then back to Tennessee for our main Fight Laugh Feast Conference, this year in Knoxville, Oct. 6-8: This year's theme is Lies, Propaganda, Storytelling, and the Serrated Edge. Registration is now live. If you're a club member, you get a discounted price, just log into the club portal to take advantage of that discount. And early bird registration goes until the end of May.
The world in which we live is moving towards total techno tyranny at an incredible rate. This tyranny includes spying, censorship, data theft all through electronic means. Iron Apples is a small cybersecurity consultancy firm seeking to give churches, organizations, businesses, schools and individuals the education, resources and tools needed to be able to circumvent techno tyranny. Over the next year, Iron Apples will be hosting a series of virtual meetings to inform, educate and equip attendees with actual solutions to the problem we find ourselves in. The time for the parallel economy is now, but we must ensure we have strong defenses against the onslaught of cyber war waged against us by our own governments and corporations. Find out more at ironapples.com
https://www.wsj.com/articles/arizona-legislature-passes-15-week-abortion-ban-11648156791?mod=hp_lead_pos6
Arizona lawmakers passed a bill banning most abortions after 15 weeks of pregnancy, becoming the second state legislature to push through this restriction ahead of a pivotal Supreme Court decision that could alter the abortion rights landscape nationwide.
The Arizona House of Representatives passed the bill in a 31-26 vote Thursday. It now heads to the desk of Arizona Gov. Doug Ducey, a Republican who has signed restrictions on abortion since becoming governor in 2015.
A spokesman for Mr. Ducey didn't immediately respond to a request for comment Thursday.
The legislative efforts in Arizona follow similar moves in Florida, where Republican lawmakers earlier this month approved a ban on most abortions after 15 weeks of pregnancy.
These bills are similar to the Mississippi law at the center of a Supreme Court case that challenges the high court's 1973 Roe v. Wade decision, which established a constitutional right to end a pregnancy. Similar bills in West Virginia and Kentucky passed one chamber in those state legislatures.
The Arizona law, known as SB 1164, bars abortions in the state after 15 weeks of pregnancy, weeks earlier than current precedent established by the Supreme Court. The law allows for exceptions in medical emergencies. It doesn't include exceptions for instances of rape or incest.
Lawmakers who supported these bills say, if passed, the laws would allow states to more quickly and easily enforce abortion restrictions similar to Mississippi's should the Supreme Court uphold the 15-week ban. Some Republican state lawmakers said they anticipate the court could either uphold this law or overturn Roe v. Wade. A decision is expected no later than the summer.
Arizona Rep. John Kavanagh, one of the Republican lawmakers who introduced the 15-week ban and voted in favor of the bill Thursday, told The Wall Street Journal earlier this year he wished to prepare the state for either of those outcomes. Arizona is one of several states with pre-existing laws banning abortion that were passed before Roe v. Wade. If the high court's precedent is overturned, the law could be resurrected.
The Texas Heartbeat Act, which bans abortions after six weeks of pregnancy in the Lone Star State, is an exception. The law, which took effect in September 2021, created a new enforcement structure that allows private citizens to bring civil lawsuits against abortion providers as well as anyone who aids or abets an abortion after six weeks of pregnancy.
Idaho Gov. Brad Little, a Republican, signed a similar bill on Wednesday banning abortions after about six weeks of pregnancy. The legislation doesn't grant officials enforcement authority and instead gives that power to private citizens—a precedent the governor expressed concerns over.
To which Vice President Harris Tweeted: "Idaho Gov. Little signed an appalling bill yesterday to restrict abortion access after six weeks. This bill harms women, particularly those who are most vulnerable. We'll continue to fight to ensure all women have the right to make their own health care decisions."
The VP was also recently talking about the significance of the passage of time:
https://twitter.com/RNCResearch/status/1505964846172491780?s=20&t=QdbTjWjZAaZB0xzLCbUwzQ
Play video
https://www.foxbusiness.com/politics/woke-home-depot-flyer-causes-online-stir
The Home Depot became the subject of controversy online this week over an employee training pamphlet found at a Canadian location that was leaked on social media, sparking accusations that the company has gone "woke."
The flyer that was reportedly posted in a break room at a Calgary, Alberta, Home Depot showed the home improvement giant's logo and was titled, "Leading Practices: Unpacking Privilege." It asks employees to literally "check" their "privilege," whether it be "white privilege," class privilege," "Christian privilege," "cisgender privilege," "able-bodied privilege," or "heterosexual privilege."
The two-pager goes on to encourage workers to discuss white privilege and race with their colleagues, and offers tips on how to do so.
Meanwhile, the U.S.-based company confirmed to FOX Business that the pamphlet had been posted for employees up north, but said the contents were not cleared by corporate.
"While we fully support diversity across our company, this material was not created or approved by our corporate diversity, equity and inclusion department," a Home Depot spokesperson said in a statement. "This was a resource in our Canadian division and not part of any required programming."
Psalm of the Day: All Hail the Power of Jesus Name
https://www.youtube.com/watch?v=z-ybUbtahg8&t=102s
Play: 0:00-1:53
Amen.
This is Toby Sumpter with CrossPolitic News. Remember you can always find the links to our news stories and these psalms at crosspolitic dot com – just click on the daily news brief and follow the links. Or find them on our App: just search "Fight Laugh Feast" in your favorite app store and never miss a show. If this content is helpful to you, would you please consider becoming a Fight Laugh Feast Club Member? We are trying to build a cancel-proof media platform, and we need your help. Join today and get a discount at the Fight Laugh Feast conference in Knoxville, TN and have a great day.