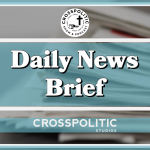 This is Garrison Hardie with your CrossPolitic Daily News Brief for Friday, March 31st, 2023.
Hi Contrast Hymn Books
If you don't teach your kids the Lord's songs, the world will teach them its songs.
The brand-new Hi-Contrast Hymn Book is designed to help you teach your children the most beloved songs of the Christian faith.
Its captivating illustrations will create special moments of truth, goodness, and beauty in your home every day.
To get a copy for your family, go to www.hicontrasthymnbooks.com/FLF.
That's www. "H" "I" contrasthymnbooks.com/FLF.
https://www.huffpost.com/entry/trump-stormy-daniels-hush-money-indictment_n_640f5b35e4b0fef1523fa996
Trump Indicted Over $130,000 Hush Money Payment To Stormy Daniels
Former President Donald Trump, already under multiple criminal investigations for his coup attempt, has been indicted by a Manhattan grand jury for his role in a $130,000 hush money payment to a porn star in the days before the 2016 election.
The New York Times was the first to report on the still-sealed indictment.
Trump's campaign staff did not immediately respond to a HuffPost query Thursday. But Taylor Budowich, a former Trump aide and now the head of a pro-Trump super PAC, claimed in a Twitter post that the indictment is evidence of a "failed nation," and predicted it would actually help Trump.
Trump, who is running again for the Republican nomination for the presidency, has in recent days ramped up his appeals to supporters to rise up against prosecutors in New York and elsewhere ― reminiscent of his inflammatory language leading up to the Jan. 6, 2021, assault on the U.S. Capitol by a mob of his followers.
In another post, Trump predicted he would be arrested on Tuesday, March 21, forcing New York City police to increase security at the courthouse. Then, when no indictment came, Trump and others suggested that District Attorney Alvin Bragg must have backed down.
As of late Thursday afternoon, Trump had not posted anything following the news of the indictment.
The indictment in New York City gives Trump, who frequently claimed that his actions as president were "historic," another claim to history: He is now the first of the 44 ex-chief executives to be charged with a crime. He had previously entered the history books by becoming the only president to be impeached twice.
One of his lawyers at the time, Michael Cohen, already pleaded guilty to a federal charge of violating campaign finance laws with the check to Stormy Daniels to buy her silence about the affair she says she had with Trump in 2006. Cohen served 13 months in prison and another year and a half under home confinement for that and various unrelated charges.
Cohen is likely to be a key witness against Trump in District Attorney Alvin Bragg's prosecution. He has said Trump reimbursed him for the $130,000, as well as $150,000 to a second woman, with a series of payments, and evidence during his case showed the money came from Trump's business as a supposed "legal expense."
Trump has claimed that Bragg's probe is a part of a "witch hunt" against him
The former president is also under investigation by the Fulton County District Attorney in Atlanta and the U.S. Department of Justice about his attempts to overturn the 2020 election he lost by pressuring his own vice president into throwing out the results from key states and awarding Trump a second term ― an effort that culminated in the violence he incited on Jan. 6, 2021.
https://thepostmillennial.com/far-left-activists-students-storm-state-house-to-demanding-more-gun-control-in-tennessee?utm_campaign=64487
Far-left activists, students storm state house to demand more gun control in Tennessee
On Thursday, a large number of individuals congregated at the Tennessee State Capitol, with the situation quickly turning chaotic as leftist activists entered the building and were seen shouting at lawmakers, demanding more gun control measures.
Among those present were parents with their children and members of the community demonstrating following the Covenant School shooting, which resulted in the deaths of six individuals, including three children.
"We're here because we still believe that we can make change. We can. It's a tough state, I get it," said organizer Maryam Abolfazli, to local news outlet WKRN.
The Republican-majority Legislature gathered at the Capitol on Thursday to start the legislative session for the first time since the shooting. Protestors stormed the building and filled the hallways while chanting slogans.
Demonstrators took over both indoor and outdoor spaces, video shows.
The Senate chamber gallery was filled with protesters, including children holding signs with the age of the victims of the recent attack.
Some of the protestors interrupted the lawmakers with their shouts of "Children are dead!" resulting in their removal from the gallery.
Meanwhile, in the House, two Democratic lawmakers caused a temporary disruption by using a megaphone to yell, "Power to the people."
The protests followed a candlelight vigil held in Nashville the previous night, where Republican lawmakers, alongside First Lady Jill Biden, Democratic lawmakers, and musicians, including Sheryl Crow, gathered to honor the victims and advocate for stricter gun control.
https://dailycaller.com/2023/03/30/el-paso-southern-border-mexico/
Caravan Of More Than 1,000 Migrants Crosses Into El Paso Illegally As Chaos Erupts In Mexico
A caravan of more than 1,000 migrants crossed illegally into El Paso, Texas, Wednesday as chaos erupted in recent days on the Mexican side in Juarez.
Agents apprehended the group, which was mostly comprised of Venezuelans, Wednesday, El Paso Border Patrol Chief Anthony Good said late Thursday. The incident follows chaos in Juarez, where nearly 40 migrants died Monday in a shelter fire.
Hundreds of migrants also amassed at the Paso del Norte bridge on March 15 leading into Juarez to demand entry into the U.S.
Venezuelans are expelled under Title 42, a public health order invoked by the Trump administration during COVID-19. They are, however, offered exemptions through a humanitarian parole program and Customs and Border Protection (CBP) One, a phone app used to request an entry interview.
Migrants have expressed frustrations with the CBP One process having glitches and lacking appointment availability.
"Migrants that are still arriving at the southern border from the original surge invitation by the president are becoming impatient with extended processing times and turning frustrations against CBP personnel," a Border Patrol agent, who requested anonymity because they weren't authorized to speak publicly, recently told the Daily Caller News Foundation.
https://justthenews.com/nation/states/center-square/los-angeles-cook-counties-post-biggest-population-losses-us-2022
Blue flight: Los Angeles, Cook counties post biggest population losses in U.S. in 2022
The number of people who used to live in Los Angeles County and Cook County in Illinois continues to plummet.
Los Angeles County posted the largest population decline of all counties in the United States in 2022, falling by 90,704 and continuing a downward trend. It lost nearly twice that amount (180,394) in 2021, according to the U.S. Census Bureau's Vintage 2022 estimates released Thursday.
Cook County, home to Chicago, lost 68,314 people from July 2021 to July of last year.
Los Angeles County was still the most populous county in the U.S. That was followed by Cook County in Illinois at 5,109,292, which declined by 68,314 from the prior year. Rounding out the top five were Harris County, Texas (4,780,913); Maricopa County, Arizona (4,551,524); and San Diego County, California (3,276,208).
Eight of the top 10 most populous counties in the U.S. were located in the South and West. The two exceptions were Cook County in Illinois and Kings County in New York.
"Reflecting longstanding regional population shifts, the nation's most populous counties are increasingly located in the South and West," the bureau reported. "In 2022, 63 of the country's 100 most populous counties were located in the South and West, up from 61 in the prior year."
The 10 counties in the U.S. that gained the most people were located in three states: Texas, Arizona and Florida. Maricopa County in Arizona topped the growth list, adding 56,831 people in 2022. It was followed by Harris County, Texas (added 45,626); Collin County, Texas (44,246); Denton County, Texas (33,424); and Polk County, Florida (32,225).
The biggest losers were Los Angeles County, California (-90,704); Cook County, Illinois (-68,314); Queens County, New York (-50,112); Kings County, New York (-46,970); and Bronx County, New York (-41,143).
"The migration and growth patterns for counties edged closer to pre-pandemic levels this year," said Christine Hartley, assistant division chief for estimates and projections in the Census Bureau's population division. "Some urban counties, such as Dallas and San Francisco, saw domestic outmigration at a slower pace between 2021 and 2022, compared to the prior year."
Deaths outnumbered births in most U.S. counties in 2022. Nearly three-quarters of all U.S. counties had natural decrease in 2022, which means they recorded more deaths than births.
"The incidence of natural decrease remains historically high," the bureau reported. "Natural decrease counties are found nationwide but are especially prevalent in some states."
Maine was the only state in the nation where all counties had natural decrease. Deaths outnumbered births in 54 or the 55 counties in West Virginia. And seven of the 10 counties with the highest amount of natural decrease were in Florida. Pinellas County topped the list with -6,468.
Births exceeded deaths in 791 counties (or 25.2% of all counties) in 2022. Five of the top 10 counties where births exceeded deaths, called natural increase, were in Texas. Harris County had the highest in the nation with 30,117.