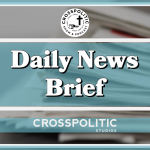 This is Garrison Hardie with your CrossPolitic Daily News Brief for Friday, March 3rd, 2023.
Club Membership Plug:
Ladies and gentleman, it's never been a better time to become a club member at CrossPolitic. This year, CrossPolitic will be dropping exclusive content into our club portal for club members ONLY. Some of this content will include a Bible study series with Pastor Toby, a special with New Saint Andrew's President, Ben Merkle, our backstage content, and our conference talks! You can grab a club membership for 10 bucks per month… that's two cups of coffee. So again, head on over to fightlaughfeast.com to get signed up today! That's fightlaughfeast.com.
https://townhall.com/tipsheet/spencerbrown/2023/03/02/is-iran-less-than-two-weeks-away-from-having-a-nuclear-bomb-n2620152
Could Iran Make a Nuclear Bomb in Less Than Two Weeks?
After it was reported this week that Iran had more than 18 times the amount of enriched uranium it was allowed to have under the Obama-era Joint Comprehensive Plan of Action (JCPOA), the Biden administration claimed Iran would need less than two weeks in order to finalize enrichment to produce the material needed for a nuclear bomb.
https://twitter.com/i/status/1 630679650249654273 – Play Video
Calling Iran's nuclear progress "remarkable," Defense Under Secretary for Policy Colin Kahl told the House Armed Services Committee on Tuesday that "it would take about twelve days" for Iran "to produce one bomb's worth of fissile material."
Recent evaluations by the International Atomic Energy Agency found that Iran has managed to enrich some of its uranium stockpiles to 84 percent, just shy of the 90 percent enrichment needed for fissile material in a nuclear bomb.
Kahl, as with everyone else in the Biden administration, sought to place blame for Iran's nuclear progress on the Trump administration's decision to withdraw from the JCPOA — blame the mainstream media quickly repeated — but the 2015 nuclear deal was flawed and mostly served as a massive payday for the murderous regime.
What's more, the Biden administration has wasted years trying to negotiate a new deal with Iran, while Biden's own State Department has admitted Iran played the United States by using lengthy and unserious negotiations to continue ramping up its nuclear efforts as it feigned good faith efforts.
While President Biden and his administration were apparently content to continue pursuing diplomacy despite Iran using negotiations for its latest kabuki theater production, Israel is taking the threat more seriously and calling for international deterrents to Iran's nuclear ambitions. To that end, Israel's "Strategic Affairs Minister Ron Dermer and National Security Council chief Tzachi Hanegbi are set to fly out early next week to Washington for talks on progress made in Iran's nuclear program," the Jerusalem Post reports.
The situation is even more concerning given the deepening ties between Iran, Russia, China, and North Korea, and the fact that the United States' reaction to all this is being decided by Joe Biden — who has bungled multiple international incidents and hasn't shown himself able to present the United States as a powerful deterrent to bad actors on the world stage.
https://www.breitbart.com/2nd-amendment/2023/03/02/discover-to-track-gun-purchases/
Discover Card to Begin Tracking Gun Purchases in April
Beginning in April 2023, Discover will become the first credit card issuer to track gun purchases made by their cardholders.
On September 11, 2022, Breitbart News noted that Visa caved to pressure from gun control groups and New York Democrats, agreeing to flag gun and ammo purchases via a new sales categorization. The Associated Press observed that Mastercard and other major credit cards also agreed to flag gun sales.
On March 2, 2023, the Independent Journal Review (IJR) reported that Discover will be first among credit card companies to track gun sales, inasmuch as the company will begin doing so in April.
IJR explained, "Anyone using a Discover card to make a purchase in a gun store will have that purchase tracked, beginning in April."
There are over 55 million Discover cards in usage, so a lot of information on gun purchases can be gathered via that one company.
Reuters pointed out Discover Financial Services was ahead of Visa and Mastercard in February 2023, noting that Discover would "allow its network to track purchases at gun retailers come April, making it the first among its peers to publicly give a date for moving ahead with the initiative, which is aimed at helping authorities probe gun-related crimes."
Discover told Reuters, "We remain focused on continuing to protect and support lawful purchases on our network while protecting the privacy of cardholders."
The code for tracking gun purchases was approved by the International Organization for Standardization (ISO) in September 2022, and an ISO representative indicated, "The decision to use the new merchant category code is eventually left up to the users in the industry."
https://www.foxnews.com/us/nyc-spends-nearly-100-million-house-migrants-hotels-after-out-state-busing?intcmp=tw_fnc
NYC spends nearly $100 million to house migrants in hotels after out-of-state busing
New York City's public hospital system will spend more than $90 million to house migrants at hotels in the Big Apple through the spring, local reports found.
The ​​New York City Health + Hospitals Corporation, which operates public hospitals and clinics in the city, is tasked with overseeing housing for the influx of illegal immigrants. The group's CEO, Mitchell Katz, has approved spending millions on four hotels to house the migrants in Manhattan, the New York Post reported.
Katz approved $40 million to go to the four-star hotel Row NYC near Times Square, another $28 million to the four-star Stewart Hotel near Madison Square Garden, $20 million to the three-star hotel the Watson in Hell's Kitchen and another $5.8 million to the two-star Wolcott Hotel near the Empire State Building, the Post and online publication The City reported this month. All in, the cost for housing the migrants through the spring of this year sits at $93.8 million.
At least 47,600 migrants have inundated the city since last year, including when Texas Gov. Greg Abbott began sending buses of migrants to the city in August amid the ongoing border crisis.
There are a total of seven "Humanitarian Response and Relief Centers" in the city, including the four hotels, housing at the Wingate by Wyndham Hotel in Long Island City, one at the Brooklyn Cruise Terminal and another at the Holiday Inn in the Financial District.
"Since the beginning of this humanitarian crisis, New York City has mounted a multi-agency response to ensure we are meeting our moral obligations and providing compassionate, comprehensive care to those arriving in our city," a spokesperson for Mayor Eric Adams told The City, "and NYC Health + Hospitals has been key in that response from the start."
The housing plans have come with a series of issues, including Row NYC found to throw out nearly a ton of food each day, according to a hotel whistleblower who previously spoke to the Post.
While late last month, a group of migrants who were staying at the Watson Hotel in Midtown Manhattan refused to leave the hotel – and even protested by sleeping in the streets – after city officials said they would be housed at the Brooklyn Cruise Terminal.
Adams even slept at the Brooklyn Cruise Terminal on the coldest night of the year earlier this month in an effort to fend off criticism that the facilities were lackluster.
The mayor has meanwhile pleaded with the White House for more assistance from the government as the migrant population grows
"I have a Republican governor dumping on my city," Adams said last month. "I have a Democratic governor dumping on my city. That is where the national government should have stepped in and said, 'Wait a minute, let's coordinate this effort.'"
Democratic Colorado Gov. Jared Polis had also bused migrants to New York City and Chicago as the migrant crisis swelled in Denver and other areas, but announced a halt to the busing program last month after outcry from Adams and Chicago Mayor Lori Lightfoot.
Smart Pricing Table:
Do you own a business and write a lot of proposals? If so, you should check out SmartPricingTable.com.
Smart Pricing Table allows you to create quick and accurate proposals; and it's loaded with features like recurring fees, quantities and line item upsells. When your prospect is ready, they can e-sign and you're off to the races.
Visit SmartPricingTable.com and mention Cross Politic to get 25% off your first 2 months
https://www.boundingintosports.com/2023/02/christian-high-school-withdraws-from-state-tournament-instead-of-facing-team-with-transgender-player/
Christian High School Withdraws From State Tournament Instead Of Facing Team With Transgender Player
A girls' high school basketball team in Vermont made a big decision last week when they opted out of playing in their biggest game of the year.
The institution, Mid-Vermont Christian School forfeited their first-round state tournament game against Long Trail because the team didn't believe it was fair to play against a transgender athlete. They explained that their decision not to compete was based on concerns for player safety and fairness.
Vermont state law permits transgender females to play in girls' sporting leagues and prohibits discrimination based on gender identity.
"We believe playing against an opponent with a biological male jeopardizes the fairness of the game and the safety of our players," a statement from MVCS head of school Vicky Fogg said. "Allowing biological males to participate in women's sports sets a bad precedent for the future of women's sports in general."
The state acknowledged the school's decision and thus, their self-elimination from the postseason proceedings.
Vermont's policy regarding transgender athletes has led to other controversies recently.
In October, a middle school soccer coach from Randolph Union High School was suspended after he allegedly 'misgendered' a trans student. This action came in the course of him defending his daughter, who said she was uncomfortable with the individual being in the girls' locker room.
Also that month, administrators at the school banned members of the girls' volleyball team after they also objected to sharing it with a fellow student who is biologically male.
That situation lit a fire of controversy surrounding the Randolph school, which lies in a community with a population of fewer than 5,000 people. There were several verbal taunts exchanged, some even leading to threats of violence.
Randolph Union High School draws national controversy over decision regarding transgender student…-Play Video 0:00-2:56
While the policy regarding transgender athletes varies on the state level in high school, it has a uniform policy at the next level.
Current NCAA rules state that transgender women are allowed to participate in women's sports after undergoing one year of testosterone suppression.
During an April 2021 survey in the United States, 17 percent of male respondents and 24 percent of female respondents strongly supported allowing transgender girls to compete against other female athletes at the high school level.