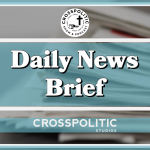 Happy Friday, this is Anna Hadfield with your CrossPolitic Daily News Brief for Friday, March 4th, 2022
I'm definitely not who you were expecting today… But, I'm filling in for Pastor Toby today.
As you know, our second stop on our Liberty Tour is April 7th in Rapid City, South Dakota. Special guests include comedian John Branyan, Uncle Gary DeMar, and Larry Elder. We will also offering a free all-day workshop before the live show with talks from our very own Gabe Rench, Pastor Toby, Gary DeMar, and more. Head to crosspolitic.com/libertytour/ to register for the show and check out the details for the workshop.
Also, save the dates for our yearly conference in Knoxville, TN on October 6th-8th. The theme of this year's conference is Lies, Propaganda, Storytelling, and the Serrated Edge. Satan is the father of lies, and the mother of those lies is a government who has rejected God. We have especially been lied to these last two years, and the COVIDpanic has been one of the central mechanisms that our government has used to lie to us and to grab more power. Because Christians have not been reading their bibles, we are susceptible to lies and are weak in our ability to fight these lies. God has given us His word to fight Satan, and we need to recover all of God's word. So, mark your calendars for October 6th-8th, as we fight, laugh, and feast together with beer and Psalms, our amazing lineup of speakers, our awesome vendors, new friends, and more. Early bird tickets will be available starting in the middle of March. Also remember that club members get reduced rates to the conference, so if you aren't a club member already, head to fightlaughfeast.com to sign up.
World Bank Ends Programs in Russia and Belarus
https://thehill.com/policy/international/596645-world-bank-ends-programs-in-russia-and-belarus
The World Bank announced on Wednesday it was ending all programs in Russia and Belarus, citing "hostilities against the people of Ukraine."
The banking organization, with 189 member countries across the globe, has not approved any new loans or investments in Russia since 2014, when the country annexed the Crimean Peninsula in Ukraine, or in Belarus since 2020, following a disputed presidential election.
The decision comes as a large number of countries, organizations, and businesses are severing ties with Russia over the country's invasion of Ukraine last week, and with Belarus for its support and cooperation with Moscow.
In a press release, World Bank President, David Malpass said, "The World Bank Group is horrified by the shocking violence and loss of life as a result of the events unfolding in Ukraine. We are a long-standing partner of Ukraine and stand with its people at this critical moment.
He went on to explain that he had met with President Zelenskyy in Munich and reaffirmed the Bank's strong support and commitment to the people of Ukraine and the region.
On Tuesday, the International Monetary Fund Managing Director Kristalina Georgieva said it was considering Ukraine's request for emergency financing, while another program gave the nation access to 2.2 billion dollars through the end of June.
The World Bank Group also announced on Tuesday it was providing a 3 billion dollar support package to assist Ukraine.
Both financial groups are considering other options to assist the region and neighboring countries affected by the war, especially those taking in the more than 600,000 Ukrainian refugees.
Hawaii:
https://www.sfgate.com/hawaii/article/Hawaii-COVID-19-rules-changing-16954886.php
https://hawaiicovid19.com/travel/
You can now book your summer vacation plans to Hawaii! At least maybe you can… All counties in the state are dropping many of their covid regulations.
Governor of Hawaii, David Ige, announced on Tuesday that the state will end its Safe Travels program at midnight, March 25th, concurrent with the end of the state's emergency proclamation.
The state's Safe Travels Program required travelers to do a five-day mandatory self-quarantine for travelers from the U.S. and its Territories. To bypass the quarantine, travelers entering the state either needed to have an approved pre-travel covid test done, or have a valid up-to-date vaccine record.
Starting March 26, domestic visitors will no longer need to show proof of COVID vaccination or the results of a pre-travel test. Nor will they need to undergo a mandatory quarantine if they are unable to produce that proof. All pre- and post-arrival COVID screenings will end, including post-boarding screenings at airports with participating airlines.
Visitors will also no longer need to provide information about their trip or create a Safe Travels account.
However, it is still bad news if you are an international traveler…
Travelers from international destinations, including returning U.S. citizens, are still required to show proof of a negative COVID test, regardless of vaccination status, or documentation of recovery from the virus from a licensed health care professional. Because of course the virus clearly knows if you're coming from a different country or not…
Additionally, Ige said that the indoor mask mandate will remain in effect after the March 25th date. Again, because this is a smart virus and knows if you are inside or outside…
Idaho Family Policy Center:
We want to let you all know about Idaho Family Policy Center. IFPC is currently the only explicitly Christian policy organization in Idaho politics. Toby Sumpter and Israel Waitman serve on the board, and the president is Blaine Conzatti, a member of our sister CREC church, Kings Congregation down in Meridian. Blaine and IFPC have been leading the efforts to defund Planned Parenthood, end abortion in Idaho, and protect children from the transgender agenda. Blaine is a strategic voice in Idaho politics, and he represents many of our biblical and constitutional concerns in Boise. IFPC is a brand new ministry and is in need of significant donations to help fund it. We all have many commitments to other good ministries, but if you are particularly concerned about Idaho politics, this is one way you can have a very direct impact. Go to www.idahof amily.org to learn more and make a donation
Judge Tosses New Yorks Attorney Generals Bid to Dissolve the NRA
https://www.wsj.com/articles/judge-tosses-new-york-ags-bid-to-dissolve-nra-11646255814?mod=itp_wsj&mod=djemITP_h
A state court judge dismissed the New York Attorney General's attempt to dissolve the National Rifle Association. Judge Joel M. Cohen ruled that the state's allegations of corruption and mismanagement by NRA top officials fell short of the public harm required to impose the "corporate death penalty" on the nonprofit group.
The ruling on Wednesday represented a big win for the NRA.
The decision comes 18 months after New York Attorney General Letitia James filed a lawsuit against the NRA and its top officials, alleging that they violated the state's nonprofit laws by illegally diverting tens of millions of dollars from the group through excessive expenses and contracts that benefited relatives or close associates.
The NRA and its officers deny the claims. If the attorney general's allegations are proved, they could be addressed through less intrusive measures, the judge ruled, and dissolving the NRA "could impinge, at least indirectly, on the free speech and assembly rights" of the group's members.
The NRA has charged that the suit by Ms. James, a Democrat, is politically motivated, which she has denied. The NRA, falls under Ms. James' regulatory authority.
Ms. James said she was disappointed that the judge ruled against the dismissal portion of the case. She said the Attorney Genneral's office is considering its legal options.
She welcomed the court's decision on the other counts, which she said affirmed her office's right to pursue claims that "fraud, abuse and greed permeate through the NRA."
William A. Brewer, an outside attorney for the NRA says,
"We look forward to continuing the defense of the NRA—and proving that it acts in the best interests of its members and the Second Amendment freedoms in which they believe."
This is Anna Hadfield with your Crosspolitic News. Support Rowdy Christian media by joining our club at fightlaughfeast.com, downloading our App, and heading to our annual Fight Laugh Feast Events. With your partnership, together we will fight outdated and compromised media, engage news and politics with the gospel, and replace lies and darkness with truth and light. Go to fightlaughfeast.com to take all these actions. Have a great weekend and Lord bless.